In Venice for 2 days? Fret not, because here's a whole bunch of interesting things you can do in just 48 hours and make your trip worth your while. An all-inclusive itinerary with a hodgepodge of beaches, island hopping, sightseeing, culture tripping and local attractions!
2 Days in Venice - How To Spend Your Time
---
Venice In 2 Days - Detailed Itinerary
---
Day 1
A Real Venetian Treat

St. Mark's Basilica

Doge's Palace

Dorsoduro

Gondola Rides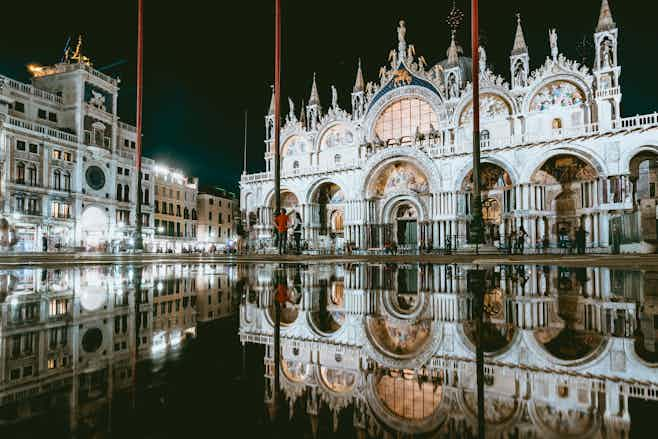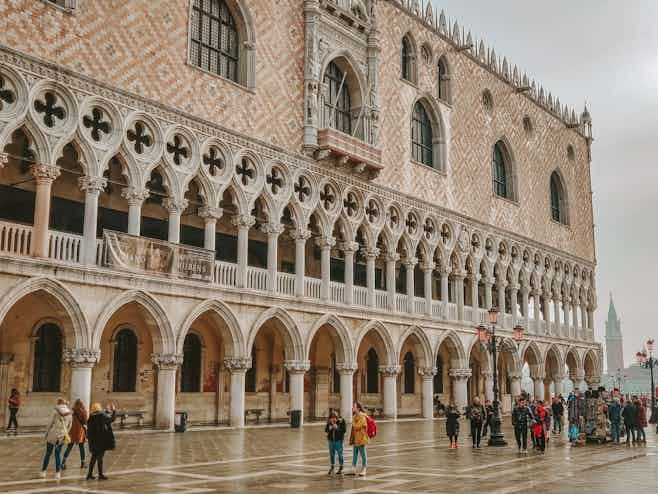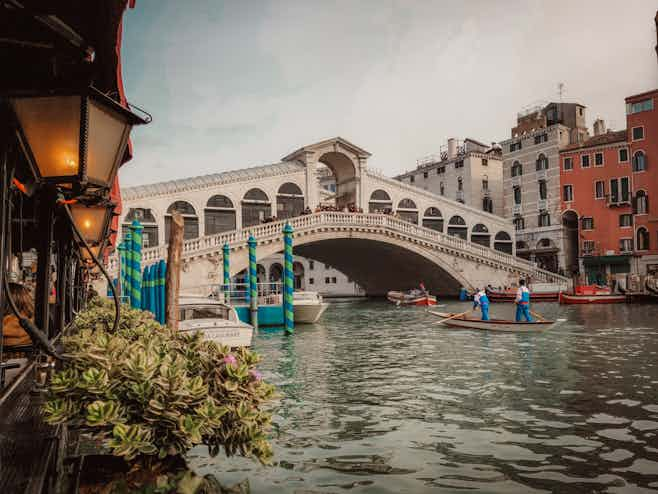 Day 1 begins on a high note with 2 of the city's must-visit attractions: St. Mark's Basilica & Doge's Palace! Embrace the Bohemian vibes of the Dorsoduro neighborhood before taking on an iconic Venetian experience you don't want to push to the second day: a Gondola ride!
Begin your day bright and early at one of Venice's most sought-after attractions, Basilica di San Marco, also known as St.Mark's Basilica. Located conveniently on Piazza San Marco, you'll have no trouble getting here. Decked in gold ground mosaics and intricate designs, the building in itself is a sight to marvel at. Built to bury the corpse of St Mark, this iconic structure is layered in white marbles, a Greek cross layout, rippled stonework arches and elements from Byzantine architecture. Before you leave, climb up the Bell Tower and drink in remarkable panoramic views of St. Mark's Square. Check out the St. Mark's Basilica tickets available online and peruse your options.
Travel Tips
Shorts and tank tops are not to be worn here.
For security reasons, tote bags and backpacks are not allowed inside.
The ticket lines outside the Basilica can take upto 45 minutes to an hour, hence skip the line tickets + guided tour is strongly recommended for the best experience.
A stone's throw away from the Basilica is the Doge's Palace, the seat of political and administrative power of the Venitian Republic from its birth to its end. Otherwise known as the "Palazzo Ducale", this landmark is a testament to the beauty of the La Serenissima (Venice). Marvel at the refreshing blend of contemporary and primaeval eras seen in the architecture. Inside, you'll find Renaissance masterpieces, grand staircases, opulent rooms and monumental entrances. Peruse your Doge's Palace ticket options here.
Travel Tips
If you're heading to the Doge's Palace right after St. Mark's Basilica, it's best to plan this on the weekdays. It gets terribly crowded around noon at this landmark.
Photography is not allowed in most rooms inside the Palace.
The secret itineraries tour is highly recommended for gaining access to rooms that are not a part of the usual guided tour.
We recommend purchasing the Museum Pass - which gives you access to the Doge's Palace along with 10 other Venetian museums.
You may also choose the St. Mark's City Pass which gives you access to the Doge's Palace along with a selection of churches, museums and more.
After strolling around St. Mark's Square, make your way to a quiter and quainter part of the city called Dorsoduro. Nestled in a bohemian vibe, this cobbled town is a hive of unpretentious eateries, lively pubs, a collection of museums, churches , galleries, a bunch of indie shops and vintage boutiques. You are bound to stumple upon Accademia Gallery, Peggy Guggenheim Collection, Cà Rezzonico,San Sebastiano, Basilica di Santa Maria della Salute and Scuola Grande dei Carmini during your walk. Most of these attractions are a part of the Venice Museum Pass or the Chorus Circuit Pass. We therefore recommend buying either of the two passes for the best hassle-free experience.
Travel Tip
This quaint neighbourhood has a great collection of cafes, shops and restuarants. Make sure to grab a meal while you're here.
After traversing and exploring the streets of Dorsoduro, stumble over to the Grand Canal and take your pick of gondola rides. Snuggle in for a 30-45 minute romantic glide across the canals of Venice! Rest your legs and enjoy the most quintessentially Venetian affair while you're at it. This is the best time to take this ride as you can watch the sun slowly set over the city, the sky a brilliant shade of pink! Consider hiring a gondolier and be serenaded by Italian melodies while you're rowed around the serene canals of Venice. Explore your Gondola Ride ticket options here.
Travel Tips
You might want to buy your tickets online: at the location, they tend to overcharge tourists.
Consider booking a combo deal: a gondola ride with dinner or another tourist attraction for the most economically feasible option.
Shell out a little extra for a gondola serenade: you won't regret it!
Day 2
A Day Of Shopping & Island Hopping

Rialto Market

Murano, Burano & Torcello Islands

Lido Island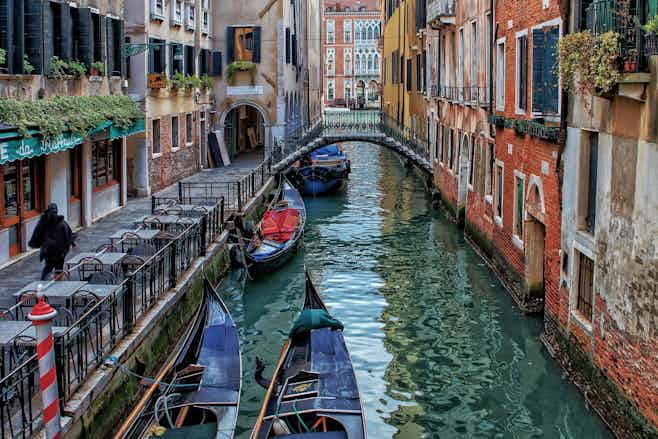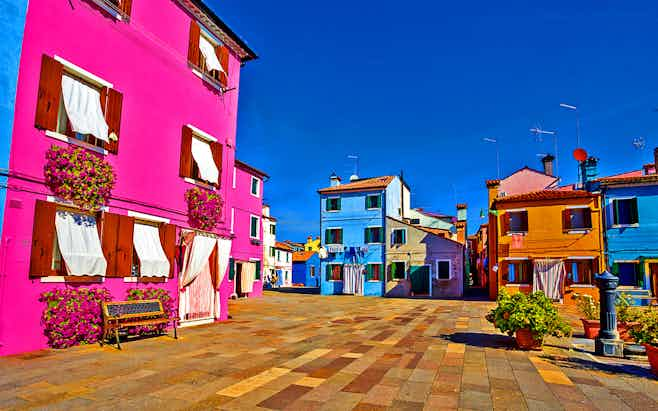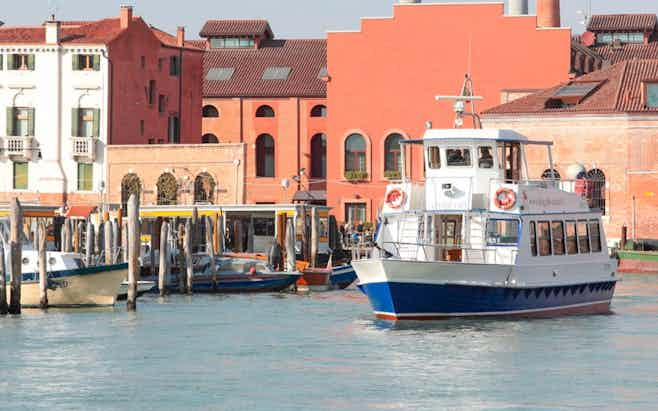 Now that you've gotten a taste of Venice's must-visit attractions, venture into its culture hotspots, one of which is the iconic Rialto Market. Your afternoon and evening promises a sun-kissed adventure as you hop from one island to the other: Murano, Burano, Torcello & Lido- you'll see it all!
Now that you're no longer a stranger to the Venetian ways, head out to the historic Rialto Market first thing in the morning. Situated on the western banks of the Grand Canal, you'll find all kinds of people and activities here. Wander through the fish, vegetable & fruit markets, and pick up fresh produce that tickles your fancy. Soak up the vibrant atmosphere of the market as you go along.
Travel Tips
The market is technically open from 7:30 AM onwards, so for those early birds looking to get a quick start to their day, head out sooner!
The market closes by 2 PM.
To reach the market via vaporetto (water bus) take waterbus number 1 and stop at "Rialto Mercato".
Remember that the market arena houses a fish market too, so the smell of fish is inevitable.
A Venetian Experience: Guided Walking tour
Headout Price: €22
Book Now
After a spirited morning of shopping, sign up for a day of Venice Island hopping! Murano, Burano & Torcello are 3 of the major islands in the Venetian lagoon, so a visit here is a must. You could start off with Murano, a fisherman island and the biggest of the the 3 islands, world famous for its glass factories. After visiting the Glass Museum and Chiesa di San Pietro Martire jump back onboard your vaporetto and enjoy a half an hour ride to Burano.

The eye popping coloured houses are sure to steal your heart while you're here and so will the intricate hand tatted Burano lace. In Burano, make sure you drop by the Museo del Merletto (Burano Lace Museum) and the Church of San Martino Vescovo.

After Burano, make your way to the Torcello and enjoy the grassy, secluded island decked in Byzantine mosaics and marshy muck lands. To put to perspective how secluded this island is, there are just about 75 inhabitants in the island! Walk around The Devil's Bridge and Cattedrale di Torcello (Basilica di Santa Maria Assunta) and make your way back to Venice late in the evening.
Travel Tip
Consider getting yourself a 1-day ACTV pass while visiting the islands. This lets you use the vaporettos across Venice and unlimited use of ACTV Mestre land bus service in Venice and Mestre + land buses in Lido.
Purchasing a Hop On Hop Off Ticket is likely to enhance your experience especially if you're a solo traveler. Meeting like-minded travelers and discovering the Museums Islands of Venice and the pristine Lido beach is assured fun.
Initially established as a seaside resort destination, Lido is a very popular beach on the Venetian lagoon. Spend some time basking in the sunlight on the sandy shores of the beach. If you're not a beach person, visit the Tempio Votivo Church (a war memorial of Venice), the Ancient Jewish cemetery (must book tickets in advance) and beautiful southern village of Malamocco (if you have the time).

The Hop On Hop off Venice has a stop at Lido, hence should you opt for the Hop On Hop Off Boat Tour to see the 3 islands and Lido beach, you will save a lot on transport.
Travel Tip
If you enjoy the peace and quiet, away from city life, consider staying on the Lido island. There is a range of boutique hotels well connected with the rest of Venice via vaporettos.
Some people like to ride around the island on a cycle- this is available to rent. Most rentals come with a handy map as well.
Consider visiting Lido during the summers. The weather is quite pleasant.
Venice Hop on Hop off Boat Tour
Headout Price: €20
Book Now
How To Spend 2 days In Venice Under 120 Euros
---
Day 1 : Basilica di San Marco, Doge's Palace, Dorsoduro & Gondola Ride
€75
Day 2 - Rialto Market, Murano, Burano & Torcello & Lido Beach
€40
Book your Venice Attractions tickets on Headout, and spend just €115 on your 2 day vacation in Venice! Hit up all the prime attractions in the Floating city and save more while you explore more. Read on to see our detailed 2 day Venice Itinerary and learn more about visiting each of these attractions.
More Venice Itinerary Options?
---
Want to explore other Venice itinerary options? Check out our 1 day in Venice and 3 days in Venice itineraries for further inspiration.
More Venice Guides
---
Here are a few detailed guides that will help you plan your trip to Venice better.
Venice in 2 Days - Itinerary