Getting around the Venetian lagoon can be challenging, yet very exciting. Challenging because unlike other landbound cities, you cannot hail a cab to go from one place to the other simply because a major chunk of Venice is non- vehicular. Exciting because now you have to carry a map, walk on cobbled streets, hop on a boat and glide across Venice's emerald waterways! I say more exciting than challenging!
The Venice Public Transportation System: The Basics
---
The first question that comes to your mind when you learn that you are traveling to a Floating City, is "what are my options for getting around Venice?" Well, you can avail buses for certain distances, walk for a vast portion of it and hop on a boat if you don't fancy the first 2 options.When I say 'boat', you have about 6 waterborne modes of transport in Venice: Vaporettos, Alilagunas, Water Taxis, Gondolas, Hop On Hop Off Boats & Traghettos.
Each of them come handy at different points depending on your budget, the route and experience you are looking for. In this blog post, I will be delving into the 3 most frequented public modes of transport in Venice namely, Vaporettos, Alilagunas and WaterTaxis.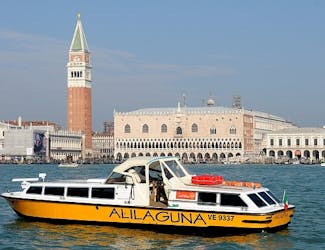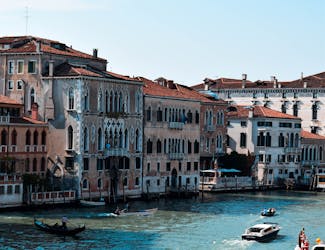 Hop On Hop Off Boat
From €37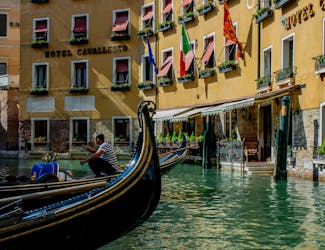 If you're up for knowing how you can exploit Gondolas and Hop on Hop Off Boats during your time in Venice, click the link below and learn all you can about them :

ACTV Vaporettos
---
The vaporetto is most economical and most widely used public ferry service that shuttles across almost all of Venice. Its name is derived from vapore or steam which is used to power the movement of this mode of transport. It is quite often considered the "bus network" of Venice for all intents and purposes.
Venice ACTV Vaporetto Routes & Lines
There are 3 Vaporetto Lines that you are likely to use while you're in Venice.
Linee Centrocittà (1, 2, N)
The most frequented line by tourists as it connects the entire stretch of Grand Canal and a few other parts of the inner canals in Venice.
Line 1
This one sweeps down the entire Grand Canal and even goes up to Lido during winters.
If you have bought the Museum Pass, Chorus Circuit Pass or the St. Mark's City Pass, then a ticket on this line should come handy as it stops at all the major landmarks from where the rest of the attractions around Venice are short walks away.
Frequents between Pizzale Roma to San Marco with around 14 odd stops in between.
Line 2
This one's similar to Line 1 , but with lesser number of stops.
It frequents between San Marco to Piazzele Roma with around 9 odd stops in between.
Linee Giracittà (3, 4.1, 4.2, 5.1, 5.2, 6, N)
This is mostly frequented by residents who stay in the outer islands and it connects Venice to Murano as well
Line 5.1 & 5.2
This line circles around the historical landmarks of Venice.
If you're looking to go to Dorsoduro, you can take this line and get down at Zattere.
It also goes all the way upto Lido after crossing Castello.
Line 4.1 & 4.2
Best lines to reach Murano
Linee Lagunari (12, 14, 15 ,N)
If you're looking to head farther into the Venetian lagoon to the outlying islands of Lido, Murano, Burano, Torcello and the like, you can hop on this line.
Line 12
If you're out to explore the outlying islands of Murano, Burano, and Torcello, buy a full day pass for this line and you can go back and forth how many ever times you'd please.
Line 15
If you're put up on Punta Sabbioni, this line will be your best friend for shuttling back and forth to Venice.
Venice ACTV Vaporetto Timings
Daily - 5 AM to 12 AM
Please note that post 10 PM, the vaporettos may skip stops so do pre warn the captain of the vaporetto where you'd like to alight well in advance.
If you're using the vaporetto after 12 AM, you have to use Line 'N' and you can check its schedule here. It is less frequent than the day service, but efficient enough.
You can check the ACTV Vaporetto schedule here
Venice ACTV Vaporetto Tickets
Clench your hands , because it may hurt a little to learn that a single vaporetto ticket costs €7, and funnily enough Vaporettos are the cheapest modes of transport around Venice.
These €7 tickets one way tickets are valid only for 60 minutes and within these 60 minutes, you can change vaporettos moving in the same direction ( no round trips).
You can buy Vaporetto tickets from the ACTV office in Piazzale Roma, at the fermate (boat dock), and onboard the boats from the conductor. If you do buy the tickets from the fermate, make sure to validate them while entering near the yellow box by the dock.
Well, there's nothing much you can do about the standard state set price expect. But you can however, purchase the daily passes which work out a lot cheaper if you are planning to cover a lot of ground. This allows for unlimited usage , however, unless you have at least 3 vaporetto lines planned for a day, the day passes don't make sense. You have various options for the day passes as well :
1 day: €20
2 days: €30
3 days: €40
7 days : €60
If you're planning to go to the Islands of Murano, Burano and Torcello in a day, then the one day ACTV Pass is a steal deal. You could also opt for the Private Boat Tour that takes you to the 3 islands.
Venice ACTV Vaporetto Pass ( Day Passes)
Venice ACTV Vaporetto Pass ( One Way & Two Way Pass) For a quick ride across Venice, grab the ACTV pass at an economical fare and glide past the canal with splendid views giving you company all throughout.
Works great if you are on a self-made itinerary sightseeing spree around the city
Works great if you are moving from one place to the other with no intentions of coming back to the point of origin (one-way pass)
Unrestricted use of the ACTV Vaporetto / in Venice, Lido and lagoon islands and of ACTV buses in Mestre, Marghera and mainland.
Venice Watertaxis
---
Seen the burled wood boat whooshing past leaving a trail of white froth? Well, those are Venice's genteel water taxis, commonly known as motoscafi or taxi acquei. Despite their dizzyingly steep prices, they are quite a stylish way to get yourself and your luggage about comfortably away from the tordes of the vaporetto.
With a capacity of 10, these watertaxis start looking economical only if you're a troop of atleast 5. The minute you step in, you are required to shell out €13 plus another €1.80 for each minute of travel.
Know Before You Book a Watertaxi in Venice
You can each carry 1 piece of luggage and for every extra piece, it will cost you an additional €5.
For up to 5 passengers, the fare remains unchanged. However, for 6 or more people you are required to pay an additional €10 per person.
Watertaxis have seperate night charges (10 PM to 7 AM ) which incurs an additional charge of €10.
An extra fee of €5.90 is charged on Sundays and other public holidays. Do note that you are not required to pay the extra fee + night charges if you are traveling on a sunday night.
As exclusive as it sounds, you may not be the only group on board. The captain holds the discretion to bring on as many travelers as he can fit ; provided they are going in the same direction. You can hire private water taxis, but be warned - they cost a fortune.
If you call for a taxi from any of the online portals, you will have to pay an additional sum of €6 to the rates.
Where Can You Hail a Watertaxi?
Near most tourist attraction, you are likely to see these sleek wooden boats docked with a yellow/white stripe down the side and a registration number.
Some of the watertaxi stands are near :
Rialto bridge
St. Mark's Square
Ferrovia (Train station)
Piazzale Roma
Stazione Marittima
Tronchetto
When Should You Hail a Watertaxi?
Due to their extortionate rates, it is not a wise idea to hail a watertaxi , especially if you're trying to traverse Venice on a budget. However, they do come handy when you have to travel to and fro the airport.
The Vaporetto is not connected to Venice's Marco Polo airport, hence if you're running late to reach the airport, you have no choice but the Watertaxi.
You could opt for the cheaper Alilaguna service for the airport shuttle, however it takes a solid 45 to 100 minutes as compared to the 20- 30 minutes on a watertaxi. Hence, if you're late, hail the watertaxi and reach in style!
Alilaguna
---
Alilaguna shuttle, popularly called the Airport Ferry is a private boat service that plies from Marco Polo Airport across the lagoon to Venice, Lido and Murano. It is the most preferred mode of transport from and to the airport due to the economical rates and frequent service.
It costs 10 euros (or 25 euros if you use the marginally faster non-stop service to San Marco)but is rather slow, taking around 1 hour and 15 or 20 minutes to complete the full trip.
The Alilaguna Lines
Linea Blu or Blue Line
Route : Venice Airport Marco Polo | Murano Island (Colonna) | Fondamente Nuove | Ospedale (Venice Hospital) | Bacini | Lido Island (S.M.E.) | Arsenale/Giardini Biennale | Saint-Mark/San Zaccaria (facing hotel Jolanda) | Saint-Mark (Giardinetti) | Zattere | Molino Stucky (Hotel Hilton) | Marittima (maritime station) and vice versa
From Marco Polo Airport to Fondamenta Nuove it should take you about 35 minutes.
Linea Arancio or Orange Line
Venice Airport Marco Polo | Fondamente Nuove ( at night only) | Madonna dell'Orto | Guglie | San Stae | Rialto "A" | Sant' Angelo | Saint-Mark (Giardinetti) and vice versa
From Marco Polo Airport to Fondamenta Nuove it should take you about 1 hour and 15 minutes.
Use this line if you're staying along the Grand Canal.
Linea Rossa or Red Line
Venice Airport Marco Polo | Murano (Museo) | Certosa Island (on request) | Lido Santa Maria Elisabetta (SME) | Lido (Casino) and vice versa
This is a seasonal route that is functional only from April to November beginning.
Linea Verde or Green Line
San Marco | Murano | Burano | Torcello
This route is a guided boat tour and not a public shuttle boat.
Know Before You Book an Alilaguna
The Alilaguna and ACTV services are separate entities hence, you cannot use one ticket for the other.
When you embark on an Alilaguna, you are required to give your suitcases to the conductor who will stow them away and unload them onto the pier when you disembark.
The Alilaguna tickets do not have an expiry date and can be used on any date after purchase. The validity of the ticket begins with its first usage and a return ticket is valid for a month after the first validation.
The €15 ticket is valid only for one single way journey. You can travel either to the airport or from the airport with this one-way ticket.
The fare per person is inclusive of 1 suitcase and 1 piece of hand luggage. Each extra bag will cost 3 euros.
Where to buy Alilaguna Tickets?
The best way to buy Alilaguna tickets is online since you can save a few euros. However, if you intend to purchase it on ground, then you can pick up your ticket from :
The Alilaguna Counter at the Marco Polo Airport ( ticket office is in the airport arrivals halls)
The Alilaguna Ticket offices in Venice at:
-San Marco
-San Marco water bus Alilaguna station
-San Luca square
-Venice Port
-Tronchetto

If you have purchased your ticket online, prior to boarding the alilaguna shuttle, you are required to validate your ticket at the Alilaguna ticket office near the Alilaguna piers.
Alilaguna Shuttle Service to/fro Marco Polo Airport
More Venice Guides
---
Still planning your Venice vacation? Here are a few more detailed guides that will help you plan your trip better.
Venice Public Transportation