While using private transportation is a costly alternative in Venice, there are several options in Venice that can help you save money. The Water Bus is one of the easiest modes of transportation. It is the most affordable and practical method of getting about the city. Continue reading to learn further about the Venice water bus, where to purchase tickets, their schedules, as well as other information that will aid you organise your excursion!
What is the Venice Water Bus
---
The water bus is locally known as the vaporetto. The vaporetto is a commuter ship, like a bus that is used elsewhere. Passengers can ride these water buses (singular: Vaporetto; plural: Vaporetti) all around the lagoon, along the primary canals, and to the distant islands. Despite being sometimes packed, they are by far the most affordable form of transportation (other than walking).
In Venice, there are roughly 20 water bus services. They also link Venice to the mainland and the main island to neighbouring islands.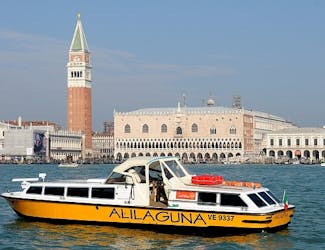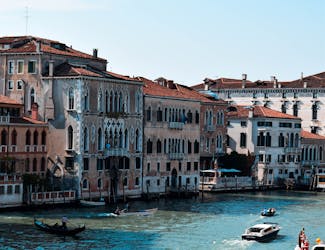 Hop On Hop Off Boat
From €37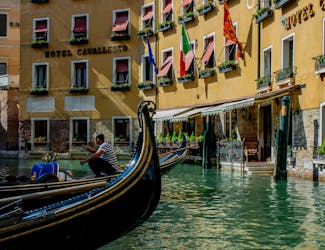 Venice Water Bus vs. Water Taxi
---
Both are boats, however, they differ greatly from one another. Like taxis in other cities, you may hire a water taxi on your own and go wherever you choose, while the water buses follow a set schedule and route, similar to public buses in other places.
Venice Water Bus Tickets
---
1-Way Tickets to Venice ACTV Water Bus
Grab the ACTV pass at a low cost for a brief journey through Venice to enjoy the best of the city. These affordable short-term passes are ideal for tourists on a tight budget who wish to make the most of the city's extensive public transportation system. Your best option is this short-term pass, which comes in one-way and two-way versions: You may also board any ACTV bus in Mestre as well as Marghera with this exact ticket if you're on a self-planned scenic tour of the area and wish to enjoy the most popular mode of public transportation in Venice.
1/2/3/7-Day Pass: Venice ACTV Water Bus Tickets
With the ACTV Public Transport Services pass, you may easily travel across Venice. You will also have access to the ACTV buses in Mestre and Marghera, and will also be able to travel on the Vaporetti in Venice, Lido, and the lagoons. The ACTV Water Bus Pass is the best option if you want to fully see Venice without having to pay excessive gondola fares to go from one location to another. You may pick from 1, 2, 3, or 7-day options, depending on how long you intend to spend in Venice and your travel needs.
Why Take the Venice Water Bus Pass
---
Will last for one day and more: The nicest feature of purchasing tickets for the Venice water bus is that they will last for a day, and longer if you want to add on additional days. It enables you to schedule your activities and travel around the city's highlights on a tight budget.
Affordable and convenient: The city operates and travels on waterways, and these water buses link the Venetian Lagoon's farthest reaches to the Grand Canal. It is the simplest and most practical method of transportation in Venice.
Effective: The tickets for the Venice water buses also give you unlimited access to the ACTV buses in Mestre and Marghera, in addition to allowing transit between and within Venice, Lido, and the Lagoon islands.
Optimal for Sightseeing: A Vaporetto, as they are known locally, is a type of water transport that operates in Venice. The Grand Canal, San Marco, and the Rialto Bridge are just a few of the city's most distinctive landmarks that the Vaporetto vans travel along. It's the best way to get about town and see all the amazing architecture.
Venice Transportation App
---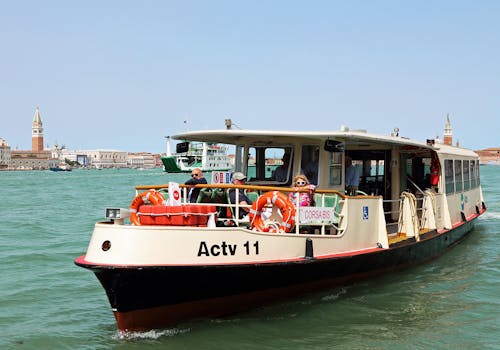 AVM Venezia Official App
The AVM Venezia Official APP allows users to buy and validate local ACTV public transportation tickets, pay to park in Venice's "Parcheggia Venezia" (blue stripes), read news about ACTV services, and check schedules and itineraries using the "Calculate route" and "Search timetables at Stops'' features. It is advised that only cell phones with iOS or Android operating systems run the APP (excluding tablets, even 6-inch inch ones).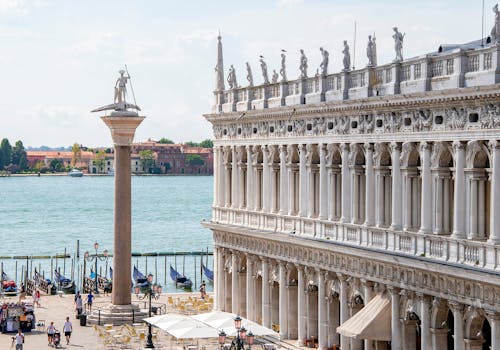 MyPass Venezia
This is undoubtedly one of the best Venice-specific all-in-one applications. MyPass is a cutting-edge PMI that enables immediate access to the sites while always paying the lowest fee and skipping the ticket offices. You may reserve and purchase legitimate tickets for museums, events, public transportation, as well as parking using the MyPass Venezia APP.
The price of Venice water bus tickets start from €7.50 and could be up to €25 depending on the perks you want to avail.
A Venice water bus is known as Vaporetto.
Yes you can take luggage with you at a set price. The price covers one piece of baggage with a maximum length, width, and height of 150 cm.
Approximately about midnight. Three nighttime routes run from 11:30 p.m. to 5 a.m., while the main routes run from 5 a.m. to midnight.
Tickets may be ordered online or from locations bearing the ACTV emblem, including Piazzale Roma, Ferrovia, Rialto, and San Marco. Validate your boarding pass at the boarding entry by "swiping or tapping" it on the machines there.
The typical water bus schedule runs from around five in the morning until around midnight.