Artists, writers, musicians, and lovers, have all been inspired by the city of Venice. Its canals, bridges and gondolas have witnessed many political and romantic trysts, creating for myths and legends that endure till today. Staying afloat for over millennia, Venice has risen from the being an island inhabitation to the seat of political and financial wealth in the middle ages, and eventually now to a tourist hub that draws 20 million travelers each year. In April, Venice lets the sun take over its cloudy skies and heralds the onset of spring. Here is a guide on how to enjoy the best of Venice in April.
What makes Venice in April Special?
---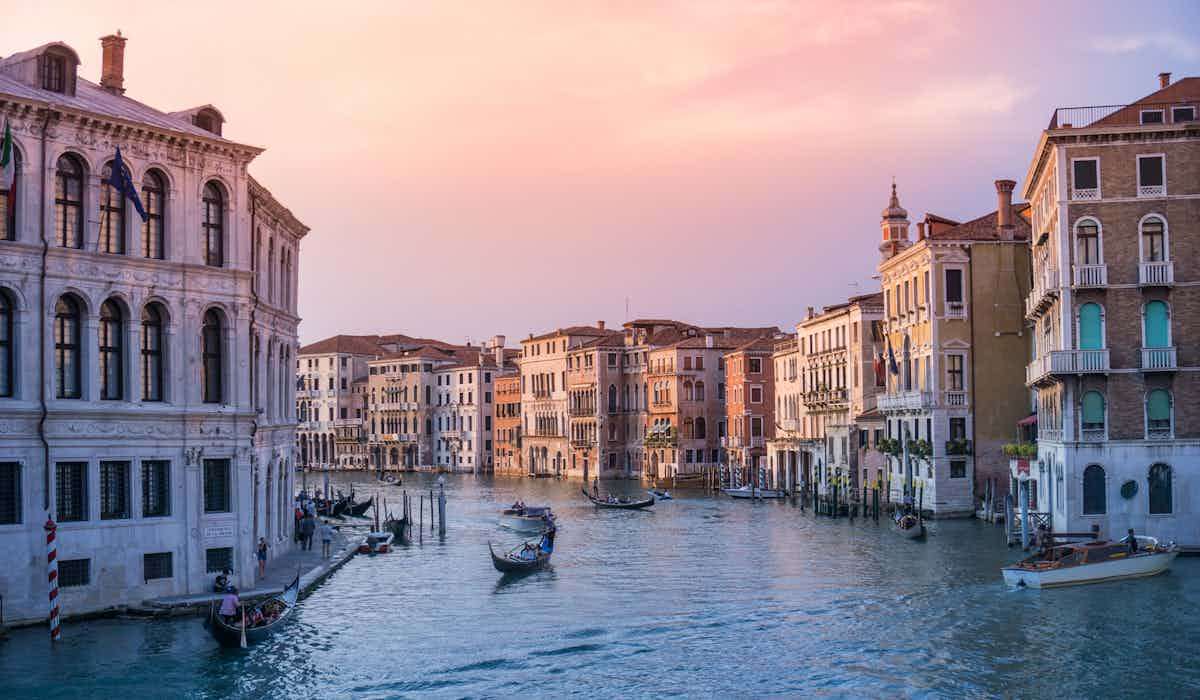 Perfect Spring Weather - The last of the cold days of winter are gone in Venice during April. Spring is peaking with increasing temperatures, making it ideal to enjoy outdoor activities. You can go on a gondola ride, walking tour, photography walk, food tour, or just a stroll along the streets, the weather cannot go wrong!
Longer Days – Venice in April witnesses' longer days, this also translates to later closing timing, giving you more time to explore the attractions of the city. You also get to enjoy the summer timings without the summer crowds.
Before the Buzz – May onwards international tourists start trickling in the city, and so Venice in April is the last of the shoulder season when you can get the opportunity to explore the city without the hordes of tourists. With Easter, Festa di Marco and Liberation Day, you also get a peek into the local culture and traditions of Venetians.
Weather in Venice in April
---
Venice in April witnesses spring at its brightest! The sun is out, yet it's not too hot, making it ideal to enjoy the outdoor cafes and walks around the city. The average temperatures are around 16°C, with the occasional spot of rain. In 2018, the day time temperature increased to about 25°C in mid-April.
Venice in April: Top Experiences
---
The striking Italo-Byzantine and Gothic architecture of St. Mark's Basilica sets it apart from other iconic landmarks in Venice. Consecrated in 1092, it has been welcoming pilgrims and tourists for centuries. Don't forget to observe the golden mosaics 'Pala d'Oro' and the witness views from the top of the Bell Tower.
April Timings
Basilica
Monday to Saturday: 9:30 AM – 5:00 PM (Last entry at 4:45 PM)
April 16 to October 28: Open on Sundays and public holidays until 4.30 pm
October 29 to April 15: Open on Sundays and public holidays until 5 pm
St. Mark's Museum
Every day: 9:45 AM – 4:45 PM
For centuries The Doge's Palace was the centre of political and administrative power in Venice. The home of the Doge since 1340, the palace still stands strong today and is a museum. It's most notable features are the Doge's apartments, Old and New Prisons and the Bridge of Sighs.
April Timings
Monday to Sunday: 09:00 AM - 18:00 PM
The onset of spring lengthens the day and the clear skies of April also offer spectacular sunsets on most days. Go on a gondola ride with your partner and enjoy the romantic ride through Venice's iconic waterways, and upgrade it to a serenade for an unforgettable musical sojourn.
April Timings
Serenade Tour: 3:30 PM
Shared Gondola Tour: 11:00 AM and 3:00 PM
Teatro La Fenice translates to 'Phoenix Theatre', an ode to its history of surviving through terrible fires over the centuries. It opened in 2003 and has become an incredible stage for operas and concert shows. You can enjoy backstage access and a peek into the historical opera house on a guided tour.
April Timings
Daily, 9:30 AM – 6:00 PM
The Venetian Islands of Murano, Burano, Torcello
Spring is the perfect time to set out on a tour of the Venetian Islands that have put the lagoon on the UNESCO World Heritage list. The sun in April makes the colorful houses of Burano shine, while you can stop and enjoy a glass-making tour in Murano and the Byzantine churches at Torcello.
April Timings
Every day, 9:30 AM and 2:30 PM
The Jewish Museum located in the Campo of the Ghetto Novo is an ode to the Venetian Jewish community who struggled through segregation and the Holocaust. You can see thejewelry, textiles and other artifacts that were integral to Jewish customs and traditions back in days when there was a flourishing Jewish community in Venice.
April Timings
Sunday to Friday: 10:00 AM – 5:30 PM

Leonardo Da Vinci was a man whose mind worked way ahead of the times he lived in. In the 15th century, Da Vinci created flying machines and inventive engineering projects, and was an artist beyond peers. The museum in Venice is an ode to his life and includes over 60 functional machines invented by him!
April Timings
Daily, 10:30 AM – 5:30 PM
Scoletta – Complesso Monumentale, Campo San Rocco, 3052, 30125 Venezia VE,
Italy
Getting There ›
The Lido Beach is the beach resort getaway of Venice. It is an 11 KM sand beach in the Venetian Lagoon facing the Adriatic Sea. April makes for a great time to be out enjoying the mild sun, before the rays get harsh in May and subsquent months.
April Timings
Open all day
April is a pleasant month for walking around Venice, with little rainfall and mild sunny weather it is time to head out on a guided walking tour. Visit all the landmarks like St. Mark's Basilica, Doge's Palace, and the St. Mark's Square to learn about Venice's intriguing history.
April Timings
Daily, from 9:00 AM
Go early in the morning to the market near the Rialto Bridge to catch the first crates of fish coming in, and later you can join the locals picking the freshest spring produce. The hubbub of the market is something that has been going on for centuries and is an integral part of the Venetian culture.
April Timings
Produce Market - Monday to Saturday from 7:30 AM – 1:00 PM
Fish Market – Tuesday to Saturday from 7:30 AM – 1:00 PM
Venice in April: Events to Look Out For
---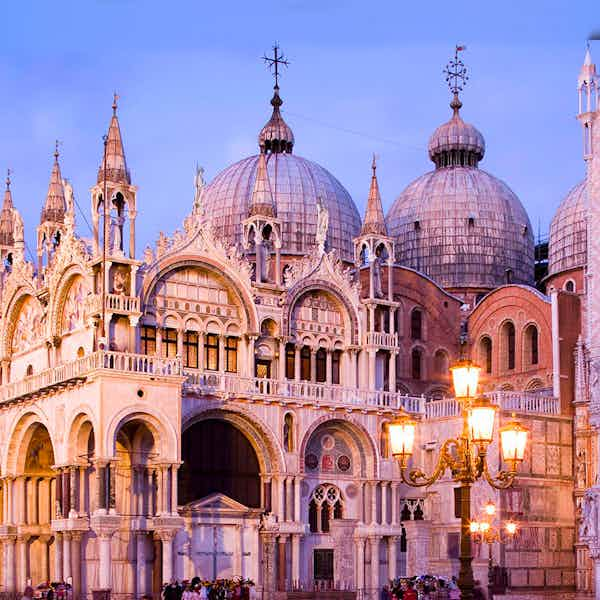 Holy Week & Easter
April 2 to 8, 2023
Easter in Venice is a family-affair and the best time to experience local culture. You can attend the Sunday mass at St. Mark's Basilica and then head to a restaurant for a traditional Easter fare. Kids can participate in the Easter egg hunts and enjoy the festivities over the weekend.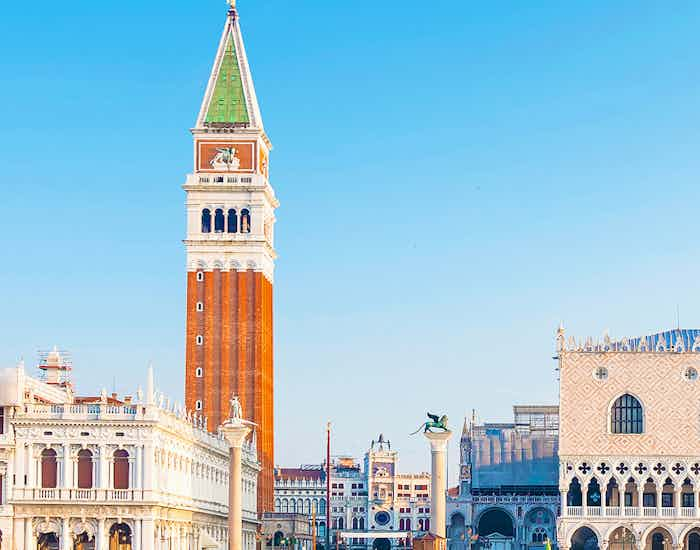 Festa di San Marco
25th April, 2023
The festival commemorates Saint Marks, the patron saint of Venice, and events and festivities take place in the San Marco square. Locals also celebrate the day as Lover's Day or Bocolo of Saint Mark when men gift their partners a single rosebud, a symbol of everlasting love.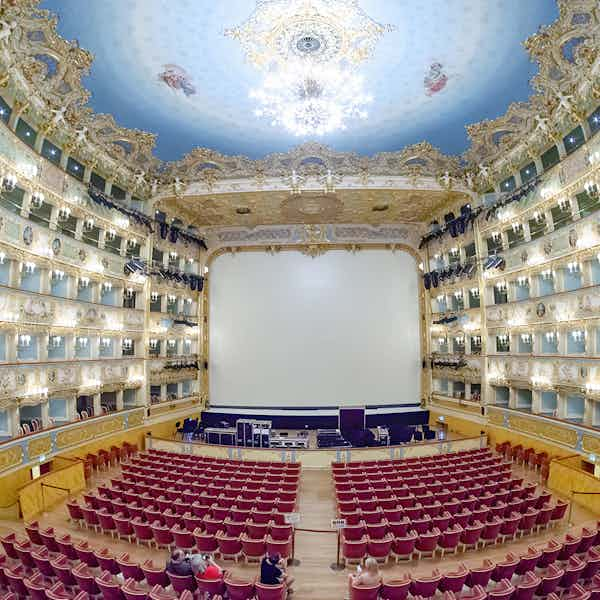 La Fenice Opera Show
All month long
La Teatro Fenice is a renowned opera house in Venice and has literally risen out of the ashes of three fires! Springtime sees the production of several new shows and the three shows running in April are – Deep Water, Concert conducted by Myung-Whun Chung and Atos Trio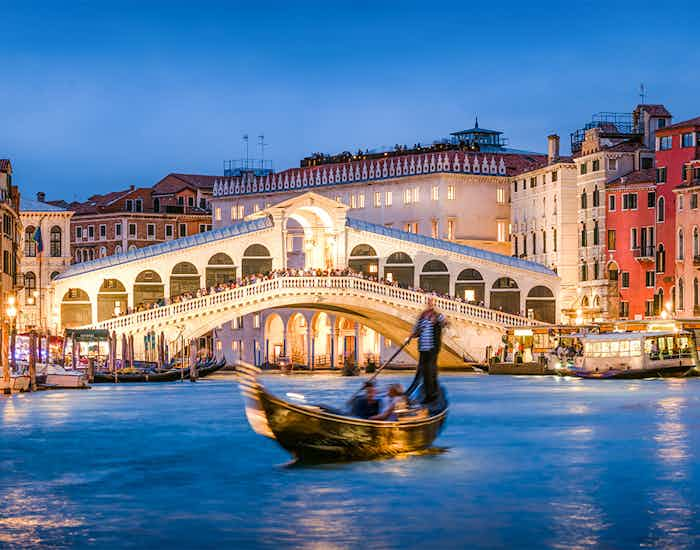 Liberation Day Celebrations
25th April, 2023
Liberation Day is celebrated all across Italy and it marks the fall of the Nazi occupation of Italy and the reign of Mussolini's Italian Social Republic. In Venice, Liberation Day falls on the same day as Festa di San Marco, you can witness special celebrations and events in museums and other landmarks in Venice.
Venice in April : 3-day Itinerary
---
3 Days In Venice Under 145 Euros
Venice April Essentials
---
Venice Weather in April
It's time to bring out the hats and sunglasses, the sun is shining over Venice. The average temperatures are around 16°C with highs of 25°C and lows of 13°C. The city experiences about 64mm of rainfall across 10 days, with a quick thunderstorm. The days are longer of about 13.5 hours with sunrise at around 6:20 AM and sunset at about 8 PM.
Venice Accommodation In April
The accommodation prices start to increase April onwards and it's best to book in advance to get good rates. There are a variety of accommodation options in Venice, including B&Bs, Hotels, Hostels, and Homestays. If you are looking for cheaper options, you can head inland to Marghera. Here is a pick of stay options on the island –
Luxury Hotels - Hotel Canal Grande, Hotel Ai Cavalieri di Venezia, Hotel Rialto, Palazzo Veneziano, Ca' Pisani Hotel, Hotel Palazzo Stern
Mid-Range Hotels - Relais Venezia, Arlecchino Hotel, Hotel Ca'Dogaressa, Locanda Sant'Agostin, Ca'Pozzo Inn, Hotel Giudecca Venezia
Budget Hotels - Novotel Venezia Mestre, Albergo Doni, Hotel San Giuliano, Anda Venice, Hotel Villa Parco, Hotel Martello
Venice Packing List April
Venice in April has mild temperatures so you can get your dresses and shorts, although do carry layers like a warm sweater, and trench coat so you can layer up when it rains. Do carry a rain jacket, and good walking shoes. Remember to pack a flexible suitcase, as you will have to carry it in vaporettos and over the bridges to get in and out of hotels.
Getting Around Venice in April
Venice does not have too many options of getting around, when you are on land you only can walk around as no vehicles are allowed. The waterways on the other hand have a few options –
Vaporetto – These are the water buses run by ACTV and run three lines which cover all of Venice. You can use as ACTV Pass to get around the city cheaply.
Alilaguna – This is your cheapest bet to get to and fro from the airport, although it takes longer than a taxi.
Water Taxis – These are exorbitant but convenient and quick, especially when you are running late for a tour or the airport.
The other leisurely options to explore the city are gondolas and Hop-on Hop-off boat tours that stop at the main landmarks along the island. You can read more about how to get around in this Ultimate Guide to Public Transportation in Venice.
Venice in April: Seasonal Delicacies
---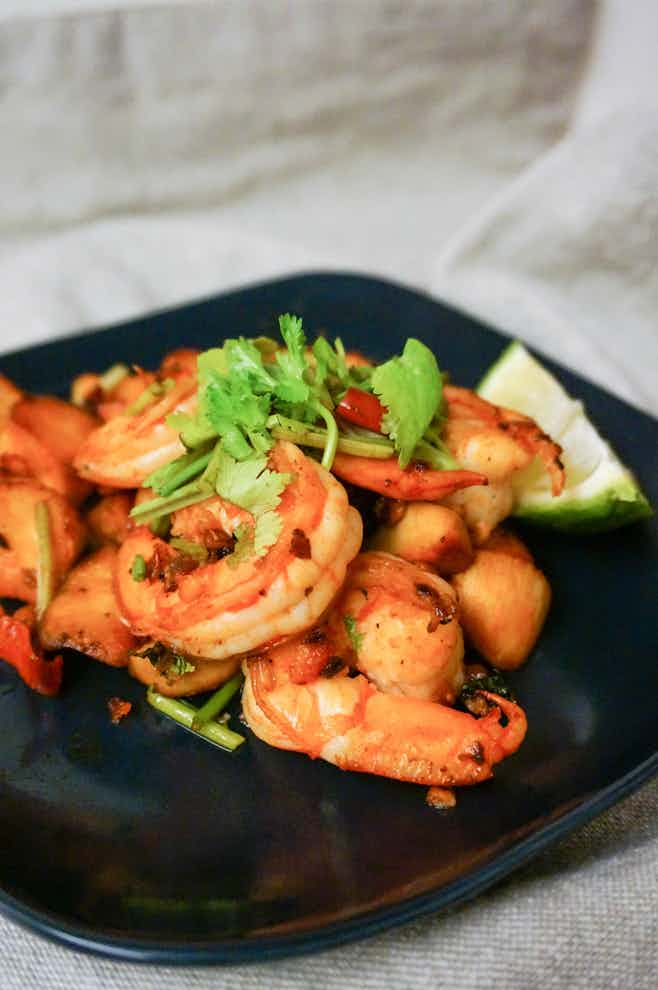 Scampi alla veneziana
You are right in the middle of the shrimp season in Venice in April. During this season you will get the fresh produce right off the sea. The dish itself is simple, boiled Shrimp with a twist of lemon and olive oil, but it produces the most intense flavors!
Where to eat: Paradiso Perduto, Fondamenta della Misericordia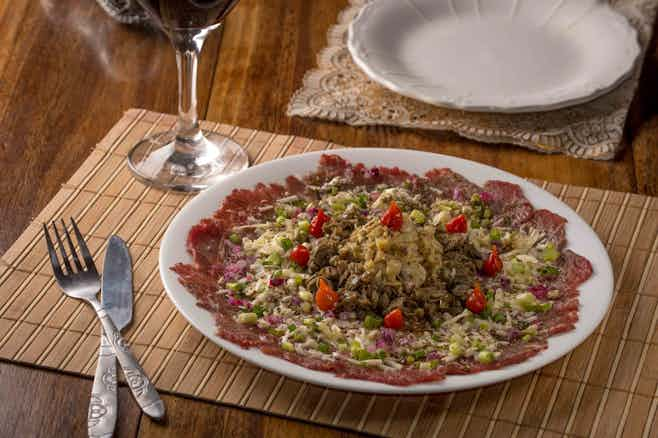 Carpaccio
The Italian version of the sushi, Carpaccio is thinly sliced meats, including fish that is garnished with sauces and eaten raw. It was created in the legendary Harry's Bar for a countess and continues to be devoured by locals and tourists alike.
Where to eat: Harry's Bar, Calle Vallaresso Baccala Mantecato
The rich flavor of the salted sea cod mashed with oodles of olive oil is unparalleled! Top it onto polenta, and you have got yourself a satisfying comfort food that has enticed Venetians for centuries. Legend says salted cod was brought to Venetian trader, all the way from Norway!
Where to eat: Osteria Al Bacareto, Sestiere San Marco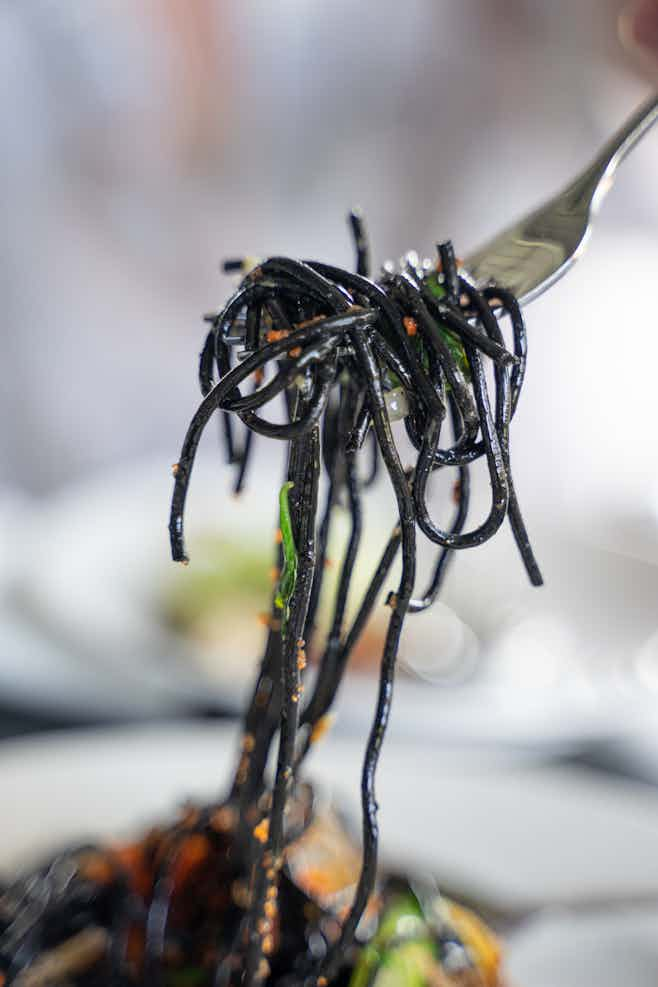 Spaghetti al Nero
The spaghetti al Nero di seppia is one of the most fascinating dishes you will encounter on a trip to Venice. The spaghetti is jet black! The dish is made with squid and its ink which lends the dish its black color, but don't let the appearance fool you, it's a tasty meal.
Where to eat: Corte Sconta, Calle del Pestrin Frittole
The frittole are Venice's answer to the doughnut! Fried balls of goodness, the frittole often have fillings of raisins, orange peels, custard, chocolate and anything that catches the fancy of the pastry chef. A Venetian delight, you can find the frittole in restaurants and pastry shops across Venice.
Where to eat: Bucintoro Pasticceria, Sestiere San Polo 2229
Tips for Visiting Venice in April
---
The mass timings at St. Mark's Cathedral on Easter Sunday are 7 AM, 8 AM, 9 AM, 10:30 AM, 12 PM and 6:45 PM. The evening 6:45 PM mass often has choirs from other churches.
Recent years have witnessed high temperatures ranging up to 27°C during last weeks of April. It is best to carry a bottle of water and keep hydrating yourself. Venice has several fountains across the city and the water is drinkable and safe.
April is when the cruise ship season starts in Venice, this means that every other day you will witness a cruise ship unload thousands of visitors. These visitors flock the attractions from 9 AM to 5 PM, so you can plan your day accordingly.
Wood-burning ovens are banned in Venice, due to the safety concerns they bring up in a city built on wooden foundations. This is why you shouldn't try pizza here, but instead opt for fresh seafood, polenta and a variety of pasta.
Murano Glass is a popular item for taking back as souvenirs, and you can choose anything from home decor to jewellery. The original Murano glass is expensive and has a sticker of authenticity on the glass. Beware as many of the cheap knockoffs are made in China! You can find a list of authentic shops on the website.
April is a good time to soak in panoramic views of the city and the best places to do that are the Bell Tower of San Marco (Entrance fee €8) and Bell Tower of San Giorgio Maggiore (Entrance free €5). The sunny weather ensures clear skies and offers high visibility of the entire city and its waterways.
FAQs
---
What are the top things to do in Venice in April?
What is the temperature in Venice in April?
What are the best day trips to take from Venice in April?
Are any famous attractions closed in Venice in April?
What is an ideal itinerary for visiting Venice in April?
Is April a good time to visit Venice?
Month-By-Month Guide To Visiting Venice
---
Planning to Visit Venice in April?
---
Here are a few detailed guides on essentials in Venice that will help you plan your trip better.