You could spend a week wandering from the Uffizi to the Galleria dell'Accademia to the Bargello Museum and still only scratch the surface of the artistic heritage preserved in Florence. But once you've had your fill of Renaissance art, step out of the city and venture a little further afield. Being at the very centre of Italy makes Florence a great base from which to explore the rest of the country. Rolling hills, charming coastal village and honey-stoned towns can be reached within 3 hours from Florence. Here are our top picks for the most gorgeous, hassle-free day trips from Florence.
5 Best Day Trips From Florence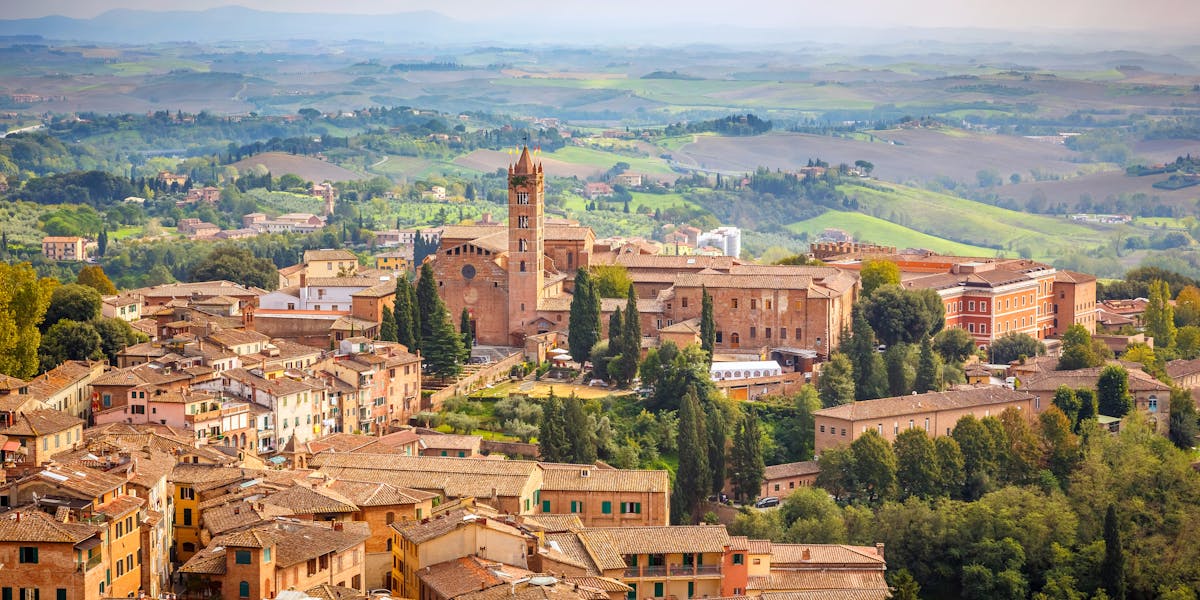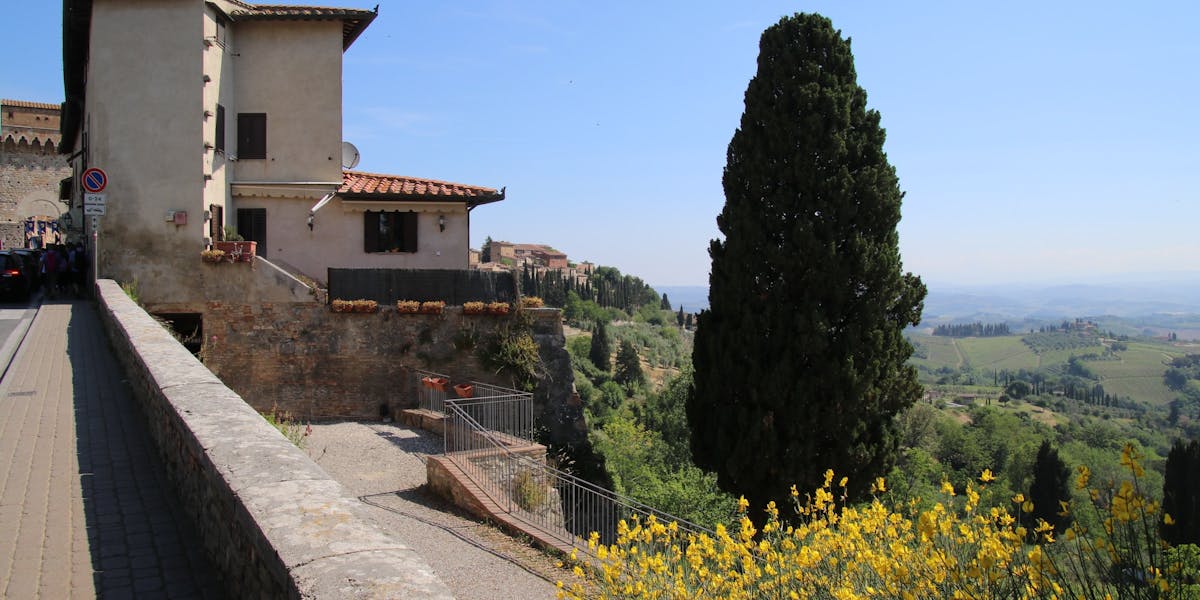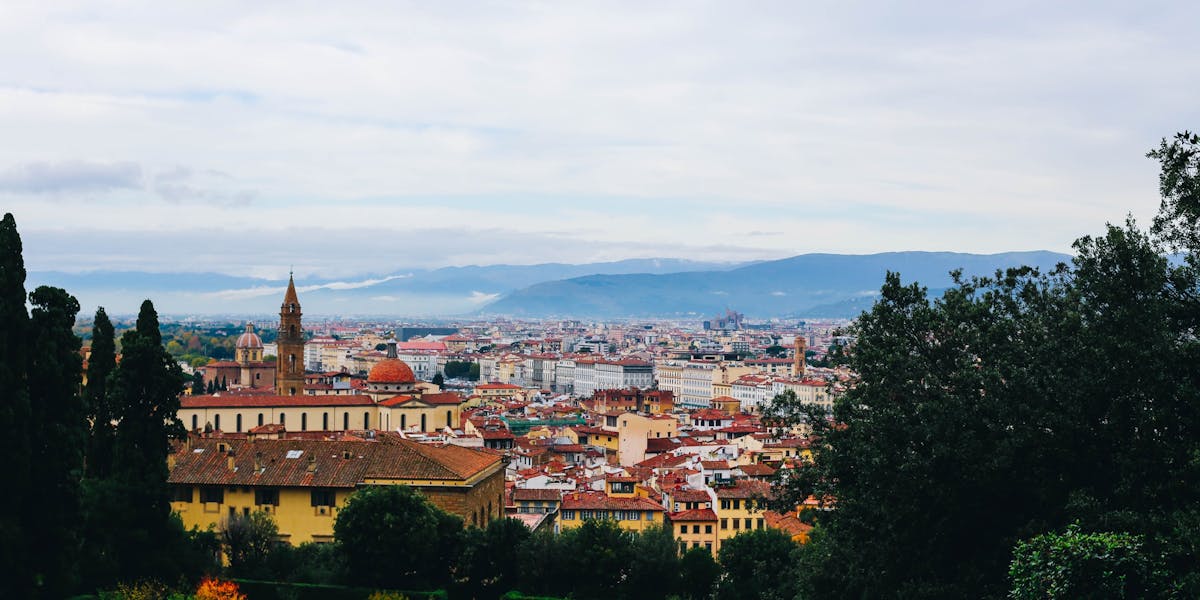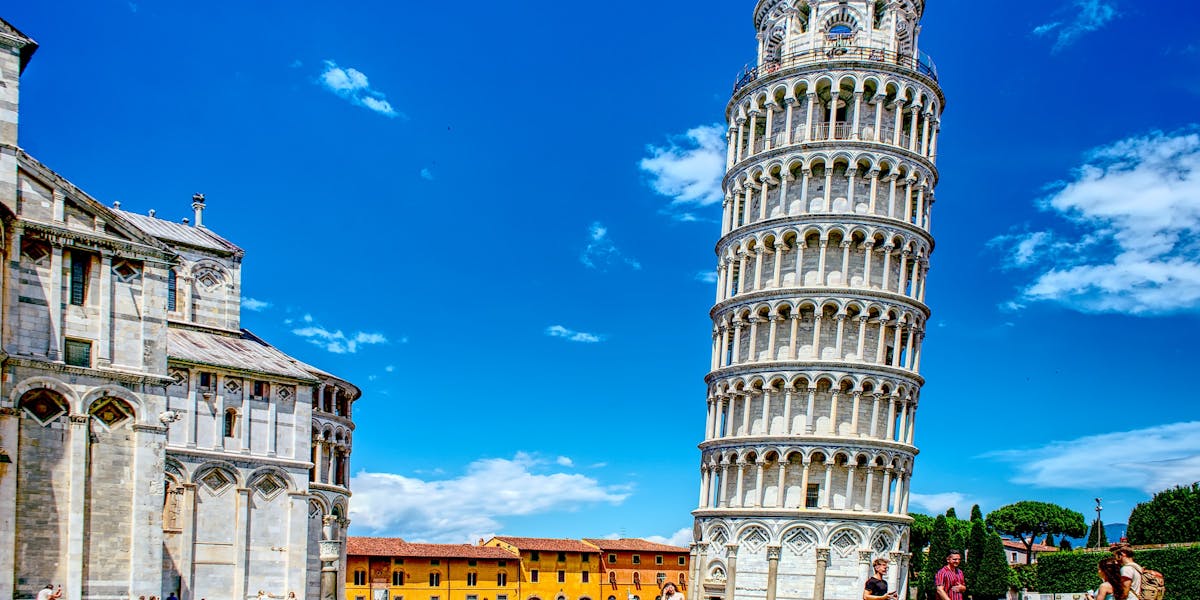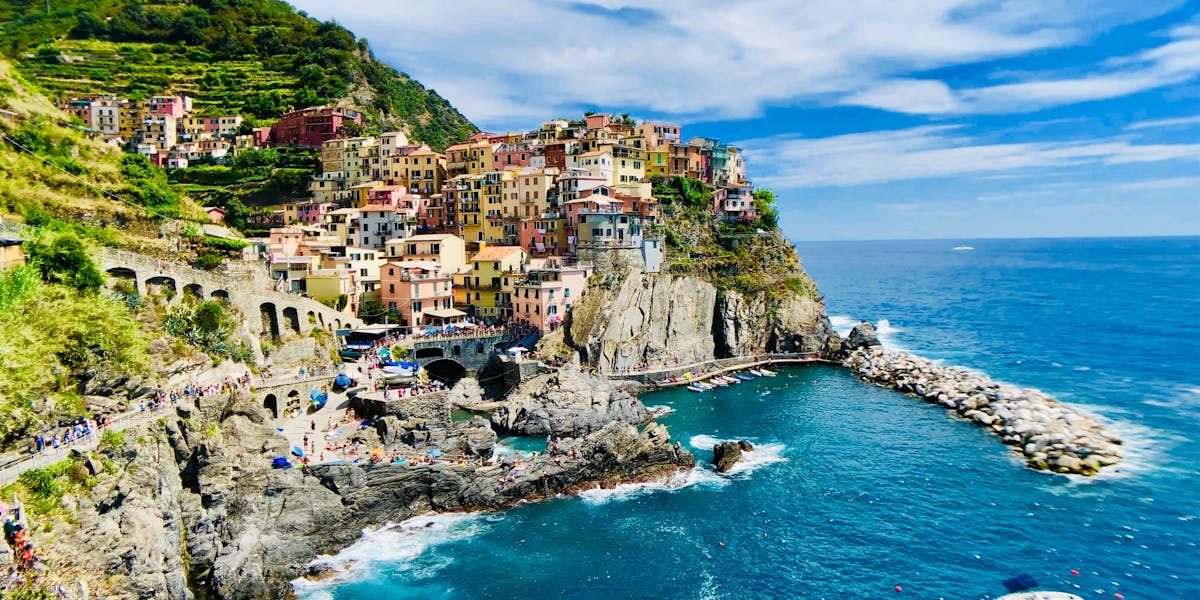 1

Siena
Day Trips From Florence
78 km
Distance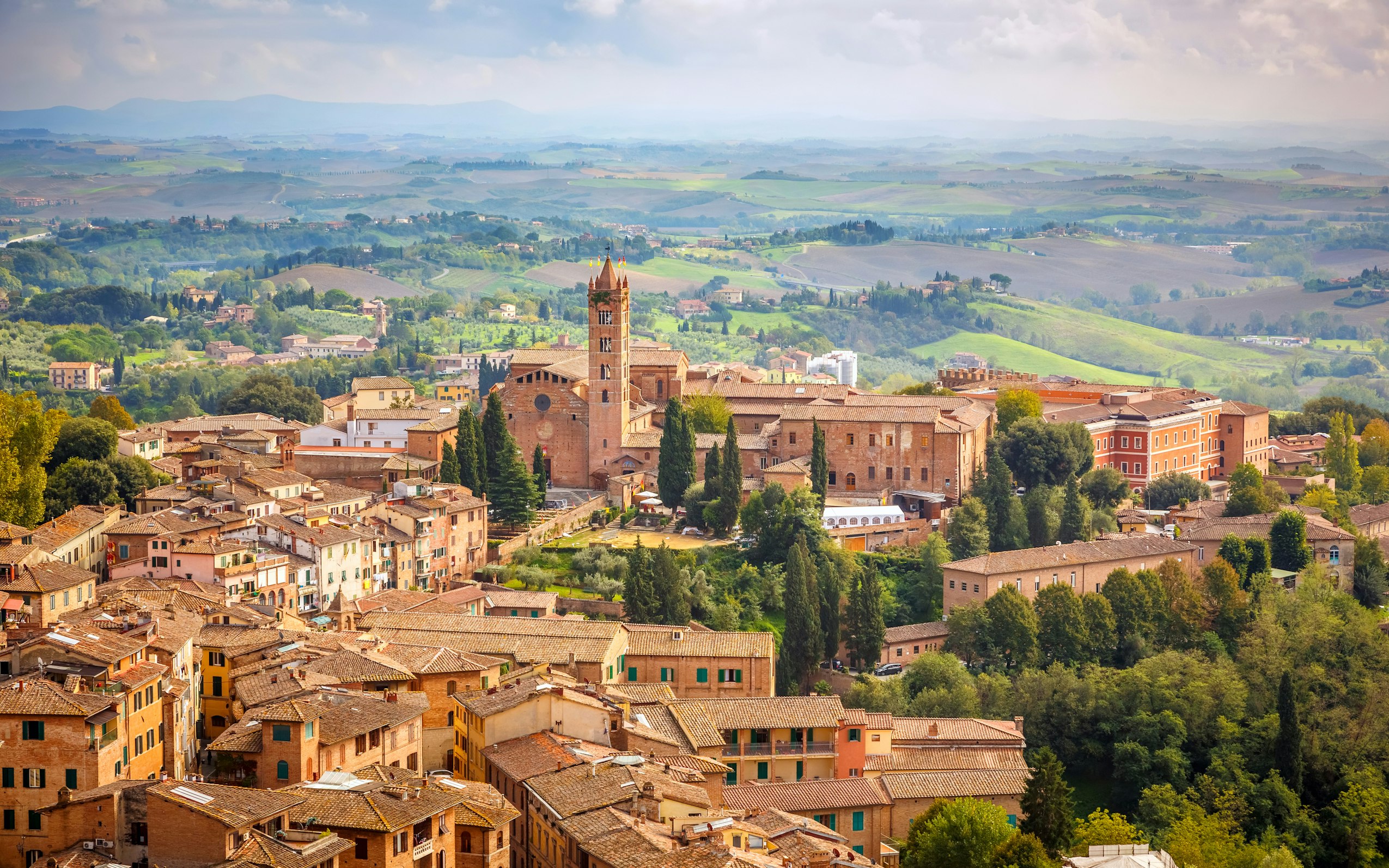 A city of museums and churches with a rich confluence of medieval art, Siena is an ideal holiday destination for wine lovers longing for a bit of old-world charm. The historic center of Siena prides itself on being a UNESCO World Heritage Site, and The Siena Cathedral is the most notable of all the tourist attractions. Siena is often considered a giant, open-air museum with spiritual and secular monuments that have retained both their medieval forms and their extraordinary art collections. That said, a day trip from Florence to Siena is a feast for the senses and an essential stop on every Tuscan itinerary.
Best Time to Visit
April to May & September to October
Piazza del Campo
This is the main city square of Siena, built on the site of a Roman marketplace. The square is lined with trendy cafes and restaurants and the famous Palio di Siena(traditional horse race) is held twice a year around this square.
Torre del Mangia
Torre del Mangia is a 102m tall tower, located on Piazza del Campo, and was supposed to be around the same height as the Siena Cathedral to signify the equivalence of power between the church and the state.
Siena Cathedral
This medieval church was built between 1215 and 1263 and contains artistic works by Donatello, Pisano and Michelangelo. This stunning Gothic piece of architecture also houses the Piccolomini Library and the Chapel of St. John the Baptist. Don't miss the intricate mosaic floor, the Chigi Chapel, and the beautifully designed pulpit! Learn all about your ticket options to Siena Cathedral.
Basilica of San Domenico
Also known as the Basilica Cateriniana, this Basilica is known for its splendid Gothic appearance, and contains several relics of St. Catherine of Siena. Built around 1226 AD, it is one of the most important basilicas in the city.
By Train
There are up to 16 trains that traverse this 85 km distance, which leave once per hour.
By Bus
Rapida Bus travels non-stop from Florence to Siena and takes about 1 hour 15 minutes; Ordinaria (the slower one) makes two stops on the way and takes 1 hour and 30 minutes.
Guided Tour From Florence To Siena
With a pre-booked tour, transport is covered in the cost of the tour, and you also get to explore Siena and surrounding areas extensively, in a hassle-free manner. This definitely makes for an easier option if you are travelling with children, or simply want a relaxed holiday!
Top experiences in Siena
2

Chianti
Day Trips From Florence
27 km
Distance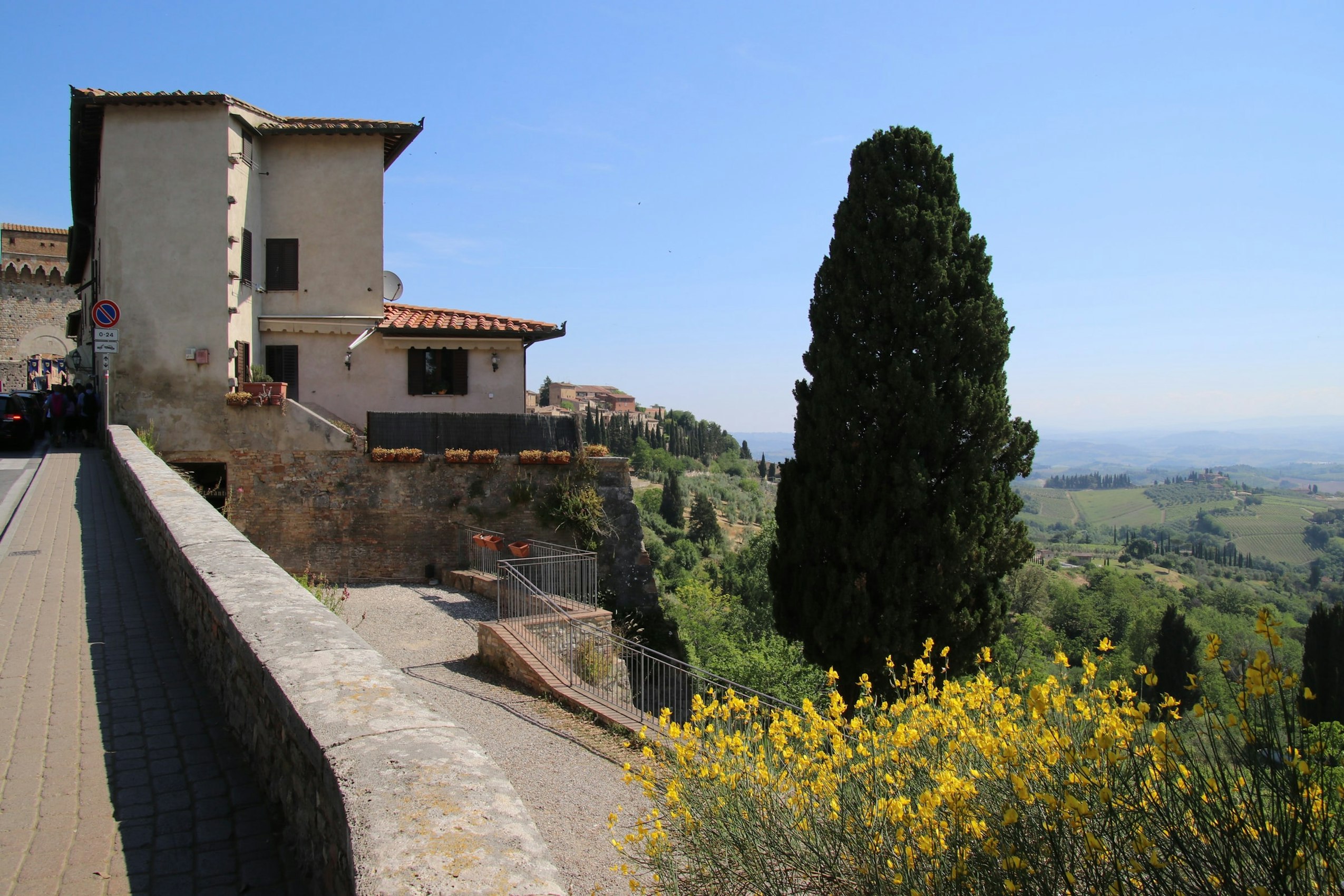 The Chianti Region is a beautiful slice of rolling hills in Tuscany, sprawling with vineyards and olive groves, peppered with small stone villages and wineries. A dream come true for oenophiles, the Chianti region is where the fabled Chianti Classico wines are produced and is one of the best places to taste and learn about Italy's celebrated wine culture. Learn all about going from Florence to Chianti.
Best Time to Visit
April to May & September to October
Piazza Matteotti
The town of Greve has developed around this piazza over the last 500 years, with the church of Santa Croce to the southern end and numerous stores selling wine, ceramics, artisan products and all kinds of local food around the piazza.
Montefioralle
This is one of the most ancient villages in the Chianti region, with houses and streets made of stone till date.
Lamole
From Lamole, you can find one of the best panoramic views of Chianti. It's a tiny village with a restaurant, a small grocery shop and a church.
Vignamaggio Villa
A wine estate and agriturismo, Villa Vignamaggio is a great place to taste organic wines and enjoy an amazing view of the valley. Fun fact: Mona Lisa Gherardini, subject of Leonardo da Vinci's world-famous painting, married into the family that built this villa in the 14th century. It's no wonder that the locals call it Monnalisa's villa.
By Train
It takes an average of 1h 33m to travel from Florence to Castellina in Chianti-Monteriggioni by train, over a distance of around 25 miles (41 km). There are normally 17 trains per day travelling from Florence to Castellina in Chianti-Monteriggioni.
By Bus
You can also take a SITA bus from Florence to Greve in Chianti, one of the bigger towns, or from Florence to San Paolo in Chianti, in the hills. The Florence city ATAF bus number 49 goes there, too.
Guided Tour From Florence To Chianti
Chianti does not have a very great public transit system, so communiting within the region can be challenging if you do not have your own vehicle. In such cases, a guided tour is highly recommended. You can visit the best of Chianti Classico wineries, vineyards and other delights this wine producing town has, in the company of a local expert guide. Your transportation and lunch is taken care of too.
3

Rome
Day Trips From Florence
273 km
Distance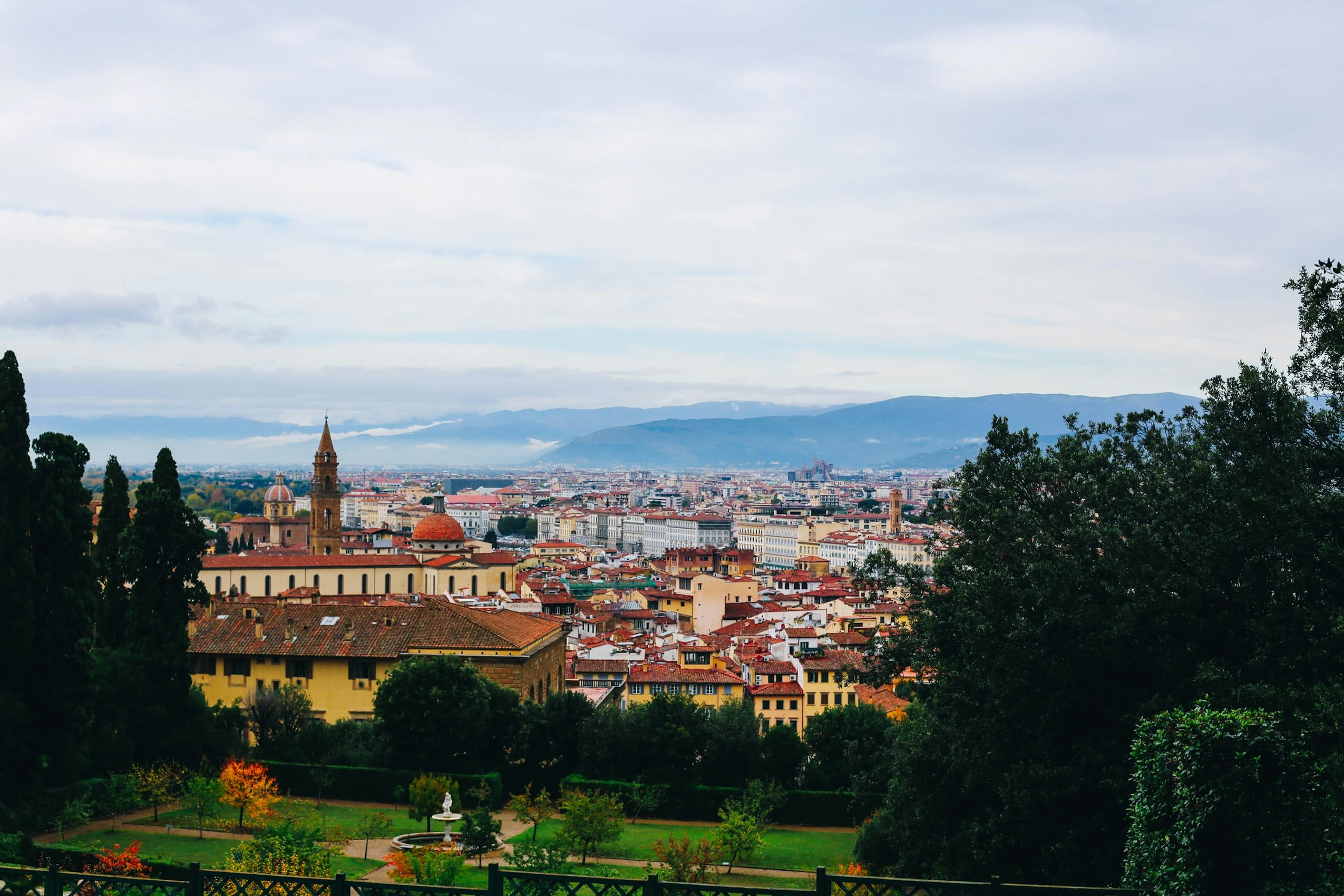 A melting pot of culture and history, Rome is more than just a page out of the past. With art and poignant ruins dominating its ornate cityscape, this city is a must on your Italian vacation. Whether it is in the form of an architectural marvel like St. Peter's Basilica or in roadside nooks serving wood-fired pizzas — a day trip from Florence to Rome promises to surprise you with every step you take.
Best Time to Visit
October to April
Sistine Chapel
The Sistine Chapel is best remembered for being a home to two of the most famous artworks of all time: Michelangelo's ceiling frescoes and his Giudizio Universale.
St. Peter's Basilica
Recognised as the largest and the holiest church in history, St. Peter's Basilica is perhaps one of the most influential sites of Christian pilgrimage, attracting thousands of tourists every year.
Vatican Museum
Art enthusiasts can find themselves amidst a treasure trove, as the Vatican Museum consists of an eclectic collection of paintings, sculptures and other artefacts collected by the former popes of Vatican.
Colosseum
Colosseum is best recognised as a thriving symbol of Rome. Being the largest amphitheatre in the world, it could seat 55,000 spectators at once, and was also a site for several deathly combats between men and animals.
By Train
You can take a train from the Santa Maria Novella, Rifredi, or Campo di Marte train stations in Florence to reach Rome's Ostiense, Termini, or Tiburtina train stations. There are high speed trains and slow trains (cheaper option) so you can book either according to your budget and time available in hand. This is the fastest way to get from Florence to Rome, taking you about 1.5 hours.
By Bus
This is the cheapest, yet most time-consuming way of going from Florence to Rome. You can take a bus from the Piazzale Montelungo or Autostazione Busitalia-Sita Nord bus station in Florence and arrive at Rome's Tiburtina bus station within 3.5 hours. Some of the reputed buses that shuttle from Florence to Rome and vice versa are Flixbus, Baltour, and BusCenter.
By Car
The distance from Florence to Rome is about 290km, and with no traffic or wrong turns, you can have a great cruise on impeccable Italian highways and reach your destination in 3.5 hours. The only hiccup is that there maybe a few tolls on the way which will set you back by a few euros.
Guided Tour From Florence To Rome
There are many guided tours available from Florence to Rome Tours, and depending on your appetite for touring around Rome and budget you can pick any. You can be in the comfort of your luxury coach, have an expert local guide at your disposal and cover all the significant sights in Rome within a day!
Top experiences in Rome
4

Pisa
Day Trips From Florence
83 km
Distance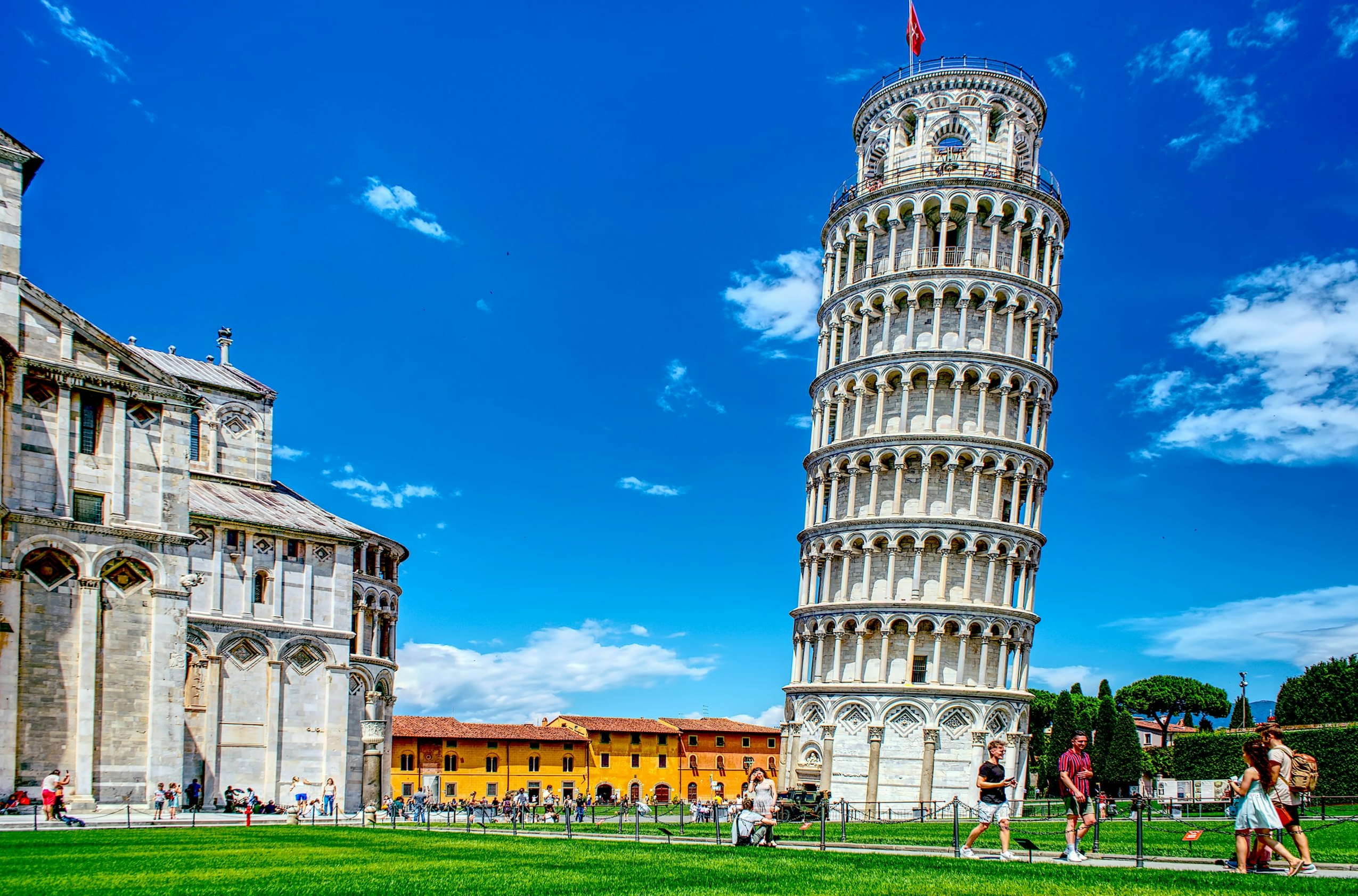 The old maritime republic of Pisa is home to many a historic churches, medieval buildings, sleek bridges over river Arno and of course, the fabled Leaning Tower of Pisa. Taking a trip from Florence to Pisa is not just convenient due to the great public transport connectivity, but helps you discover a lot more of the Tuscan region and not to forget indulge in diverse amounts of wine, pizzas and gelatos
Best Time to Visit
April to June and September and October
Travel Time
1 hour 15 minutes
Leaning Tower of Pisa
The Leaning Tower of Pisa is one of the seven wonders of the world, a 55 meter tall freestanding bell tower also known as the "Torre Pendente". This iconic structure is anything but impressive despite being an 'architectural blunder'. At a time, access to the Leaning Tower is limited to 45 people only.
Pisa Cathedral
Also called the Duomo di Pisa, this medieval Roman Catholic cathedral was built in the Pisan Romanesque architectural style and is dedicated to the Assumption of the Virgin Mary and the seat of the Archbishop of Pisa. Entry to the Pisa Cathedral is free.
Pisa Baptistery
This dome-topped baptistery of St. John was built between the 12th and 14th century by master architects like Diotisalvi , Nicola Pisano and Giovanni. The Pisa Baptistery is Europe's biggest baptistery and also happens to be where Galileo Galilei was baptised.
Camposanto Monumentale
A historical edifice in Pisa, the Camposanto Monumentale translates to monumental cemetery. This holy field has restored frescoes, funerary monuments and endless marble corridors making it one of the most beautiful cemetary grounds in Italy.
By Train
From Santa Maria Novella Train Station, Florence there are plenty of trains that run to Pisa Central, Pisa on a daily basis. There are fast trains with limited stops and slow trains with multiple stops, but, there's barely a 15 minute difference between the two so either should do fine. The train journey from Florence to Pisa takes about an hour.
By Bus
There are regular coaches that ply between Florence and Pisa and takes about 1.5 hours. The 2 most reputed coach companies that are reliable and economical are Terravision and Autostradale. However, these coaches do not enter the city premises in either cities, so there's an additional transport to the bus stand to be taken into consideration. We'd recommend the train over bus for a day trip, since it saves you time and energy.
Guided Tour From Florence To Pisa
There are many Florence to Pisa Tours available and our favourites are the Guided City Tour of Pisa and a combo tour of San Gimignano, Sienna and Pisa. You can be in the comfort of your luxury coach, have an expert local guide at your disposal and tour all the significant sights in Pisa within half a day!
Top experiences in Pisa
5

Cinque Terre
Day Trips From Florence
183 km
Distance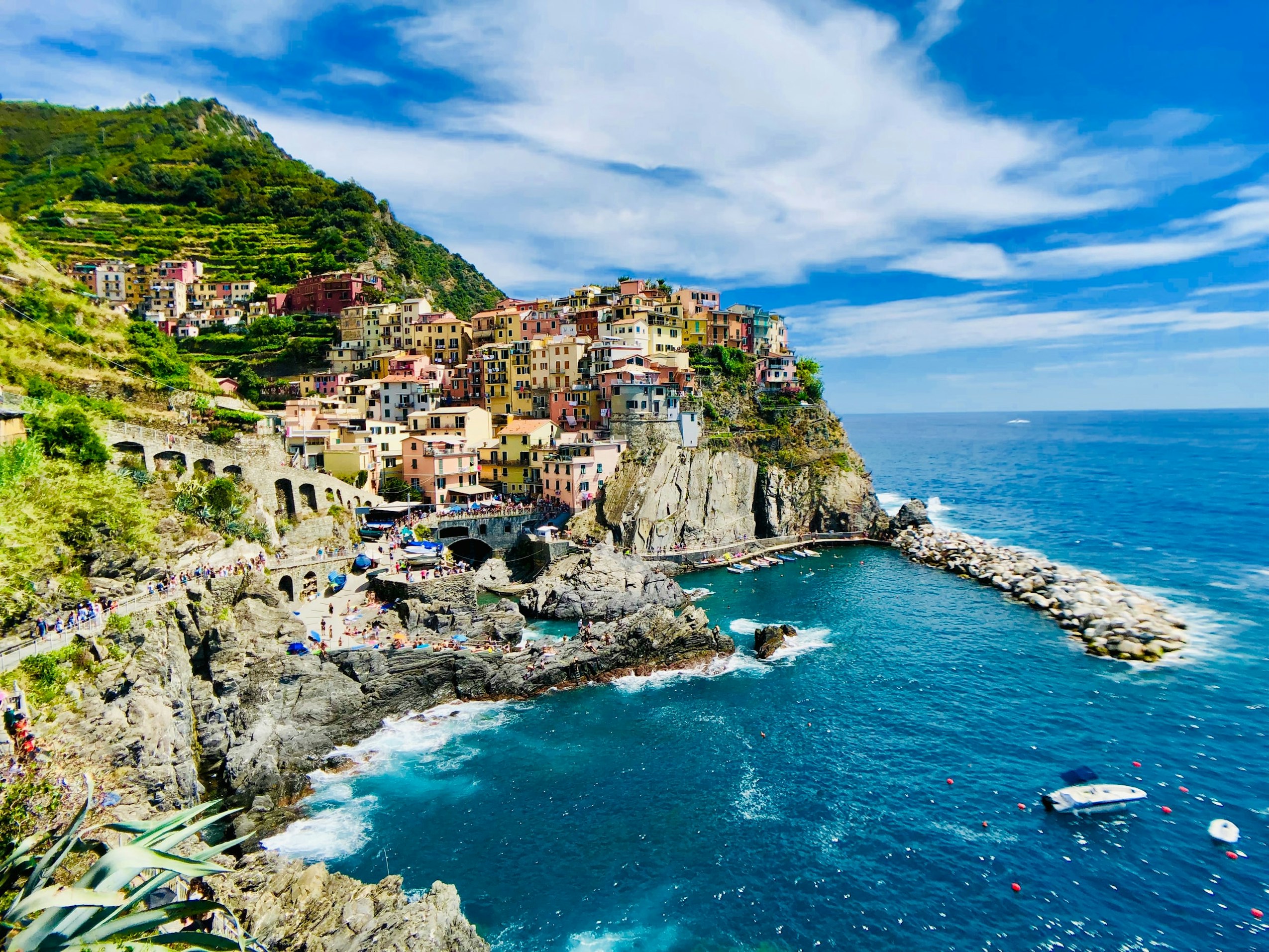 The deep blues of the ocean and sky, the lush green of the man-made terraced gardens and the multi-color pastel hued houses - all form the picture perfect postcard of Cinque Terre. The five villages of the region draw more than 2.5 million tourists per year, who visit to explore the unique architectural, natural, and cultural wealth of this UNESCO World Heritage Site. Learn all about taking a day trip from Florence to Cinque Terre.
Best Time to Visit
September and October
Riomaggiore
The village of Riomaggiore rises from a tiny wharf into the steep valley, creating a precarious illusion. It is among the largest of Cinque Terre and often the first stop on a Cinque Terre day tour from Florence. The main street known as Via Colombo has cafes, restaurants, and guest houses, where visitors can enjoy the charm of this 13th century village.
Manarola
Just round the corner of Riomaggiore is the picturesque village of Manarola. Both the villages are connected by the Via dell'Amore or 'The way of Love', one of the easiest and most spectacular stretches of the Cinque Terre trail. The village appears to almost spill over into the sea and creates a dramatic effect with the colorful houses stacked on top of each other.
Corniglia
This is the only village that doesn't open out to the sea. It is nestled high up on the cliff with a steep drop down to the sea. The highlight of the village is the 'Scalinata Lardarina', or the staircase of 337 steps that connects the railroad to the village. Catch a glimpse of the other villages of Cinque Terre from Corniglia.
Vernazza
Revel in the history of Cinque Terre while you're at this village, especially from Castello Doria with its tower that was used to look out for raiding pirate ships. This fishing village has a natural harbour ideal for sunbathing and frolicking; it is one of the best villages to spend overnight.
Monterosso al Mare
Monterosso is the only village in Cinque Terre with a wide beach and has a truly modern resort vibe. If you have to choose only one of the villages on your Florence to Cinque Terre day trip, then spend your time here.
By train
Your journey starts from Florence SMN Train Station and requires a few transfers along the way. Look for the direct Regionale train to La Spezia and hop on it. Once you've reached La Spezia, you'll have to switch to the 5 Terre Express train, a fast-regional train that runs every 15 minutes and connects all five villages. If you plan on visiting all villages, it's cheaper to buy a Cinque Terre Train Card, which gives you access to unlimited train travel and also allows you to access the hiking trails within the Cinque Terre National Park, which otherwise requires an entry fee.
By Train and Ferry
Once you arrive in La Spezia by train, you can reach Cinque Terre by boat. Between April and November, a number of large boats and ferries connect the city of La Spezia with four of the five villages that make up Cinque Terre - the village of Corniglia cannot be reached by boat as it is located up on a hill. The boat is a much slower option than the train, but it offers the best views. Keep in mind that because ferries take much longer than trains to reach the villages, this might not be the best option if you're only visiting for one day or want to visit all the villages.
By car
In the absence of traffic, the journey lasts approximately 1 hour and a half.
Florence Day Trips - Compare Your Options
| Florence Day Trips | Distance | Duration | Category | Best Time To Visit |
| --- | --- | --- | --- | --- |
| Chianti | 27 KM | 40 Minutes | Vineyards,Wine Tours | September and October |
| Siena | 78 KM | 1 hour | UNESCO World Heritage, Tuscan Sun | April to May |
| Pisa | 83 KM | 1 Hour 15 Minutes | 7 Wonders of The World, Architecture | April to June |
| Cinque Terre | 183 KM | 2.5 Hours | Coastal Beauty, String of Villages | September and October |
| Rome | 273 KM | 3 Hours | Architecture, Churches | October to April |
FAQs:
---
1. Pisa
2. Bologna
3. Siena
4. Lucca
5. Cinque Terre
With two or three days, you'll be able to visit more of the city's iconic churches and Michelangelo's David. Having more time also means you can cross the river into the Oltrarno District, which provides a somewhat less touristy experience of Florence.
You could go straight to the Duomo, sit down and look for a while. Don't run around. Then go to the Piazza della Signoria and, again, sit down for a while and soak it up. Then return to Santa maria Novella Station by way of the Mercato Nuovo.
Best stops along Florence to Nice drive. The top stops along the way from Florence to Nice (with short detours) are Leaning Tower of Pisa, Aquarium of Genoa, and Historic Centre (Unesco). Other popular stops include Piazza del Duomo, Vernazza, and Montecatini Alto.
1. Avoid the gelato mountains
2. It is worth the 500 steps to the top of the duomo
3. Cross the river
4. Take a food tour