Travel Guides and Tips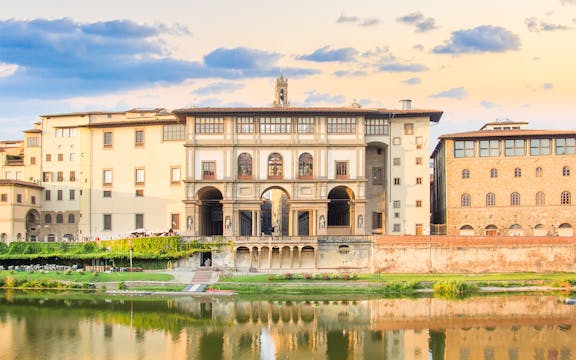 Explore the Iconic Art of the Uffizi Gallery with This Detailed Guide!
The Uffizi Gallery in Florence is home to an assorted collection of priceless Renaissance masterpieces from masters like da Vinci and Michelangelo. This art gallery draws a massive crowd, with over two million tourists from all over the globe.Nestled between Palazzo Vecchio and the Arno River, with a bewitching view of Ponte Vecchio, it is […]
Read More
Are guided tours in Florence worth it?

Florence is home to a variety of historic landmarks and awe-inspiring art galleries with spectacular architecture. To truly immerse yourself into the raw Florentine experience, it's best to opt for a

guided tour for an extraordinary Florence trip

. Delve deep into the city's history, explore hidden gems, and understand the artist behind iconic works, with your knowledgeable tour guide. They'll accompany you through the tour and regale you with fascinating insights and information about each place you visit. Moreover, opting for a guided tour also offers skip-the-line entry, which allows you to bypass the long waiting lines and get direct entry.
What languages are guided tours available in?

Most guided tours are available in widely-spoken languages such as English, Italian, French, Spanish, and more. You can expect your tour guide to be fluid in multiple languages, allowing you to fully understand the experience.
Are audio guides available on a guided tour in Florence?

Since most guided tours include the services of a local guide, you would not require an audio guide on your journey. However, if the guided tour includes a large group, audio guides may be given out to all guests for better understanding of the experience. If a local guide is not a part of your experience, you will receive an audio guide which you can take along on your self-guided tour.
Do guided tours in Florence include transport?
Will I get skip-the-line entry with my guided tour in Florence?