Italy comprises an abundance of small cities and quaint towns that look like they're straight out of a postcard. With the likes of Capri, San Cassiano, Cinque Terre, and Pantelleria, all dotting and boasting the country's surreal natural beauty, there are a few, lesser-known and lesser visited cities that lose out on the limelight.
One such place is Florence, the capital of Tuscany. Known as the 'Athens of the Middle Ages', Florence is one of the most beautiful and picturesque towns in the entire country. Being the birthplace of the Renaissance movement, the entire city is literally a piece of art with breathtaking architecture all around.
Apart from admiring the beauty of Florence, there is a ton to see, do and experience in this city, and this guide will help you chalk out a perfect day in Florence!
1 Day In Florence - How To Spend Your Time
---
1 Day In Florence - Detailed Itinerary
---
AM
An Early Dose of Culture

Accademia Gallery

Mercato Centrale

Florence Duomo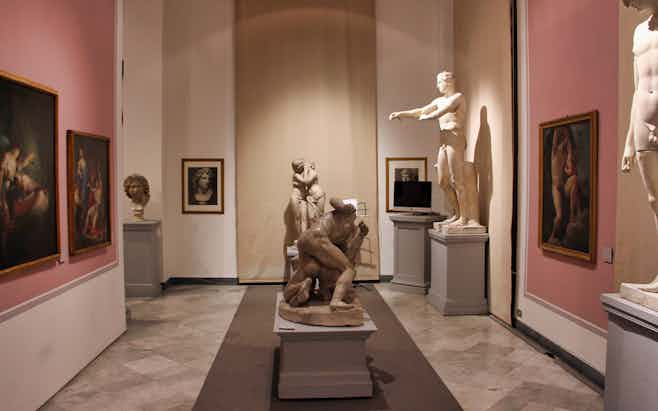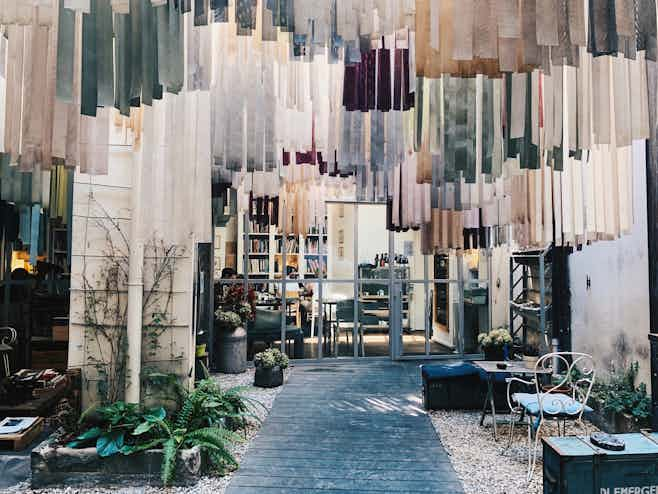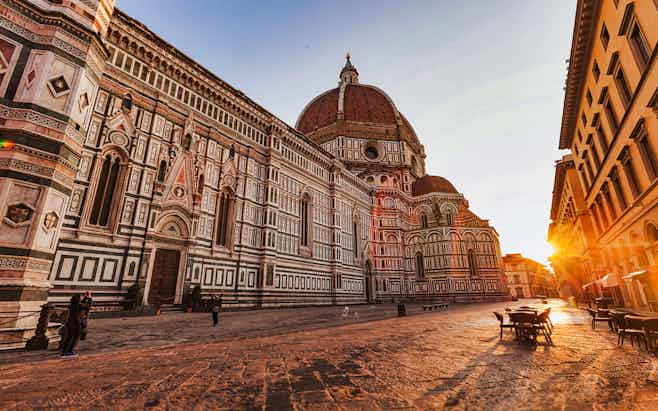 Allow us to chalk your 24-hour day from scratch, starting bright and early at one of Florence's most frequented attractions, the Accademia Gallery. After you've had your fair share of artistic brilliance, saunter onto Mercato Centrale, the perfect spot to grab a quick breakfast of your choice. After breakfast, it's time to explore Europe's 4th largest church, the ever-glorious Florence Cathedral!
Begin your action-packed day by visiting one of the most well-known and popular art museums in Florence, if not the world - Galleria dell'Accademia also known as Accademia Gallery. The museum open at 9 AM, allowing you ample time to explore every nook and cranny of this massive gallery without too many people in the morning hours. The Accademia is home to a number of exquisite sculptures, rare artefacts and breathtaking paintings by Florentine and other Italian artists. But most famously, The Accademia is home to Michelangelo's pièce de résistance - David. This masterpiece of Renaissance culture is perhaps the most widely known sculpture in the world! Give yourself at least an hour to make the most out of this gallery! Book yourself Accademia Gallery Tickets online before heading to this very popular attraction.
Travel Tips
Being one of the most popular attractions in Florence, queues to get in can get very long and the crowds inside can get massive as the day passes. To avoid this, make sure you reach the gallery as early as possible, as majority of the visitors start coming in post 11 AM onwards.
If you're really interested in art and are curious to learn about the exhibits in detail, we recommend taking a guided tour of the gallery.
After walking around The Accademia, you are sure to have worked up an appetite, so head next to Mercato Centrale to satiate your hunger. Located less than a kilometer away from the gallery, Mercato Centrale makes for the perfect place to grab a quick and satisfying breakfast. This historic market, situated at the centre of San Lorenzo market, offers delicious Tuscan treats to sink your teeth into. The ground floor of the market hosts vendors who sell local fruits and vegetables, meat and typical Italian snacks. Gorge on some scrumptious salads, sandwiches, pizzas and pastas, and wash it all down with a piping hot cup of Italian coffee. The best part about the market is that you can purchase your food at the ground floor and then head on up to the food court to sit down and enjoy your meal.
Travel Tips
Apart from delicious food, Mercato Centrale also offers visitors a chance to indulge in some Italian shopping!
Explore the shops selling clothes, souvenirs and leather goods. The central market is an absolute haven for shopaholics.
It is not uncommon for Italian restaurants and shops to close down for a couple of hours during the late afternoons and early evenings, so make sure that you reach here on time to fully enjoy the market.
Once you're done with breakfast at Mercato Centrale, make your way next to one of Florence's most awe-inspiring monuments, the Cattedrale di Santa Maria del Fiore , or simply, the Duomo Florence. This cathedral is the fourth largest church in all of Europe and is a UNESCO World Heritage Site.

Apart from its sheer size and age, the Florence Cathedral is a work of breathtaking beauty! The construction of this basilica lasted over 140 years and as a result, was worked on by a number of gifted architects, including Bondone, Pisano and Arnoldi. But perhaps none are as famous as Filippo Brunelleschi designing the single most emblematic and noteworthy piece of the church, the Dome. You have to climb 463 steps to reach the top of the Dome, but you're gifted with stunning sights of Florence for all the sweat shed. Explore your Duomo Florence ticket options here.
Travel Tips
This attraction is very busy, and therefore you cannot avoid ticketing queues. However, there are some hacks to avoid these lines. Read up on how to skip the lines at Duomo Florence here.
The Cathedral stands on Piazza del Duomo which has a number of other monuments and places to visit like the Florence Baptistery, Giotto's Bell Tower, Opera del Duomo Museum and Canonici's Palace.
You can buy a cumulative ticket to visit Brunelleschi Dome, Giotto's Bell Tower, the Baptistery and the Crypt if you're interested in visiting them all.
Once you're done exploring the cathedral, you can take quick tours of these other attractions and roam around the Piazza itself.
NOON
Where Culture Meets Art

Palazzo Vecchio

Piazza della Signoria

Uffizi Gallery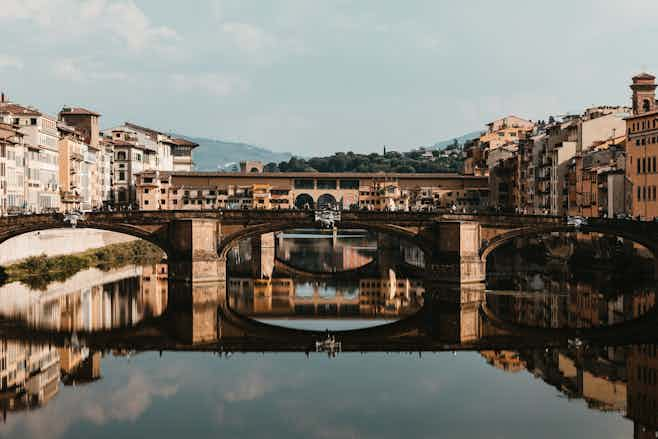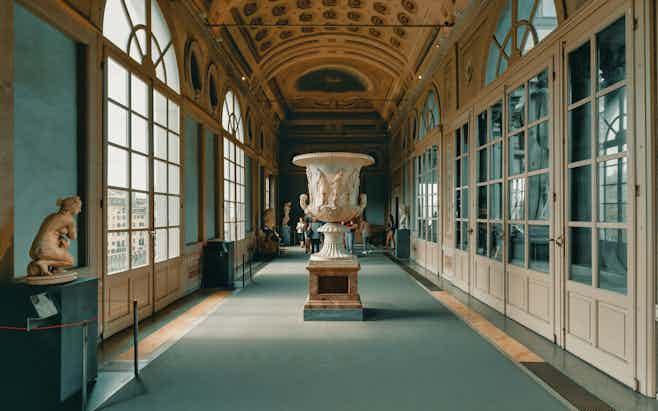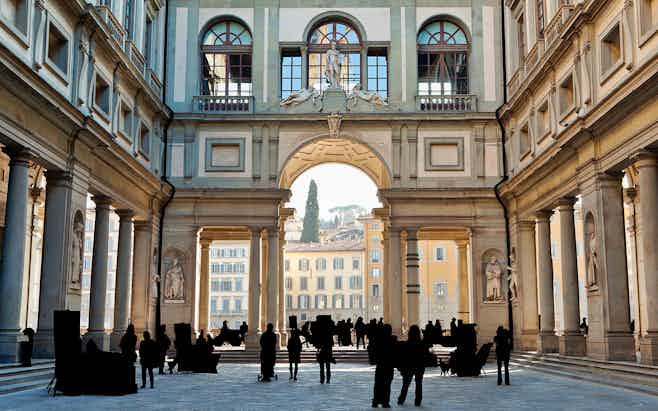 After an eventful morning, it is time to keep the culture train rolling. Head over to Piazza della Signoria, the centre of Florence's political life since the 14th century. Right outside the Palazzo Vecchio lies a replica of David for you to click photographs of. Continue onto Florence's most famous art gallery, the Uffizi Gallery.
After exploring the Florence Cathedral and Piazza del Duomo, grab a quick lunch, take a breather and fuel up for the rest of the day. After lunch, walk over to Florence's most politically important area - Piazza della Signoria. This L-shaped square has been the centre of Florence's political life since the 14th century and it houses the Palazzo Vecchio , the town hall of Florence, along with other significant buildings like the Loggia della Signoria and Palazzo Uguccioni.

The square itself is very lively as it is a common meeting point for locals and tourists alike. You can walk around and enjoy the beauty of this area as it is almost like an open-air sculpture museum with a number of elegant statues adorning the streets, including a replica of David that sits outside the Palazzo Vecchio. Right next by lies the Piazza della Signoria, steeped in Florentine history and serves as the perfect gateway for the next attraction on your list, the Uffizi Gallery.
Travel Tips
Piazza della Signoria is perfect for those who want to admire the artistic beauty of Florence without having to pay their way to enter a museum or gallery.
Along with the statues and sculptures, the buildings in the square themselves are beautifully and intricately designed, with most of them following the Renaissance style of architecture.
Located just 300 meters away from Piazza della Signoria, is the most famous art museum in Florence, and perhaps even the world - The Uffizi Gallery. With over 2 million people walking through its doors year after year, The Uffizi is the most visited attraction in Florence. The gallery exhibits some of the most famous works of art created, including Botticelli's 'La Primavera' and 'The Birth of Venus', Raphael's 'Madonna of the Goldfinch', Michelangelo's 'Doni Tondo' and many others. There is even a room dedicated solely for showcasing Leonardo Da Vinci's works! With over 101 viewing rooms and tens of thousands of paintings, sculptures, relics and artefacts, The Uffizi is truly an art lover's paradise. Book yourself Uffizi Gallery Tickets online to avoid ticketing queues at the attraction.
Travel Tips
Given the gallery's immense popularity, it will serve you good to purchase a skip-the-line ticket to Uffizi as the the lines to get in can get very long with an average waiting time of about 2 hours!
Also, we recommend a guided tour of the gallery as it can get pretty overwhelming going on your own. Your professional guide will not only help you navigate through the museum but he will also provide some great insights about the various pieces of art.
PM
Bridges, Piazzas & Neighborhoods

Ponte Vecchio

Piazzale Michelangelo
After all the sightseeing, it is time to take to the Florentine streets to absorb the glorious culture of this sprawling city. Start at Ponte Vecchio, one of Florence's oldest bridges. Stroll on over to Oltrarno, to the famous Michelangelo Square where striking panoramic views of Florence await!
Your next destination lies across the Arno Rivero, giving you the perfect opportunity to walk across and experience the Ponte Vecchio, Florence's oldest and most beautiful bridge. The bridge was built in 1345 and interestingly enough, was the only bridge, in Florence, that was not destroyed by the fleeing Germans during World War II. Back in time, the bridge was occupied by butchers and tanners, and later on by goldsmiths and gold merchants, but currently its tenants include jewelers, art dealers and souvenir sellers.
Travel Tips
The Ponte Vecchio is one of Florence's most photographed landmarks, so be sure to stop in at one of the many viewpoints to get a picture of the city as seen from the Arno River.
While walking and looking around the bridge, be sure to keep your valuables safe with you as this is a prime target area for pickpockets.
End this eventful day on a high note and head to Piazzale Michelangelo (Michelangelo Square) in Oltrarno. Designed and created by Giuseppe Poggi in 1869 on the side of a hill, the Piazzale Michelangelo provides a breathtaking and panoramic view of the entire city of Florence. Standing here, you are bound to be taken aback by the sheer beauty and magnificence of the city and river beneath you! The square, dedicated to the great Michelangelo, has a number of his sculptures on display, including a replica of David and the 4 allegories of the Medici Chapel of San Lorenzo. Come here during the day or at night, irrespective, you will be greeted by a truly captivating view of Florence. It is not only the most perfect place to take a picture of the city, but also the most perfect place to experience the very essence of it.
Travel Tips
Since the Piazza is open throughout the day, try visiting it once during the day and once at night. By doing this you will be able to witness the grandeur of Florence under the bright morning sun and also under the sheen of sparkling lights in the evening.
The Piazza can be reached both by foot and by car. For those who want to walk and enjoy the views while doing so, can walk along the south side of the river upstream towards the Torre San Niccolo.
For those looking to save energy, you can take the local bus from the centre (no. 12 or 13), and that will bring you straight to the Piazza.
How To Spend One Day In Florence under 100 Euros
---
Looking to budget your one day in Florence? Here's how you can do it under 100 Euros.
Book your Florence Attractions tickets on Headout, and spend just €50 on your 1-day vacation in Florence! Hit up all the prime attractions in the city and save more while you explore more.
More Florence Itinerary Options?
---
Have more time on your hands? Want to explore Florence further? Check out our 3 days in Florence itinerary for further inspiration.
Tips & Hacks For Making The Best of One Day In Florence
---
Start your day early : Since you have just 24 hours at your disposal, start your day early. Grab a cup of coffee and get started by 8:30 AM as most attractions around the city open around this time. Moreover, in Florence the lines into museums and churches increase as the day goes by, so go early and you can maybe save a few euros on Skip the Line tickets ( provided you're early only!).
Book your tickets in advance : You really cannot afford to spend time in the serpentine lines around each attraction. Grab your priority access tickets to all the places you want to hit up and whizz past the queues. Better still, grab a guided tour + skip the line combo that makes your life much easier. Even better still, grab Florence's most popular buy : The Florence In a Day Combo which takes you through Uffizi, Accademia and the Duomo in 6 hours with an expert guide ushering you through the city's lanes!
Beware of Mondays : Florence suffers from serve Monday blues, hence most museums are closed on Mondays. If you plan your trip on a Monday, make sure you have a Plan B of things to do around the city. .
Binge on street food from Mercato Central : If you want to try some authentic Florentine street food go for either Trippa, Lampredotto (cow stomach) or Schiacciata (Tuscan bread salad).They are delicious and you can have them on the go, allowing you to save time.
Watch out for street art : Now, this is something not too many people know about but Florence has an amazing collection of interesting, quirky street art. Watch out for the works of Clet Abrahams who famously and funnily altered the city's traffic signs to turn them into pieces of art. Florence has a very rich street art scene and you are sure to see lots of it in one day if you keep your eyes open for it.
Florence One Day Essentials
---
If you're in Florence for over 3 days, you can take other quick day trips from Florence. Below are our detailed guides on taking Day trips from Florence to Siena, Pisa, Cinque Terre, Rome, and more.
Florence in 1 Day - Itinerary