Widely known as the birthplace of the Renaissance, the mesmerizing art and breathtaking architecture of the capital of Tuscany is a dreamy holiday destination! Visit Florence and experience the vibrancy and splendor of this majestic city with its soulful traditions, rich culture, delicious cuisine, and divine wine. A city brimming with cathedrals, museums, art galleries, and cobbled stone pathways; Florence has enough to keep you busy for weeks on end. Before taking a step back to the Renaissance era, here are a few travel tips that could come handy during your Florence escapade. Read on!
Florence Essentials
---
Starting with the essentials, here's what you must know before getting to Florence.
Best Time To Visit Florence
---
Spring (April to June) and Autumn (September to October)
Most tourists prefer visiting the Tuscan capital of Florence in Spring or Autumn as the weather is quite pleasant during this time. The summer sun can be a bit harsh, and winter can be really cold if you're not used to it. Spring and autumn also see relatively fewer tourists than other months with cheaper flight fares and hefty discounts on hotels. Having said this, the beauty of the city does not diminish a wee bit even with scores of tourists milling about. Rest assured, you're in for a delight whenever you choose to visit
Read more about the best time to visit Florence.
Florence Travel Tips 101 - A First Timer's Holy Grail
---
Below are the tips and hacks you're here for. Read on and thank us later!
#1 Watchout for Streetside Art
You don't necessarily need to step into the museums and galleries in Florence to witness art. The city in itself is a work of art and you're likely to find streetside art in every other corner of the city. While visiting the Uffizi and Accademia Gallery are highly recommended, take a breather from indoor art and admire the many artists working their magic on the streets. Among the many gardens, squares, churches, and fountains, and you'll be surprised to see many remarkable and familiar art pieces!
#2 Always Carry Cash!
In the Tuscan region, ATMs usually charge a high fee on Visa and Mastercard. If possible, save up on this commission fee by bringing in a good stash of Euros from your home country. The exchange rates are bound to be far more reasonable than in Florence! Tipping is also customary in Florence, hence carrying some spare change will come handy.
#3 Spot the Right Gelato Gelato is supremely popular in Italy, and if you're looking for an authentic Gelato that's rich and fruity, avoid shops that pile high brightly colored mountains of gelato. A good scoop of Gelato has a melt-in-the-mouth softness with zero preservatives, so they'll have to be stored in refrigerated tubs, and are usually pale in colour like the fruit used to prepare it! Check out the best gelato shops in Florence.
#4 Pre-book Your Skip The Line Tickets Online
A good chunk of the world's most iconic paintings and sculptures are housed in the many galleries and museums of Florence. Naturally, it gets really really crowded (especially during summers) and your trip down the Renaissance art movement is likely to have a 2 hour long wait in queues. Grab skip-the-line tickets online and save yourself the trouble of standing under the scorching Tuscan sun which does nothing but dampen your spirits. Buy your skip-the-line tickets months in advance and score a few additional discounts even!
#5 Be vigilant about your belongings
Florence has a high rate of petty crimes - purse snatching and pickpocketing being the most common. Stash your passports and cash or ATM cards in a tiny pouch that you strap onto your belt and tuck it under your clothes. Be especially vigilant near crowded tourist attractions like the Florence Duomo, Uffizi Gallery; while waiting in queues and indoors as well.
#6 Get Out of the Historic Center If you're vying for a Florence that's quaint, lined with charming bakeries and flower pots, walk away from Duomo or Palazzo Vecchio and explore areas such as Santo Spirito or San Niccolo. Here, beside flower-potted houses, tiny gardens, colourful mopeds and cobbled roads, you'll come across hidden surprises like family run art galleries, small piazzas centered around tiny fountains, and hilltop olive groves!
#7 Wi-Fi spots abound
Florence has plenty of open Wi-Fi networks, as the Italians are quite tech-savvy. Get access to one hour of free internet (only if you're using an Italian phone) in the city center! Many restaurants and cafes also encourage the use of Wi-Fi, and if you're a digital nomad, you can unwind with your gadgets in these spots. If you don't see a sign, feel free to ask the receptionist or waiters for the password and you won't be turned down.
#9 Climb the Duomo Cupola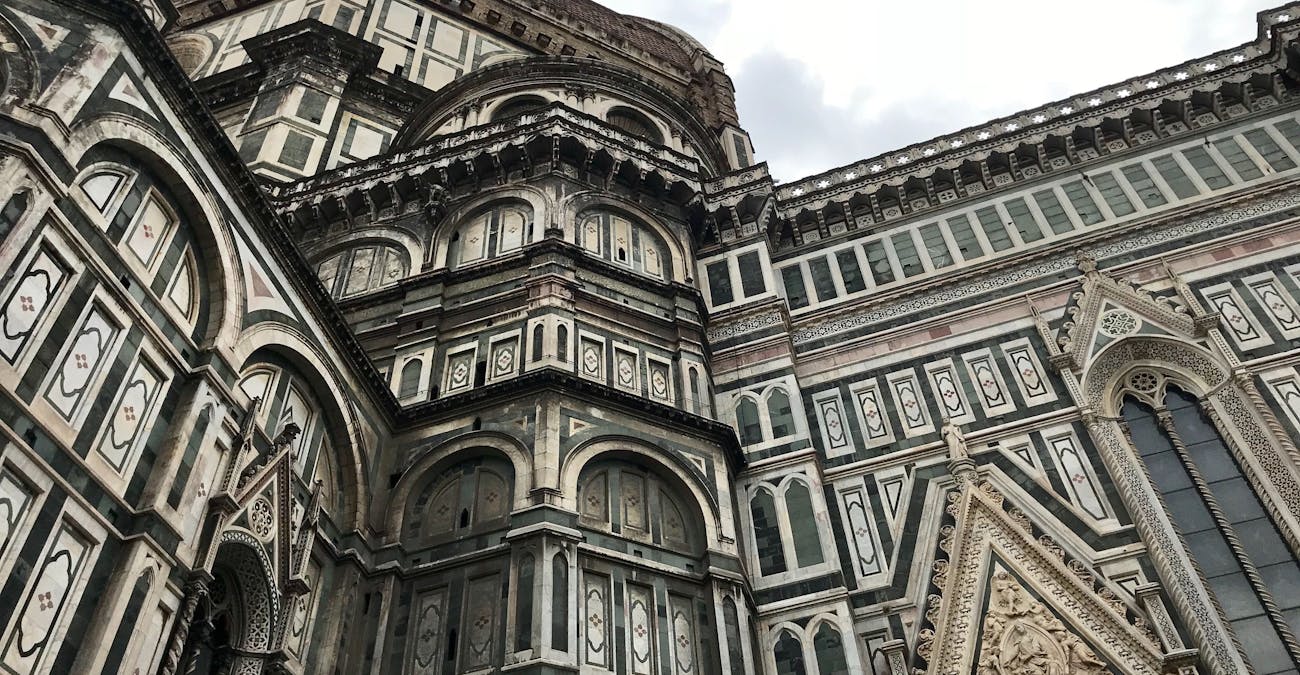 While the sound of climbing 500-odd crammed steps atop the Duomo may sound taxing, it is worth every drop of sweat once you set eyes on the view from there. Book your tickets for the Cupola Climb online as they sell out weeks in advance and make your way up around dusk and brace yourselves for one of the best sunsets ever.
Recommended Experiences For Climbing The Duomo Cupola
#10 Watch out for Stendhal Syndrome!
You may have heard of the age-old adage, 'Too much of anything can be a bad thing,' well, this holds good for your trip to Florence as well. As per Wikipedia, Stendhal syndrome, nicknamed Florence syndrome is a psychosomatic condition involving rapid heartbeat, fainting, confusion and even hallucinations, allegedly occurring when individuals become exposed to objects or phenomena of great beauty. Stay hydrated and keep traveling to your heart's content, and you'll be just fine!
#11 Sign up for a Food Tour in Florence
Art in Florence is not limited to paint and stone, but in the city's culinary thoroughfare as well. Sign up for a food tour and experience a culinary bonanza as you leisurely eat your way from one location to the next. If you're not interested in a food tour per se, visit the Mercado Central - a local food market on the bottom floor and artisan food court on top where here you'll find all of Florence's culinary specialities under one roof.
Here are the top rated food tours in Florence
#12 Catch the Sunrise Over River Arno
Ponte Vecchio is a stone closed arch bridge built over the Arno River that's famous for several jewelry shops that operate out of the small sheds which were earlier meant for butchers. Wake up early and make your way here for a golden sunrise. The vintage background makes for a great photo-op as well!
#13 Be Street Savvy when it comes to Shopping Florence is the Italian hub for leather shopping, so indulge in bags, belts, wallets and jackets while you're here. While most shops are open to haggling, they only take cash. Also, most shops in Florence are generally shut from 1 PM to 4 PM on account of their afternoon siesta, so plan your day accordingly. Skip the shops next to landmark destinations and watch out for small neighborhood shops for better variety and prices.
#14 Italians Dine Late
In Italy, dinner is not served before 8:00 PM and most restaurants don't even open until 7:30 PM! Before dinner, locals are known to go for an aperitivo to a bar or enoteca (wine bar) for a happy hour + light snack. If you're used to an an early dinner, hop into a neighbourhood bar and gorge on the complimentary snack buffet with cured meats and cheeses with your cocktail until dinner is served.
#15 Visit the Lesser Known Boboli Gardens & Pitti Palace
While most tourists in Florence flock towards the Uffizi Gallery, Florence Duomo and Accademia Gallery; there are two lesser known gems in the city that deserve a visit. Step into the 111-acre Boboli Gardens and explore its terraced gardens, umpteen hidden fountains cradled by lanes of wisteria, 6-meter high obelisk from the time of Ramses II - a real treat for art and nature lovers. Though the gardens are set on a steep hill, walk all the way to the top and be rewarded with remarkable views of the city and a sunny lawn to rest your legs.
Located right next door the Boboli Gardens is Palazzo Pitti, the extravagant residence of the former grand dukes and monarchs of Florence. Wander through the Royal Apartments of the Palace and saunter through the many galleries of artistic and historical exhibits here.
If you're looking to taste a flavour of Renaissance art but steer clear of the tourist hordes; Palazzo Pitti and Boboli Gardens promise you a great dose!
Tips For Saving Money On Transportation In Florence
---
Avoid Flying into Florence Directly
Whether you're traveling to Florence from the USA, Asia or Europe, flight tickets into Florence are far more expensive than other Italian cities. It's a good idea to take a flight to Rome, Pisa or Milan and then hitch a train ride into Florence! Not only do you avoid intense jet lag, but also get the time to soak in the natural beauty of countryside Italy!
Walk, Walk, and Walk!
The birthplace of the Renaissance is best explored on foot because you can get from one end of the city to the other in thirty minutes, while having plenty of time to amble about and discover the little things which make Florence special - the quaint narrow inner roads, the festive marketplace, stunning medieval architecture, and churches with beautiful frescoes by the roadside.
Don't Hail Taxis, Call for Them!
In Florence, it's routine to call the Taxi operators and request for cabs instead of hailing it off the street. As always, taxi prices are steep, so be prudent and use them as a last resort. A lot of taxi services often have a lot of discounts and offers running, so check with the company in advance.
Get Your Bus Ticket Before Boarding!
While Florence is a compact city that can be explored easily on foot, you can also take buses to save on time. Just remember to buy the tickets at authorized coffee shops or newsagents. You can also buy it from the driver on the bus, but these are charged at premium rates. Note, bus tickets in Florence are valid for 90 minutes after purchase.
Tips For Saving Money On Eating In Florence
---
Florence's tryst with art and architecture is represented in its love for its food.
Find eateries where locals abound
Avoid those restaurants in the city center, which are teeming with tourists. To sample the most traditional Italian cuisine enjoyed by the locals, you'll have to move to areas away from the historical center. Why, it's a great idea to befriend some locals and get their suggestions too! A good glass of wine with a sumptuous meal is absolute solace to the stomach!
Indulge in Streetside Food
Local specialties of Florence, such as tripe, pizza, and lampredotto are some of the must-have dishes when you're in the Tuscan capital. Small local joints serve these dishes, barring dine-in options - opt for a takeaway and enjoy a good meal at the roadside or in a park.
Have Your Coffee at the Bar!
In Florence, don't be surprised to see bars thronging with huge crowds early on in the day because here, even the coffee shops are called 'bar' here. If you plan on drinking coffee, head to the nearest bar and gulp your coffee while standing at the bar counter unless you want to be charged a premium for sitting in the service area. As a general rule, Italians drink a whole lot of coffee in the daytime while standing at the counters because service on the table can cost you almost doubly more!
Buy Wine by the Bottles!
The Renaissance city boasts of fantastic wine at reasonable rates. Can you believe that the locals actually visit wine shops or supermarkets with empty bottles and just fill up wine by the bulk - Alla Spina (on the tap!) Do as the locals do, and relish these high-quality red and white wines in abundance!
More Tips To Save Money In Florence
---
Be Smart in Selecting Areas for Accommodation
If you've got a limited time in Florence, it makes sense to find a good hotel or dormitory within the city center. However, if you're looking for budget accommodation, head out of the historic center into residential locations. Areas on the other side of River Arno are easy on the pocket and also give you a taste of the Florentine way of life!
Prep for Picnics!
There are several walled, picturesque gardens in Florence with intriguing art installments. If you have some time to spare, embark on a leisurely stroll around these gardens and make a picnic out of it. Visit the San Lorenzo market for fresh produce like cheese, bread and pick up wine or fresh fruit juices along the way for a breezy evening outdoors.
Don't miss out on free attractions!
There's lots to do for free in Florence. Walk around the Santa Croce Basilica, watch leather artists displaying their craftsmanship around every corner, or take a trip down memory lane and feel like a suave Knight at the only remaining medieval bridge in Florence, the Ponte Vecchio!
Mondays are Holidays for the Museum
Most museums are closed on Mondays, making the weekends super crowded. We'd recommend opting for less conventional things to do on Saturdays and Sundays to avoid the milling weekend crowd. Head out to the neighboring district of Piazza Della Signoria or Ponte Vecchio Bridge for a breather!
Free Entry to State Museums
If your itinerary permits, choose to be in Florence on the first Sunday of every month between March to October. The State Museums don't charge a dime on these days, although you may have to battle a crowd inside. Some of the free attractions include Uffizi Garden, The Medici Chapels, Accademia Gallery, and The Pitti Palace.
Opt for Day Trips from Florence
If you find yourself with a few free days while in Florence, it's a great idea to embark on day trips - without the hassle of new hotel bookings, you're bound to save a lot of money while exploring a new place. You can choose from exotic destinations such as Chianti to know the nuances of wine tasting, or acquaint yourself with the world's wonder: The Leaning Tower of Pisa. Another exciting locale for a day trip is the Cinque Terra region - which is a world heritage site in itself!
Maximize Online Bookings
Whether it's your airline or hotel bookings or entrance tickets to major attractions in Florence, you'll save a whole lot if you make your reservations online, for there are plenty of cashback and discount vouchers to choose from! Plus, you'll be saving up on time that could be spent relaxing atop chaise lounges instead of long queues.
Top Things To Do In Florence
---
Here are our top 10 favourites in Rome. If any of these are missing from your itinerary, make sure you squeeze them in! There are a few recommended tours for each attraction, so if you haven't grabbed tickets as yet, now would be a great time.
1. Uffizi Gallery
2. Accademia Gallery
3. Florence Duomo
4. Getaway from Florence
5. Palazzo Piti & Boboli Gardens
Ready to explore Florence?
---
Here are a few more guides that should help you plan your visit.