Florence, the capital of Italy's Tuscany region, is where the architecture meets Renaissance art. Florence's museums, churches and palaces house some of the world's greatest artistic treasures, enchanting thousands of tourists every year. The cobblestoned streets, elegant 15th-century palaces, medieval churches, marble basilicas and remarkable art museums will transport you through time into another world. The hometown of several renowned fashion designers like Gucci, it is no surprise to find the boutiques in Florence selling stylish apparel and accessories. Florentines take pride in their locally-sourced gourmet food and high-quality wine. August is peak summer season in Florence, which is the perfect time to sunbathe and work on your tan. Basking in the sun, while having gourmet food and cold wine, offer an experience that is unique to Florence.
What makes Florence in August a must-visit?
---
In August, you will find mostly tourists wandering around Florence. Many of the locals travel out of town on summer vacation, and although many shops and restaurants may be closed, this also means that other businesses offer discounts that you can take advantage of. During the day, visit Florence's museums and cathedrals, whose captivating beauty will make you forget about the heat outside, and make the most of its outdoors in the cool evenings.

Summer outdoor spaces, which are one of the specialities of the city in August, offer food and entertainment programs and are ideal for spending an evening with friends and family. With several cultural events taking place in the city, this is a great time to learn and enjoy the Florentine culture and tradition. August is also the perfect time to dress stylishly in your best summer dresses and take those Instagram-worthy pictures.
Florence in August: Weather
---
August is the hottest month in Florence, with the average temperature being 25°C, which gradually decreases towards the end of the month. The temperature during the day can reach 32°C, and 19°C after dark. Florence experiences sunlight that lasts about 13-14 hours a day and experiences mild to extreme levels of humidity. Rainfall is highly unlikely to occur in August.
Florence in August: Things to Do
---
Uffizi Gallery is an art museum, famous for its remarkable collections of Renaissance artwork. Constructed between 1560 and 1580, the museum houses paintings and sculptures from the Middle Ages to the Modern period, and boasts collections of statues from the Medici family.
August Timings
Tuesday – Sunday: 8:15 am-6:50 pm
Closed on Mondays
The Accademia Gallery is a world-famous art museum, spread over two floors. Famous for featuring Michaelangelo's David sculpture, the museum attracts millions of visitors each year. The museum also houses other phenomenal works of art that make it worth visiting.
August Timings
Tuesday – Sunday: 8:15 am-6:50 pm
Closed on Mondays

The Florence Duomo is a Gothic cathedral, named after Santa Maria del Fiore. The cathedral, with its magnificent Renaissance dome, bell tower and baptistery, is one of Florence's most iconic buildings. Climb up to the top of the dome for panoramic views of the city. Don't forget to check out the clock above the entrance on the inside of the church, which was designed in accordance with the ora italica, where the 24th hour of the day ends at sunset.
August Timings
Monday – Friday: 8:30 am-7 pm
Saturday: 8:30 am-5 pm
Sunday: 1 pm-4 pmM
Explore the culinary and artistic aspects of Florence like a local on a three-hour walking tour, with a professional guide explaining the city's culture and history. Indulge in authentic street food while you feast your eyes on the marvellous architecture around the city.
August Timings
The tour starts at 9:30 am
Cinque Terre is a string of centuries-old villages on the rugged Riviera coastline. The villages, dotted with colourful houses, and touched by the Ligurian Sea and mountains, offer a picturesque view. Experience the natural beauty and vibrant energy of the Cinque Terre region as you walk through the villages and surreal cliff-side landscapes.
August Timings
The tour starts at 6:45 am
Pisa, the city famous for the Leaning Tower, is flavoured with medieval buildings and churches that are architectural marvels. The drive to Pisa takes you through the splendid Tuscan countryside along the Arno Valley, in a luxurious air-conditioned coach. The trip includes a guide to give you detailed accounts of Pisa's history and attractions.
August Timings
The tour starts at 1:45 pm
Florence Segway Guided Tour
A fun and unique way of touring Florence is on a Segway. Glide your way around the city from one attraction to another, with a guide telling you stories of the city. The one-and-a-half hour Segway tour takes you on a journey filled with art, history and folklore.
August Timings
The tour starts at 9:30 am or 3 pm, depending on the option selected.
Florence in August : Events to Look Out For
--- Ferragosto
August 15
Ferragosto is a national holiday, marking the peak of summer holidays for Italians. Florentines celebrate this day by frolicking around on the beach, lakes or mountains to escape the heat. This is probably the only day in the summer that the streets of Florence are empty. You can either enjoy the uncrowded streets or take a dip in the sea as the locals do. Pink Floyd concert in Florence
August 6
Catch the legendary Pink Floyd live in concert in Florence this August 2022. Pink Floyd's music is marked by its innovative and experimental nature. The band is known for their extended jams, unusual time signatures, and use of sound effects. They often explore dark and personal themes in their lyrics, which are sometimes political in nature.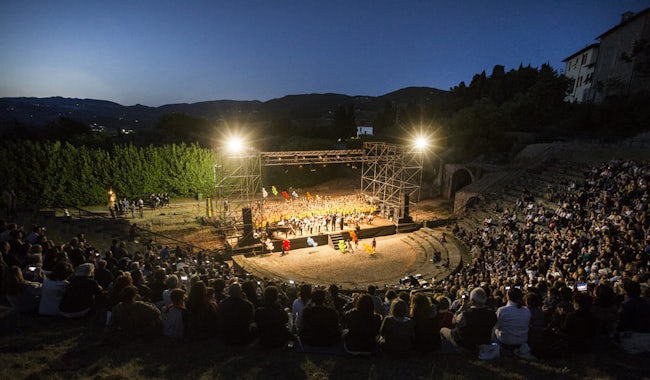 Estate Fiesolana
June 21 - August 22
Estate Fiesolana is the oldest multi-facet festival organized in the open air. The festival features a multitude of musical and theatre events, including concerts, classical theatre, and comedy shows. Fiesole, just a short distance from Florence, makes the most of its Roman urban architecture which is the perfect stage for an evening under the stars. Feast of San Lorenzo
August 9
Piazza San Lorenzo hosts an outdoor celebration to honour San Lorenzo, the patron saint of Florence. Florentines celebrate the day of the Feast by attending mass inside the San Lorenzo basilica at 6 pm, followed by the festivities, which include live music and free lasagna and watermelon for all visitors. At the end of the event, head to an open area and look up at the sky as the Perseid meteor shower crosses the terrestrial orbit, giving the impression of rainfall of stars.
Florence in August : One Day Itinerary
---
Read our detailed Florence itinerary and make the most of 24 hours in Italy's cultural capital.
Florence Essentials
---
Florence Weather in August
Florence is quite hot in August. The average temperature is around 25°C, with the temperature reaching above 30°C during the day, and dropping to 20°C after sundown. Humidity levels can be high during the day, and reduce by the end of the day, making the evenings cool and pleasant. The city sees an average of 13 hours of sunlight a day, with almost no rainfall throughout the month.
Where to Stay in Florence in August
Florence is a relatively small city, making it easy to visit all of the attractions. Staying in the historic centre of Florence puts you within walking distance of all of its important attractions, as well as restaurants, shops and churches. The Oltrarno area to the south of the Arno river is close to artisan workshops and antique furniture galleries, as well as pubs and restaurants. Staying outside of the historic centre of Florence gives you more budget-friendly options for accommodation. Check out our recommendations for accommodation for all types of budget:
What to Pack for Visiting Florence in August
Pack light summer clothing, such as sundresses, shorts and cotton tees, as the weather is hot and humid in August. Pack some sunscreen, a hat and sunglasses to protect yourself against the sun. Pack a bathing suit if you're planning to take a dip in the sea. Light, comfortable walking shoes are recommended for walking on the cobblestones. If you're visiting the cathedrals, pack some modest clothing appropriate for church.
Getting Around Florence in August
Florence's main historic centre is small so it is easy to walk around from one end to the other. Driving a car in Florence is not recommended as parking spots are scarce, and many streets are pedestrian-only. Florentines love to use bicycles as a means of transport, so if you want to get around like a local, you can rent a bicycle. Taxis are available at specific spots around the city, and cannot be randomly flagged down on the street. Florence also has a public bus and tram network that are convenient.
Florence in August - Must Try Delicacies Lampredotto
Lampredotto is a dish from Florence's medieval period. It is a sandwich made with thinly sliced tripe boiled in broth, seasoned, and served on a plate. You can order it with spicy red sauce or herbal green sauce, or even Bagnato (with wet bread, and a little bit of gravy) from outdoor markets or street vendors around the city. Bruschetta
Bruschetta is a simple, yet flavorful dish made with a mixture of chopped tomatoes, balsamic, basil, and garlic, spread over slices of toasted baguette or rustic bread that is slathered with olive oil. This dish is a must-try in August as it is the season when tomatoes are at their ripest, enriching the dish with maximum flavour.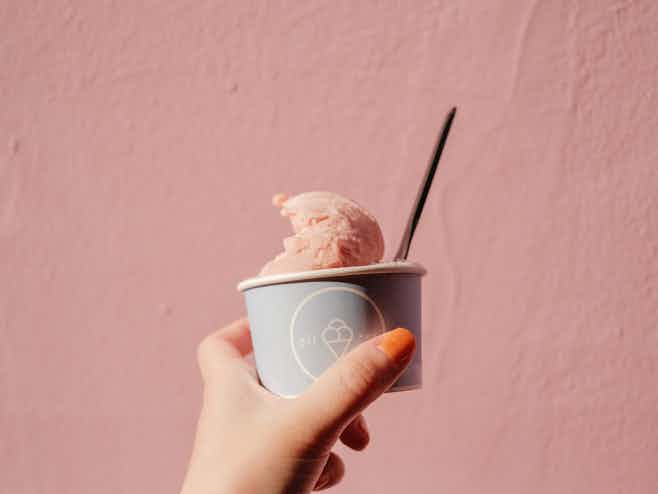 Gelato
Gelato is basically Italian ice cream, but unlike regular ice cream, gelato has a higher proportion of milk and a lower proportion of cream and eggs. It is less dense than regular ice cream as it is churned at a much slower rate, incorporating less air. The city boasts some artisanal gelato as well as interesting flavour combinations, that are made by hand.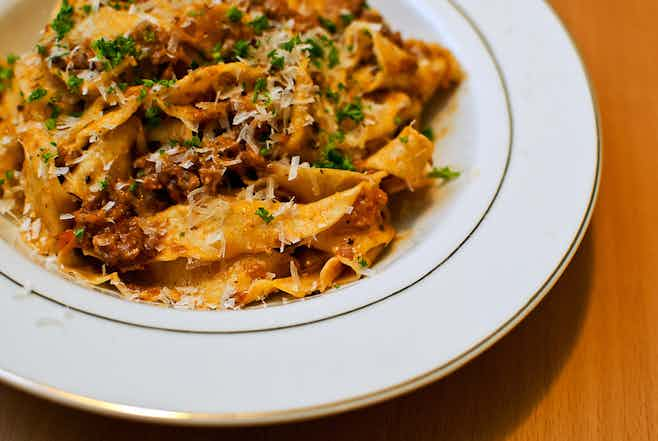 Pappardelle
Pappardelle is a long, wide, flat pasta that is usually paired with a heavy sauce, such as ragu. This dish has a few variations in the type of meat in the ragu, but the most commonly used meat is wild boar, rabbit and goose.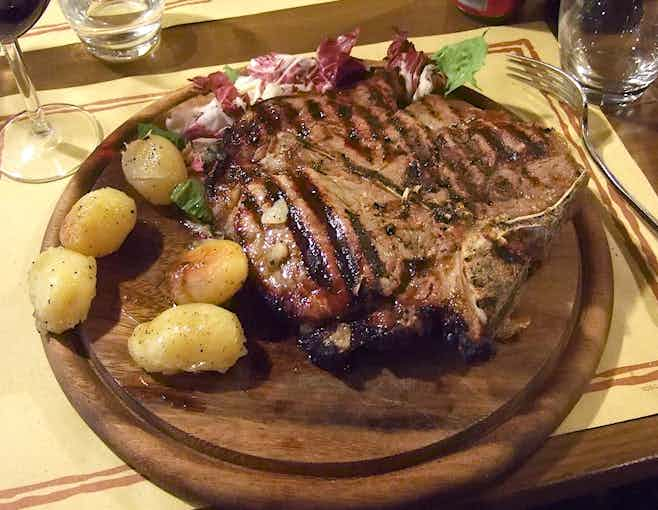 Bistecca Alla Fiorentina
Bistecca Alla Fiorentina or Florentine Steak is a large T-bone cut weighing between one to four kilos, fire grilled on the outside and pink and bloody on the inside, seasoned with salt, pepper, a squeeze of lemon, and traditionally cooked over-roasted chestnuts for a smoky flavour. This is Florence's most popular dish and definitely packs a punch in terms of flavour.
Tips to Visit Florence in August
---
Purchase your tickets in advance as the city will be crowded with tourists in August.
Wake up early and explore the city to avoid the hot morning sun and the crowds. Early morning is also the perfect time to take those Instagram-worthy photos.
Piazza del Duomo is one of the most crowded areas in Florence, so visit the piazza either early morning or late evening to avoid the crowds.
Most of the produce is locally sourced in Florence, and August is when summer vegetables are at their ripest, so make sure you pick up some juicy fruits.
Head over to Bilancino Lake, where you can rent paddle boats, canoes or an umbrella and lounge chairs, as it is less crowded than other beaches.
Grab a glass of wine and watch the meteor shower happening on August 10th.
Explore Florence Through The Year
---
More Florence Guides
---
For more information on Florence, here are some helpful quick links!
FAQs
---
August can also be a good time to visit Florence, as many locals leave the city for vacation, so there are fewer people around. August can be quite hot though, so be prepared for higher temperatures.
Lightweight and breathable clothing is recommended for a trip to Florence in August. The weather can be quite hot, so you'll want to be able to stay cool. sunglasses, sunscreen, and a hat are also essential items. Comfortable shoes are also a must, as you'll likely be doing a lot of walking around the city.
There are many must-see sights in Florence, but some of the most popular include the Duomo, the Baptistery of St. John, and the Campanile bell tower. The Uffizi Gallery and the Accademia Gallery are also must-sees for art lovers. If you're looking to get out of the city for a day, consider taking a day trip to one of the nearby towns such as Pisa or Siena.
There are many great restaurants in Florence, but some of the most popular include Trattoria da Burde, Il Latini, La Giostra, Antica Mescita San Niccolo, and Da Mario. These restaurants are all located in the city center, so you'll be able to easily walk to them from your hotel.
Some of the best events in Florence in August are Ferragosto, Estate Fiesolana and Feast of San Lorenzo.