The birthplace of Gelato, Florence is an Italian city that was one of the most important cultural centers in all of Europe during the Renaissance period. Naturally, it holds a wealth of art masterpieces and even has many places where you can simply stroll through history. Florence is also renowned for its gourmet Tuscan cuisine and cathedrals
The city has served as a model for many other urban centers around the world and was designed to be the most "Italian" city ever built! Florence does have it all - including wonderful shopping opportunities and chic bars for those more relaxed evenings out with friends after an afternoon spent strolling between museums exploring the collections of Renaissance paintings. This Florence trip planner will come in handy while you plan your Florence itineraries, what to pack, where to stay and the best neighborhoods in Florence.
Best Time To Visit Florence
---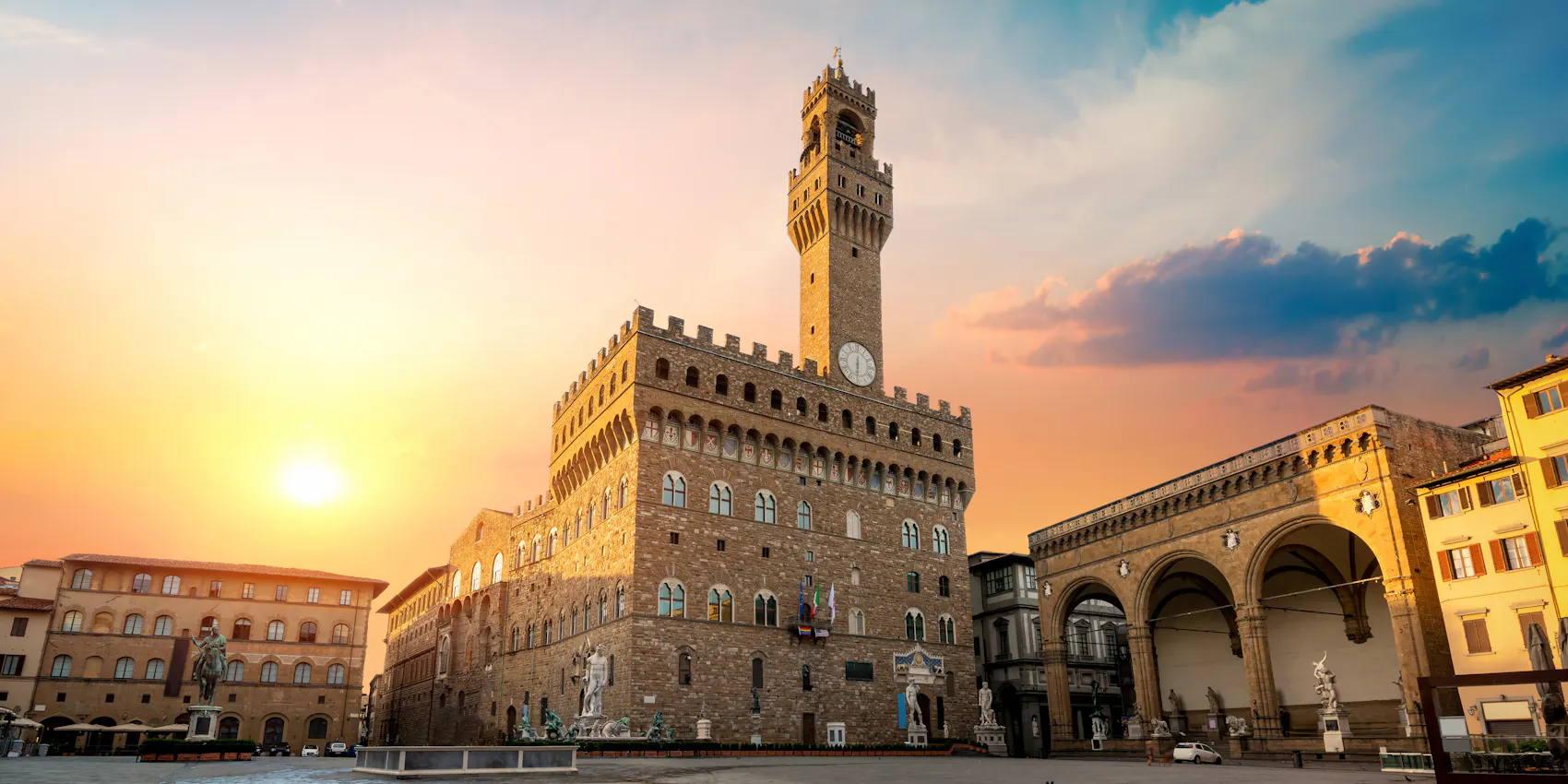 For those who are considering a visit to Florence, you must know what the best time of year is to visit Florence. The best time to visit Florence is in the summer months when long days of warm weather provide ample time for relaxing and sightseeing. However, during this time, it can also be quite hot, especially in mid-August when temperatures have been known to soar to dangerous levels that can bring about dehydration. If you visit between September and May, you will find there is a higher chance of rain than in the summer months but lower room rates as hotels are hoping to attract eager visitors from all over the world so the demand is not as high.
Florence Itineraries
---
Depending on how long you're in Florence for - whether it's just a day, 3 or 5 days, or just the weekend, we have the perfect itineraries crafted for you. Go through these Florence itineraries and plan your stay well in advance!
If this is your first time traveling to Florence, we know you'd love some help planning your daily itineraries. Apart from the basic planning (flight tickets, visa, accommodation etc.), you'll need to consider your day-to-day activities - where to go, what to see, how to get there, and more. But fret not, for we are here to help.
If this is your first time traveling to Florence, you could use some help planning your daily itineraries. Apart from the basic planning (flight tickets, visa, accommodation in Florence, etc.), you'll need to consider your day-to-day activities in Florence - where to go, what to see, how to get there, and more. But fret not, for we are here to help.
Florence 1-Day Itinerary
Florence 3-Day Itinerary
Packing For Florence
---
If you are traveling to the beautiful city of Florence, Italy, you may find yourself asking, "What should I pack for Florence?" A lot of people don't realize how hot it can get in this country and how quickly your clothes can soak up sweat. There is no need to worry about packing all the things you'll need to stay comfortable. Women in Italy seem to have mastered the art of making themselves look good while also looking comfortable. You'll find yourself right at home roaming the historic streets and canals wearing a day dress that's super light and simple; comfy shorts paired with a blouse should do the trick if you'd like a more street-wise look. A nice pair of flats or shoes would be perfect for exploring all over town while staying comfortable and stylish.
Where To Stay In Florence
---
The city of Florence is jam-packed with things to see and do. Whether you want to see the city's famous churches or just want to enjoy a stroll around the city, there's a lot to see and do. The historic center of Florence is a hot spot for tourists with sights like the Piazza della Signoria, the Ponte Vecchio, and Santa Croce Church as well as the famous statue of David. Taking an afternoon stroll across Ponte Vecchio's centuries-old bridges passing by goldsmiths' shops among many other gems is a magnificent experience especially when you get to take a bird's eye view of Florence overlooking the Duomo di Firenze.
Accommodation on a budget:
The beauty of Florence is that you can find something for all budgets, even with a tight budget. If you are looking for accommodation in Florence, you are in luck. With many accommodation options available, you're bound to find something you like. Palazzo Galletti, Hotel Loggiato Dei Serviti, Hotel Alessandra, Drom Florence, Antica Dimora Johlea are some of the bets budget-friendly hotels in Florence.
Nightlife:
When exploring a new city, one of the most important things to do is to know the nightlife options. They are a great way to unwind and try something new. Florence's nightlife is alive and buzzing, with old and new traditions still going strong. Bitter Bar, Sabor Cubano, Sesto Narno, Procacci, Coquinarius, Green Street Bar, Six Bars Jail, Mayday Club, Monkey Bar, and Victoria Lounge Bar are some of the best places to experience Florence nightlife.
Shopping hub:
Shopping in Florence is a dream come true for most people. It is a beautiful city that will only charm you more and more with each step. So, as you walk the cobblestone streets, take a stroll along the Renaissance-era shopping arcades, or visit the many leather factories, you may find yourself wondering about the best way to get the most of your time. Via de Tornabuoni, Via della Spada, Via dei Fossi, Via di San Niccolò, and Bartolucci are some of the best places to shop and take souvenirs home!
A kiss of luxury:
For many years this city has been the number one tourist destination in Italy. Each year, thousands and thousands of visitors come to Florence to explore the history, culture, and beauty of the city. Many restaurants in Florence are renowned for their quality food and service. La Giostra, Trattoria Marione, Perseus, Trattoria Mario, Caffé Italiano, and Il Latini are some great places to dine and savour some exclusive Italian cuisines.
Getting Around In Florence
---
Florence is a beautiful city, but navigating around it can be a challenge. Thankfully, there are plenty of ways to get around Florence. It doesn't have to be a race against the clock or difficult. Florence has a lot of public transport options that make getting around the city a breeze. It's a great way to plan your Florence itineraries. The Firenze Card is valid for 72 hours, offering free admission to several museums and sights. It also gives you unlimited public transport for a paid-up additional charge.
Best Day Trips from Florence
---
Day trips from Florence are a great way to sightsee, make memories and explore the area. Whether you're visiting Florence for a loved one's birthday or just to relax, these day trips are the best places you can go to get some cultural and outdoor walking. Some of the places that one must include in their Florence itinerary are:
Pisa
Bologna
Lucca
Cinque Terre
San Gimignano
Florence Travel Tips & Hacks
---
To get maximum enjoyment out of your visit to Florence, cover the city on foot and experience beautiful sights.
When traveling and wishing to catch a train, it is best to make sure you have your tickets purchased before boarding the train to avoid any unwanted situations.
While the prices aren't the lowest, food can be affordable if you avoid typical tourist traps such as eating next to Piazza del Duomo or Ponte Vecchio.
If you are visiting Florence during spring or summer and want to visit the museums, don't forget to pre-book your tickets. Otherwise, you might have to jostle your way out of the crowd.
Don't forget to consider climbing the 500 steps in Duomo as you don't want to miss the alluring sight from its top.
Carry extra cash in your pocket as the ATMs in Florence might charge you a service amount and exchange rates seem to be reasonable in the city.
Spotting the right gelato while visiting Florence is so supreme importance. Make sure you buy gelato from a deli that stores it in large tubs and the color is pale like the fruit it is made of. The flashy and colorful gelatos are usually made of preservatives and are no good!
If you crave some calmness, cross Duomo or Palazzo Vecchio from your Florence itinerary after your first day and explore other regions such as Santo Spirito or San Niccolo.
The Italians are known for their hospitality and so are the residents of Florence - hence free Wi-Fi networks can be found around the city center. Feel free to get online for one hour free only if you're using an Italian phone!
You can also take buses to save on time. Just remember to buy the tickets at coffee shops or newsagents which feature a sign that reads "Bus Tickets".
Ready To Head Out To Florence ?
---
Check out the top things to do in Florence & our comprehensive Florence Travel Guide packed with itineraries, tours, culture trips, best hotels, restaurants and a lot more.
Here are a few more guides that should help you plan your visit.
FAQs: Florence Trip Planner
---
Florence is a beautiful city, with a lot to offer visitors. Whether you're looking for a relaxing day out or a quick break in between your travels this is the perfect destination.
Florence is best visited between May and September.
.Some of the best things to do in Florence are breathing in the fresh air of Giardino Bardini (Bardini Gardens), riding a VESPA, planning an itinerary to experience the Leaning Tower of Pisa, unwinding yourself at Santo Spirito, experiencing the beauty and architecture of The Brancacci Chapel, and walk the length of The Ponte Vecchio.
If you are visiting Florence in summer, don't forget to pack sunglasses, comfortable and light clothes, sunscreens and flip-flops. A summer dress and flared skirts will also come in handy. One must also pack shoes or sandals as you will come across several bumpy stone-paved roads.
Public transportation in Florence is a great way of getting around Florence. Apart from it, taxis and cabs are also convenient.
The bus is the most affordable and popular mode of transportation to get around Florence.
While chalking out your Florence itinerary, some of the places that one must include are Cinque Terre, Monti del Chianti (Chianti Hills), San Gimignano, Arezzo, and Monteriggioni.
The city center is one of the most popular attractions in Florence and everything is easily available too.
>
Florence Trip Planner Guide