Dominating the skyline of Florence is the magnificent Duomo of the Cathedral of Florence, formerly known as the Santa Maria del Fiore. The cathedral itself dates back to 1296 when its construction first began, after which it underwent many structural changes. Today it proudly stands as one of the largest basilicas in all of Christendom.
Florence Duomo is a significant symbol of the Italian Renaissance and attracts millions of visitors every year. There is much to see and learn on your visit to the Duomo and the best way to make your trip worthwhile is by taking a guided tour. Learn all about the history of Florence Duomo, its construction, its significance, and more as you explore the attraction.
We've put together everything you need to know about choosing the right guided tour on your visit to Florence Duomo. Let's get started, shall we?
What are the advantages of Florence Duomo Tours?
---
No need to wait in line to get in
Florence Duomo is swarmed with visitors throughout the year. This means that although it is a must-see attraction, you're bound to end up waiting in long lines. With a skip-the-line feature, you can head right in and save loads of time.
Get expert guidance while exploring the Duomo
A historical marvel such as the Florence Duomo comes with centuries worth of stories hidden behind its walls. Having someone with you who knows the ins and outs of the Cathedral is the perfect way to uncover hidden mysteries and lesser-known facts about it. Walk alongside your expert tour guide and learn about the history, the mysteries, the architecture, and everything in between about this revered attraction.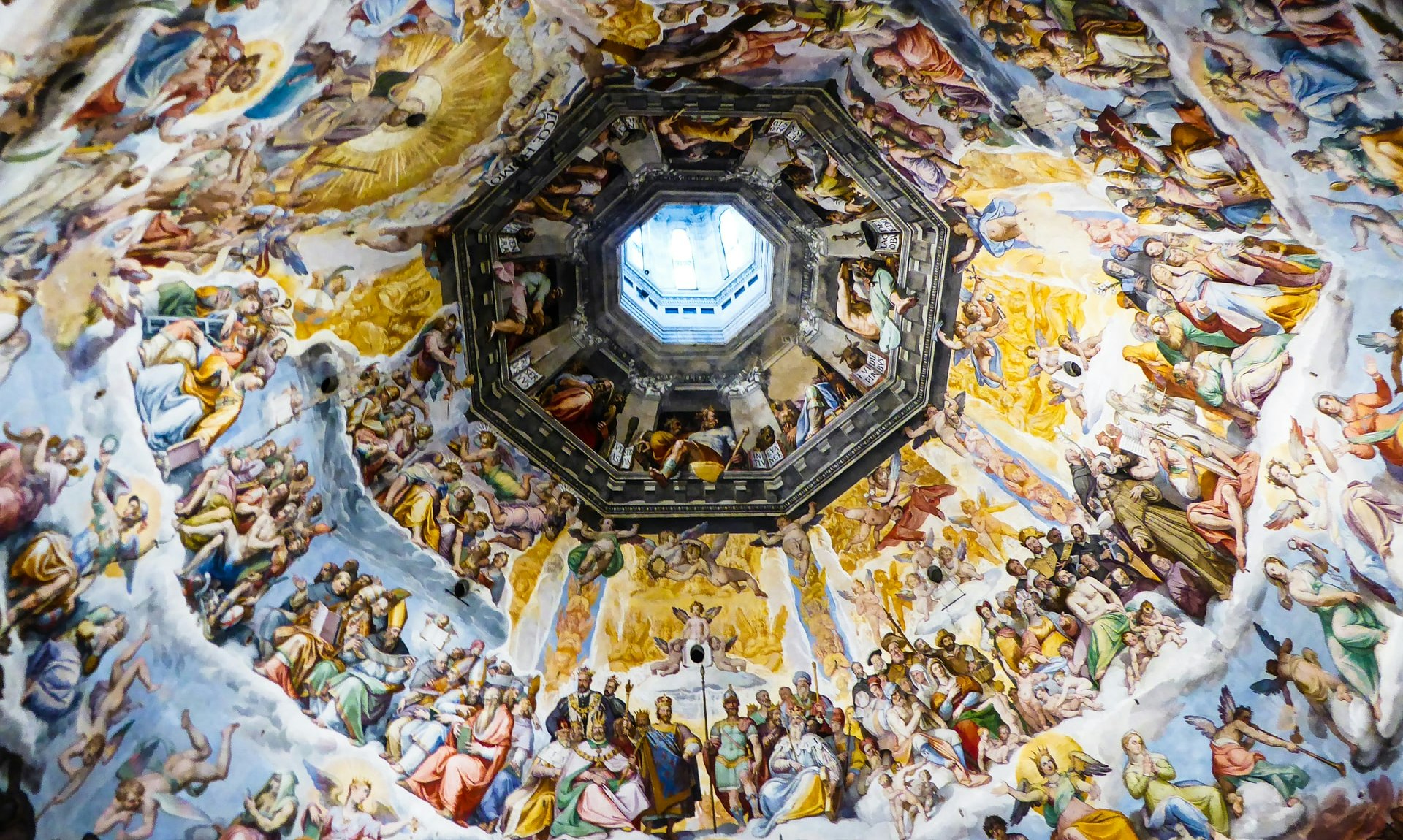 Easy navigation through the palace
If this is your first visit to Florence Duomo, it might get tedious to navigate your way through. A tour guide, on the other hand, would be able to expertly guide you through the must-explore highlights of the attraction in a timely fashion.
Flexible timings for your guided tour
Your Florence Duomo tickets have timings that span throughout the day. Choose the timing that suits your travel schedule best while booking your tickets online.
Small tour groups
Guided tours ensure that you have a worthwhile experience where each tour group allows for only a limited number of guests at a time. This is an added advantage since the world is only just recovering from the tragic effects of the pandemic.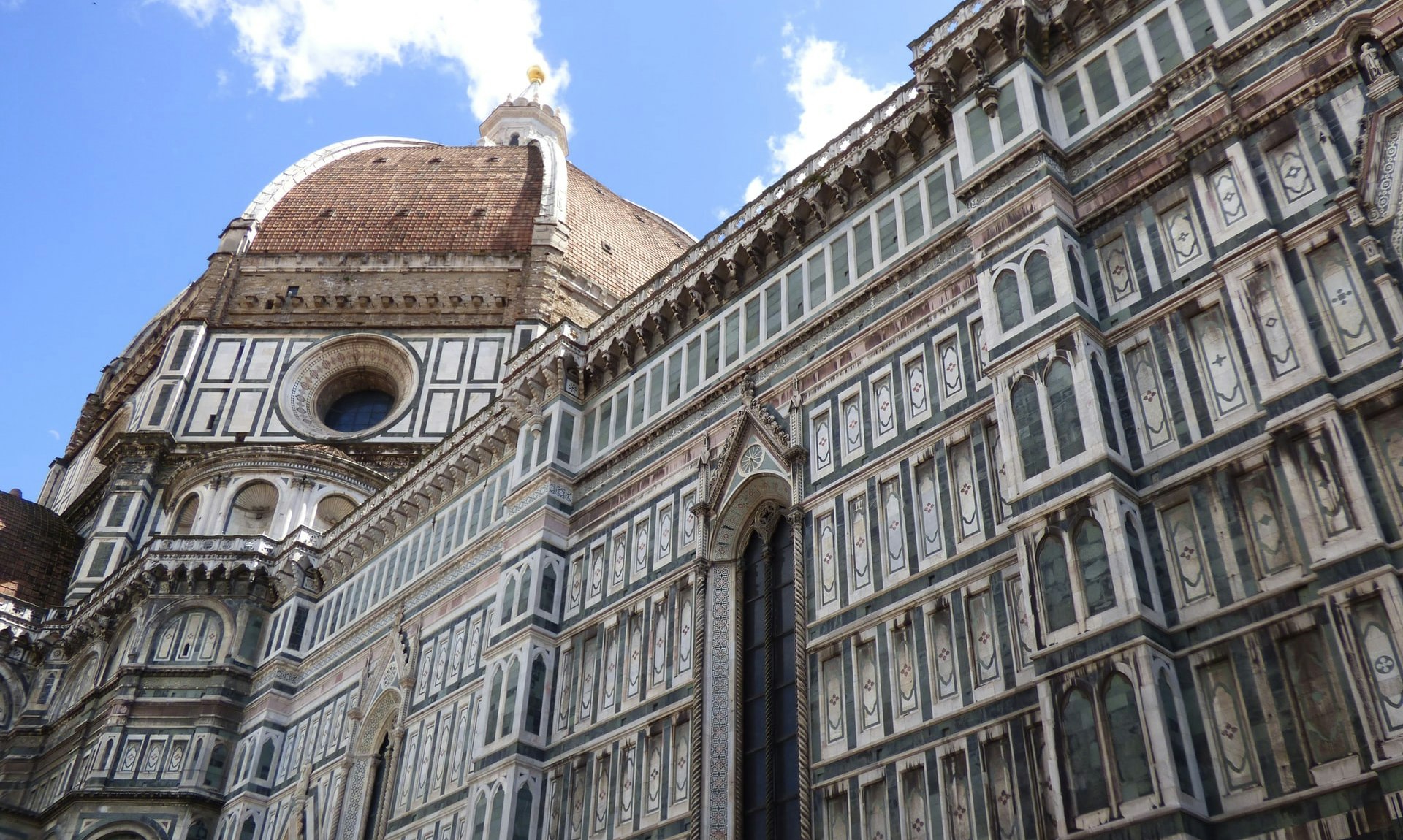 The Best Florence Duomo Guided Tours
---
There are a number of guided Florence Duomo tours available for online booking. Here is a list of our recommended Florence Duomo tours we think you'll enjoy.
Guided Tours
Combo Guided Tours
How do I choose a Florence Duomo Tour that suits me best?
---
Before choosing your tour, take a look at the features of each type of tour and then make an informed decision. Here's a list of all your Florence Duomo ticket options and their main highlights.
Explore the crown jewel of the Florence Cathedral - the Duomo, with an expert historian who will give you a detailed tour of the structure and how it was built. Learn all about its history and get a close look at the iconic Cathedral that dominates the skyline of Florence. The normal guided tour is perfect if you're on a budget and enjoy small travel groups.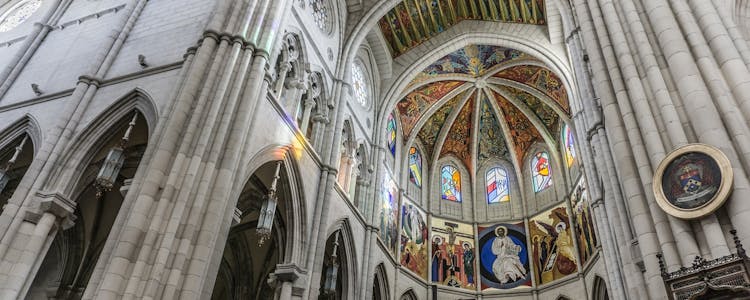 Save time and head right in with your skip-the-line Florence Duomo tickets. You're in for a double treat because along with getting past long lines you'll have an expert guide taking you on a thorough tour of the Duomo. Make your way to the top of the dome for some spectacular panoramic sights of Florence. Skip the line tickets are a good choice if you're in a time crunch or simply don't want to wait in a tiresome queue. Once your guided tour is done, you can spend as much time as you like inside the Duomo or the Opera Museum.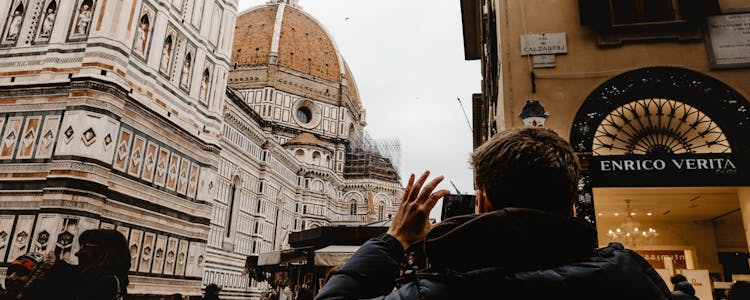 Marvel at the magnificent architecture and design of the Duomo as you learn about its history from your tour guide. Then you can climb up to the top of the most famous dome in all of Christendom, where you also get to peek at the hidden terrace that is off-limits to most visitors and locals. You can choose between the Duomo Terraces, Brunelleschi's Dome, Giotto's Bell Tower, or a combination of the baptistery and the museum. If you really want to spend time exploring the different areas in and around Florence Duomo, this is the tour for you.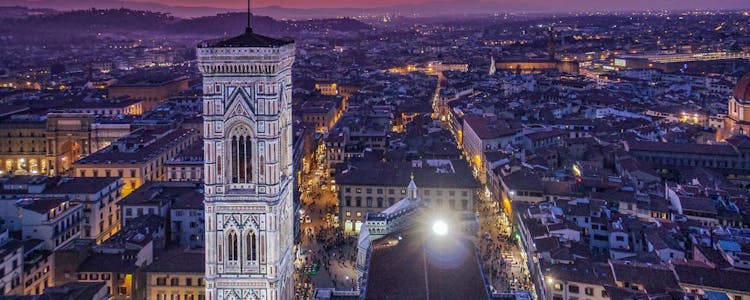 If this is your first visit to Florence, we recommend a guided walking tour of the city where you can visit all its famous landmarks. The half day tour of Florence includes a visit to the most iconic attraction in Florence - the Duomo, along with Brunelleschi's dome and Vasari's frescoes. Next, you get to explore the Accademia Gallery and Uffizi Gallery, where you can marvel at exemplary paintings by legendary Italian artists. The best part is that your tour guide will tell you interesting facts and stories along the way, giving you a more memorable experience.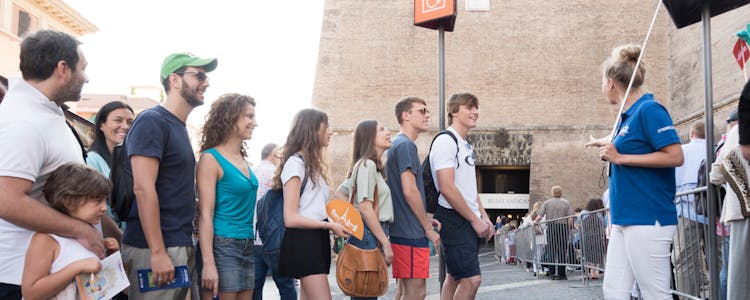 Another sensible tour - if you want to make the most of your visit to Florence - is to opt for a combination of different attractions. On this tour, you get to visit the two most popular attractions in Florence - the Duomo and Uffizi Gallery. Enjoy an entertaining and informative guided tour with someone who knows everything about both attractions. The combination tour also comes with a skip the line feature, so you can head right into both places. Get lost in a world of historical art preserved over centuries on this guided combination tour.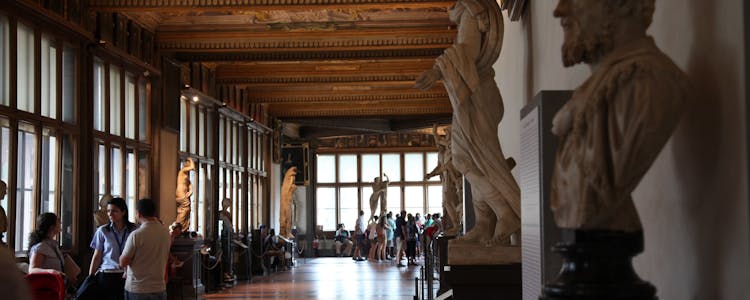 Florence Duomo Tours Deconstructed - A Typical Guided Tour Experience
---
If this is your first visit to Florence, don't miss out on the iconic structure that is the Florence Duomo. Before you purchase your Florence Duomo tickets, find out what a guided tour typically looks like:
Opera del Duomo Museum
Spread across 6,000 meters of historical goodness is the Opera del Duomo Museum. The building is divided into 28 rooms across 3 floors, housing unique masterpieces encompassing art, history, and faith. Today, it is one of the most important museums in the world because of the number and value of artworks inside it. You will find important original pieces by Michelangelo, Ghiberti, Donatello, Brunelleschi, and many others.
Baptistery of Saint John
Dedicated to the patron saint of Florence, John the Baptist, the iconic Baptistery is a significant religious symbol of the city. Step into the beautiful golden doors of this small basilica to get a close look at Its unique octagonal form and mosaic interiors. The fascinating sculpture combines art, history, and religion, giving its visitors a truly immersive experience.
Crypt of Santa Reparata
The crypt of Santa Reparata is a hidden gem inside the Cathedral, representing 7th-century Florence. Symbolizing the early days of Christianity in the city, the area of the crypt has been preserved for centuries. Inside the Santa Reparata, you will find a few tombstones of the most brilliant minds in ancient Italy including Brunelleschi. You will also notice traces of Roman Walls preserved from the construction of the original cathedral.
Giotto's Bell Tower
Designed by one of the most legendary artists and architects in Italy - Giotto di Bondone, the Bell Tower is one of the four main structures of the Duomo. Clad with colorful marble, the majestic tower is considered the most beautiful campanile in the whole of Italy. Its construction began in 1334 by Giotto, however, he was unable to complete the entire structure due to his unexpected death in 1337. Other artists like Andrea Pisano and Alberto Arnaldi carried on Giotto's vision over the next few years.
Brunelleschi's Dome
Built by renowned architect Filippo Brunelleschi, the dome of Florence Duomo is the most iconic structure in the city. At the time of its construction, it was the largest dome in the world, while presently still being the third-largest. It is considered a significant achievement of the Italian Renaissance and defines the city of Florence even today. The best part is that you can climb 463 steps to the top of the dome for spectacular panoramic views of the city.
Are the Florence Duomo Tours Worth It?
---
Yes. Guided tours are the best way to make the most of your visit to any attraction. A historic marvel such as the Florence Duomo has centuries' worth of history within its walls, all of which you can learn about on a guided tour. Learn everything there is to know about this iconic Italian cathedral and what makes it so special, while in the company of your friendly tour guide. Guided tours are a sure-shot way to make sure you have a wholesome experience on your visit, especially when you're exploring an awe-inspiring landmark like the Florence Duomo.
Florence Duomo Essential Information
---
Opening Hours
While the Cathedral itself is open between 10:00 AM to 4:30 PM, the Florence Duomo is accessible between 8:15 AM to 7:00 PM from Monday through Saturday.

Each tour has specific timings. Please check your tour timing options while booking.
Getting There
By Bus: Bus routes 6, 11, 14, 23, C1, and C2 will take you to Florence Duomo.
By Car: There is no onsite parking at the Florence Duomo. The closest car parks are Park2Go Parcheggio Firenze, Parking Garage Italia, and Garage Florence Center. .
By Tram: If you're traveling by tram, take line T1 and get off at Alamanni station.
By Taxi: You can catch a local taxi which will take you straight to Florence Duomo.
Tips for Florence Duomo Tour
---
Although the Cathedral is wheelchair accessible, getting to the top of the dome is not suitable for people with reduced mobility.
Luggage cannot be stored at the Cathedral itself, but you can avail of storage facilities at any nearby train station. We recommend carrying small purses/bags on your visit to avoid any hassles.
Handheld cameras and cellphones are permitted for the purpose of photography. However, the use of tripods and flash photography is not allowed.
Following the dress code is important when you plan your visit to the Florence Duomo. Chest and shoulders must be covered for both men and women. Pants and dresses must cover the knees.
Children between the ages of 7 to 14 can enjoy reduced prices on their tickets, while children below 7 can enter for free.
Florence Duomo Guided Tours
FAQs
---
What is the best guided tour while traveling with children?
What time do Madrid Royal Palace guided tours start?
For multilingual tours, are there different timings for each language tour?
Which is the best Madrid Royal Palace tour for budget travelers?
Can I book a private tour just for myself?
Ready to head to Florence Duomo?
---
Purchase discounted Duomo Florence tickets via Headout today! Explore Duomo Florence in a hassle-free fashion with all the need-to-know information in hand.
Fancy heading out to some other stunning Florence attractions? Take inspiration from our list of the best things to do in Florence here. Use our comprehensive Florence Travel Tips & Guide to explore the rest of Florence in a hassle-free fashion with all the need-to-know information in hand.
In Florence for a few days?
In the city for a few days and want some help charting out an itinerary? Check out our 1 day in Florence and our 3 days in Florence itineraries for inspiration.