Eugenius! originally ran at the London Palladium in 2016, and is now back at The Other Palace, an exclusive theatre space that opened in London in 2017. The Other Palace serves as a creative space for composers, lyricists, directors and choreographers to hone their talents by day, and by night, it hosts a series of incredible plays, musicals, comedies, and cabaret shows. The unique story, talented cast, peppy musical numbers written by A1 band number Ben Adams, and direction by Ian Talbot make Eugenius musical a must-watch! This guide will help you navigate the show and its specifications, and help you book discounted Eugenius tickets.
About the Show
---
Featuring Eugene, a geeky kid with big dreams and an even bigger heart, this musical explores the wistful hopes of a seemingly overlooked high school boy in an 80s pop culture themed musical that simply bursts with energy. With a repertoire of original songs (including the very popular Go Eugenius!), fun and catchy dance routines by choreographer Aaron Renfree, and the inimitable Liam Forde as Eugene, Eugenius! is one of those musicals you'll be singing along to even after it's over.
Eugenius Synopsis
Even his name, Eugene, sounds geeky – not only is he bullied at school, but he's a complete joke to the cool kids. He is, however, completely fascinated by comic books, and dreams that his character, 'Tough Man', will become famous one day. Eugene finally gets his big break when he wins a contest, and is whisked away into the world of cinema and adventure at Hollywood to make a film about his character. What will Eugene make of this opportunity? When the going gets tough, will Eugene still be able to see his dream come true? Watch to find out!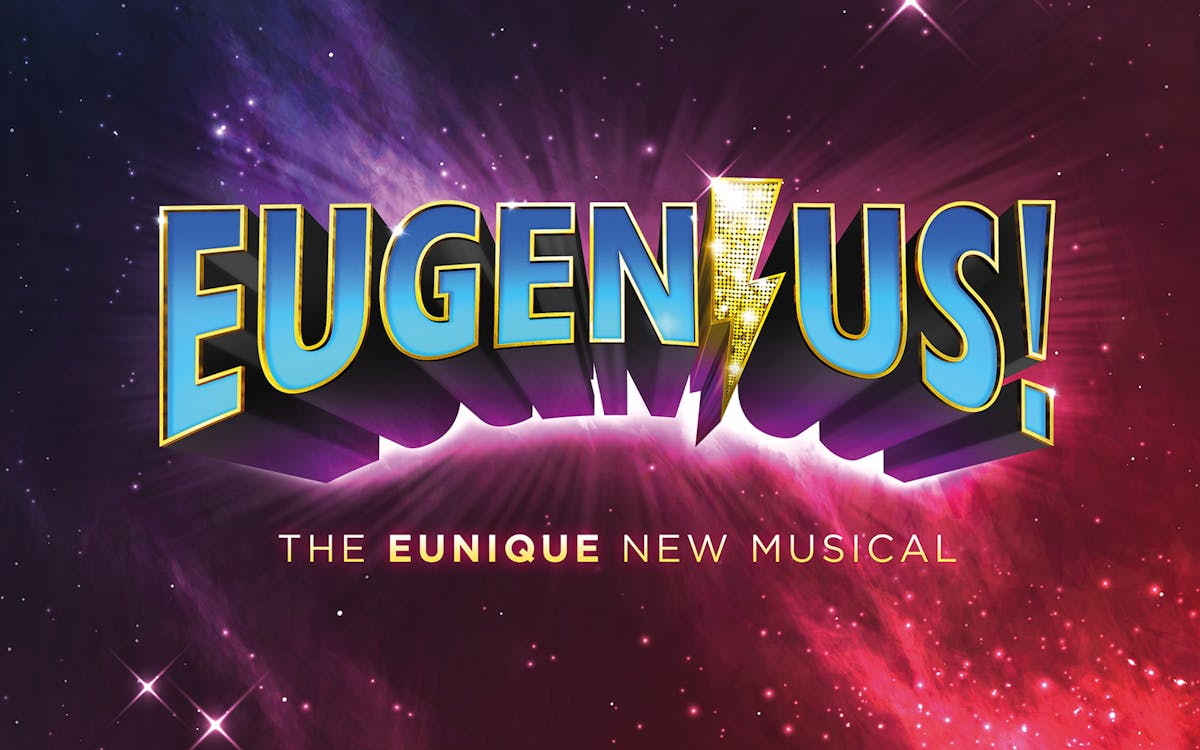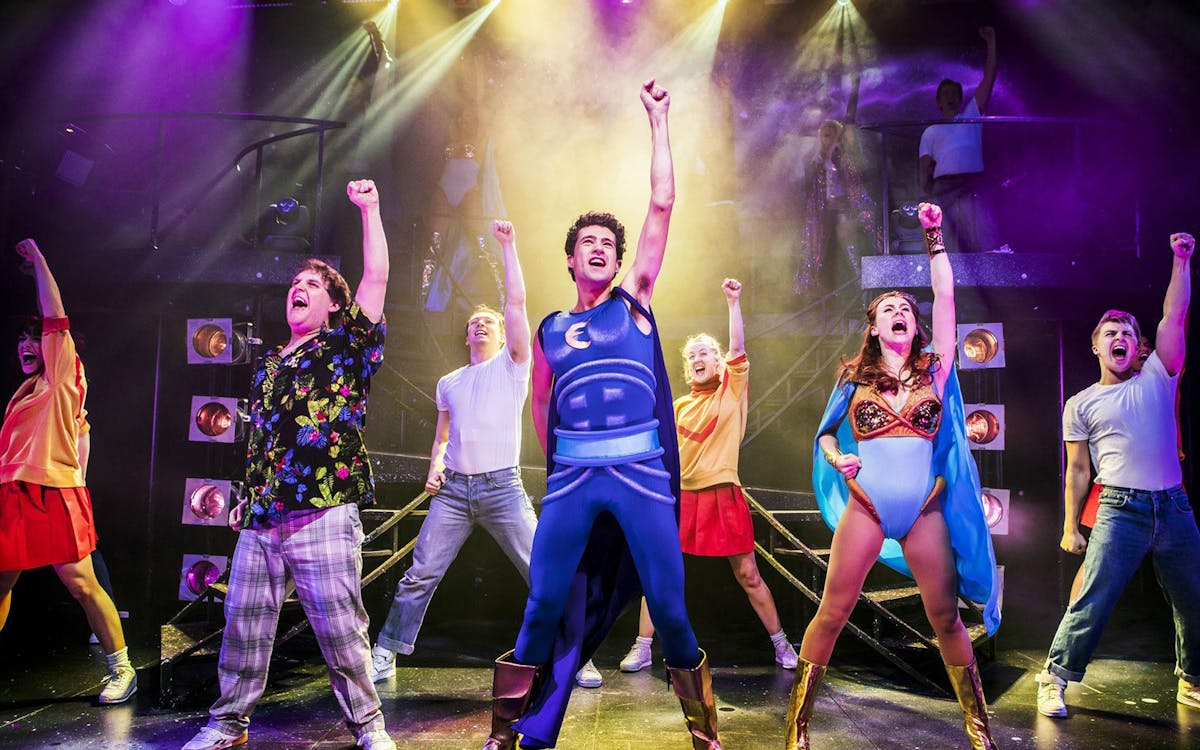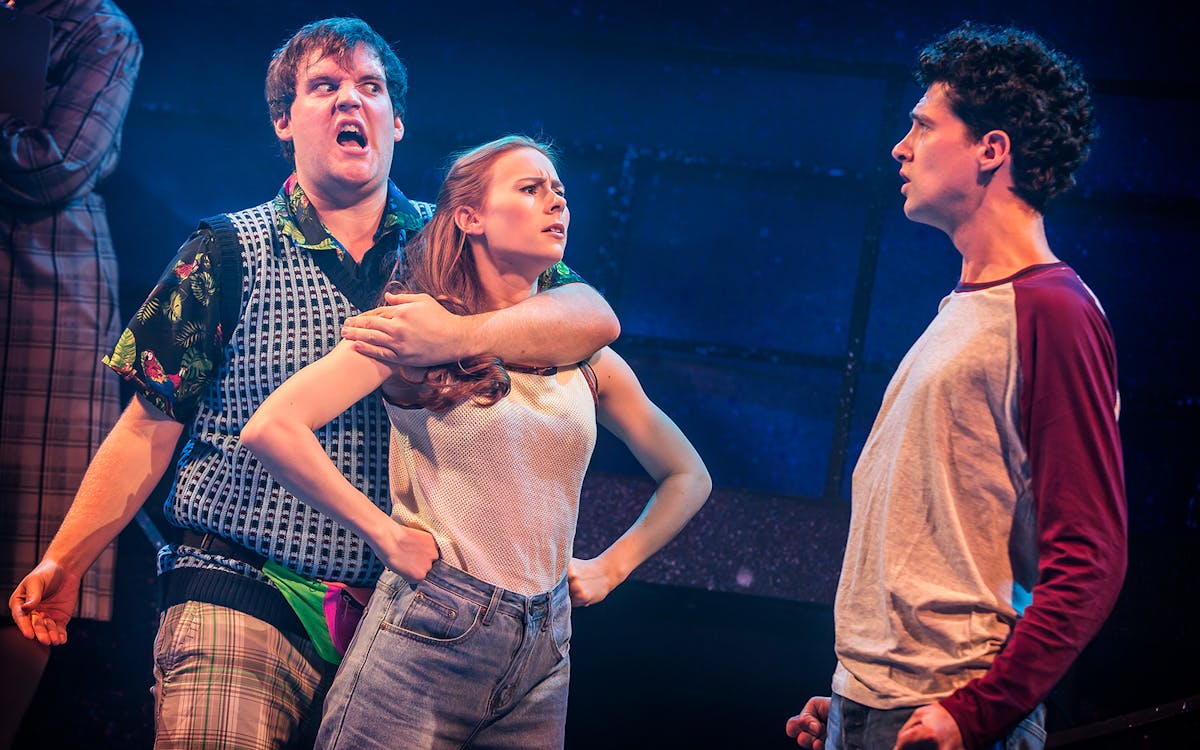 Performance
---
Ever since its first run, Eugenius! has been an incredible success and has garnered rave reviews.
Eugenius Reviews
"Silly but amiable, Eugenius! is bursting with 80s pop culture references and boasts infectiously poppy pastiche songs."
– The Guardian

"The superhero musical, driven by a catchy Eighties-inspired score, which includes Mark Hamill of Star Wars fame amusingly voicing a robot, will plant a smile of your face."
– Independent
Eugenius West End: Practical Information
---
Show Details
Show Timings
| | |
| --- | --- |
| Tue, Wed & Fri | 7:30 PM |
| Thur & Sat | 2:30 PM & 7:30 PM |
Duration
2 hours with 1 interval
Leading Roles
Liam Forde as Eugene
Laura Baldwin as Janey
Daniel Buckley as Feris
Ian Hughes as Evil Lord Hector
Directed by
Ian Talbot
Book, Music and Lyrics by
Ben Adams and Chris Wilkins
Choreographed by
Aaron Renfree
Top Songs
"Go Eugenius", "Who's That Guy", "Hollywood", and "Marketing Plot"
Additional Information
Audience
Recommended for audiences aged 12 and above.
Available Facilities
Wheelchair accessible
In-house bar
Special toilets for the physically challenged
Seating
The Other Palace has a seating capacity of 312 in total.
Outside Food
Strictly prohibited. If you'd like to grab a meal before or after the show, check out our guide to the 30 Best Restaurants in West End.
Dress Code
Smart and casual wear is recommended. Keep in mind, the theater is air conditioned throughout the year and can get a bit chilly.
---
Eugenius Tickets
---
Apart from getting Eugenius tickets online, there are other ways to obtain London theatre tickets for cheap, such as:
TKTS: The TKTS booth obtains its inventory directly from the theatre based on availability, and sells them for cheap. However, these are only applicable on West End theatre tickets.
Lottery/Rush: The winner takes it all! You can try your luck to obtain tickets for a performance on the same day at discounted rates!
Standing Room: These are tickets that are available at a cheaper rate. However, these are not seats, and require you to stand through the performance.
In this guide, we help you find the best way to obtain tickets for Eugenius! at discounted rates.
Eugenius TKTS
---
Given that TKTS tickets are only available for West End shows, there are no TKTS tickets for Eugenius!.
Eugenius Lottery
---
Currently, there is no lottery policy for Eugenius!.
Eugenius Standing Room
---
Standing Room tickets are not available for Eugenius!.
---
FAQs
---
Q: Is there a way to purchase TKTS tickets for Eugenius!?
A: Unfortunately, no. TKTS tickets are only available for West End shows.

Q: What's the age recommendation for the show?
A: Eugenius! is recommended for those of ages 12 and above.

Q: What time should I arrive at The Other Palace?
A: Doors open 45 minutes before show time. We recommend arriving at least 30 minutes before curtain.

Q: Can I take photographs or videos of the show?
A: The use of cameras (still and video) and sound recorders is not allowed inside the theatre.

Q: Is there a possibility that I will get partial view seating if I purchase discount tickets for Eugenius musical?
A: When booking with Headout, you will get to select your specific seats, thus, ensuring you do not get stuck with partial view. However, if you opt to try and win lottery tickets, or purchase day seats, your seats will be allocated at the discretion of the Box Office, which can potentially mean partial view seating or split seats.