Situated in Andalusia, Granada is a historic city that captivates visitors with its cultural and architectural heritage. Famed for its Moorish legacy, this was a culturally and politically important city during the Islamic occupation of Spain. The city boasts numerous palaces and gardens, Alhambra being the most famous. Once you've had your share of Granada and its offerings, take a day trip to any of the nearby towns - be it the mountainous landscapes of Las Alpujarras or the beaches of Marbella. Here are our top picks for the 7 best day trips from Granada.
7 Best Day Trips From Granada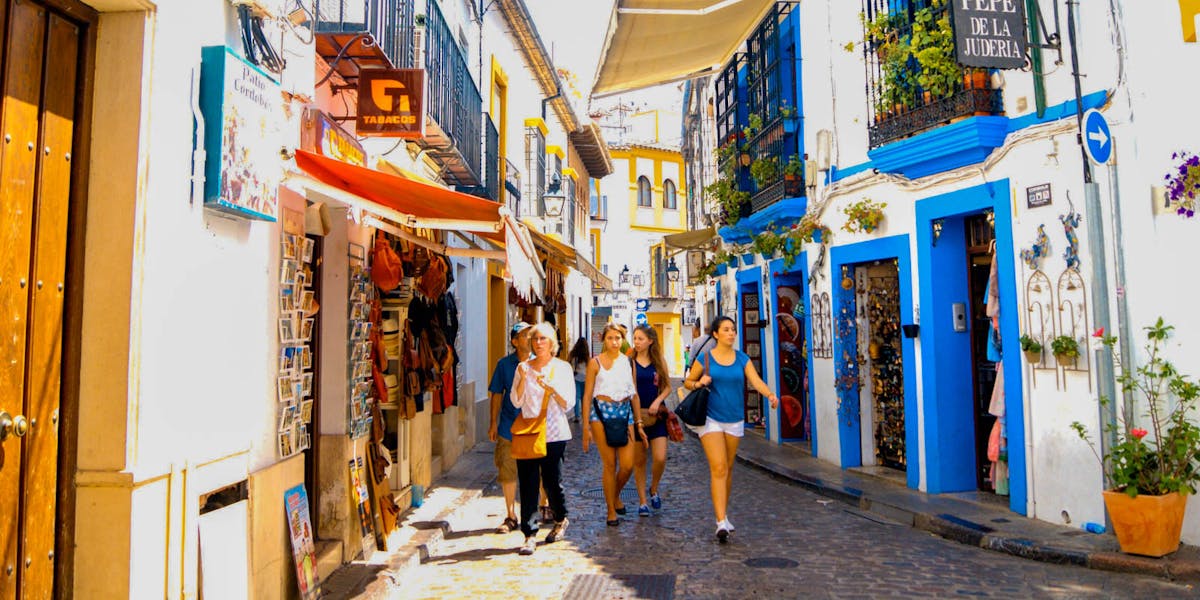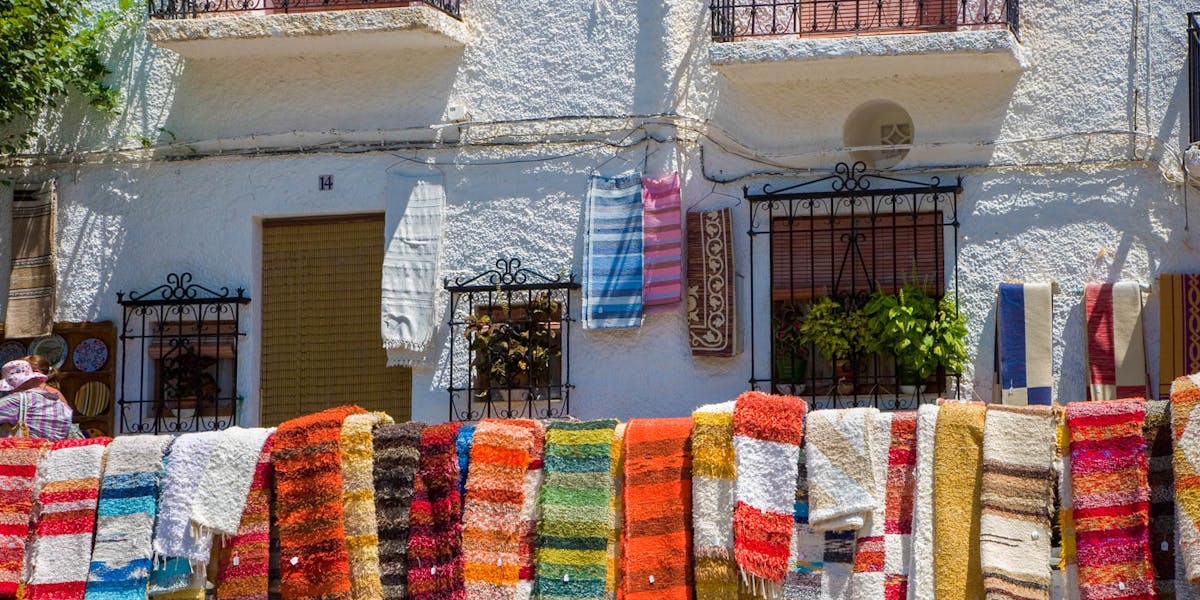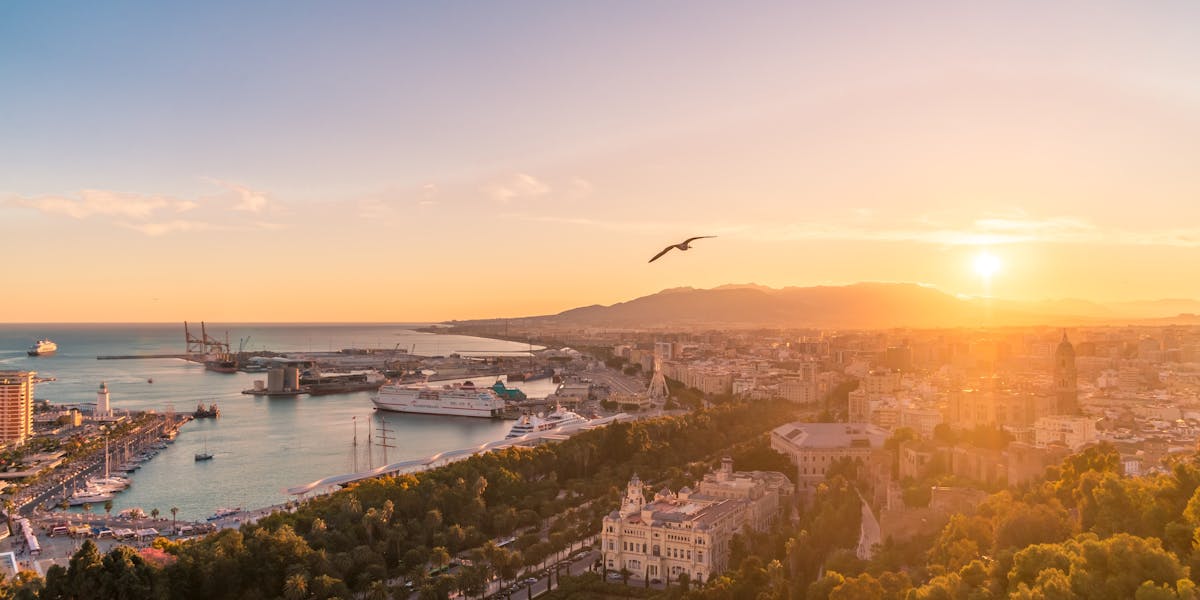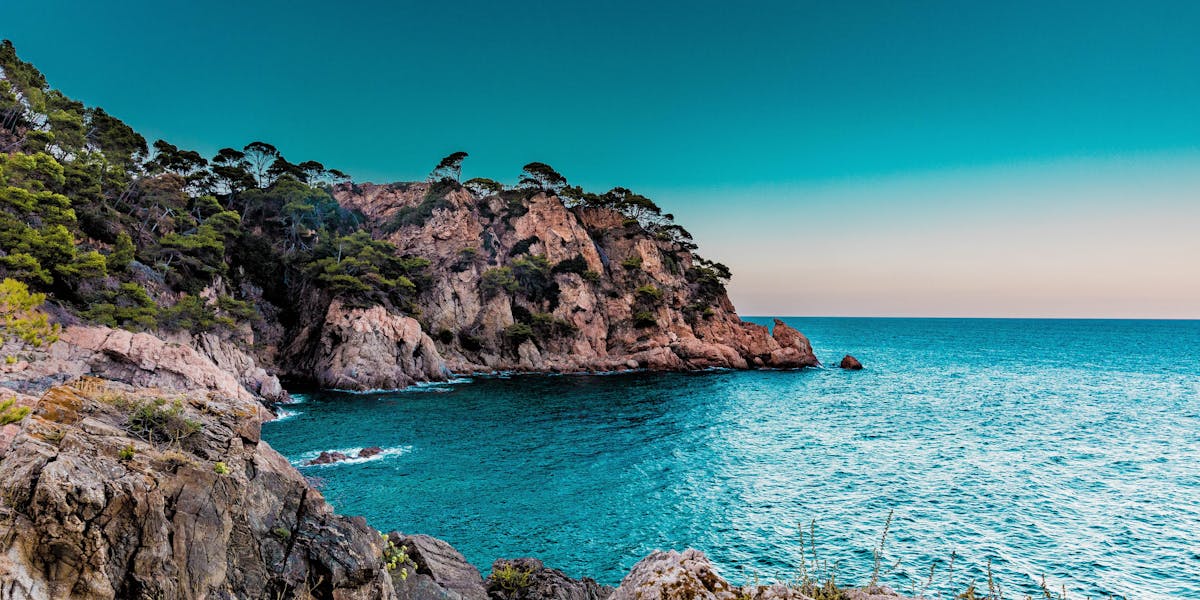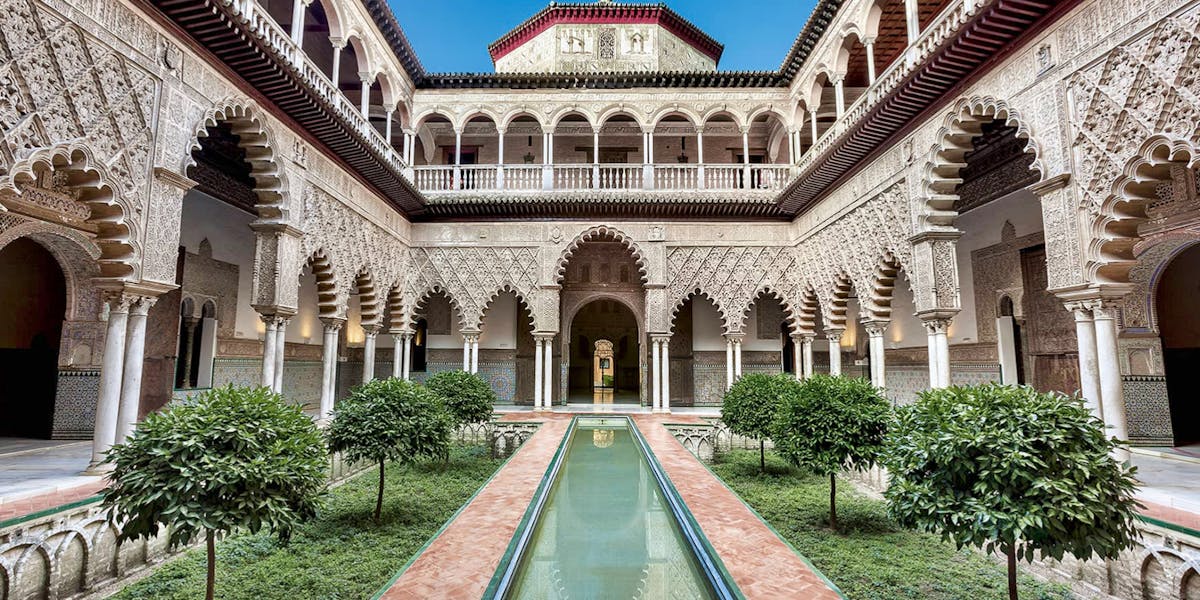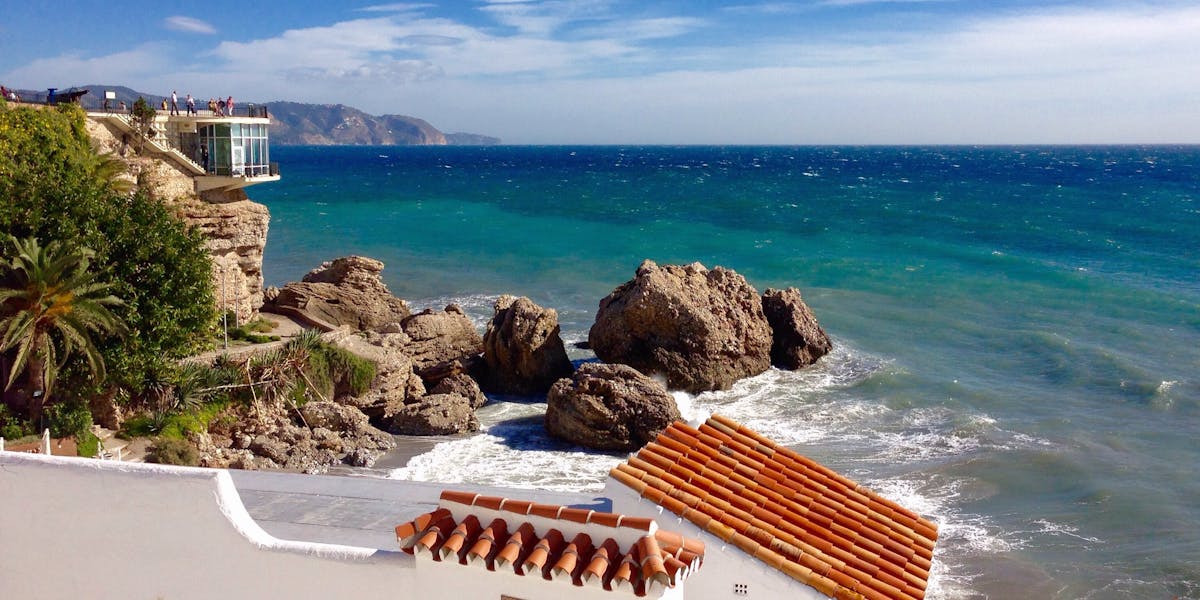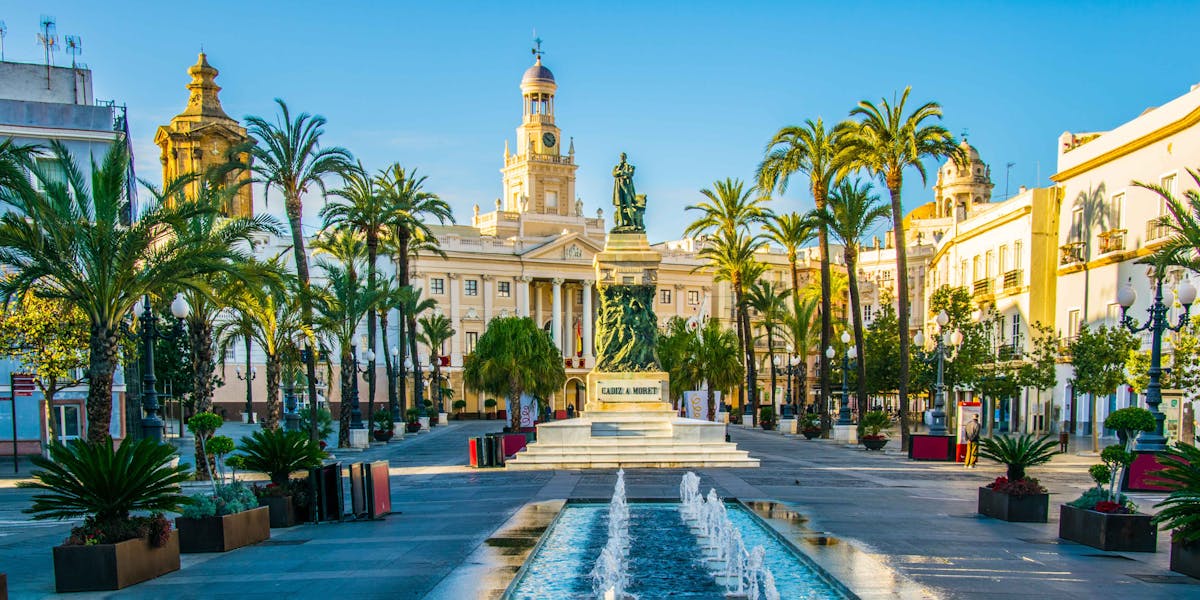 1

Cordoba
Day Trips From Granada
201 km
Distance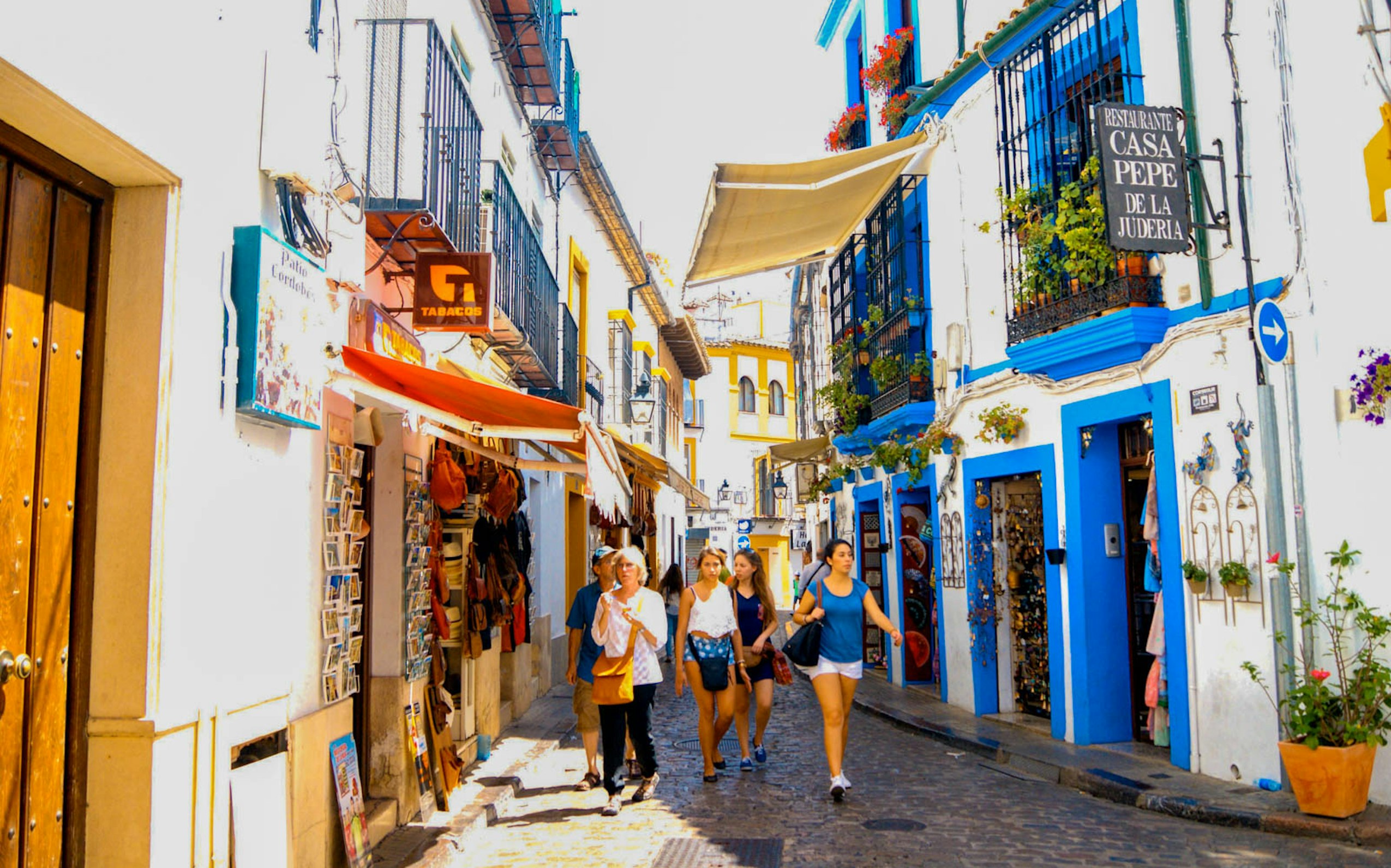 Cordoba was once home to the largest mosque - La Mezquita in the world, the structure still being one of the major attractions of Cordoba. The whitewashed jewish quarter and the city's Old Town retains a certain charm from the yesteryears. One day in Cordoba should be enough and if you happen to visit Cordoba in May, try and coincide your visit with the Courtyards Festivals of Cordoba that lasts for two weeks in May.
Best Time to Visit
May and October
Travel Time
2 Hour 15 Minutes
La Mezquita
The great mosque of Cordoba is the prime attraction in the city, a magnificient complex featuring Islamic architecture with remarkable hints at a time when Muslims, Christians, and Jews used to coexist in the community. Tickets to the mosque sell out soon, so make sure you buy them online before heading to Cordoba.
Alcázar de Los Reyes Cristianos
The Alcazar of Catholic Kings is another stunning structure in Cordoba. It was once used as a fortress and a prison. The castle has been transferred to numerous dynasties after its construction, leading to its gradual loss of glory. We recommend buying tickets for the Alcazar online to skip the hassle of standing in long queues.
Calleja de las Flores
Calleja de las Flores is a quaint neighborhood that lies close to La Mezquita. You can spend hours looking at the beautiful houses designed in the most tasteful fashion while you walk the tiny cobbled alleyways. Taking a guided tour of the patios with a local expert is highly recommended - to know the story behind each patio's decor.
Palacio de Viana
Palacio de Viana is a white walled palace, set againt pastel doors and windows most commonly known for showcasing a courtyard of Arab and Roman tradition. The sculpted garden here is a stand out feature, a definite must-see while in the courtyard.
Jewish Quarter
Cordoba has a historic Jewish Quarter within the city limits. It has characteristic narrow lanes that have retained their original structure from its glory days. One of the three original synagogues of Spain lies at the center of this Jewish Quarter.
Medina Azahara
The Medina Azahara is the ruins of the palatine city build by the Umayyad Caliphate of Cordoba in 929 AD. In these UNESCO World Heritage ruins, you can see grand ceremonial halls, spectacular mosques, and a number of workshops, homes, baths, gardens, and offices. Getting tickets for a guided tour online is advisable for a hassle-free experience.
By Bus
9 buses run every day from Granada to Cordoba. Buses are by far the cheapest mode of traveling from Granada to Cordoba, costing around €15, one way. The journey by bus takes less than 3 hours.
By Train
There are two trains operated by RENFE that travel from Granada to Cordoba every day, with a journey time of 2.5 hours. If you want to cut down travel time further, you can hop onboard the high-speed AVE trains. It takes only 1 hour 35 minutes, but the tickets cost significantly higher.
By Car
Take the A45/A92, Salinas and go in land 20/25 mins before entering Iznájar. This village is situated atop a huge rocky outcrop with a castle, perched at the peak and dates from the 8th century overlooking the largest reservoir in Andalucía, which is used throughout the warm season as a beach. This is the most scenic route to traveling from Granada to Cordoba by car. Your other options are traveling via N432 and A4.
Organised tours from Granada to Cordoba
Going from Granada to Cordoba with an organized group is a great idea. Your travel is taken care, your itinerary is taken care of and so are your tickets to the famous Cordoba Mosque! You can do away with the hassles of finding the bus stops, standing in queues etc and enjoy the beauty of Cordoba from the comfort of your coach.
Top experiences in Cordoba
2

Las Alpujarras
Day Trips From Granada
90 km
Distance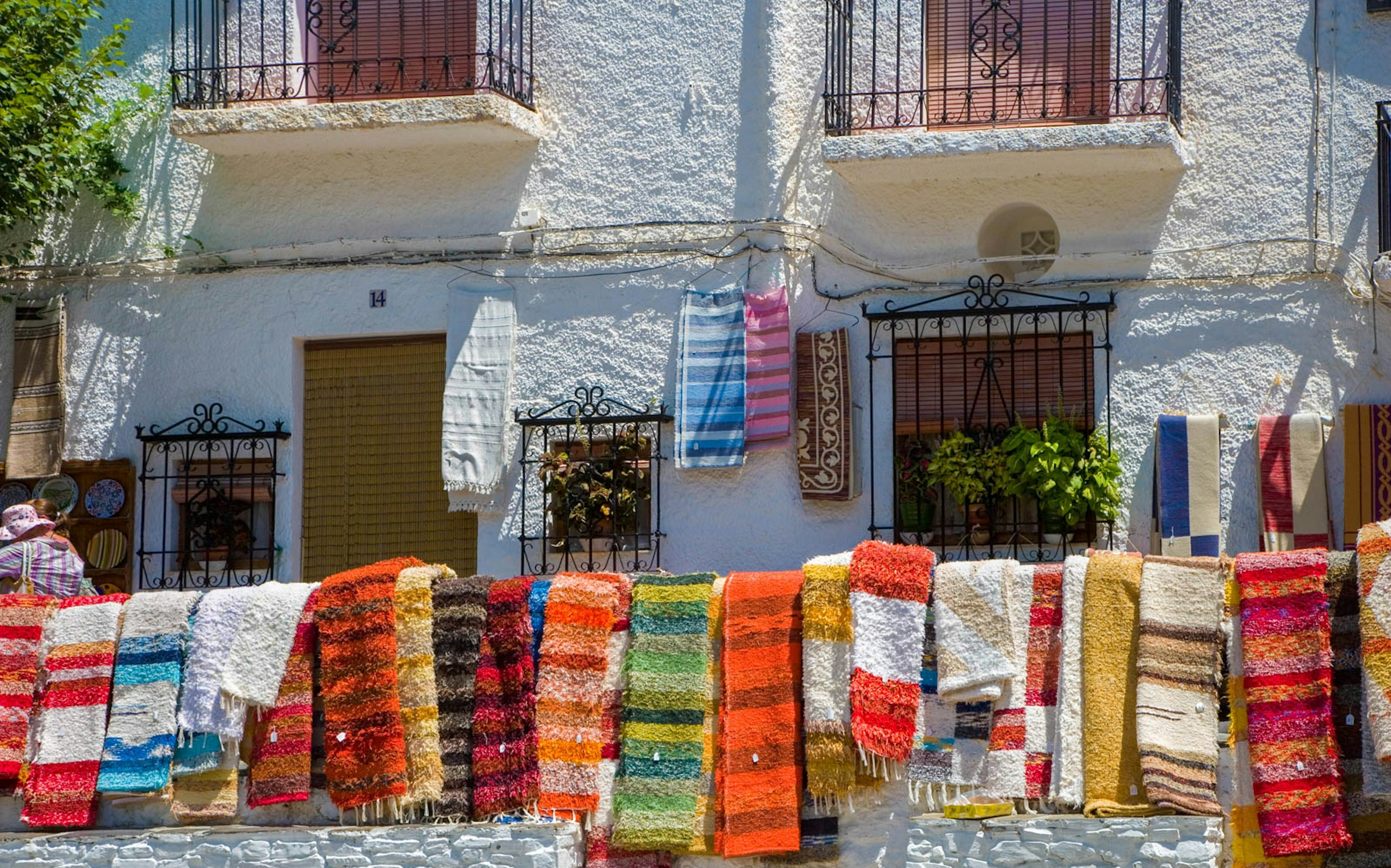 Las Alpujarras is a scenic mountain region, comprising of 50 plus villages set against the steep gorges and slopes of the Sierra Nevada Mountains. Enjoy hiking and exploring these villages including the traditional whitewashed villages of Pampaneira, Bubión and Capileira. The region covers about 70KM of alpine vegetation and rocky outcrops interrupted by fertile terrace farmlands and orchards with natural springs that are fed by the snow capped peaks. The fresh mountain air and the healing natural spring waters of Alpujarras will leave you reenergized.
Best Time to Visit
April to June and September to October
Travel Time
1 Hour 30 Minutes
Sierra Nevada
The Alpujarras are located on the Sierra Nevada slopes and if you visit from December to April you can enjoy skiing on the snow slopes. The Pradollano ski resort has the best skiing facilities and slopes.
Balneario de Lanjarón spa
Balneario de Lanjarón spa in the town of Lanjarón has natural mineral water springs and exquisite facilities like bubbling pools, mud baths and steam rooms. The mountain air and water is bound to do wonders to your body!
Villages of the Alpujarras
Among the 50 odd villages, you must visit atleast 4-5 villages for a true taste of the Alpujarras region. Here are our top picks for the best villages in Alpujarras - Trevélez, Lanjarón, Orgiva, Pampaneira, Bubión, Capileira, Portugos, Bérchules and Cádiar.
By Car
Going from Granada to Alpujarras by car is the easiest way to get this mountainous region. From Granada you can reach via the N-323 through Armilla, Padul and Durcal to Lanjaron.
By Bus
Buses between Granada and the Alpujarra are run by Alsa. Between Granada, Lanjaron and Orgiva there are several buses daily, but between the capital and most other communities in the Alpujarras, only a few buses each day.
Organised tours from Granada to Alpujarras
The best way to truly enjoy going from Granada to Alpujarras is by taking a guided tour! Relying on the public transport here is not wise, and unless you have your own car, we would recommend signing up for a guided tour. You'll get to visit the best villages in the region, learn about each village and its speciality from your local guide and sample local delicacies like cheese, homemade chocolate, and ham. Don't forget to buy a rug from the region - Alpujarras rugs are world wide famous.
3

Malaga
Day Trips From Granada
124 km
Distance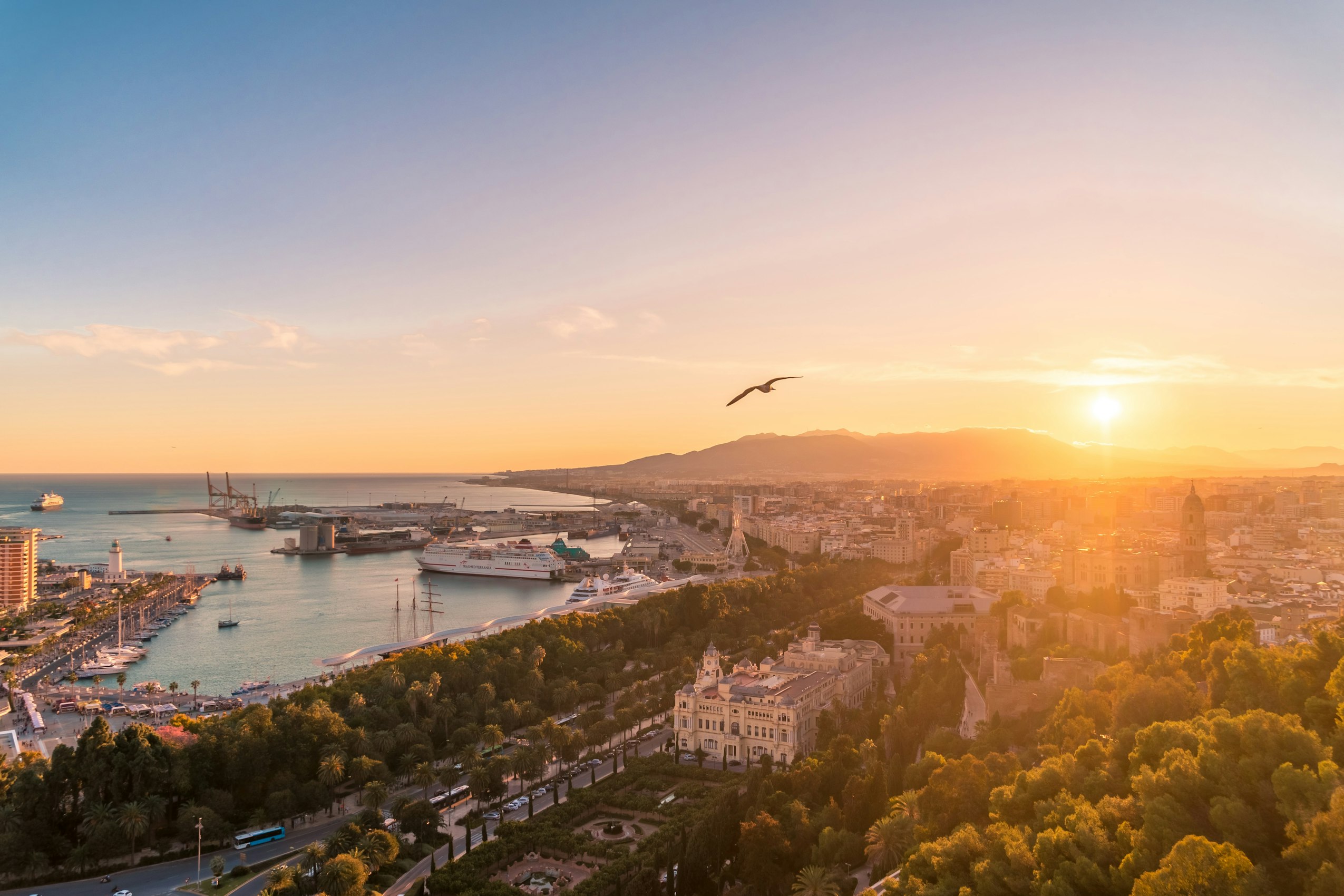 Malaga, a picturesque port city on the Costa del Sol offers everything from Roman historic monuments to Moorish architecture. While the city is captivating and retains a local charm, the real excitement in Malaga remains a short drive away from the city in Caminito del Rey. It used to be the world's most dangerous walkway, but today it is an exciting nature and adventure destination that will leave you awestruck with it otherworldly landscapes! Take a day trip from Granada to Malaga for a rendezvous with nature and Spanish history!
Best Time to Visit
March to May
Travel Time
1 Hour 30 Minutes
Alcazaba of Malaga
The Alcazaba of Malaga is one of the best preserved Moorish fortresses in Spain and dates back to the 11th century. Built by the Hammudid dynasty, this striking fortress stands tall atop a hill overlooking the city of Malaga. Well manicured gardens, porticos and buildings reminiscent of Nasrid and traditional Moorish architecture graces the compound.
Gibralfaro Castle
The Gibralfaro Castle is iconic to Malaga as its image is imprinted both on the Malaga province's flag and seal. The castle is located on the namesake Gibralfaro hill, a part of the Montes de Malaga mountain range and is surrounded by thick forest of Eucalyptus and Pine.
Malagueta Beach
La Malagueta Beach is a man-made beach with dark sand located near the Playa de la Caleta and is a part of the Malagueta neighborhood that was earlier known for its industrial buildings, but has since been transformed into a happening beach destination.
Malaga Cathedral
The Malaga Cathedral was built between 1528 and 1782 and referred to as 'La Manquita' which translates to 'One armed woman' - a fitting moniker because of its single tower. The real charm of the cathedral is in the interiors which are Renaissance and Baroque, and in its 40 wooden statues carved by the famous Pedro De Mena. Climb up 200 stairs to catch spectacular views of Malaga from the rooftop!
Ataranzas Market
Watch the history and culture of Malaga in action at the Ataranzas Market. The building itself is an amalgamation of 14th century Moorish architecture and 19th century industrial design. The market has restaurants, fresh produce stalls and souvenirs stalls where you can shop, eat and people-watch!
By Car
Driving frm Granada to Malaga is the fastest way to traverse this distance, taking about 1 hour and 30 minutes only. The route goes along the A-92 highway and then takes the A-45.
By Bus
Buses from Granada to Malaga start from the Estación de Autobuses de Granada bus station and takes about 1 hour 50 minutes. Fares start at € 5.45 and you have multiple buses through the day.
By Train
There is no direct train from Granada to Malaga. You will have to take a train from Granada to Antequera Santa Ana and then on to Malaga. The entire journey would take around 4 hours with a transfer and cost around €45 one-way. This is the least preferred mode of transport, since it's time consuming and most expensive.
Guided tour from Granada to Malaga
A guided tour to Malaga from Granada is a convenient option with coach transfers, including transport to Caminito del Rey (60 KM from Malaga). You get the services of an expert guide and your itinerary highlighting the best of Malaga is inclusive. Put on your best shoes and get ready for a day of adventure without worrying about the finer details.
4

Marbella
Day Trips From Granada
179 km
Distance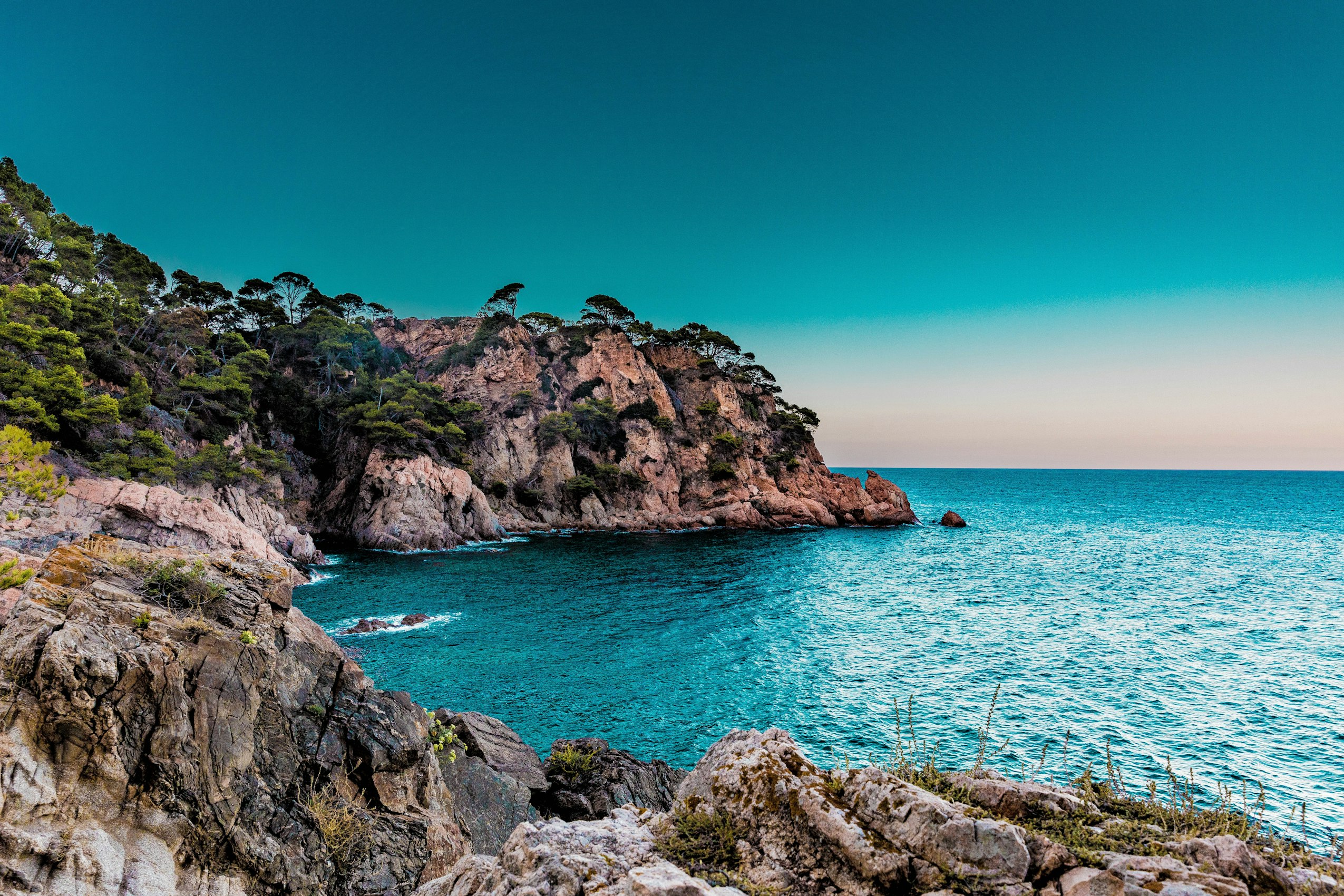 Marbella is a lovely coastal location, with long breezy boulevards and the Mediterranean wind kissing your face all day long. Sheltered by the beautiful Sierra Blanca mountains, this stunning old town has lots of culture, fantastic cuisine and wonderful year-round weather. Long before Marbella lured golfers, zillionaires and Latin American dictators, it was home to Phoenicians, Visigoths, Romans and Moors.
Best Time to Visit
September to October
Paseo Marítimo
Paseo Marítimo – or beachside promenade is the perfect place for a long stroll, taking in the views, soaking up the ambience enjoying one of the best sunsets you've ever set eyes on. Head to the paseo on a Sunday when all the locals come out in their Sunday best for a stroll and chat.
Casco Antiguo
Marbella's historic and picturesque Old Town is a hidden gem, just up from the Avenida Ricardo Soriano – the main street which runs through Marbella. With its picturesque, historic architecture and maze of cobbled streets peppered with boutique shops, funky art galleries, bars and eateries - the Old Town is almost like a separate village within Marbella.
Puerto Banús
Puerto José Banús is a marina located was built in May 1970 as a luxury marina and shopping complex. It has since become one of the largest entertainment centres in the Costa del Sol, with 5 million annual visitors. The area is surrounded by expensive shopping malls, restaurants and bars around the marina.
Plaza de los Naranjos
Plaza de los Naranjos dates from 1485, after the Christian conquest of the city from The Moors. The plaza is framed by typical white Andalusian houses and three historic buildings - the Casa Consistorial, the Casa del Corregidor and the Ermita de Santiago. Find a Renaissance fountain surrounded by orange trees, right in the center.
By Bus
ALSA and Avanza Grupo buses ply the route from Granada to Marbella and take anything between 2 hour 45 minutes to 3 hour 30 minutes.
By Car
Driving from Granada is the quickest way to get to Marbella. It takes just about 2 hours, and the route is scenic, making for the perfect roadtrip.
5

Seville
Day Trips From Granada
124 km
Distance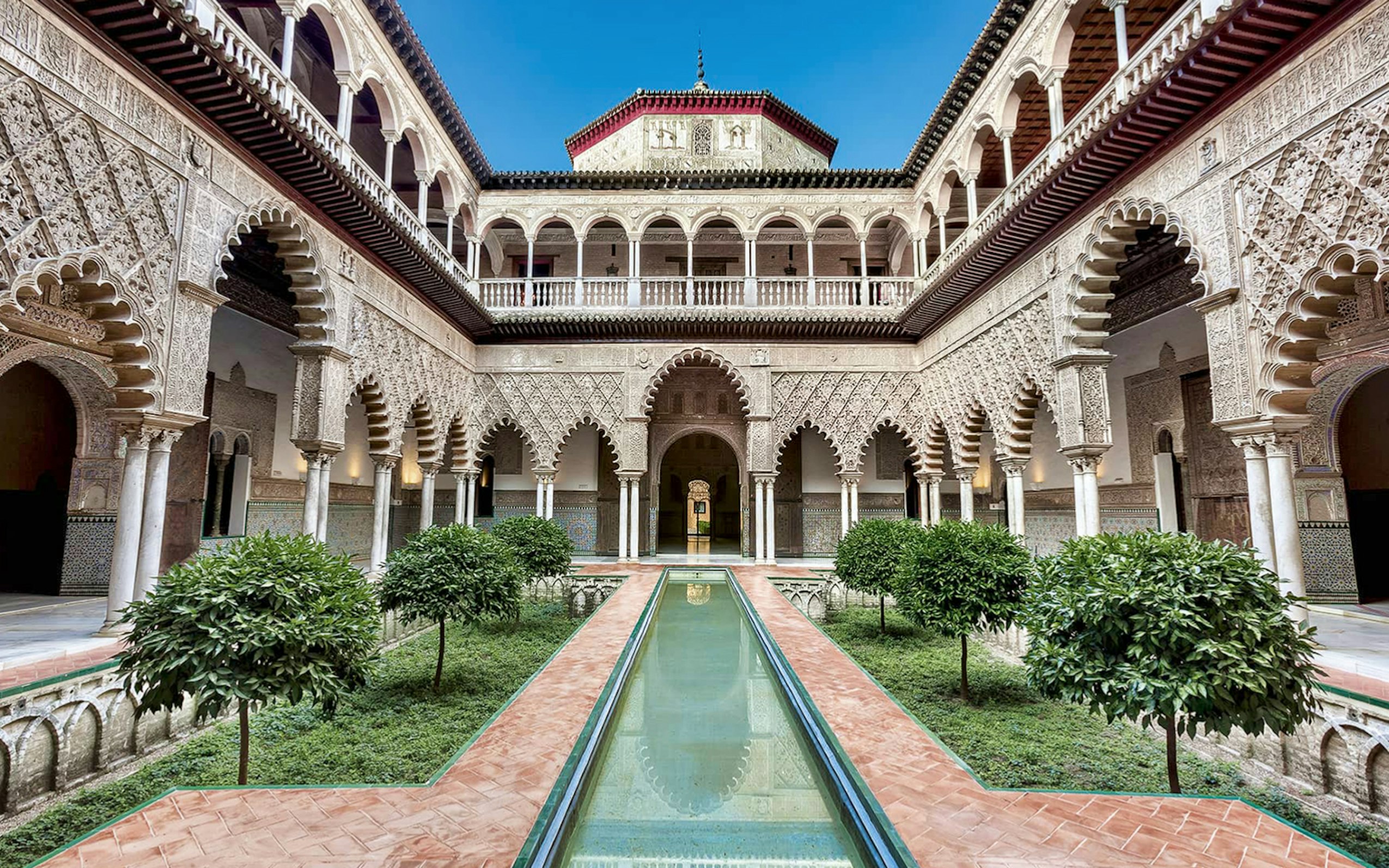 A doorway to Spain's past, Seville is one of Andalucia's most impressive cities, and for good reason. It is the land where Columbus departed from for his world exploration which has today evolved to a rousing mix of Mudéjar palaces, gothic churches, flamenco clubs and winding medieval lanes.
Best Time to Visit
March to May
Travel Time
1 Hour 30 Minutes
Alcazar Seville
With more than a millennium of history dating back to Moorish times, the Alcazar of Seville has earned a claim to fame as the oldest royal residence in Europe still in use. This UNESCO protected royal palace is an outstanding examples of Mudéjar architecture. Getting tickets to the Royal Alcazar of Seville is quite the task, so we recommend grabbing them online before you go.
Seville Cathedral
The Seville Cathedral is the largest Gothic cathedral in the world, and after St. Peter's Basilica in Rome and the Basilica of the National Shrine of Our Lady of Aparecida in Brazil it is the 3rd largest church in the world! It dominates Seville's skyline and you'll be magnetically pulled towards it the minute you step foot in the city.
Flamenco Shows
Flamenco is an art form, native to the Andalusian area of Spain. A typical Flamenco performance includes high paced musical strumming by a guitarist, hand-clapping and foot-stomping dance, and high-pitched emotional singing often improvised on the spot. Make sure to immerse yourself in this contagious passion that is Flamenco and experience it first hand in all its glory.
Plaza de España
The Plaza de España is a plaza in the Parque de María Luisa, in Seville built in 1928 for the Ibero-American Exposition. This landmark example of the Regionalism Architecture, mixing elements of the Baroque Revival, Renaissance Revival and Moorish Revival styles of Spanish architecture is a defining symbol of the region.
Santa Cruz
Santa Cruz was the former Jewish quarter of the medieval city, bordered by the Jardines de Murillo, the Real Alcázar, Calle Mateos Gago, and Calle Santa María La Blanca/San José. You'll find Seville's oldest churches and the Cathedral of Seville, including the converted minaret of the old Moorish mosque Giralda in this part of town.
By Bus
The least expensive way to Granada is the bus that leaves from the Plaza de las Armas Bus Station in Seville. FlixBus is usually the cheapest and the journey takes 3 hours.
By Train
The Renfe Viajeros train is a comfortable and direct ride that takes around 2.5 hours and is typically the quickest method for heading between Granada and Granada. You will board at the Granada Train Station and arrive at the Sevilla-Santa station.
By Car
If you would rather drive yourself, the trip from Seville to Granada can be covered in about 3 hours, depending on traffic and how many stops you make. Head east on the A-92 highway and follow the road signs.Once you arrive in Granada, it can be hard to find free parking in the city center. But, several public and private car lots around the city are available which have hourly rates.
Top experiences in Seville
6

Nerja
Day Trips From Granada
94.5 km
Distance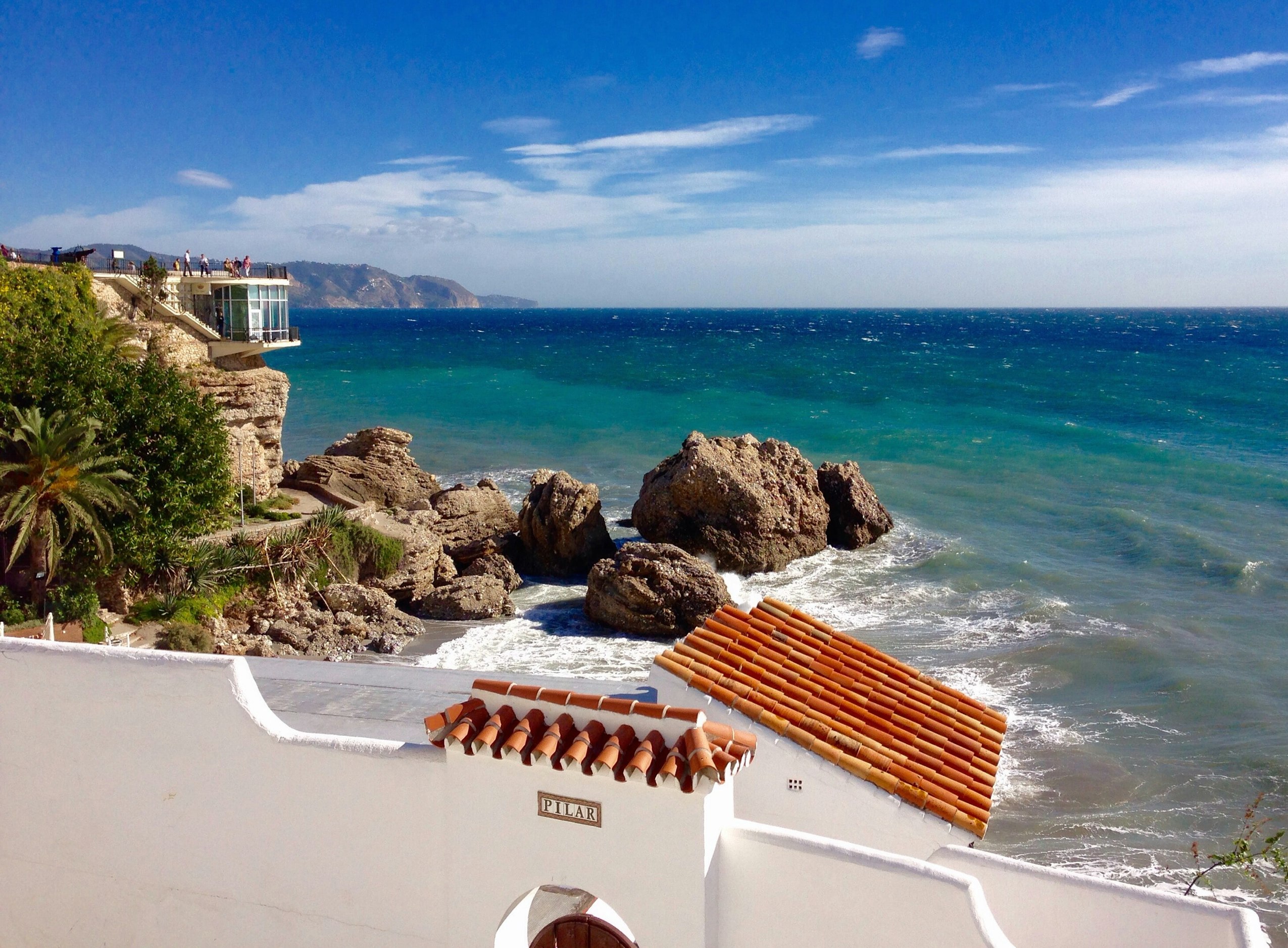 Nerja is a serene seaside resort town on the Costa del Sol in southern Spain. This typical Andalusian white village, nestled on a rocky coastline is hugged by the scenic Sierra Almijara Mountains to one side and cobalt-blue sea flanked by honey-coloured coves to the other. The holiday atmosphere and seawater contamination can be overwhelming from July to September, but the place peaceful for the months of the year, and we suggest going those months.
Best Time to Visit
April to October
Nerja Caves
This cave system had been used by Neanderthals and early civilisations up to the Bronze Age. It lay unseen to modern eyes until 1959 when a group of friends stumbled upon it while out catching bats. Step through a sequence of chambers, which leads up to the magnificent Sala del Cataclismo, which is 100 metres long and reaches heights of 32 metres, officially the largest in the world.
Balcón de Europa
This seafront veranda at the top of a headland is a huge part of local life in Nerja. King Alfonso XII called it the "balcony of Europe" and when you contemplate the sea from here, it's hard to disagree. Everyone gathers at the plaza for New Year's Eve, during the Holy Week processions and the Feria de Nerja which takes place in mid-October.
Río Chillar
This hike journeys against the course of the Chillar River as it winds through a gorge and cascades into a perfectly clear pool. It takes around 3 hours and is suitable for all age groups. You may even catch sight of Ibexes balancing on the ravine walls, as well as lizards and snakes sunning themselves on the rocks.
Church of El Salvador
This whitewashed church was built at the end of the 17th century and has a baroque and Mudéjar (Moorish-style) design. The bell-tower beside it is a little newer and was completed in 1724, rising above Nerja's skyline.
Playa de la Cala el Cañuelo
Around 10km east of Nerja there's a peaceful little cove with a shale beach. You have to park up by the road and catch a minibus down the shore, and once you do, you can unwind in front of rocky, pine-dappled hills or take a dip in the serene waters, which offer some of the best snorkelling.
By Bus
ALSA Buses take just 2 hours to travel from Granada to Nerja. Tickets are not too expensive, so taking a bus is a recommended option for a day trip from Granada to Nerja.
By Car
The drive from Granada to Nerja takes just about an hour via A-44 and A-7. This is the quickest and best recommended mode of transport for a day trip from Granada. Having a car at your disposal, also comes handy.
7

Cadiz
Day Trips From Granada
292 km
Distance
Surrounded by the Atlantic, this Andalucian port city boasts 3,000 years of history, reflected in historic buildings, traditional seafood and salt-of-the-earth people. It is supposedly the oldest living city in the Western world, founded just after the Trojan War in about 1100BC. Wander the ancient cobbled streets, watch the Atlantic crash against the harbour walls and enjoy a meal of fresh fish at one of the many local bars.
Best Time to Visit
May to September
Travel Time
3 Hours 20 Minutes
Castle of San Sebastián
This 18th-century fortification is at the end of Paseo Fernando Quiñones, a long sea facing stone causeway. The views from here are scrapbook-worthy, and you can pause to dangle your legs over the wall and watch the Atlantic. Having been detached from the mainland, the Castle of San Sebastián was used as a prison or for quarantines for much of its lifespan. Today, you can catch exhibitions and concerts held here.
Playa La Caleta
This postcard setting for a beach comes with huge historical importance as Phoenicians, Carthaginians and Romans all moored their ship in this natural harbour in ancient times. Take some time out for salty beach fun!
Gran Teatro Falla
This fine 19th-century concert hall is constructed in the Neo-Mudéjar style, and is one of the city's top landmarks. If you really want to get to know Cádiz's bawdy folk culture, a visit during the carnival in February or March is a must.
Cádiz Cathedral
For another stellar panorama of Cádiz, scale the cathedral's Poniente Tower. From here you can look out over the port and far into the sea. This 17th century cathedral combines baroque, rococo and neo-classical architectural styles - a treat for the eyes.
Parque Genovés
This gorgeous waterfront park with paths made from the same sand used in Andalusia's bullfighting arenas is worthy of a few hours from your tight day trip itinerary. The whole park is a big botanical garden, with tree and plant specimens from all over: Maple trees, poplars, Indian laurels, Canarian pine and Cycads from southern India, to name but a few.
By Bus
ALSA Buses take 5 hours to travel from Granada to Cadiz, and if you're planning a day trip, this route is not advisable.
By Train
There is no direct train from Granada to Cadiz. You'll need to take a train from Granada to Sevilla-Santa Justa and then transfer to another train to reach Cadiz. Again, we would not recommend this route for a day trip since it's very time consuming.
By Car
Driving from Granada to Cadiz is the quicket option, and if planned properly, it can be the cheapest option too. It takes 3 hours 30 minutes via A-92 and A-384
Granada Day Trips - Compare Your Options
| Day Trips | Distance | Duration | Category | Best Time To Visit |
| --- | --- | --- | --- | --- |
| Cordoba | 201 KM | 2 Hour 15 Minutes | Mosque, Moorish | May and October |
| Las Alpujarras | 90 KM | 1 Hour 30 Minutes | Mountains, Whitewashed Villages | April to June and September to October |
| Malaga | 124 KM | 1 Hour 30 Minutes | Caminito del Rey, Streetside Bars | March to May |
| Marbella | 179 KM | 1 Hour | Marina, Luxury | September to October |
| Seville | 124 KM | 1 Hour 30 Minutes | Architecture, History | March to May |
| Nerja | 94.5 KM | 1 Hour | Seaside Resort, Balcony to Europe | April to October |
| Cadiz | 292 KM | 3 Hours 20 Minutes | Historic Streets, Seafood | May to September |
FAQs
The most popular day trips from Granada include visits to the nearby towns of Sierra Nevada, Ronda, and Seville. Other popular choices include exploring the Alhambra Palace complex and visiting the nearby city of Cordoba.
The best way to get to Sierra Nevada from Granada is by car. There are also buses that run from Granada to Sierra Nevada, but they can be quite slow.
It takes about 2 hours to get to Ronda from Granada by car. There are also buses that run from Granada to Ronda, but they can take up to 3 hours.
It is possible to do Granada as a day trip from Seville, but it will be a very long day. It is better to stay overnight in Granada so that you have more time to explore the city.
There is not a direct train from Granada to Seville, but there are trains that run from Granada to Cordoba. From Cordoba, you can then take a train or bus to Seville.
The best way to get from Granada to Córdoba is by car. The drive takes about 2 hours. There are also buses that run from Granada to Córdoba, but they can take up to 3 hours.