Located on a plateau overlooking the Spanish city of Granada, the Alhambra is one of the must-visit attractions in Granada. The Alhambra is a famous palace and fortress in Granada, Spain. 'Alhambra,' which means 'red' in Arabic was the royal residence of the Moorish monarchs of Granada.
You will find lots of eateries and dining options located in and around Alhambra, where you can sample local dishes and immerse yourself in Spain's local culinary culture. After you finish exploring the Alhambra, indulge in some tasty Spanish dishes such as 'la tortilla del Sacramento,' 'la pipirrana' and a classic Spanish paella to enjoy a quintessential Spanish experience.
Here are some of the top eateries near Alhambra where you can grab a quick bite, or enjoy a delicious meal.
Top 7 Restaurants in and around Alhambra you must try
Restaurante La Mimbre
The restaurant in the forests of Alhambra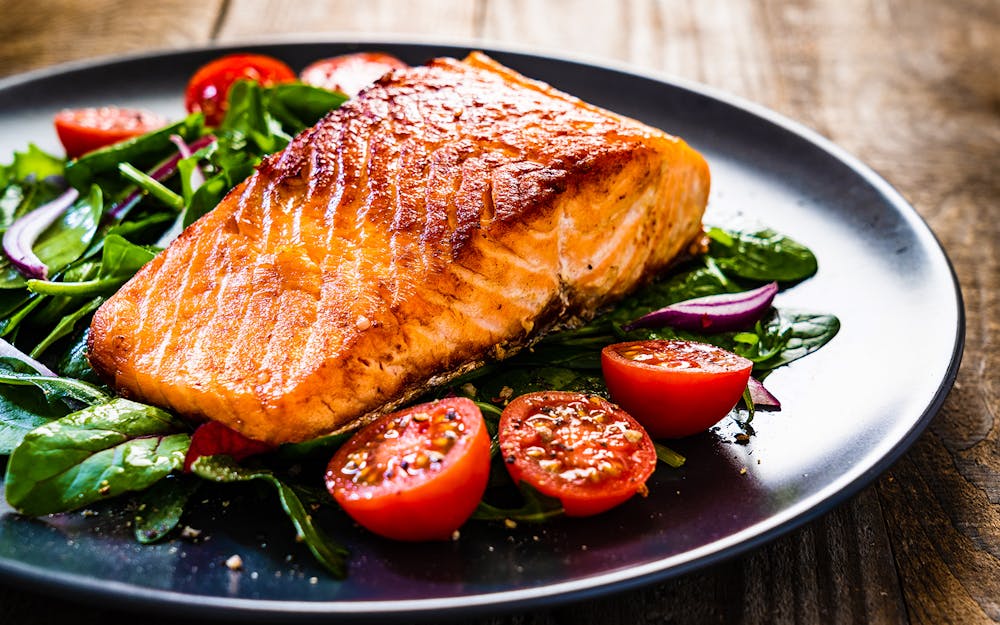 Located amidst the forests in Alhambra, the La Mimbre Restaurant is one of the eateries in Granada where you can enjoy a delicious meal in beautiful surroundings. La Mimbre opened its doors for the first time in 1890 and by 1978, it became one of the most renowned restaurants in Granada, Spain. Situated only a few meters away from the watchtower in Alhambra, La Mimbre is a must-try for visitors!
Cuisines: Regional cuisine of Granada, tapas, fish grills
Price for two: €60
Open Hours: Daily 9:30 am-6 pm
Andalusian Soup, Remojón, Omelette 'La Mimbre,' Cod Loin in 'La Mimbre' Sauce, Bull's Tail.
Review of Restaurante La Mimbre
Fresh, hot, fast, and great service. Can't beat the location and our server and the chef were so attentive we felt very special. Halal chicken is also an amazing option for many visitors to Al Hambra thank you! Abdul the chef even attended our table to ask questions and provide advice. It was all delicious.
Rashid F., Google Reviews
Parador de Granada Restaurant
Gastronomical experience of Nasrid Cuisine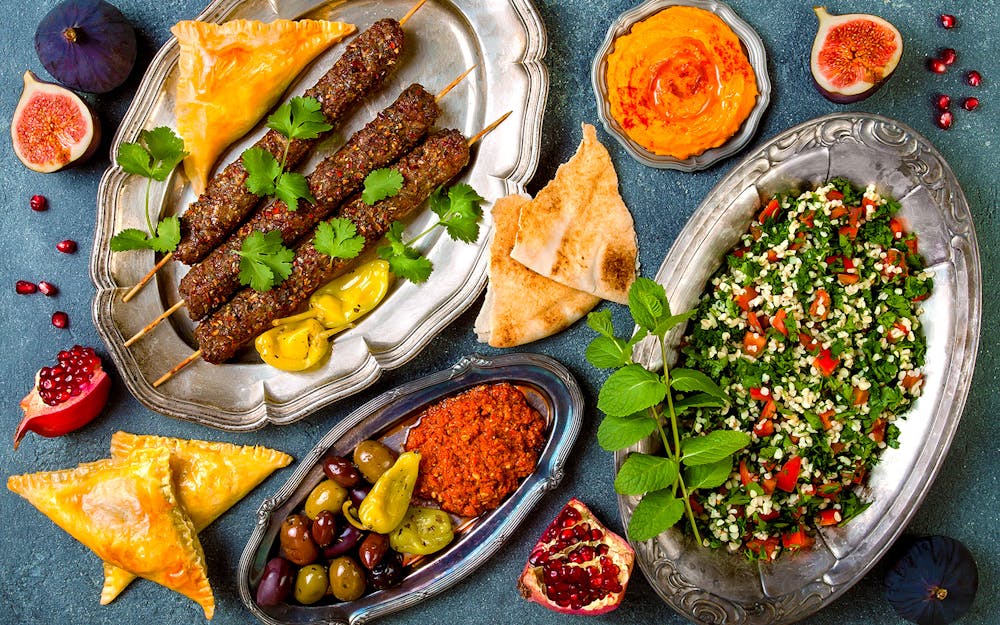 The food at the Parador de Granada will take you back in time with its dishes. Dining at this restaurant promises you an exclusive gastronomic experience in Alhambra. If you are looking for an eatery that promises you a relaxing and sumptuous experience after exploring Alhambra, the Parador de Granada is the place to be!
Cuisines: Arab, Spanish, Nasrid
Price for two: €100
Open Hours: Daily 7:30 am-10:30 pm
Nasrid Breua, Remojón Granadino (orange salad with local ingredients), monkfish in Mozarabic sauce, alpujarreño-style kid, piononos (sweets).
Parador de Granada Restaurant
The restaurant was just excellent. We had a truly gourmet meal. Our waitress was wonderful too, giving us excellent suggestions for our meal and Red wine. Our meal was a continuation of a wonderful day at the Alhambra.
Restaurante Granata
Flavours of Galician Gastronomy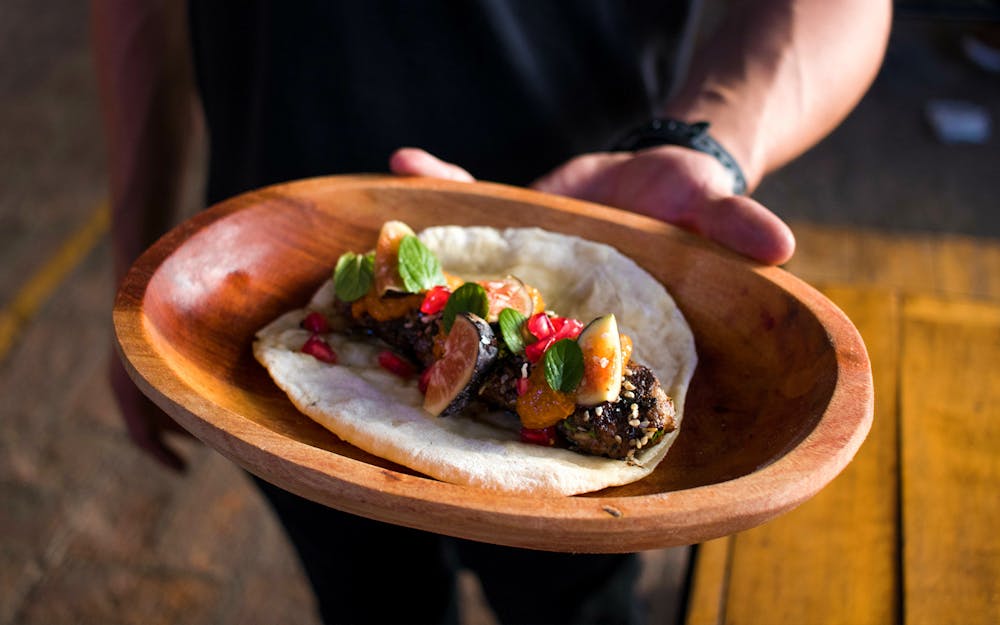 The Restaurant Granata is located right in front of the famous Alhambra. The restaurant is a melting pot of Spanish art and culture which is beautifully evident in its ambiance, atmosphere, and the dishes that the restaurant serves. Diners are served dishes that are based on local cuisine and packed with traditional and authentic flavors.
Cuisines: Mediterranean
Price for two: €100
Open Hours: 7:30 pm-11 pm from Monday-Thursday 1:30 pm-4 pm and 7:30 pm-11 pm from Friday-Sunday
Garnata style "remojón" salad with salted cod and orange, Capture of the day from Motril with potatoes and "ajada," San Pascual pork entrecôte with potatoes and roasted shallots, Oxtail Cannelloni with Montefrieño cheese and cane honey, Grenadian "Piononos" with cinnamon tuile and ice cream.
Review of Restaurante Granata
We checked in to Eurostars hotel after a long day of traveling & decided to eat dinner here at the restaurant in the hotel. The two servers were outstanding and went out of their way to make our meal outstanding. We had a veggie pizza & tagliatelle with tomato sauce. Both dishes were fresh and brought out quickly as we were hungry. I recommend it & is convenient for hotel patrons and anyone visiting the Alhambra
Restaurante Jardines Alberto
A terrace garden restaurant in Alhambra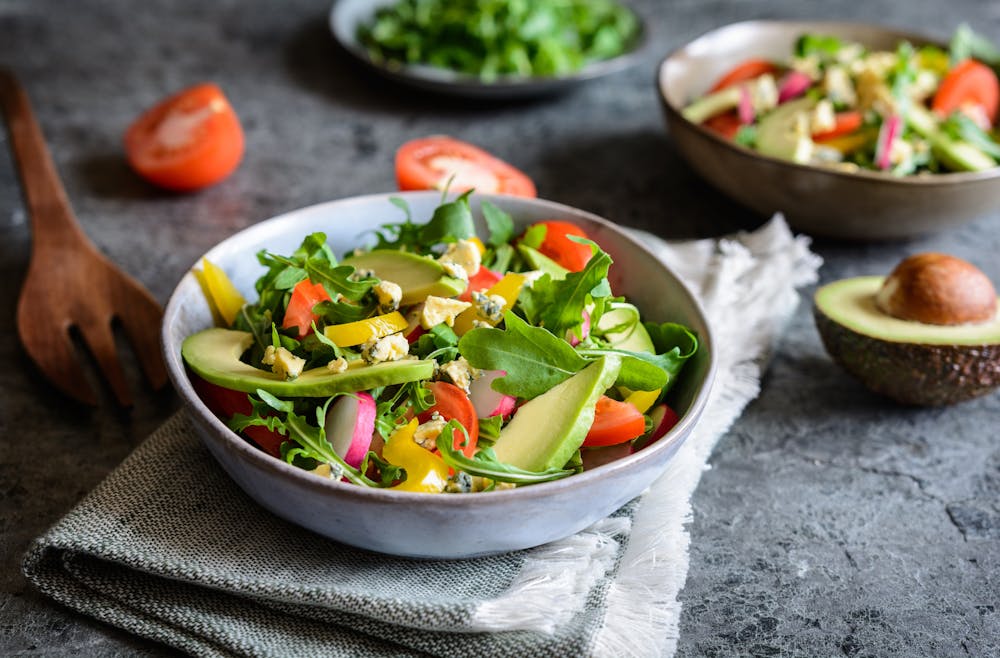 If you want to enjoy your meal with a view then check out the Restaurante Jardines Alberto. With three leafy terraces and a coveted location right in front of the Alhambra, the Restaurant Jardines Alberto is known for its award-winning dishes. A great spot to indulge in a delicious lunch, this restaurant is a must-visit for foodies!
Cuisines: Mediterranean, European, Spanish, Nasrid
Price for two: €60
Open Hours: 8:30 am-6 pm
Nasrid Style Chicken, "Iskabay Almori" Salmon, Salmorejo, Vizier's Lamb, Garnatí Salad
Review of Restaurante Jardines Alberto
After an exhausting, but fantastic visit to the Alhambra, crossed the road from the Alhambra entrance and discovered this jewel !! The views, location, and hospitality are 5 *. The entrance gives an expensive impression, but fantastic food and good price-quality! We opted for Day Menu at Euro 15 (one drink included), 4 courses. Each course (choice) is freshly made and delicious. Definitely to be recommended !!
Sign up for our monthly newsletter
Your dose of travel fix - from hacks and deals to travel tips and everything in between, delivered monthly to your inbox
Please enter a valid email
Unsubscribe anytime
Restaurante Mirador Carmen San Miguel
A restaurant on the slopes of Alhambra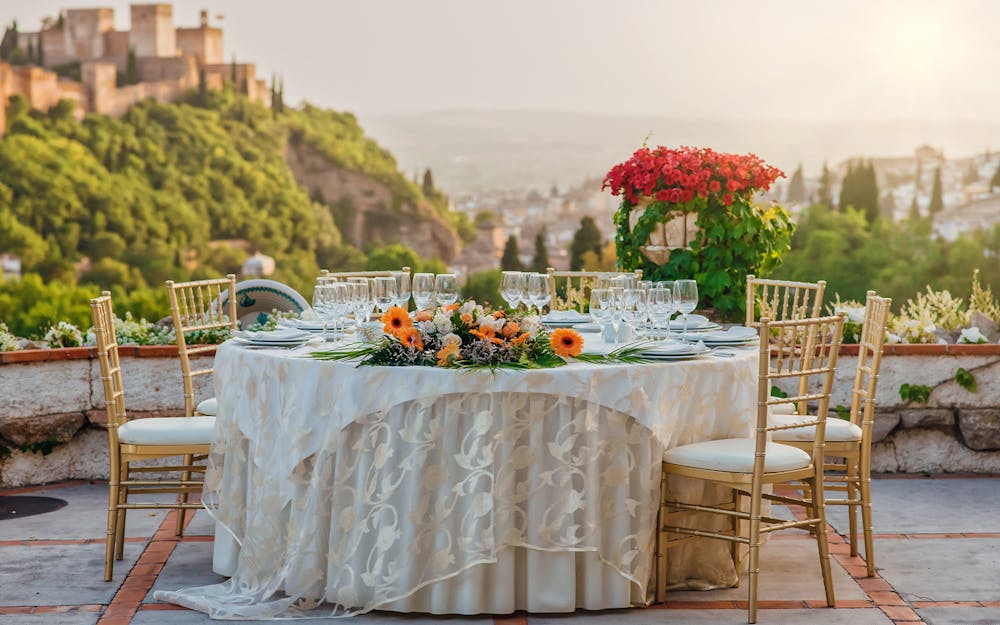 The Alhambra is steeped in history and magic. An equally historic and magical place to enjoy a meal at Alhambra is the Restaurante Mirador Carmen San Miguel. The dishes at this restaurant are innovative, tasty, and made using fresh quality ingredients-all of which are sourced from the city of Granada itself.
Cuisines: Modern Andalusian, Mediterranean, European and Spanish
Price for two: €60
Opening Hours: Tuesday-Saturday from 12:30 pm-5 pm and 8 pm-12 am
Habas en Pelota, Tuna Tataki, Canelón de berenjena y queso de cabra, Cane Sugar and Rum Cake, CSM's Hot Apple Pie
Review of Restaurante Mirador Carmen San Miguel
December '22. We walked here after visiting Alhambra. Although I would come to this restaurant on its own. It is excellent. It is a Carmen with wonderful views of the city and mountains. The food and service were outstanding for my family of 5. It is not a 'cheap' restaurant. On par with quality food, wine, and service for the area in terms of price. If you value quality food and service and want a view, come here. Very family friendly.
La Tabernilla del Darro
Andalusian tavern surrounded by beautiful streets
Located on Puente Espinosa nº 15, one of the most beautiful streets in the world, La Tabernilla del Darro is a must-visit restaurant in Granada. The central location of the restaurant and its modern spin on local ingredients has made La Tabernilla del Darro one of the most popular restaurants in Granada.
Cuisines: Mediterranean, European, Spanish
Price for two: €44
Opening Hours: Daily from 12 pm-12 am
Remojón granaíno "La Tabernilla," Gnocchi salad with green pesto, Foie ingot with apple & raisins, Filled asparagus with anchovies & salmorejo, Glazed artichokes with romesco & parmesan cloud
Review of La Tabernilla del Darro
Loved this place!! First, you are inside a cave! It's pretty cool. They've maintained it well. Nice decor. Good music in the background. We sat by a window overlooking the river Darro for the 1st time. Our server was very nice. We had a few beers and tapas, which were excellent, and took dessert home. We went back the next day and had wine. The service was good as well. Definitely recommend!!
Restaurante Carmen El Agua
Restaurant with a special view of the Alhambra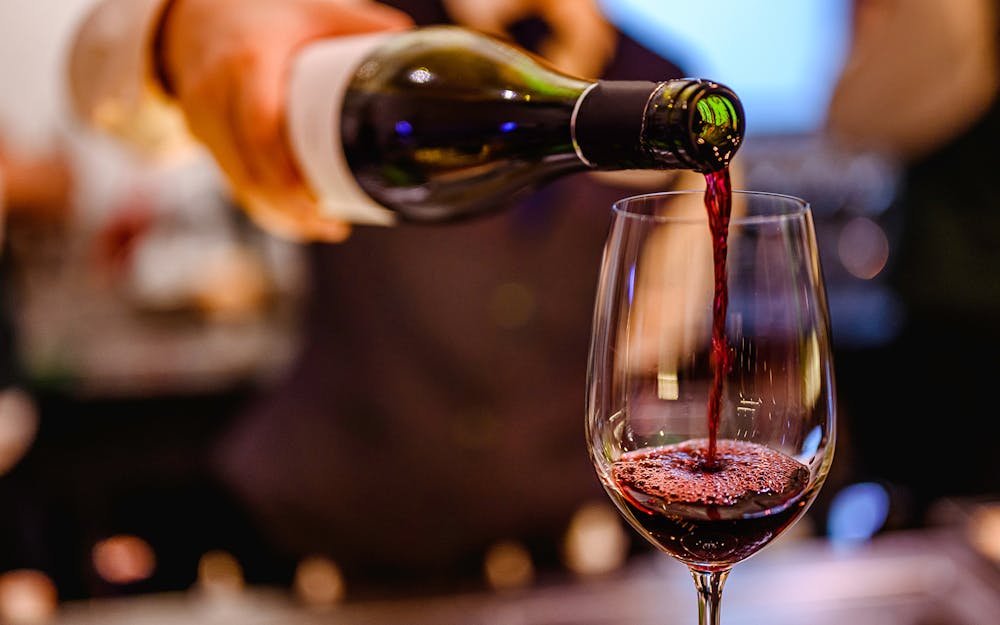 Another Carmen restaurant, the Restaurante Carmen El Agua is a hidden gem in the old Albayzin, which is near the Alhambra. At Carmen Ele Agua, visitors will get to taste traditional dishes, with a hint of Arabic influence. The dishes here taste as good as they look and are a delicious treat for all the five senses.
Cuisines: International, Fusion, Healthy
Price for two: €80
Opening Hours: Daily from 1 pm-4 pm and 8 pm-11:30 pm
Beef Sirloin Panipuri Steak Tartare, Wan Tun Pies, Lamb Shoulder Confit in its Juice, Galicia Blonde Cow Tenderloin, "El Agua" Pie
Review of Restaurante Carmen El Agua
Everything we had was wonderful! From the view of the 6-course menu, the scallops were fresh, the mushroom dish was beyond my highest expectations, and the lamb with duck salad just melted in your mouth! The "El agua" pie was delicious, perfect ending with a fabulous view of Alhambra.
FAQs
What are some of the good dining options near Alhambra?
Is it expensive to eat at restaurants in Alhambra?
Do I need to reserve a table at Alhambra?
What are some of the local specialties at the restaurants in Alhambra?
Are vegetarian options available at the restaurants in Alhambra?
Recommended Alhambra Experiences
Best Alhambra Restaurants