This mystical city of Granada stretches across the foot of the majestic mountains of Sierra Nevada, Andalusia, Spain and has a history of more than 1000 years. It derives its name either from the Spanish granada ("pomegranate"), a profusely available fruit and a symbol of victory over the Moors of Al-Andalus which is also a part of the Spanish flag even today, or from Karnattah (Gharnāṭah), its Moorish name, meaning "hill of strangers."
The Moors ruled over Granada for over 800 years and their rich legacy is reflected in the ancient mausoleum of Alhambra, an Islamic masterpiece.
Granada is popular for its Tapas, the only place where drinks come with free food. Among the other key highlights are the quaint teterías or tearooms which serve delicious pancakes, smoothies, pastries, crepes, and fill the Albaycin streets with the intoxicating aroma of 80 different varieties of tea. The city takes pride in its rich culture and boasts of the monumental churches, royal palaces, offbeat bohemian cafes, Tapas bars with traditional Arabic music, and museums with medieval Islamic architecture dating back to the Moorish era.
Best Time To Visit Granada
---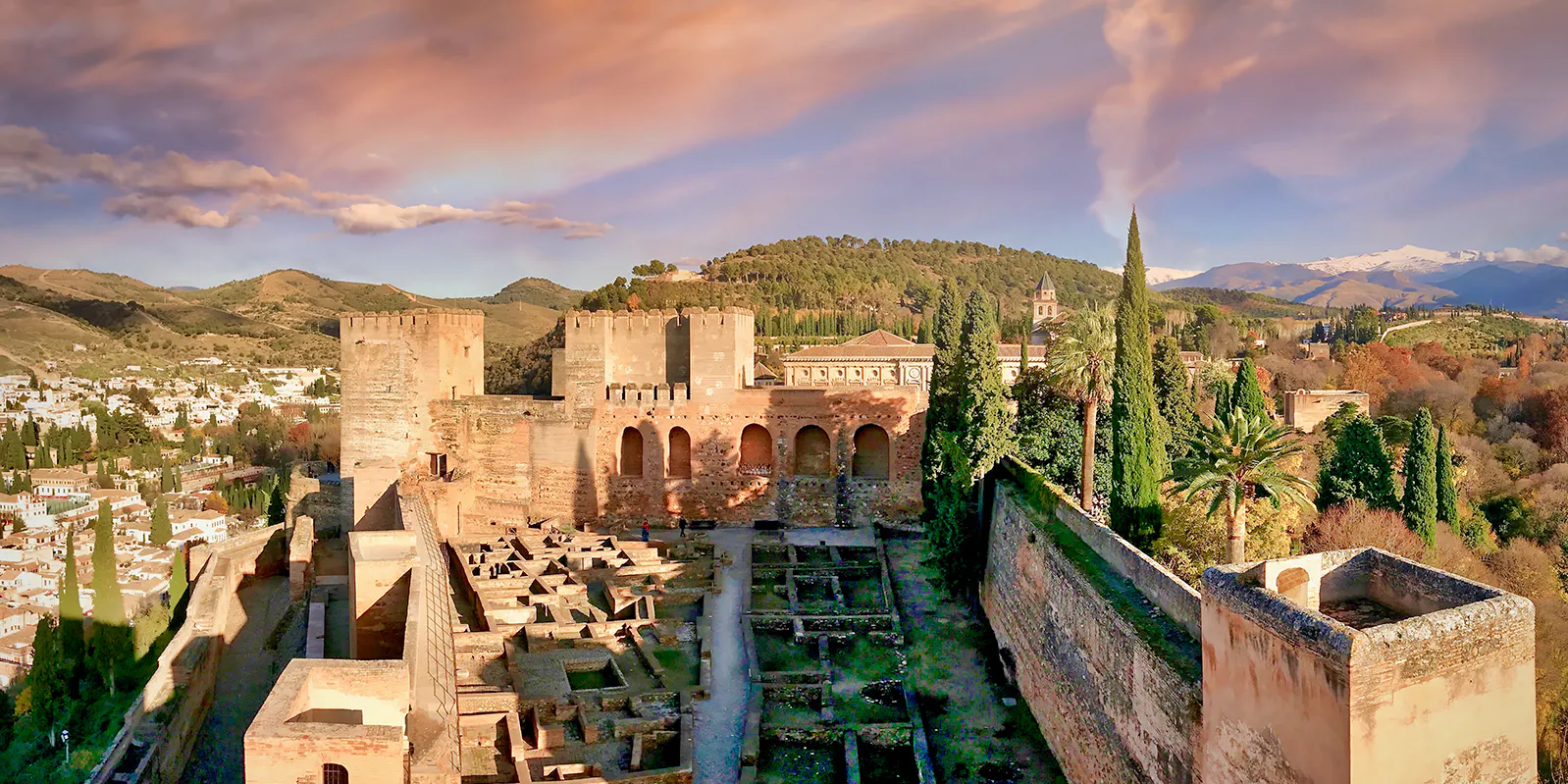 Granada has something unique to offer throughout the year. The best time to visit Granada is Spring when one can mark their calendars for cultural festivals and the temperature is neither too hot nor too cold, just perfect to explore the different monuments and museums on foot. September- November are also ideal times as Granada winters are quite romantic and adventurous. Though the temperature at times drops to minus 0, skiing down the slow clad Sierra Nevada is an unmatched experience.
Avoid visiting Granada during July - August, in peak summers as the excruciating summer heat and temperature rise makes touring around the city very uncomfortable. December- March and June-September are off seasons in Granada and heavy discounts can be availed on food, tickets, and local souvenirs.
Granada Itineraries
---
Depending on how long you're in Granada for - whether it's just a day, 3 or 5 days, or just the weekend, we have the perfect itineraries crafted for you. Go through these Granada itineraries and plan your stay well in advance!
If this is your first time traveling to Granada, we know you'd love some help planning your daily itineraries. Apart from the basic planning (flight tickets, visa, accommodation etc.), you'll need to consider your day-to-day activities - where to go, what to see, how to get there, and more. But fret not, for we are here to help.
Granada 1-Day Itinerary
Granada 3-Day Itinerary
Granada 5-Day Itinerary
Packing For Granada
---
The summers are toasty and winters, snowy. What to pack greatly depends on what time of the year you visit the city. For summers, beat the Spanish heat by packing comfy, casual pants and tops made of breathable material, a pair of sunglasses, and sunscreen to avoid getting a tan. Winters call for layers, fleece jackets, waterproof shoes, thermals, and boots for both fashion and to survive the low temperatures. The best way to explore the city is walking through the cobbled streets of Spain and for that carrying a pair of walking shoes is a must if you don't want to twist your ankles.
The mosques have a particular dress code – Long sleeve shirts or blouses, scarves for women, socks, and trousers that cover the knees. Pack these to seek entry into the gorgeous Mezquita de Granada and marvel at Islamic craftsmanship. Lastly, don't forget to pack your cameras when visiting this picturesque city.
Where To Stay In Granada
---
You will be spoilt for choice as options for stay are ample whether you are on a shoestring budget or looking to lounge in a boutique hotel. Choosing your stay also depends on whether you want to admire the ancient heritages or witness the modern bohemian culture of the city.
Granada Historic city center: It is the most touristy part of the city and is well connected to public transportation. From Plaza Nueva down to Camino de Ronda, Calle Reyes Catolicos, the scenic area around the Cathedral, and Plaza Bib Rambla are easily accessible from the City Centre.
The Albaicín: A UNESCO World Heritage site, the gorgeous Albaicín has boutique hotels, rental apartments, tapas bars, and teterías or tearooms serving 80 different varieties of tea. Indeed, a paradise for tea lovers!
The Alhambra: The Alhambra is a jewel and Parador de Granada offers the most comfortable stay.
Realejo: Realejo is a district between the city center and the Alhambra and is home to the most veritable tapas bars. If you want to experience the bohemian and hippie culture of the city, Realejo is the place. It is known for its nightlife and is packed with bars and restaurants.
Remember, Granada is a small city and to save yourself from last-minute hassle, book accommodation in advance especially during March - October.
Getting Around In Granada
---
Transportation and accommodation consume a big chunk of the travel budget. Smart planning can help shave off unnecessary expenditure on transportation as Granada has a very diverse public transportation system.
Walking: The ideal touristy way to soak in the essence of the city is to walk through the Spanish streets and taking help from a local guide who can show you around the city is the best option.
Eco friendly bicycles: However, some parts of Granada have steep slopes and walking gets difficult here. Hiring an eco-friendly bicycle will save both energy and time.
Segway: The fanciest way to snake through the city is opting for a Segway ride. Most companies provide Segway tors in the morning, and some do provide night tours as well.
Hop on hop off trains: The tourist train is a very convenient mode of transportation for first timers in the city and to skip the tiresome walk. All you must do is be on time as the train starts at 9 am. It has a green day-time route and a nighttime route. The City Center, Plaza San Nicolas in the Albaicin and entrance to the Sacromonte are included in both the routes. The green day route has 14 stops including the Alhambra palace; however, the nighttime route does not include the Alhambra. The trains run every 20 minutes and cost 8€ for 1 day and 12€ for 2 days.
Buses: Sightseeing bus tours are offered by many companies. Avenida de Juan Pablo II is where Granada's bus station is, and most buses operate from here and take trips from the city to the suburbs. Check the timetable that best suits your itinerary.
Taxi: The starting price of a taxi ride is 1.40€. Walk to the main streets, summon a taxi, haggle a little, hop in and enjoy the ride.
Granada Travel Tips & Hacks
---
Choose the right time to visit Granada. The best time to visit Granada is in the spring or fall, when the weather is milder. If you're visiting during the summer, be prepared for crowds and higher prices.
Get a city pass. If you're planning on doing a lot of sightseeing, purchase a Granada City Pass. This will give you access to all of the major attractions, as well as public transportation.
Stay in a central location. Granada is a small city, so it's easy to get around on foot. Choose a hotel or apartment that's centrally located so you can easily walk to the sights you want to see.
Visit the Alhambra. The Alhambra is Granada's most popular tourist attraction. If you can, purchase tickets in advance so you don't have to wait in line.
Take a walking tour. Granada is a great city to explore on foot. There are several companies that offer walking tours, or you can create your own self-guided tour.
Try the local food. Granada is known for its tapas, so be sure to try some while you're in town. If you're not a fan of spicy food, don't worry – there are plenty of other options available.
FAQs: Granada Trip Planner
---
Granada has the perfect blend of old-world charm and at the same time contemporary, modern culture has spread its roots through the city. The Alhambra Palace, The Nasrid Palace, extravagant Flamenco shows, monasteries, cathedrals, and mosques will have your heart.
You can plan your day trips to Cordoba, Seville, Marbella, Malaga, Cadiz, and Nerja from Granada.
Watch a flamenco show in the Albaicin, listen to live Arabic music while sipping on piping hot tea in one of the local teterias, visit the Alhambra palace, eat at Tapas bars, learn about the Moorish culture in the ancient museums of Granada and relax your senses in Hammam baths.
The safest way is to book a personal taxi or a ticket for the hop-on hop-off tourist trains that ensure safe travel through the city.
What to pack depends on the month when you are planning the trip. You can pack casual clothes and walking shoes, a hat, raincoat, universal adapters, fleece jackets, and boots for winters.
December- March, and June-September are off-seasons in Granada.
>
Granada Trip Planner Guide