Granada To Cordoba Tours
Traverse through Córdoba, which was once the Muslim capital of Spain, and the Sierra Morena range with transfers from Granada. Familiarize yourself with the city's culture at the charming streets of the Jewish Quarter and Mosque-Cathedral, a UNESCO World Heritage Site.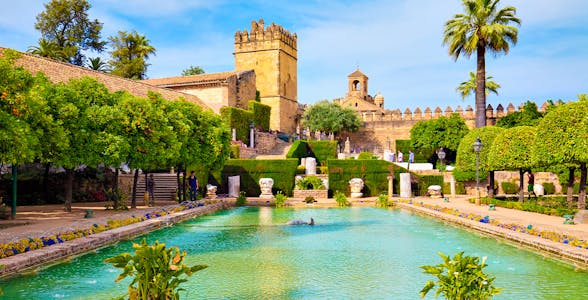 Free cancellation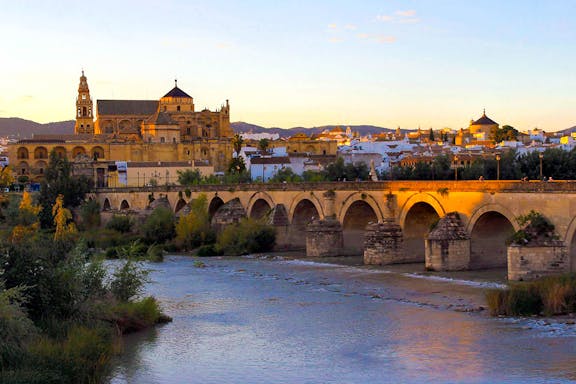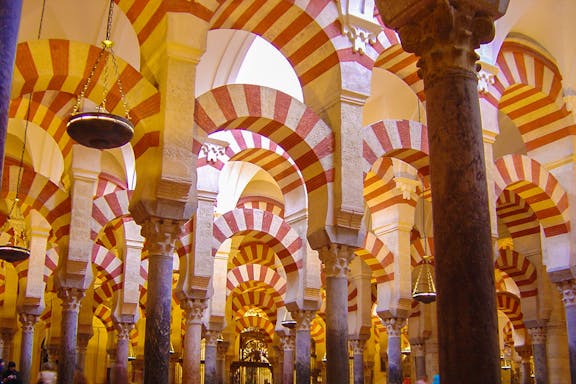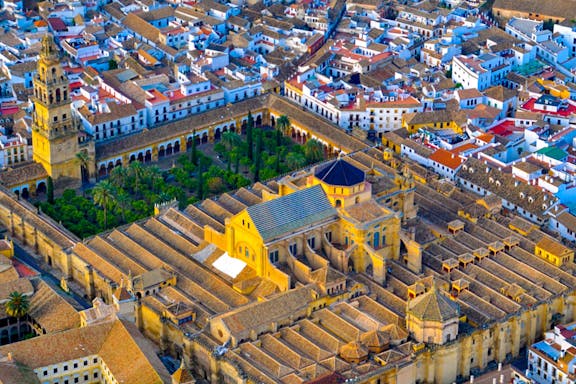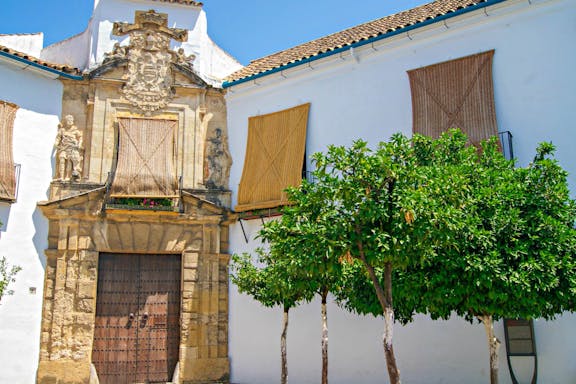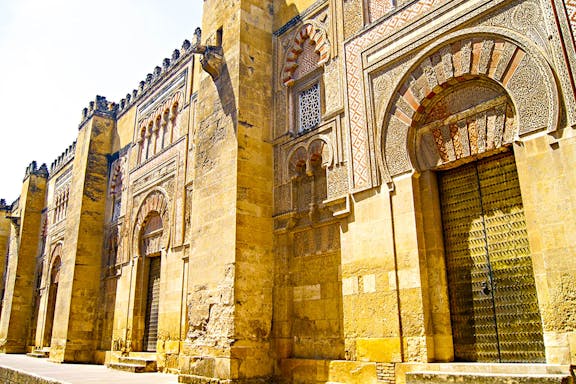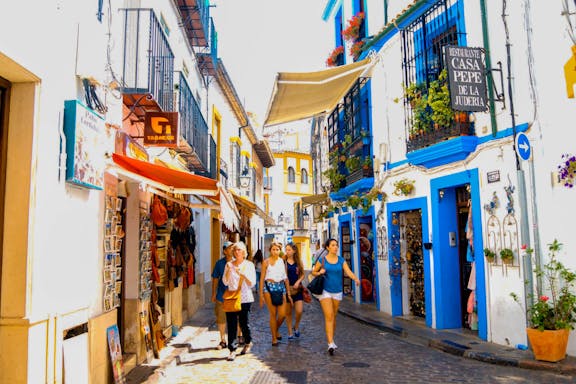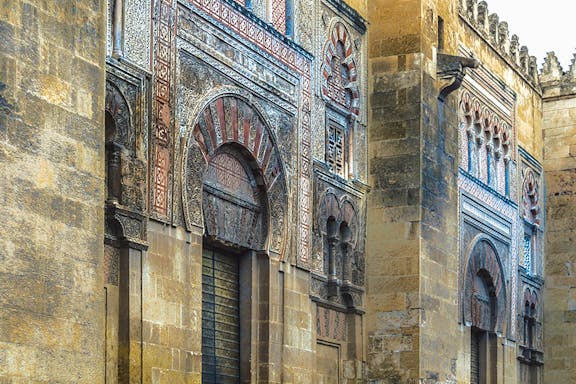 Granada To Cordoba Tours Guide

Cordoba is one of Andalusia's most interesting cities, filled to the brim with cultural and historical elements. Often overlooked by other big cities in the area, like Granada or Seville, Cordoba doesn't get the most attention from tourists. However, in this post we shall explain the magical city-break destination that Cordoba is, and why it must be high up on your list of

day trips from Granada.
Granada to Cordoba in a Nutshell

Distance: 124 miles (200 kilometers)

Duration: Approx. 3 hours

Best season to visit: May-June or Sept-Oct

Cheapest way to travel: By bus

Approximate budget/head: $61 per day

Highlights: La Mezquita, Alcázar de Los Reyes Cristianos, Calleja de las Flores & more.
Cordoba: The Birthplace Of History's Great Scholars

Cordoba

may play second fiddle to the big-name destinations in Spain like

Granada

and

Seville

, but this city has much to offer. From the mighty Mosque-Cathedral to the distinct Feria de los Patios, you'll have much to explore.

The southern part of Spain has its own unique history.Known as Andalusia, this community is now recognized as a historical nationality. The Islamic presence in the Iberian peninsula gave this region its distinctive antiquity, culture, and architecture.
There are many historically significant attractions in the citythat you should be able to cover in a day (scroll down to the top things to do in Cordoba section for a deeper dive!)
Here's all you need to know about taking a day trip from Granada to Cordoba- different ways to get there, things to do in Cordoba and a few tips and hacks to make your the most of your day trip.
Why take a day trip from Granada to Cordoba?

Slightly less fast-paced than its rival cities, Cordoba promises idyllic scenery and history lessons at every corner. While there are a million reasons to visit the Andalusian town of Cordoba, here are a few to get you dreaming about this striking town.

Explore an ancient synagogue

The Cordoba Synagogue is the main attraction in the Jewish Quarter and also one of the three last remaining original synagogues in Spain. Experience an ancient piece of Jewish history right in the heart of Cordoba.

Lose yourself in colorful patios

Get lost in the beautiful blooming flowers at Patios de Cordoba. During the Festival of Los Patios in Spring, you can even walk into the gardens of residents as part of a patio competition.

Visit an Islamic/Christian monument

Mezquita of Cordoba is an amalgamation of different religions preserving each other's contributions to make an architectural marvel. You can find designs of Roman temples, mosques, and cathedrals all in one space.

Step into the fortress of Christian Monarchs

The Alcazar de los Reyes Cristianos is an important cultural and political landmark, built as a fortress for Christian nobility. Today it stands as a museum, where you can marvel at ancient artifacts.

Dive into Jewish History

Walk around the streets of Juderia and see places where Jews lived between the 10th and 15th centuries. It is one of the most visited places by tourists so make sure you add it to your things-to-do in Cordoba list.
Best Day Trips from Granada to Cordoba

Guided Tours from Granada to Cordoba:

Fret not about the nitty-gritties of planning a day trip from Granada to Cordoba when you can get someone else to do it for you! Organized guided tours are highly recommended for first-time visitors as you get to make the most of your time in the city without worrying about the planning process. Throw your planning woes out the window and explore the marvellous sites of Cordoba on a convenient guided tour of the city.

Self-Guided Tours from Granada to Cordoba:

If you're an adventurous traveler who doesn't like elaborately laid-out plans and structured itineraries, you might want to consider a self-guided day trip. Tip: while doing your research, make sure you find out the opening and closing time for each attraction you choose to visit (as they vary throughout the week).

We understand that planning a day trip on your own can be overwhelming. Allow us to help: here are some of the top things to do when in Cordoba!
Things to do in Cordoba 7 Attractions You Cannot Miss!

La Mezquita

Jewish Quarter | Juderia

Patios de Cordoba

Alcázar de los Reyes Cristianos

The Mosque-Cathedral of Cordoba dates back to the 8th century, and is considered to be one of the most striking monuments in Spain. You will notice Islamic and Christian influences running throughout the design of the Cathedral in a unique structure. Get lost in the 856 columns and exquisite arches that make up its prayer hall.

Cordoba has a historic Jewish Quarter within the city limits. It has characteristic narrow lanes that have retained their original structure from its glory days. One of the three original synagogues of Spain lies at the center of this Jewish Quarter. A Jewish house called Casa Sefarad has been restored in the quarters to reflect the structure of buildings that used to be there in the quarters.

Discover the beautiful city of Cordoba and its many patios on your visit. If you plan your visit during spring, you get to witness the famous festival Fiesta de los Patios, where residents enter a patio competition. Every house shows off its best version of a patio, open to visitors during the festival.

Alcazar of the Catholic Kings is another stunning structure in Cordoba. It was once used as a fortress and a prison. The castle has been transferred to numerous dynasties after its construction, leading to its gradual loss of glory. The gardens, however, are one of the most well-maintained features of the Alcazar.
Other Attractions You Cannot Miss!

Roman Bridge | Puente Romano

Calleja de las Flores

Palacio de Viana

The Roman Bridge of Cordoba is often considered to be the historical center of the city. It was built in the 1st century BCE. After several reconstructions, the one that was built during the Moorish period currently stands at the site. The architecture of the bridge maintains the Moorish influence can be seen throughout the city.

Close to Mezquita is the quaint neighborhood called Calleja de las Flores. Known for its beautifully designed houses and tiny cobbleways, you'll end up spending hours exploring this iconic spot. End your visit by finishing off with some tasteful shopping at the plaza nearby.

If you love art and culture, Palacio de Viana is the perfect spot for you. Open to the public as a museum, the palace has preserved the original decor of its previous owners. Inside, you will find an array of paintings, tapestries, and antique furniture. One of its main highlights is the 16th-century Andalusian-style patio right outside the palace.
Going from Granada to Cordoba - All your transport options

Granada to Cordoba by Bus

Granada to Cordoba by Train

High-Speed Train from Granada to Cordoba

Granada to Cordoba by Car

Organized Tours from Granada to Cordoba

There are nine buses that run every day from Granada to Cordoba. The buses are by far the cheapest mode of traveling from Granada to Cordoba. The cost comes to around 15 euros, one way. The journey by bus takes less than three hours.

Trains are a sightly more expensive option, but trust worthy. There are two trains that travel from Granada to Cordoba every day that are operated by RENFE. The journey by train takes about two and a half hours.

If you want to cut down travel time, the high-speed AVE trains are your best bet. Cordoba is connected to Seville by AVE trains. It takes just 45 minutes to reach Cordoba by these trains. The price is significantly higher, though.

Cordoba is 203 KM from Granada and you can aim to cover this distance in 2.5 hours by road. Take the A45/A92, Salinas and go in land 20/25 mins before entering Iznájar. Your other options are traveling via N432 and A4.

Going from Granada to Cordoba with an organized group is a great idea. Your travel is taken care, your itinerary is taken care of and so are your tickets to the famous Cordoba Mosque! You can do away with the hassles of finding the bus stops, standing in queues etc and enjoy the beauty of Cordoba from the comfort of your coach.
Best time to visit Cordoba

The months from May to October are considered the best months to visit Cordoba. The days are warm and nights are cool. Also, some of the best festivals of Cordoba take place during these months. Visit in October when the city is veiled in autumn glory, making it the best time to engage in outdoor activities such as biking and hiking.
Where can I eat in Cordoba?

Here is a list of must-try eateries in Cordoba with our recommended must-try dishes:

BODEGAS MEZQUITA

AMALTEA RESTAURANT

EL CHURRASCO

RESTAURANT CHOCO

CASA PEPE DE LA JUDERÍA
Where can I stay in Cordoba?

Tired and weary after a day of spirited sightseeing? Check into a hotel for the night and rejuvenate! Here are some of our recommendations:

Hotel Cordoba Center

Eurostars Conquistador

Patio del Posadero

Close to Cordoba's train station is an excellent 4-star hotel with contemporary-styled large rooms. One of its most exciting features is a massive pool on the rooftop, giving you spectacular views of the whole city.

Starts from €66/night
Find On Maps

Located centrally just opposite the Mezquita, Eurostars Conquistador is a charming hotel with Mezquita-themed rooms. Its plush interiors and traditional patio will make your stay more than pleasant.

Starts from €79/night
Find On Maps

Immerse yourself in an exotic Andalusian-styled boutique hotel, combining traditional design and contemporary luxury. With creative rooms, delicious breakfast, and a pool on the terrace-roof, this hotel is an excellent choice.

Starts from €160/night
Find On Maps
You can't leave a beautiful city like Cordoba without picking up a souvenir. From leather goods to Andalusian ornaments, there's something for everyone.

If you're not sure of what you want and simply want to look around, head over to the Jewish Quarter. Spread across many shops, you will find traditional fabrics, pottery, leather goods, and even special figurines.

To take back souvenirs as a memory of your trip or to find Cordoban-themed gifts, check out Artesania Al Andelus - one of the best gift shops in Cordoba. Choose from Andalusian pottery, paintings, ornaments, and jewelry. La Tienda de Casa de las Cabezas is also a nice place to pick up gifts and souvenirs. If you're specifically looking for leather goods, check out El Arte del Cuero. Here you can find an assortment of handbags, wallets, and the like, which are perfect gifts for loved ones.

Finally, to take home local cheeses, wine, ham, and other treats, head over to Mercado Victoria.
Tips for your Cordoba trip

Cordoba is of the ideal dimension for a walking tour. Plan your routes ahead to make the most of it.
Carry comfortable walking shoes and a atleast 1 litre water per person on your hikes.
Cafes and restaurants in the city have cheap set menus for lunch. Keep your eyes peeled for these outlets.
Keep aside ample time to saunter about the handicrafts market in Cordoba.
If you want a drink, head to the east of the Miraflores Bridge, where you will find a number of bars.
Catch an aerial view of the city from the watchtower of the Alcazar.
If you have any time to spare, use it to stroll in one of the gardens of Cordoba
Is it worth visiting Cordoba Spain?

If you are visiting Andalucia or passing through Spain, a day in Cordoba is worth your while.

How many days do you need in Cordoba?

You can spend anywhere between 1 and 3 days in Cordoba. This city could also be a home base for a day trip to Seville.

How do you get from Granada to Cordoba?

It takes approximately 1-2 hours to reach Cordoba from Granada by train or bus.

How many trains take you to Cordoba from Granada in a day?

4 trains run every day from Granada to Cordoba.

Is there a high speed train from Cordoba to Granada?

Yes, there is a high speed train from Granada to Cordoba. It takes about an hour to reach.

What is Cordoba known for?

Cordoba is the birthplace of Roman philosopher, Seneca. It is also renowned for its silversmiths and leather manufacturing sites.

What are summers in Cordoba like?

In Cordoba, the summer temperatures soar higher than 40 Celsius degrees (102 F).

What should I buy in Cordoba?

You should pick up pottery, decorative plates, jewelry, and leather items from Cordoba.