If there is one place in Spain you had to pick, I would say Alhambra in Granada without a second blink. The Alhambra is an ancient palace and fortress on the outskirts of the southern town of Granada in Andalusia. From intricate Arabic carvings to decadent red clay palaces , ornate deep blue tiles, breathtakingly manicured gardens and stunning views of Granada city, the Alhambra Palace Complex is nothing short of enchanting.
Getting your Alhambra Granada tickets can be quite tricky as they allow only 6,600 people into the complex per day. They also limit the number of visitors to the Nasrid Palaces within Alhambra to 300 people per 30 minutes. While this may sound like a lot, you must know that Alhambra tickets sell out months in advance , over 90 days in advance! So, you'll need a good dose of planning and a dash of luck to witness this much sought after attraction.
But don't sweat it yet, because this guide will take you through all the different ways you can score Alhambra Granada Tickets, what to see and what you can skip, the opening hours through the year, best time to visit and everything you essentially need for a hassle free visit to Granada's crown jewel.
Essential Information of Alhambra Palace Granada
---
Things to know
Best time to visit - Spring and summers, during morning hours
Suggested duration - 4 Hours
Starting Alhambra ticket price - €14.85
Architectural style - Islamic architecture
UNESCO World Heritage Site inscription - 1984
Opening Hours
APRIL 1ST - OCTOBER 14TH
Monday - Sunday
Day Tours - 8:30 am - 8:00 pm
Night Tours - 10:00 pm - 11:30 pm
Must-see
Palacio de Carlos V
Generalife
Alcazaba
Nasrid Palace


Location
Calle Real de la Alhambra,
s/n, 18009 Granada, Spain
Get There
A Glance Through The History Of Alhambra Palace
---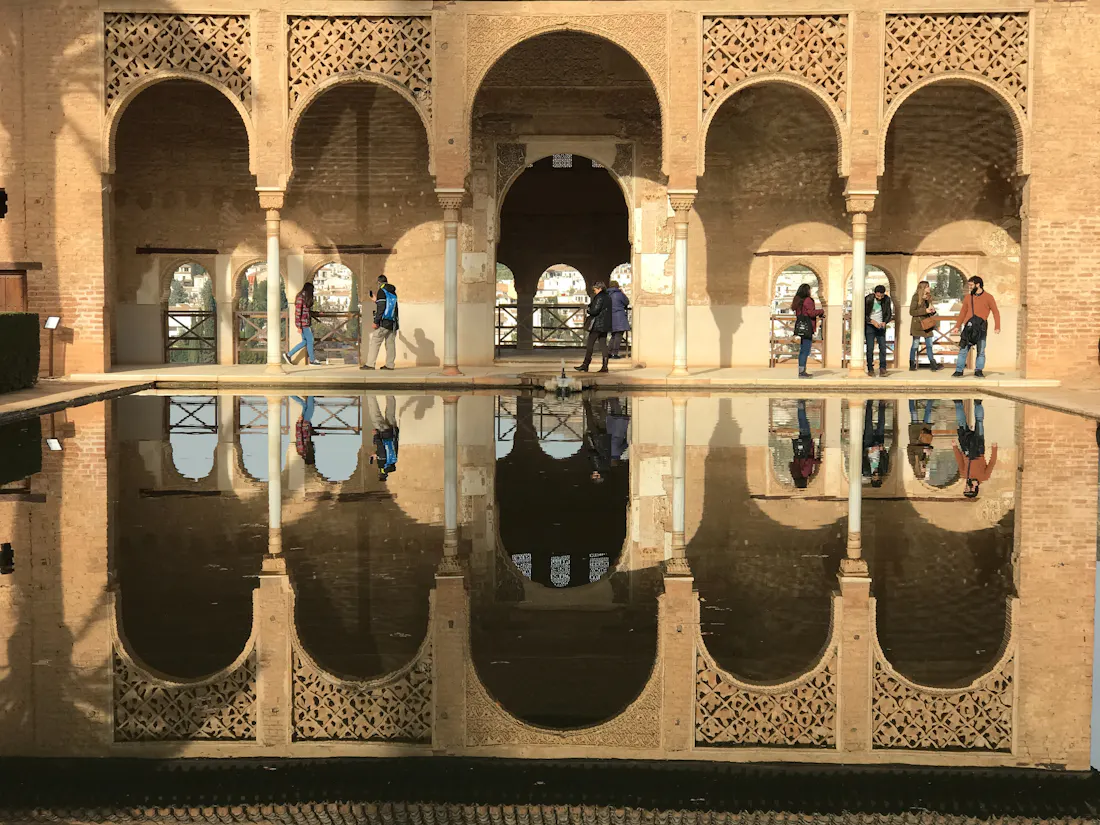 Constructed by the Moors who invaded the country from the 8th century onwards, the Alhambra Palace is an exquisite example of mudéjar art , a hybrid style of architecture and a significant symbol of Spain's multicultural past. Spain was invaded by the Moors in the 8th century and they had successfully established emirates and caliphates in most of the major provinces. Mid 13th century, the Moorish emir Mohammed ben Al-Ahmar commissioned the construction of the Alhambra Palace and the first foundation of Alhambra as we know today was first laid in the 14th century. At the time it was first constructed, the Palace featured and flaunted the typical Arabic style of architecture - horseshoe arches, arabesques and intricate Islamic calligraphy.
However, as soon a the Moors lost to the Spanish Kings, the lands were reclaimed and the Catholic Kings of Spain, King Ferdinand II of Aragon and Queen Isabella I of Castile took over the Alhambra Palace. Under the Christian rulership, the Alhambra Palace underwent drastic changes and restructuring in accordance with the Renaissance style of the time. Lavish courtyards, opulent chambers and a large complex of palaces and rooms were constructed during this period, adding on to the beauty of the Moorish elements.
The Palace today is a beautiful melange of Moorish and Renaissance architecture, a rare beauty that stands nowhere else in the world. The Alhambra Palace was inscribed on the UNESCO World Heritage List ijn 1984 and has inspired a number of references in local culture since.
Top 5 Things To Do In Alhambra
---
The Alhambra Palace impressively sits in a locale of rare natural beauty - with roses, oranges, English elms and myrtles adorning the Palace gates and the plateau overlooking the Albaicín (Albayzin) quarter of Granada's Moorish old city. If you peek below the plateau, you'll see the Darro River gushing through a deep ravine and if you listen carefully you can hear the river flowing by. In this complex of unparalleled beauty, here are the top highlights of the Alhambra Palace complex.

The Nasrid Palaces used to be the official residence of the Moorish kings of Granada. It is arguably the most sought after part of the Alhambra Palace for the right reasons - a sight to behold!There are 4 buildings inside the Nasrid Palaces :


Mexuar : This it the oldest hall and was mostly employed for meetings between the ministers of the king and as a courtroom.
Palace of Comares : This is where the king lived. Inside this Palace, you'll find the Court of the Myrtles (Patio de los Arrayanes), Hall of the Boat (Sala de la Barca), the Ambassadors´ Hall (Salon de Embajadores)
Palace of the Lions (Palacio de los Leones): This is the main courtyard and you can see the Sala de los Mocárabes, Patio, Sala de los Abencerrajes, Hall of the Kings (Sala de los Reyes), Hall of the Two Sisters (Sala de Dos Hermanas), The Emperor's Chambers, Belvedere, Court of the Wrought Iron Grille (Patio de la Reja) and the Garden of Lindarja.
El Partal: This area comprises of the Gallery of the Palace (Portico del Palacio), Gardens and walkways, Rauda, Palace of Yusuf III and the Towers Walk.
While the stunning Moorish architecture is sure to take your breathe away, make sure you reach here on the time that is printed on your tickets. In fact, plan your arrival to the Nasrid Palace atleast 30 minutes prior to that printed on your tickets as long lines are common. Entry to the Nasrid Palace is restricted to 300 people per half an hour, hence make sure you don't miss your slot. They are extremely strict about the timings and no exception will be made.
Duration - 30 to 45 minutes

Alcazaba is the military area within the palace grounds. It is the oldest part of Alhambra with a priveleged position on a hill overlooking the city. While you're here, walk up the top of the watchtower (Torre de la Vela) for unmatched views of Plaza Nueva, the Albaicín, and the Sierra Nevada mountains beyond. Apart from the watchtower, the Alcazaba, Granada holds the Bucket Tower (Torre del Cubo), the Arms Square (Plaza de Armas) , the urban military district (Barrio Castrense), the terrace of the Arms Gate (Terraza de la Puerta de las Armas) and the Ramparts´ garden (Jardín de los Adarves).
The Alcazaba is an area of difficult access for those with reduced mobility. As such, one must be careful while visiting the Alcazaba as the stone and ruins are loose and unstable due to the age and erosion. You can visit the Alcazaba in the morning or afternoon shift, but once the sunsets, entry to the Alcazaba is restricted due to safety purposes.
Keep aside 30 minutes for a safe and sedate visit.

Generalife was an oasis created as an escape for the royals - a place to rest in the cooling shade of exotic trees and plants. This beautifully landscape garden is reminiscent of the gardens of an Italian Renaissance villa with terraces, grottoes, flowerbeds, and carefully trimmed hedges. If you visit the Alhambra Palace in spring or summer, be prepared for a visual treat - the colourful bloom of the gardens. Even if you can't make it during these months, the gardens are undeniably beautiful year round. Adding to the postcard perfect scenery are the decorative pools and fountains, sculptures and statues with chirping birds fluttering about. It's hard not to feel joy and an inner sense of while walking through the Generalife gardens.

The most impressive part of the Generalife gardens is the Patio de la Acequia (Patio of the Irrigation Ditch). Trust me, it looks much more romantic than its english translation! The Patio de la Acequia sits amongst fragrant orange trees, cypresses, and roses; and is flanked by two pavilions with a slim water channel dividing it into 2 halves. You'll spend a lot of time here, I guarantee.
The Generalife gardens are adapted for those with reduced mobility. It is located about 100m from the main ticket office and 700m from the Nasrid Palace.
Keep aside an hour and a half for a leisurely stroll and do not pluck fruits and flowers from the garden.

The Palacio de Carlos V is a striking architectural contrast to the Moorish style of architecture followed through the other Alhambra palaces. This is because it was constructed after the Christian Reconquest, hence it is much newer than the rest of the complex, more modern and is the finest example of High Renaissance architecture in Spain. This massive structure is 63 meters square and 17 meters high and though its construction remains incomplete to date, it is grandiose in every way. The Palace flaunts an extravagant facade and an impressive inner courtyard with a pillared two-story rotunda of Doric columns in the lower gallery and Ionic columns in the upper gallery. The unique design symbolizes the union of heaven and earth, an important theme to Renaissance architects.

On the ground floor, you have the Museum of the Alhambra, which displays a fantastic collection of Spanish-Moorish and Nasrid art in Spain. Don't skip the museum, come what may. You can see antiquities, artworks marble columns, and ceramics used by the Moors. The show stealer however is the Vase of the Gazelles, an exemplary piece of Spanish-Moorish ceramic art.
Your entry ticket is sufficient to gain entry to the Palace of Carlos V. There are 2 museums in the Palace of Carlos V - the Fine Arts Museums & Museum of the Alhambra. While the Fine Arts Museum provides free entry to EU citizens, others have to pay 1.5€ for entry here. The Museum of the Alhambra offers free entrance for all visitors.
15 minutes (without visiting the two museums) or 45 minutes (visiting the two museums).

The Rauda which translates to the Royal cemetery is the privileged garden where the mortal remains of the Granadine princes were buried. It lies between the Nasrid Palace and the Charles V Palace. The cemetery was recently restored in order to adapt it for visitors and to emphasize its original structure.
The only way to access the Rauda is on your way out of the Nasrid Palace. There is no other entrance to it, so don't miss this small detour on your way out. Visiting the Rauda can be very hard for those with reduced mobility.
Spend 30 minutes to learn about the imperials, their lives and after death.
Alhambra Palace Suggested Itinerary
---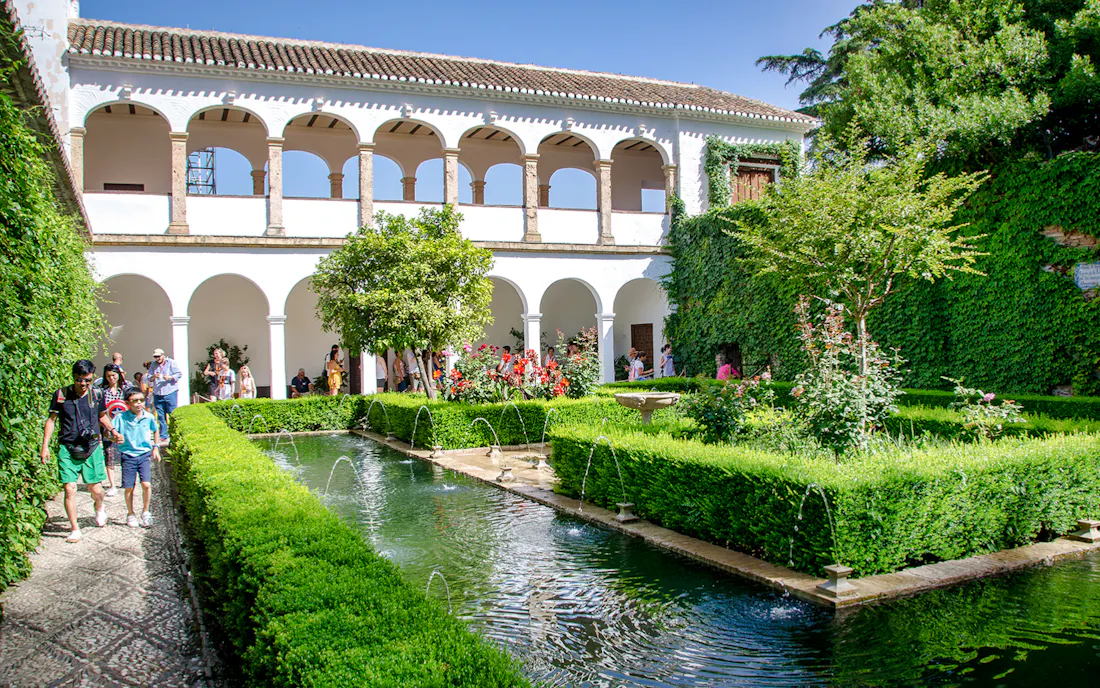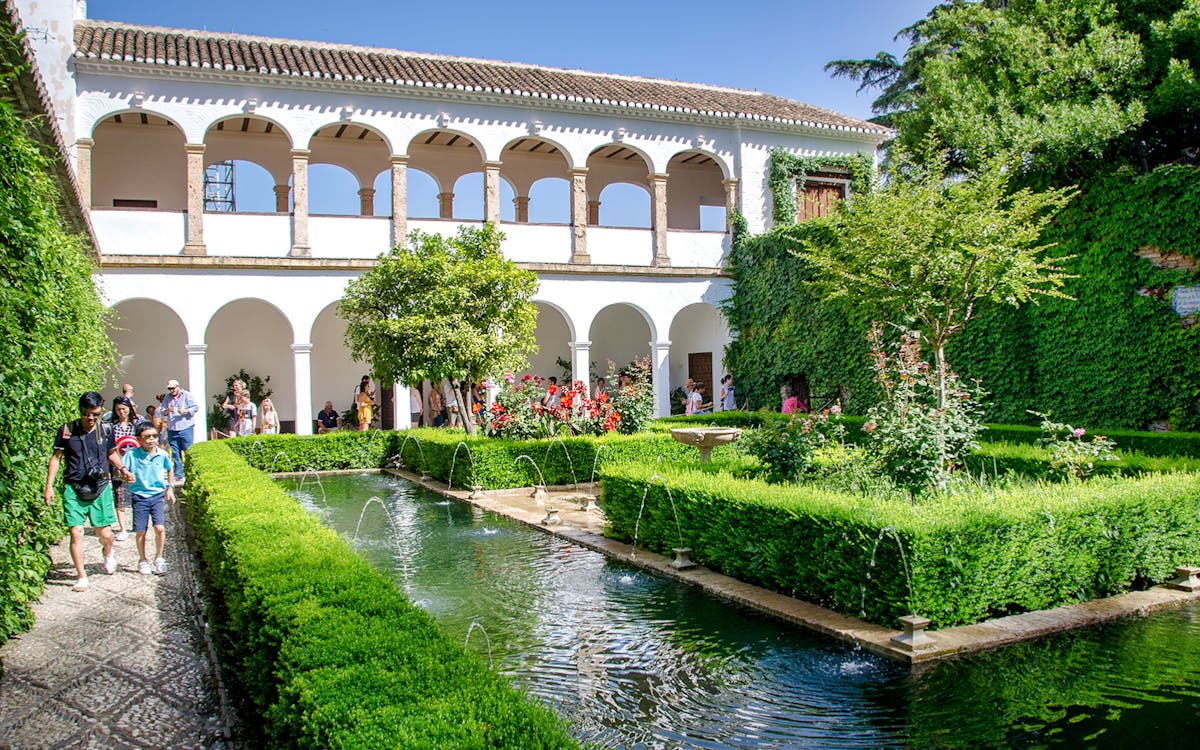 For a relaxed visit of Alhambra Palace Granada, keep aside 4 hours of your day. While planning your itinerary, keep in the mind that visiting different parts of the monument has to be carried out according to the time slot shown on the ticket to access the Nasrid Palaces.
Depending on your Nasrid Palace slot, you can follow any of the below routes :
Alcazaba - Nasrid Palace - Generalife
Nasrid Palace - Alcazaba - Generalife
Generalife - Alcazaba - Nasrid Palace
The Charles V Palace can be squeezed in anytime after the Alcazaba as it lies adjacent to it. Make sure you leave ample time to visit the Museum of Fine Arts and the Alhambra Museum while visiting the Charles V Palace.
Best Alhambra Granada Tickets
---
By now your mind and soul is halfway in Alhambra already. I am, atleast! To get yourself there physically, all you need are these Alhambra tickets. If you're looking for the best Alhambra tickets on the internet, here's our curation of the Top 5. These tickets have the best offerings at the best price available on the internet, so check it out and let us know how your experience goes.
If you're still in a fix about which ticket to go for, you can check out our detailed guide on scoring the best Alhambra Tickets.
Types Of Alhambra Granada Tickets
---
Before looking at different ways to get Alhambra Tickets, know the 5 different types of tickets you have the option to purchase. You can choose tickets for the morning session or the evening session ( also known as the night session) as per your convinience.
Alhambra General (Generalife, Alcazaba, Nazrid Palaces & Gardens) - This is the all access ticket, the most popular choice which allows you entry to all parts of the Palace - Alhambra, the Nasrid Palaces, the Generalife (Gardens and Summer Palaces) and the Alcazaba (Military Residential Area and Towers)
Alhambra, Generalife and Alcazaba - This ticket does not allow entry to the Nazrid Palace. I personally wouldn't recommend this ticket as the Nazrid Palace is the most important part of Alhambra and missing out on that is quite the bummer.
Night visit to the Nasrid Palaces - If you're interested in witnessing Granada city at twilight, this ticket is a great option.
Night visit to the Generalife - This is a night ticket for the Generalife (Gardens and Summer Palaces)
Alhambra Experiencias - This ticket gives you the possibility of combining a night visit to Illuminated Nasrid Palace and a day visit to Alcazaba, Gardens and Generalife Palace over two consecutive days.
Different Ways To Get Alhambra Granada Tickets
---
Official Website
While this is definitely the best way to get your Alhambra Tickets, they sell out really fast and are can be purchased only up to 90 days before your visit. If your plans are concrete, try your best to get tickets from here. If you successfully purchase tickets from the official website, you can print them and use that as your ticket.
Third Party Vendors
The best part about third party vendors like Headout is that you get to score a few discounts on your purchase as compared to the official website prices. Note, if you're booking from third party sites, you will be assigned a slot and do not have the freedom to choose a slot for the date and session ( morning/evening) selected. Once you recieve your e-tickets, you can pick up your ticket on the day of your visit at the Granavision Welcome Visitor Center, Paseo de la Sabica 15, 18009 Granada. This is near the main entrance, about a 10 - to 15-minute walk from the Gate of Justice.
The Guided Tours
To get the best of your Alhambra experience, I would say go for a guided Alhambra tour with no second thoughts! Having an expert guide by your side who takes you through the history, facts and lores of the palace enhances your experience and while they are slightly more costlier, it is well worth your money. Moreover, these guided tours allow skip the line access and they are an absolute boon during peak hours/season.
On-Site Purchase
This should be your last resort as chances of getting a ticket on the same day is practically zilch. Like I said before, they allow only 6,600 people in per day and tickets are sold out months in advance online. A very small percentage is kept aside for same day on-ground purchase and unless you are super early, chances of scoring these tickets are nada. Also note, the ticket office at the Alhambra is only open for on-the-day tickets and you cannot pre-purchase for the next day.
Via Telephone
This option is your last resort's Plan B. If you can make international calls to Spain, you can purchase Alhambra tickets over the phone by calling (+34) 858 953 616. Note, this option allows for purchases from three months and up to two hours before your visit. You can choose your time of entry to the Nasrid Palaces and when you arrive at the Alhambra, simply print your tickets from one of the machines near the entrance by entering your reservation number.
Grab the Granada Card
Also, known as the Granada City Pass or Bono Turistico, this card includes entrance to the Alhambra and other main monuments and museums of Granada, 9 urban bus trips, and a trip on the tourist train. You can save up to 36% compared with purchasing the entrances to the main attracions separately. This card starts to prove economical only if you're in Granada for over 3 days, so if your visit is that long go ahead and buy this economical pass.
From Tienda de la Alhambra (Alhambra Shop)
If you're staying in Granada, pop by Tienda de la Alhambra (Alhambra Shop) on Calle Reyes Católicos nº 40 and grab tickets for your visit. This bookstore has a great collection of souvenirs, including books, post cards, paintings etc. The staff are extremely knowledgeable and very helpful as well, so go ahead and ask all the queries you have.
Best Time To Visit Alhambra Palace Granada
---
While Alhambra Palace Granada is a treat year round, I'll break it down depending on the season and best time of the day to visit Alhambra. This way, you can plan your trip better.
Best Season To Visit Alhambra Palace
The months of spring and summer make for the best times to visit Alhambra. That way you can see the gardens in their full bloom and take a few hours of respite from the Mediterranean sun inside the cool palace complex. However, the spring and summer months also happens to be the high season, hence expect crowds. However, crowd management inside Alhambra is quite efficient and since only 6000 people are allowed entry in a single day, it never gets too crowded.
Best Time of the Day to visit Alhambra Palace
Visits to Alhambra are divided into 2 sessions - Morning & Afternoon. While the morning session lasts for 5.5 hours ( 8:30 AM to 2:00 PM), the afternoon session is 4 hours(2:00 PM - 6:00 PM from mid-October to mid-March) or 6 hours (2:00 PM -8:00 PM from mid-March to mid-October). This means, you'll have more time to visit Alhambra if you're coming in the morning during the winter opening hours and in the afternoon if you're coming in spring, summer or early fall. Keeping this in mind, plan your slot well in advance.
Suggested Time Of Visit
I would suggest choosing the morning slot, arriving as soon as the doors open, exploring the Gardens before the heat sets in and then seeing the Palaces and other sites. However, if you want to watch the sunset from Alhambra, you can pick the afternoon slot and head to the Alcazaba fortress around sunset. Climb the narrow stairs to the old watchtower (Torre de la Vela) and consume unparalleled views of the picturesque Albayzín district soaking in the sunset glow.
Another great time to visit Alhambra with less crowds would be around lunch time - approximately 3 PM. When most people step out for lunch, the crowds are obviously thinner and this gives you a good hour and a half to explore the Palace complex with fewer tourists around.
Sign up for our monthly newsletter
Your dose of travel fix - from hacks and deals to travel tips and everything in between, delivered monthly to your inbox
Please enter a valid email
Unsubscribe anytime
Alhambra Opening Hours
---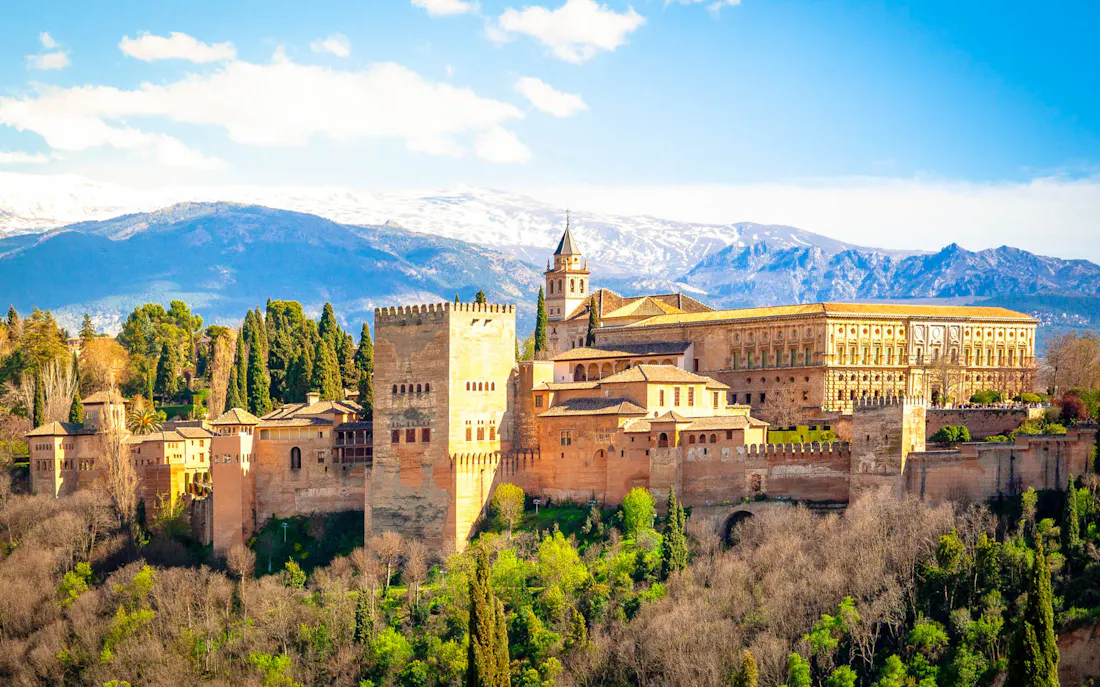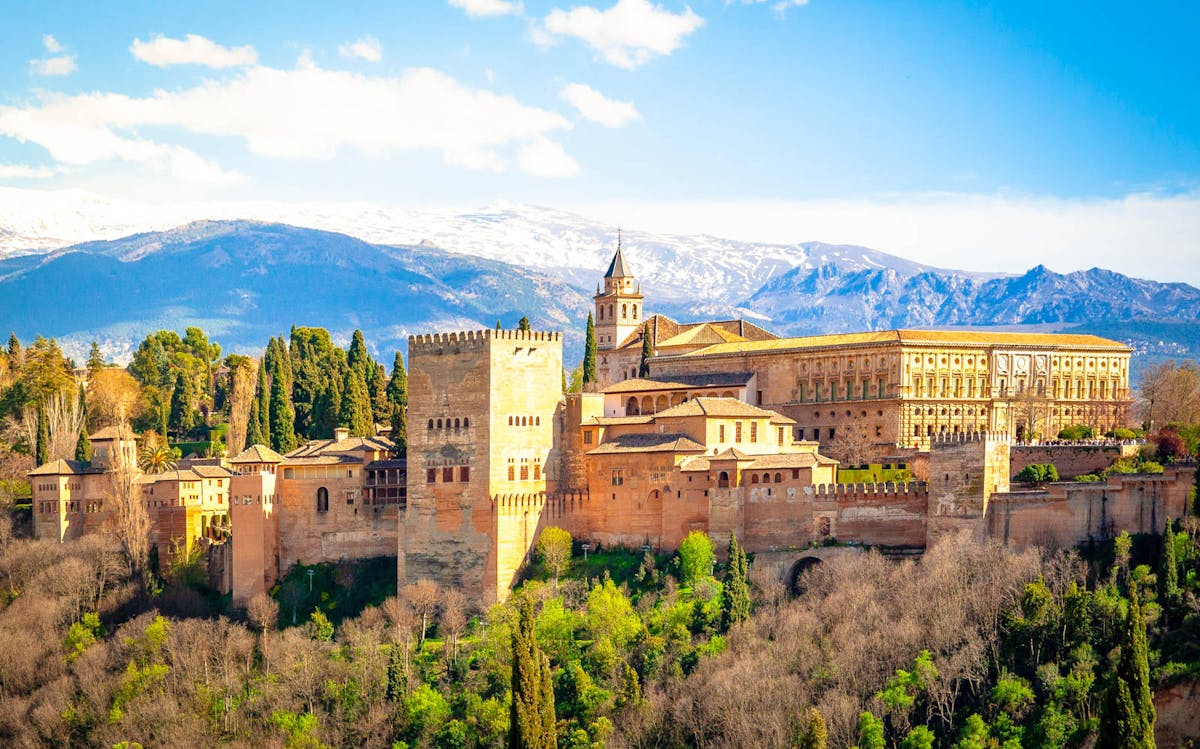 From April 1 to October 14
Day Visit : Monday through Sunday
Hours - 8:30 AM to 8:00 PM
Ticket Office Hours - 8:00 AM to 8:00 PM
Evening Visit : Tuesday to Saturday
Hours - 10:00 PM to 11:30 PM
Ticket Office Hours - 9:00 PM to 10:45 PM
From October 15 to March 31
Day Visit : Monday through Sunday
Hours - 8:30 AM to 6:00 PM
Ticket Office Hours - 8:00 AM to 6:00 PM
Evening Visit : Friday & Saturday
Hours - 10:00 PM to 11:30 PM
Ticket Office Hours - 9:00 PM to 10:45 PM
The Alhambra Palace is open every day of the year, except 25th of December and January 1st
The last visit to the Nasrid Palaces will be one hour before the closing time.
Getting To Alhambra Palace Granada
---
Getting to Alhambra Palace from Granada is fairly easy and you have multiple modes of transport to choose from
By Bus

From the statue of Isabella and Columbus, you can hop onto bus number C3 and you'll be dropped in front of Alhambra entrance for just €1.2.

By Taxi

You can take a taxi from anywhere central in Granada and be dropped at the entrance of your choice for €6, one way.

By Car

If you're driving from Granada, the journey should take you about 15 minutes and since there is ample parking space atop the plateau, taking your car is not too bad an idea. Parking rates range from €5.45 for 3 hours, €7 for 4 hours. Note, you are required to pay at the machine in the parking lot before you leave.

By Walk

Though it is a steep walk, I would strongly suggest this route as you can enjoy the city as you make your way atop. Start from Plaza Nueva and follow Cuesta de Gomerez. As soon as you see the Gate of the Pomegranates, turn left and walk straight until you reach the Gate of Justice. The walk should take you about 20-25 minutes depending on your physical strength.
What To Wear & Bring To Alhambra Palace Granada
---
What you must wear to Granada purely depends on the season you're visiting the Palace. During summer, Granada is scorching hot. Temperature goes uptp 40°C, so I'd suggest wearing light, loose clothing that covers your skin. Make sure you apply lots of sunscreen and carry a hat and shades too. In winter, the temperatures can get quite chilly and windy, and can drop to 2˚C. Hence, carry jackets and scarves, wear your thermals and be prepared for the bitter cold. Though it does not snow, it can get quite cold. Whenever you're visiting, a good pair of walking shoes is definite must so that you're comfortable at all points.
Amongst the list of things to carry along with you, water and snacks must make the cut, especially if you're on a budget. Everything is over-priced inside the Palace grounds. Also, note that buggies, strollers or large backpacks into the Nasrid Palaces or Generalife. There are special places to keep them while you explore.
Good To Know Before You Go
---
This is the MOST important thing one must know while/after buying their Alhambra tickets. The entry time printed on your ticket is for entering the Nasrid Palace, not the Alhambra complex. Many people have missed the chance to visit the Nasrid Palace because of this misconception, so make sure you enter the Alhambra complex well in time to reach the Nasrid palace for your 30 minute entry slot. They allow only 300 people into the Nasrid Palace every 30 minutes, so once your slot has passed, they will not let you enter come what may. I'd recommend arriving at the Nasrid Palaces first, and then seeing the other parts of the Alhambra (the Generalife gardens and the Alcazaba fortress) at your leisure.
Last entry is an hour before closing time on the said date. If your visit of the Nasrid Palace is the last time slot of the day, make sure you complete the other parts of the Palace before entering the Nasrid Palace.
Saturdays and public holidays are the busiest days in any season. Try and avoid these days, unless it's absolutely unavoidable. Also, if a public holiday falls on a Tuesday or Thursday, the Spanish do what they call a puente (bridge), taking the Monday or Friday off, too allowing an extended weekend. These days will also be super crowded.
If you have pre-purchased your Alhambra Tickets online, it is recommended you access the complex through the Gate of Justice (Puerta de la Justicia). It is closer to Alcazaba, Nasrid Palaces and Partal, and queues are much shorter than the main entrance.
It is imperative that you carry your passports with you. No other form of identification is accepted - national identity cards, driver's licence, none.
Skip the Line tickets are an absolute boon, especially during peak season ( April to June). Orelse, you'll spend a good part of your day standing in queue and trust me, the Spanish sun is harsh, very harsh.
Selfie sticks, camera flashes, large backpacks and tripods are prohibited in specific sections of Alhambra Palace. Do respect these rules
If you've worked an appetite with all that walking, grab a bite from the Alhambra Parador, a restaurant inside an old monastery. The menu is decent and so are the prices. Make a reservation in advance as it is almost always full.
There are a few bathroom facilities between the Alcazar and Nasrid Palaces but far between. Keep this in mind, especially those traveling with kids.
Restaurants Near Alhambra You Must Dine At
---
Paella, Tapas and a few drinks are a must have when you are in Spain. Granada is no exception when it comes to mouth watering food. They are known for their fiery stews, delicious seafood and sugary desserts! Here are a few local favourite eateries you should walk into.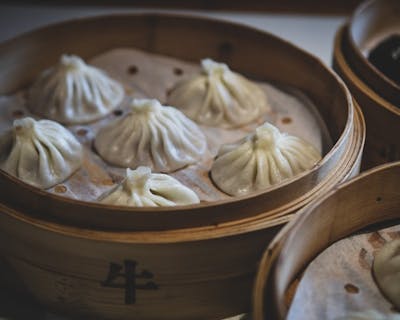 La Tana Granada
Great wines, and legendary tapas! These are what La Tana Granada is known for. Their survice is unparalleled. Make a resrevation before you headout to the restaurant since they are mostly crowded.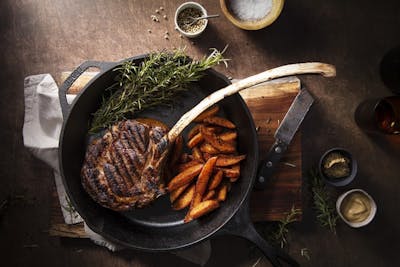 La Botilleria
La Botilleria serves lip smacking breaded artichokes, grilled prey and beef tenderloin. The ambience is cosy and the prices are pocket friendly. It is one of the best places to eat in Granada if you are on a budget.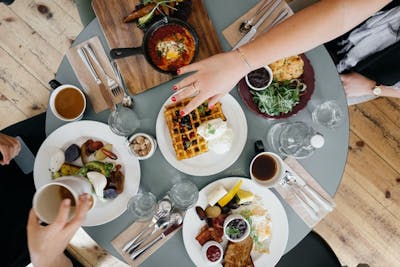 Café 4 Gatos Granada
Known for their breakfast and drink, Café 4 Gatos Granada offers the local cuisine with an international blend. They are focused on health and sustanability. The menu includes vegan and vegetarian options, too!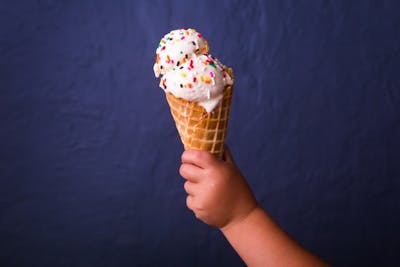 Los Italianos
Los Italianos is an italian ice cream parlor famous for it's Cassata and Michele O! If you are looking for a dessert feast that is easy on your pocket, look no further.
FAQs About Alhambra Palace Granada

---
What Do I Do If The Tickets Are Sold Out?
What Is The Cancellation Policy Of Alhambra Tickets?
Do I Have To Bring Any Identification Proof Along With Me?
How Many Months/Weeks In Advance Can I Buy Tickets For My Alhambra Visit?
Can I Change The Date & Time Of Visit After Booking?
When Is The Best Time To Visit Alhambra?
How Much Time Should I Keep Aside For A Sedate Visit?
Is An Alhambra Guided Tour Recommended?
I Can't Make It For My Visit. Can I Transfer The Booking To Someone Else?
Is Alhambra A Child-Friendly Attraction & Are There Reduced Prices For Kids?
Still have questions about Alhambra Palace Granada?
Check out our article on all your Alhambra questions answers packed with answers about timings, getting there and everything you should know before your visit!