It's a castle! It's a palace! It's a stately home with gardens! IT'S THE ALHAMBRA!
Buying Alhambra tickets can be quite a complicated affair. A much simpler and easier solution is to grab tickets for an Alhambra Tour. The walls of the Alcazaba fortress and the hallways of Nasrid Palace whisper secrets of the Moorish past that no audio guide or online article can tell you.
Before you sign up for an Alhambra tour, know all about the different types of guided tours available, a few know-hows that will help you pick the right tour and our curation of the Top 8 recommended Alhambra Tours. Read on and pick the tour that intrigues you best!
Best of Alhambra Palace Guided Tours
---
There are different types of Alhambra Tickets offered - premium tours, after hours tour, small group tours, private tours and more. Depending on your budget and the kind of experience you're looking for, here are the different guided tours you can choose from.
6 Reasons Why You Should opt for an Alhambra Tour?
---
The first question that crops in your mind. Why should I choose a guided tour when I can simply buy an entry only ticket which is obviously cheaper?
Like I said before, the Alhambra Palace holds years of history, Moorish and Spanish that is best explained by a historian guide. Having a person you can ask umpteen questions to, a live person who tells you lores and facts that no book will ever tell you and interacting with a local who has perhaps stayed in Alhambra all his life is an experience in itself.
Moreover, Alhambra allows only 6000 people into the Palace premises daily and entry only tickets get sold out atleast 3 months in advance. Unless you've planned your visit really well, chances of getting those entry only tickets are slim. A guided tour is easier to score a few days in advance as it is slightly costlier. That said, it is worth every penny and you'll see how.
Want to read all about Alhambra before visiting? Here's our guide on visiting Alhambra Palace Granada packed with information and tips to help you plan your visit
How do I choose an Alhambra Tour that suits me best?
---
Choosing an Alhambra tour that suits you can be quite the task. There are different combinations and permutations, night tours, morning tours, and many such things you must be aware of. Here are a few things you must keep in mind before choosing an Alhambra tour.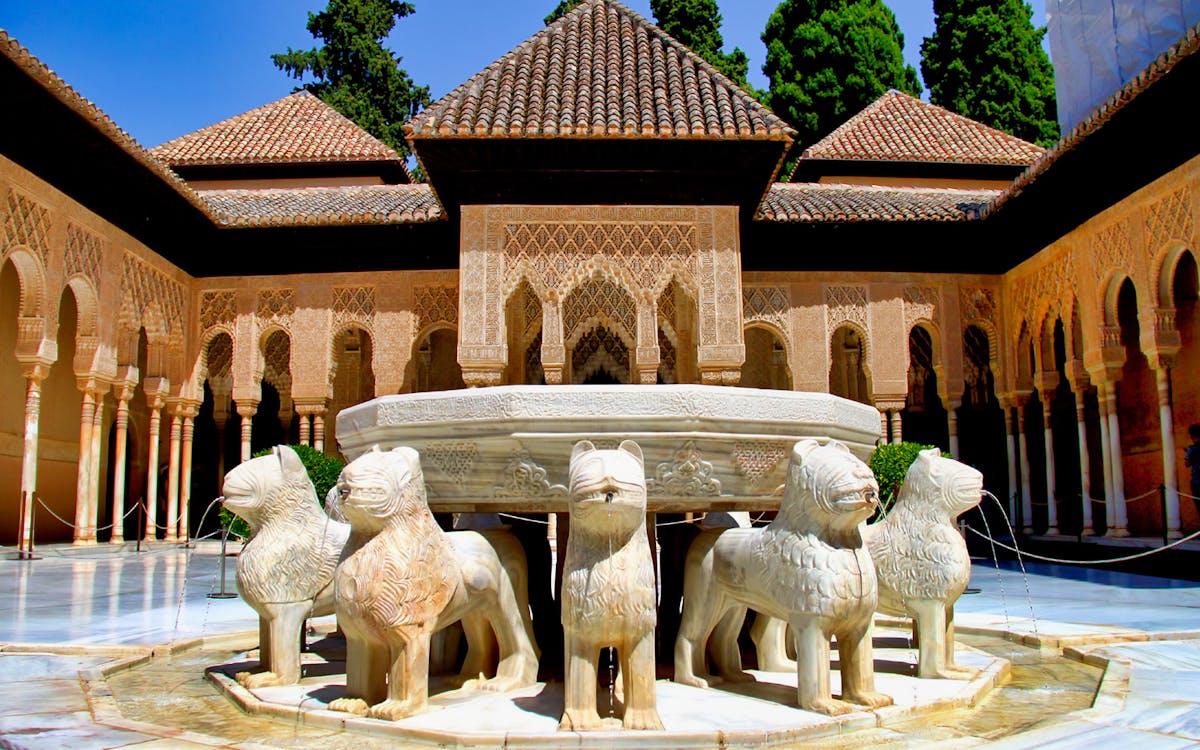 #1 The All Access General Tours should be your first option
The All Access Tour which gives you access to the Alhambra Palace, Generalife Gardens and Alcazaba Fortress must be your first consideration for a tour. Your guide will regale you with tales about the Palace's history and provenance as you make your way through the intricately designed pillars, manicured gardens and age old armoury of Alhambra. Check out the All Access Skip The Line Tour to Generalife Alcazaba and Nasrid Palace.
#2 Skip the Line tickets are an absolute boon
Though they allow only 6000 people into the premises per day, it can be quite chaotic. Make sure you grab Skip the Line tickets for fast-track access. Standing in queues under the hot Mediterranean sun is no joke and can be quite a bummer.
#3 If you're traveling with those with reduced mobility, skip the Alcazaba Fortress
While most of Alhambra is wheelchair friendly, there is a 20% that is not. The Alcazaba Fortress falls under that and is not accessible for those on a wheelchair. You can buy the Night visit to the Nasrid Palaces in this case.
#4 For a more intimate experience, the After Hour Tours are a great choice
A small group of people ( 150 to be exact) are allowed to visit after the closing of the Alhambra to the public. If you're looking to steer clear of the crowds and enjoy the Alhambra Palace in twilight, these Exclusive VIP guided tours are a great choice. You can choose from the Generalife Garden Night Visit or Nasrid Palace Night Visit tickets.
#5 Pay a premium for an excellence par experience
If budget is not a constraint, you can opt for the Small Group Tours, the Premium Tours or the Private Tours that take you in the company of under 10-20 people, offering a more intimate experience. It is worth the extra few bucks!
#6 To get an essence of Alhambra, the surroundings tour is a decent bet
If nothing works out, you can always grab the Alhambra Surroundings Tour tickets and take a guided tour of the emblematic Carlos V Palace, the Puerta del Vino, Alhambra forest and the Hamma (an old Nasrid bath). While it does not give you entry to the Nasrid Palace, Alcazaba and Generalife, it is a great opportunity to discover everything the historic town of Granada has to offer.
Are the Alhambra Guided Tours Worth It?
---
Yes! Exploring Alhambra with an expert guide is a whole difference experience. The chance to learn about different architectural styles and understanding the history of Palace from a historian guide is a far better experience than exploring Alhambra Palace by yourself.
Frequently Asked Questions About Alhambra Tours
---
What is the best guided tour while traveling with children?
Which is the best Alhambra tour for budget travellers?
What time do Alhambra guided tours start?
Are the Alhambra Night Tours better than the Day Tours?
For multi-lingual tours, are there different timings for each language tour?
Can I book a private tour just for myself? Will the prices change for a larger/smaller private group?
Which Alhambra entrance do guided tour ticket holders have to use?