The Borghese Gallery is one of the most famous galleries in the world, located in the former Villa Borghese Pinciana in Rome. Not only is the gallery surrounded by a luscious green garden, but it also houses a large collection of paintings, sculptures, and antiquities belonging to the Borghese family. Admire an exquisite collection of artworks by many legendary Italian artists including Bernini, Canova, Raphael, and Caravaggio. For those of you who love art, Borghese Gallery is a must-see when in Rome.
There is much to know about the Borghese Gallery and the incredible collection of art within it. The best way to find out about its history and artwork is by going on a guided tour. Learn facts and stories about each masterpiece and the artist behind it from an expert guide as well as the fascinating history behind the Villa.
We've put together everything you need to know about choosing the right guided tour on your visit to the Borghese Gallery.
What are the advantages of Borghese Gallery Tours?
---
No need to wait in line to get in
Borghese Gallery is one of the most renowned art museums in the whole world. This means that although it is a must-see attraction, you're bound to end up waiting in long lines. With a skip-the-line feature, you can head right in and save loads of time.
Get expert guidance while exploring the gallery
Borghese Gallery houses a large collection of artworks by iconic artists such as Bernini, Canova, Raphael, and Caravaggio. Each piece as well as the artist behind it has a unique story waiting to be told. Having an expert guide who will tell you these interesting facts and stories is the best way to explore the gallery.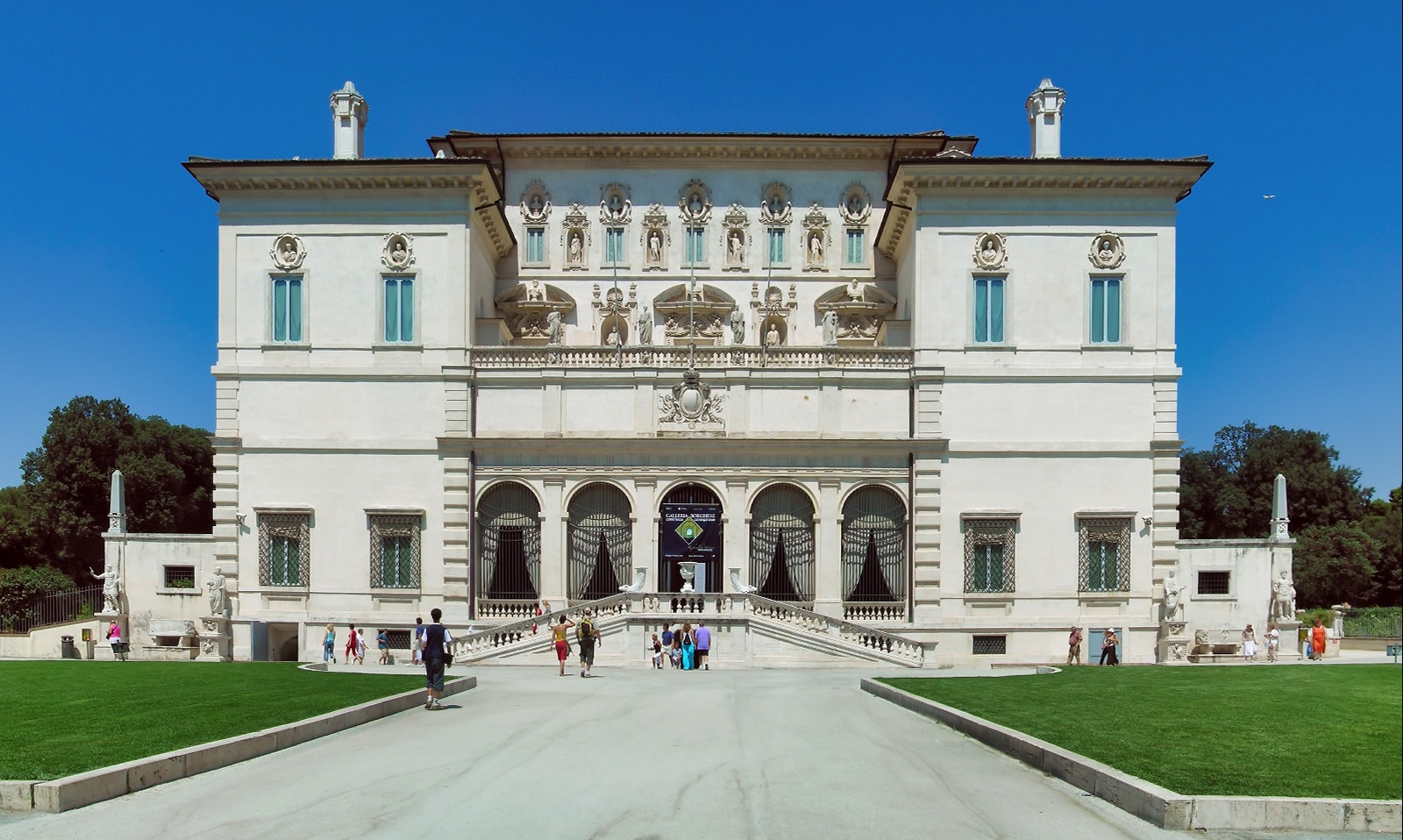 Easy navigation through the gallery
If this is your first visit to Borghese Gallery, navigating your way through its many collections inside might be overwhelming. With so much to see, a guided tour is the most time-efficient way to explore the gallery and everything inside it.
Flexible timings for your guided tour
Your Borghese Gallery tickets have timings that span throughout the day. Choose the timing that suits your travel schedule best while booking your tickets online.
Small tour groups
Guided tours ensure that you have a worthwhile experience where each tour group allows for only a limited number of individuals. This is an added advantage since the world is only just recovering from the tragic effects of the pandemic.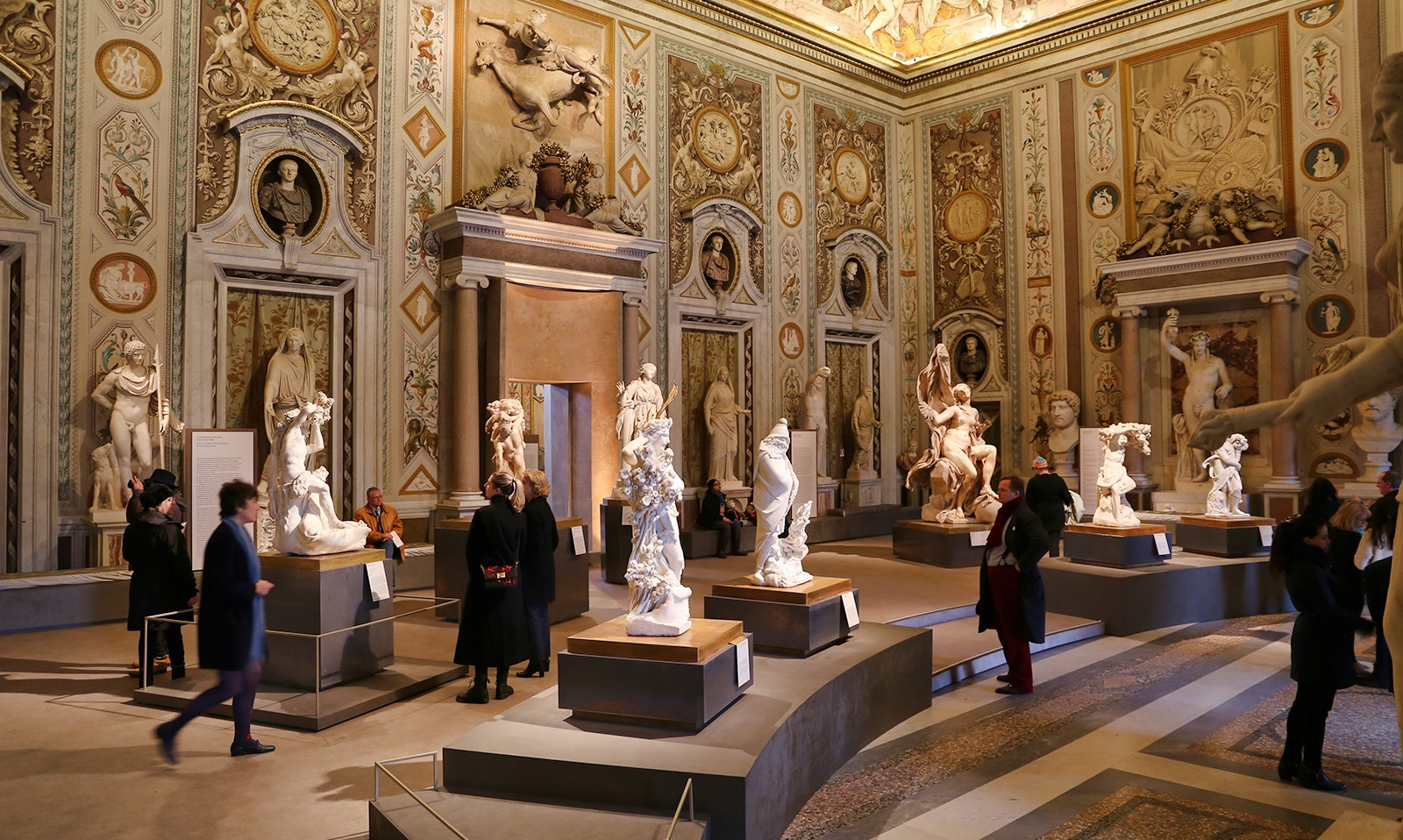 The Best Borghese Gallery Tours
---
Guided Tours
Combo Guided Tours
How do I choose a Borghese Gallery Tour that suits me best?
---
Before choosing your tour, take a look at the features of each type of tour and then make an informed decision. Here's a list of all your Borghese Gallery Ticket options and their main highlights.
The normal entry tickets grant you access to the gallery and the surrounding gardens. Step into one of the finest galleries in the world where you can admire masterpieces by legendary Italian artists such as Raphael, Bernini, and more. This ticket comes with a priority access feature and is perfect if you're on a budget.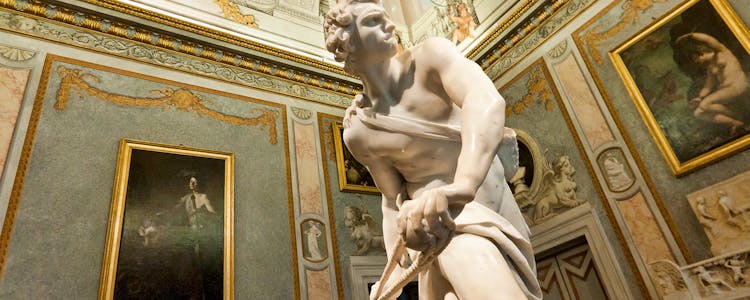 Save time and head right in with your skip-the-line Borghese Gallery tickets. Step inside the gallery to find a magical world of art in one of Rome's most spectacular art museums. This tour is for a small group of fifteen people and includes a tour guide. Learn all about the art pieces as well as the history of the gallery on this guided tour of the gallery. Please note that this tour does not include access to the gardens. Discover one of the world's most exquisite art museums on a small group guided tour of the Borghese Gallery. Your expert guide will take you through the history of each art piece including sculptures, ancient mosaics, paintings, and relics. Because of the small size of the tour group, you are free to ask your guide any questions that you may have on the tour. After the museum tour, you can walk around the Borghese Gardens taking in panoramic sights of the city atop Pincian Hill. Make the most of your visit to Rome by visiting all of its popular landmarks. The best way to do this is by choosing a combo ticket, where you can visit more than one attraction with a single ticket. Along with the Borghese Gallery, you can also visit the Vatican Museum, Castel Sant Angelo, the Colosseum, or the Pantheon. If you're in Rome for just a day or two, a combo tour is the best way to go.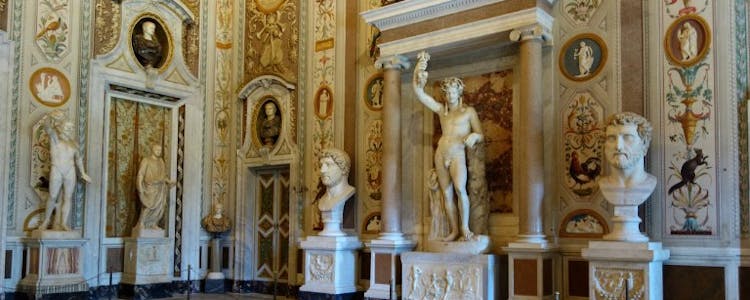 Borghese Gallery Skip the Line
5 Ways To Skip The Lines at Borghese Gallery
The gallery attracts millions of visitors all year round, making it a gem in Roman art and culture. Get yourself Borghese skip the line tickets for a hassle-free experience.
Borghese Gallery Tours Deconstructed - A Typical Guided Tour Experience
---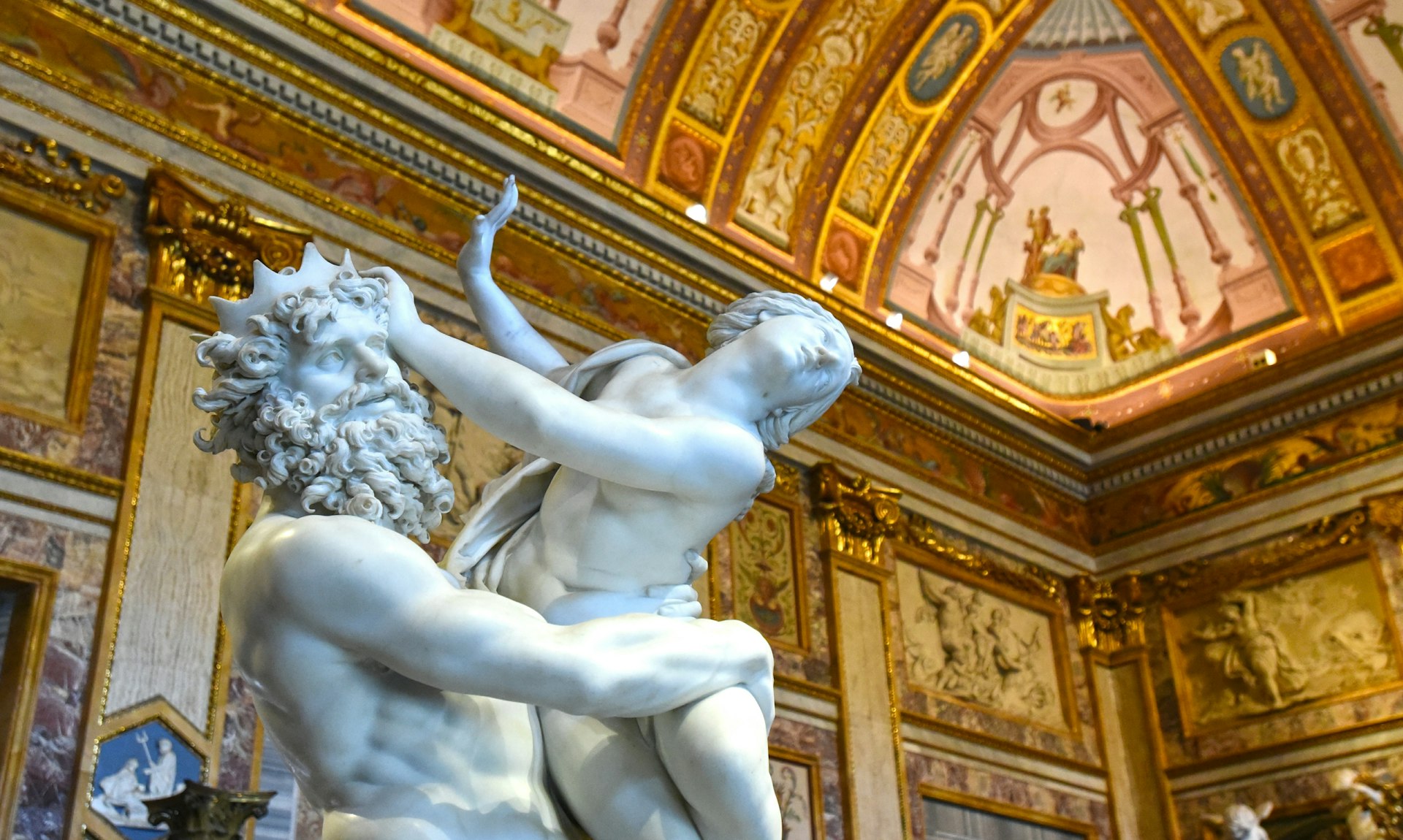 If this is your first visit to Rome, don't miss out on the iconic art museum that is the Borghese Gallery. Here's what your tour entails.
Paintings
Get a close look at some of the most majestic paintings in Roman history created by renowned artists like Bernini, Raphael, Caravaggio, and many others. You will come across famous paintings including St John the Baptist, St Sebastian, Flight into Egypt, Young Sick Bacchus, Cupid Complaining to Venus, and Portrait of Pope Julius II, among others. Marvel at the details of each piece as you listen to your guide narrate the fascinating stories behind them.
Sculptures
Borghese Gallery has an exquisite collection of sculptures representing Roman history and culture. The fine details of each masterpiece hold so much emotion and insight to the eye of the beholder. Look at sculptures of Neptune, David, Bacchanalia of Putti, Marcus Curtius Throwing himself into the Chasm, Sleeping Hermaphroditus, and other iconic pieces.
Borghese Gardens
Surrounding the Villa Borghese is a scenic garden, which forms a part of the landscape. The garden covers almost 80 hectares of land, filled with colorful frescoes and luscious greenery. It is located on top of Pincian Hill, making it an incredible location for a tourist attraction. Developed by Cardinal Scipione Borghese in 1606, the garden is one of the most extensive parks in Rome and is fondly regarded as its lung. Taking a relaxing stroll through the Borghese Garden is the perfect way to end your tour.
Are the Borghese Gallery Tours Worth It?
---
Yes. If you're visiting the Borghese Gallery for the first time, then a guided tour is your best option. The Borghese Gallery is one of the most important art museums in the whole world. It houses an inspiring collection of artworks and sculptures created by Bernini, Raphael, Caravaggio, and Canova, among other renowned artists. A guided tour of the gallery is the best way to make sure you have a meaningful and wholesome experience. You don't just get to visit an incredible gallery, but you also learn all about each piece of art inside it. Every one of its artworks has a unique story waiting to be told. Have an expert guide give you facts and stories on a detailed guided tour of the Borghese Gallery, making your visit more memorable.
Borghese Gallery Essential Information
---
Opening Hours
Borghese Gallery is open from Tuesday to Sunday between 9:00 AM and 7:00 PM. The last admission is at 5:00 PM.
Getting There
By Bus: Take bus route 116 and get off at Galleria Borghese stop or take bus route 910 and get off at Pinciana/Museo Borghese stop.
By Car: The closest car parks to Borghese gallery are at Via Sardegna, Parcheggio Via Adda, and Parcheggio Mangili.
By Metro: If you're traveling by metro, take line A and get off at Piazza di Spagna. Keep in mind that the Borghese Gallery is a bit of an uphill climb from here.
By Taxi: You can catch a local taxi which will take you straight to Borghese Gallery.
Tips for Borghese Gallery Tour
---
Wheelchair accessibility: Borghese Gallery is fully accessible to people with reduced mobility. Entry is free for the physically challenged individual as well as their guardian. A valid photo ID must be displayed at the entrance.
Storage: If you're carrying large bags, umbrellas, strollers, etc., they must be stored at the luggage counter outside the gallery. Storage is free but there's usually a long line so try to travel light.
Photography: Handheld cameras and cellphones are permitted for the purpose of photography. However, the use of tripods and flash photography is not allowed.
Audio guides: If you wish to purchase an audio guide, they can be rented at the ticket counter for 5 euros.
Cancellation policy: Borghese Gallery guided tour tickets cannot be rescheduled, amended, or canceled.
FAQs
---
What is the best guided tour while traveling with children?
What time do Borghese Gallery guided tours start?
For multi-lingual tours, are there different timings for each language tour?
Which is the best Borghese Gallery tour for budget travelers?
Can I book a private tour just for myself?
Ready to head to Borghese Gallery?
---
Purchase discounted Borghese Gallery tickets via Headout today!
Explore The Rest of Rome
Fancy heading out to some other must-visit Rome attractions? Take inspiration from our list of the best things to do in Rome here. Use our comprehensive Rome Travel Guide to explore the rest of Rome in a hassle-free fashion with all the need-to-know information in hand.
In Rome for a few days?
In the city for a few days and want some help charting out an itinerary? Check out our 1 day in Rome, 3 days in Rome & 5 days in Rome itineraries for inspiration.