Dubai is a tourists haven, with so much to do and see, one can simply never get bored in this city of limitless possibilities! One of the lesser know, yet fantastic ways to consume stunning views of this modern oasis with an added adventerous edge is hopping aboard the Seawings Dubai and experiencing everything from the desert mirage to the architectural marvels of Dubai City. Interested to know more about Seawings Dubai? Read on!
Seawings Dubai - In a Nutshell
Seawings Dubai - Things to know
| | |
| --- | --- |
| 📍 Location: | Dubai |
| ⏰ Suggested Duration: | 40 min |
| ☀️ Best Time to Visit: | November to February |
| 🎟️ Seawings Dubai Tickets: | Check here |
Seawings Dubai Opening Hours
The experience is temporarily closed
Seawings Dubai Address
Dubai creek Baniyas Rd,
Near Park Hyatt Dubai, United Arab Emirates
Get Directions
What Makes The Seawings Dubai Experience Special?
---
The first Seawings flight took place in 2007 and ever since, over 1,80,000 guests have been imbued with the aerial charm and exquisite details of the Dubai. One can experience everything right from the splendour of the skyscrapers to the mirage of the scorching desert and the glittering sea on Seawings Dubai, all from the comfort of a seaplane.
Seawings Dubai also provides seaplane charters to over 25 destinations around UAE, so if you want to take your experience a notch up, you can opt for this exclusive experience that comes along with dining options and leisure activities!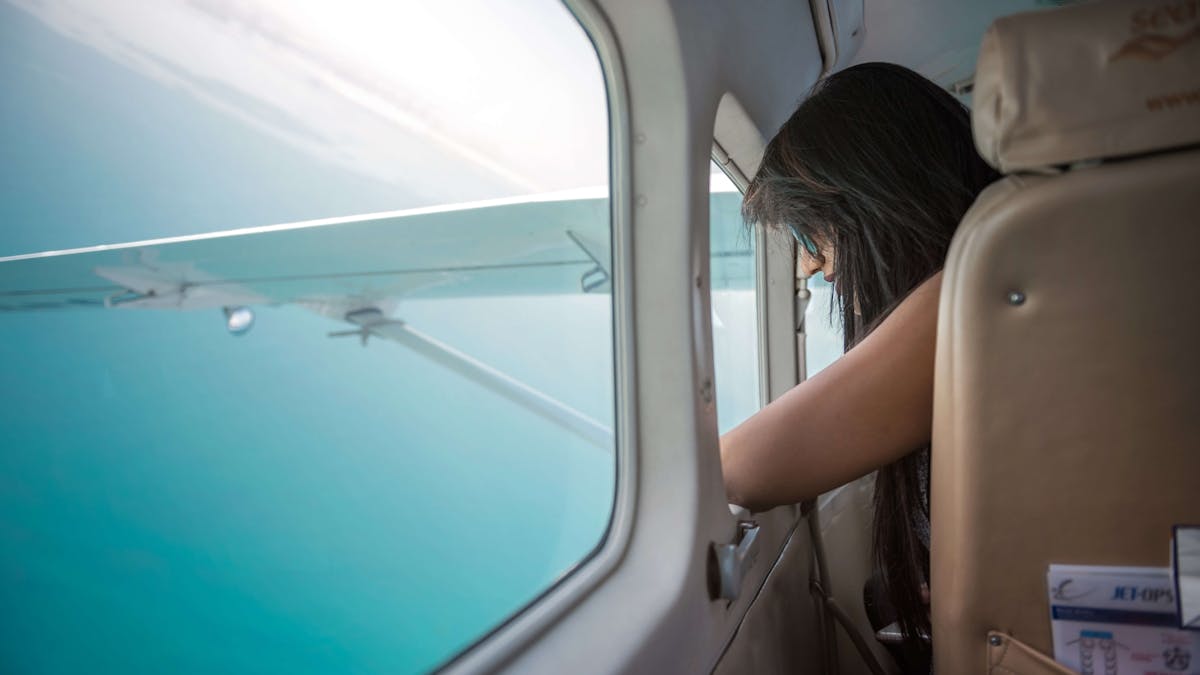 While you may wonder what the need is to see a city from atop, you must know that from up high, even familiar cityscapes become completely new, with colours, buildings, and geographical features you'd never known existed until you have hovered directly above them. And that what we think is special about the Seawings Dubai Experience - a new perspective!
Seawings Snapshot Dubai Tickets
Enjoy the company of a trained pilot and guide as you explore Dubai's iconic landmarks like the Burj Al Arab, Burj Khalifa and the breathtaking Palm Jumeirah.
This 20-minute flight on a state-of-the-art Cessna seaplane take offs and lands in the calming waters of Dubai Creek.
Know Before You Go On Seawings Dubai
---
Q. When is the best time of year to go for on a Seawings Plane Tour in Dubai?
Since the seawings dubai charter is a Cessna aircraft that is covered and climate controlled, the weather outside does not make a difference to one's experience. However, Dubai being a desert chances of a sandstorm are likely throughout the year, hence checking the weather report for visibility rates is a advisable. Winters see fog during the morning hours, hence opt for an afternoon slot during the months from November to February. In short, the Seawings Dubai experience is enjoyable year round.
Q. What time of the day is best suitable for a Seawings experience? Morning or Evening?
Depending on the experience you choose, there are different time slots for departure. While the Snapshot experience departs at 8:30 AM daily, the Scenic Tours depart at 11:15 AM every Friday. The Silver experiences have flexible timings that allow you to enter anytime within operating hours ( 9 AM - 6 PM ). For this experience, we'd suggest going anytime between 10AM - 12 PM or 3PM to 5PM, depending on your convinience.
Q. Is Seawings Dubai child-friendly?
Yes! It is absolutely safe for children of all ages. While children above 12 years will be charged full price, children between 2 to 12 will be charged a discounted price and those below 2 years go free.
Q. Is the Seawings Dubai a private charter or shared tour?
You have the option of choosing a private charter or shared tour with Seawings Dubai. While the shared tour works out more economical, a private charter promises utmost luxury. Check out the Shared Seawings Tours and the Private Charter Tours before making your choice.
Q. Where can I find Seawings Dubai offers and deals?
Like any other high-demand activity, there are dozens of companies and agencies eager to book your ride. The tours in this article reflect the best prices on the market and are backed by a Best Price Guarantee policy.
Q. Are Seaplane rides safe?
Yes they are. The Dubai Seawings seaplane tour is treated like any other flight, with rules and regulations adhering to the protocols of the Dubai Civil Aviation Authority. Before take off, there will be a screening of the in-flight safety demo video. All the seaplanes pilots go through a long and rigorous flight training process and have thousands of hours of flying experience.
Q. At what height do the Seaplanes fly?
The Seawing seaplanes fly at a height of 1500 feet.
Q. How long in advance do I have to report for my flight?
You are required to report 45 minutes prior to departure time of the flight. Timings are strictly adhered to, especially for shared seawing tours, so make sure you arrive well in advance.
The Seawings Dubai Experience
---
The Seawings Dubai experience starts from the Dubai Creek Golf or Yacht Club , you can chose either based on your convinience. A thrilling take off that might have you clutching your seats will eventually end in the seaplane gradually soaring thousand feet above, with you loosening your tight clutch and widening your eyes; in all possible directions! Every seat is a leather seat with ample legroom and wide glass window to allow the passengers to soak in copious amounts of Dubai's stunning landscape - the skyscrapers huddled along the coast, the azure Arabian waters and the faraway glistening desert backdrop. A prime highlight of the Seawings Dubai flight is that it is not the least bit noisy, facilitating a calming backdrop during the tour.

Enjoy aerial views of the Palm Jumeirah, Burj Al Arab, Downtown Dubai, The World islands, Burj Khalifa, Port Rashid and The Creek on your Seawings Dubai tour for 20 glorious minutes and enjoy a skillful landing back on the water marking the end of a memorable flight.
Selecting The Best Seawings Dubai Tickets
---
There are 3 categories of Tickets for the Seawings Dubai Experience with varying price ranges. and timings. Here are the 3 different categories in brief.
Seawings Snapshot Experience - 20 minutes
This is the most preferred ride, short and sweet with a good round of sightseeing. The take off is from Dubai Creek and one can experience aerial vistas of the Burj Khalifa, Burj Al-Arab and Palm Jumeirah amongst the many other iconic structures of Dubai.
Seawings Signature Experience - 45 minutes
This is a more elaborate version of the Snapshot experience, for those who want to spend an extended period in air. You can experience breathtaking views of Dubai's skyscrapers, beaches and architectural marvels for 45 minutes in a shared seaplane. The Signature tour allows you to fly on the state-of-the-art Cessna seaplanes and one can choose from two take-off locations to match their convenience. Apart from the take off locations, the route followed for the 2 signature tours are slightly different ( shown below). Signature tours also give you a non-alcoholic drink on-board and offer complimentary return road transfers to a destination of your choice.
Seawings Destination Experience - 45 minutes
The Seawings Destination Experiences allow you to travel outside of Dubai and explore the other Emirates. Not only can you fly to these Emirates on a shared seaplane but you can engage in an experience while you're there! Be it hopping on the fastest roller coaster in the world at Ferrari World or going on the world's longest zipline at Jebel Jais ; go beyond the seaplane with these destination experiences.
Looking for Seawings Dubai offers? We have something that will help you save a few Dirhams!
Seawings Dubai : All You Need To Know
---
A Seawings Dubai seaplane can carry upto 9 people at a time
Operating Hours are from 9:00 AM to 6:00 PM daily
You will be served complimentary bottles of water and food on board ( only for silver experiences)
Before getting on-board, there will be a safety briefing with a short orientation on what to expect during the flight. Pay close to attention to make the most of your seaplane tour.
You will be required to submit a government registered ID /passport for verification. Make sure to carry one along.
Check the weather forecast before booking your tickets. A hazy day or one with a sand storm can hamper your view.
If you're one to feel nauseous on flights, do inform the authorities before getting onboard.
Tickets are free for infants aged 2 years and below and those from 2 to 12 years of age can enjoy discounted rates.
Buying tickets online is a safer bet in order to secure guaranteed tickets.
UAE residents can enjoy 30% discount on their tickets. This is applicable only on onsite purchase.
Other Aerial Tours in Dubai
---
Helicopter Tours Dubai
A thrilling helicopter ride overlooking the stunning Dubai skyline, flying past some of Dubai's most iconic landmarks, and creating memories worth a lifetime. Sounds interesting? Great! We have just the right experiences for you. Experience the intrigue and magic of zipping through the Dubai sky with glorious views of the city made available for your viewing pleasure.
Read our all inclusive Dubai Helicopter Guide before zeroing in on your chopper!
Recommended Experiences
• Helicopter Tours Dubai

Hot Air Balloon Tours Dubai
Going on a hot air balloon tour is one of those unique, once-in-a-lifetime experiences that you definitely do not want to miss, especially in Dubai. The views and feelings you get whilst perched upon this magical carpet are completely unparalleled and will leave you spellbound. From a height of 4000 feet, witness the endless ocean of sand dunes beneath you as they are bathed in an amazing golden yellow light during sunrise. Sounds Exciting?
Read to know more about Hot Air Ballooning in Dubai
Recommended Experiences
• Hot Air Balloon Rides Dubai

More Adventures In Dubai
---
Still looking to satiate your adventure bone? Here are a few more exciting adventure activties in Dubai that will thrill you no bounds!