Quad biking is a four-wheeled fun experience, usually in an outdoor setting. The thrill of riding a massive bike on amazing terrains with no restrictions is incomparable. Quad biking ups the adventure quotient of Dubai desert safaris with a wild ride in the great desert, overlooking the majestic Dubai skyline.
Given the picturesque setting and the genuinely good time on offer, quad biking in Dubai is one of the most popular experiences in Dubai. Not sure about how to select the best desert adventure experience and what's on offer – we have all your questions about quad biking in Dubai answered here.
Quick Jumplinks to Navigate the Guide
Why You Must Go Quad Biking In Dubai
Quick Rundown Of Popular Desert Adventure Sports In Dubai
Renting Quad Bikes In Dubai
How To Pick The Best Quad Biking Experience In Dubai?
Discounted Tickets For Quad Biking In Dubai
Traveler Reviews Of Quad Biking In Dubai
Know Before You Go Quad Biking In Dubai
Why You Must Go Quad Biking In Dubai
There are plenty of things you'll love about your quad biking experience in Dubai. Here're our top picks:
You get to zip through the desert with abandon, take any route you want to (within the designated driving area, of course), and just have an all round amazing time?
These tough, four-wheelers are a fun way of getting out into the real terrain, away from traditional routes and crowds of visitors.
With proper safety measures in place, quad biking in Dubai is one of the most fun, family-friendly experiences around.
When you buy your tickets from Headout, you can opt for a quad biking + desert safari combo , which brings the best of Dubai's desert to you in one neat package.
If you enjoy driving or motor sports, quad biking is a match made in heaven for you. The excitement of riding in the desert is hard to match up to!
Quick Rundown Of Popular Desert Adventure Sports In Dubai
While quad biking is a major highlight of the Dubai desert experience, it's better to go in prepared before you make a pick. Here's a quick rundown of all that you can in do in the desert:1.Quad Biking: An all-terrain vehicle (ATV), also known as a quad bike, is a vehicle that travels on low-pressure tires, with a seat that is straddled by the operator, along with handlebars for steering control. Quad biking involves riding the vehicle on different terrains, in Dubai's case desert, at different speeds.2. Dune Bashing: To put it simply, dune bashing is a form of off-roading on sand dunes. Think of it as a roller coaster in the middle of the desert! Your driver rides a large vehicle (usually a Toyota Land Cruiser or a Ford Bronco) through the sandy terrain of a desert in high speed. Perfect for adventure junkies. Read more about Dune Bashing In Dubai3. Sand Boarding: Like the name suggests, sand boarding is just like snow boarding with sand replacing the snow. This recreational activity takes place on sand dunes rather than snow-covered mountains but offers the same unforgettable thrill you get from snow boarding. Sand boarding In DubaiWhile there are countless other adventure sports in Dubai, these three are undeniably the most popular.

Renting Quad Bikes In Dubai
Yes, you do have the option of renting a quad bike in Dubai. You can visit any quad bike rental store in the city, pick your bike (which are available in different sizes and engine capacity), pay a refundable deposit amount, and head to any public place you wish to ride in.
While it sounds great, renting a quad bike is not the best option, especially if you're new in the city and don't know much about it. Getting lost is as easy as breathing and you won't get to venture into the best terrain for quad biking like a quad biking tour would. Then there's the additional risk of damaging the vehicle and losing out on that security deposit.
That's not to say that renting a quad bike is the absolute worst. For people familiar with the terrain and comfortable with riding a quad bike, renting is a good option.
How To Pick The Best Quad Biking Experience In Dubai?

Wondering how to pick the best quad biking experience? We have some tips you'll thank us later for:
1. Know Your BudgetIf you're on a vacation and constrained by a budget, each activity you partake in can cause a considerable dent. Avoid overspending and opt for combos to experience multiple attractions together and save time. Take for instance the Headout's Desert Safari with Quad Biking combo. You can to experience all the joys of Dubai's desert, including dune bashing, quad biking, camel riding, a traditional Dubai meal, and much more!2. Who Are You Travelling With?Another thing to consider before you pick your quad biking experience is your fellow travelers. If your kid is younger than 3 years old, quad biking is not for them. Or if you're visiting Dubai with your elderly parents, you shouldn't really pick quad biking. On the other hand, if you're travelling with your friends or kids (older than 3), this activity is perfect for you.3. Matters Of TimeOn a tight schedule and only have time for limited activities? We would suggest opting for single experiences over combos. This allows you to engage in an activity you truly wish to experience. You can also pick activities which are for a shorter duration like the Morning Quad Bike Safari which promises 15 minutes of pure quad biking madness!4. WeatherAlthough Dubai is hot round the clock, the winter months are considerably better than peak summers. Since quad biking is an outdoor activity, we would recommend planning your trip around the winter months to escape the scathing heat and enjoy a fun quad bike ride.
Discounted Tickets For Quad Biking In Dubai
There are a lot of options you can pick from for this attraction, especially since prices for quad biking in Dubai vary greatly from vendor to vendor. We have curated the best experiences to help you find the right experience and save the most. With best price guarantee on all listed experiences in Dubai you know you will get the best deal online.
Here are the top-selling quad biking Dubai experiences:
Traveler Reviews Of Quad Biking In Dubai
Me and a friend went on a 2hrs Quad biking tour. We were picked up and dropped off which was very handy. The Quad biking was amazing and will definitely be going again!
George Wood, Dubai
They give you a short lesson how to drive in desert safely and take care of everybody. If it is not your first try then they show you more of the bigger dunes with higher speed. Totally safe and pure joyride, perfect service, all quad are in good condition and it is a great fun. I will go back there again and again. Thanks!
Barna Erdesz, Budapest, Hungary
Read more Quad Biking Dubai reviews on TripAdvisor.
Know Before You Go Quad Biking In Dubai
All quad biking Dubai experiences require that you sign an indemnity form before proceeding with the ride. Signing this form relieves the vendor from damage/personal injury to the participants, so ride carefully.
Infants under 3 years can be brought along on the ride by parents at their own safety. But they must be carried on the parent's laps, if the seats are not reserved on sharing basis.
Summer clothing is suitable for most of the year, but sweaters or jackets may be needed for the winter months.
Since the experience involves going out in the desert and facing the sun, bring along sunscreen, sunglasses, and hats for additional protection.
If you don't have prior experience with motor vehicles (or even if you do), pay close attention during the training to understand the workings of a quad bike. Always remember, safety first!
Only individuals aged 14 and up are allowed to ride a quad bike solo.
Dubai Desert Activities Guide
Liking the idea of quad biking in Dubai? Check out other Desert Safari Adventures from Headout.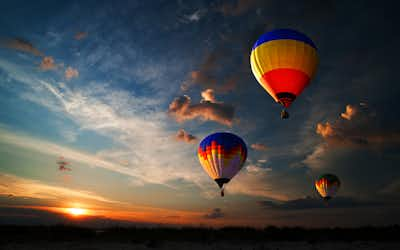 Hot Air Balloon Rides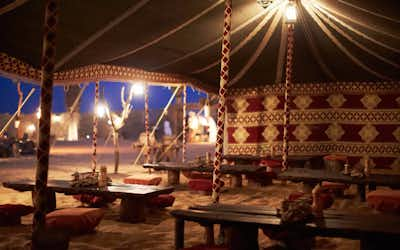 Desert Safari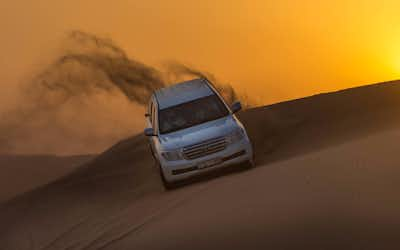 Dune Bashing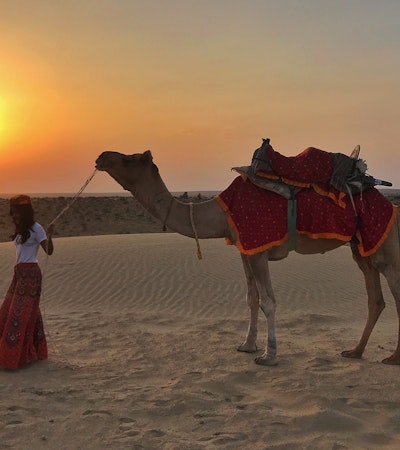 Camel Rides
See more Dubai. Save more money.
Save AED 20 on your first booking with Headout when you use promo code GODUBAI
EXPLORE NOW
[tcb-script]var tgids = [1895,2479,1897,4922];[/tcb-script][tcb-script]$('.slider-wrapper').data('card-count');var slider;document.addEventListener("DOMContentLoaded", function () {setTimeout(() => {$(".hcard.card-item").each((i, ele) => {w = $(ele).closest('.card-slider').innerWidth() / $(ele).closest('.slider-wrapper').data('card-count');if($(document).width() < 768)$(ele).css('width', "74vw")else$(ele).css('width', w – 40)margin = parseInt($(ele).css('margin-left')) * 2;$(ele).closest('.slider-wrapper').attr("data-shift-unit", w – margin + 4)cardCount = $('.card-item').length – $(ele).closest('.slider-wrapper').data('card-count');$(ele).closest('.slider-wrapper').attr("data-cards-to-right", cardCount)})}, 500)});$(document).ready(()=>{$('[data-htgid]').each((i, ele)=>{$.get("https://api.headout.com/api/v5/tour-group/get/" + $(ele).data('htgid')).then((res)=>{if(res.listingPrice && res.currency)$("[data-htgid="+res.id+"]").find(".prod-price").html(res.currency.localSymbol + "" + res.listingPrice.finalPrice);})})})setTimeout(()=>{$('.slider-wrapper.hcard-wrapper').each((i, el)=>{cardsRight = ($(el).find('.card-item').length – $(el).data('card-count'));$(el).attr('data-cards-to-right', cardsRight);if(cardsRight>0)$(el).find('.next-nav').show();})}, 1000)[/tcb-script][tcb-script]$('.slider-wrapper').data('card-count');var slider;document.addEventListener("DOMContentLoaded", function () {setTimeout(() => {$(".hcard.card-item").each((i, ele) => {w = $(ele).closest('.card-slider').innerWidth() / $(ele).closest('.slider-wrapper').data('card-count');if($(document).width() < 768)$(ele).css('width', "74vw")else$(ele).css('width', w – 40)margin = parseInt($(ele).css('margin-left')) * 2;$(ele).closest('.slider-wrapper').attr("data-shift-unit", w – margin + 4)cardCount = $('.card-item').length – $(ele).closest('.slider-wrapper').data('card-count');$(ele).closest('.slider-wrapper').attr("data-cards-to-right", cardCount)})}, 500)setTimeout(()=>{$('.slider-wrapper.hcard-wrapper').each((i, el)=>{cardsRight = ($(el).find('.card-item').length – $(el).data('card-count'));$(el).attr('data-cards-to-right', cardsRight);if(cardsRight>0)$(el).find('.next-nav').show();})}, 1000)});$(document).ready(()=>{$('[data-htgid]').each((i, ele)=>{$.get("https://api.headout.com/api/v5/tour-group/get/" + $(ele).data('htgid')).then((res)=>{if(res.listingPrice && res.currency)$("[data-htgid="+res.id+"]").find(".prod-price").html(res.currency.localSymbol + "" + res.listingPrice.finalPrice);})})})[/tcb-script]