Les Invalides is a historic complex in the heart of Paris that features a range of attractions for visitors to explore. From its stunning architecture to its impressive military history, Les Invalides offers a unique and fascinating experience for those looking to delve deeper into France's rich culture and heritage.
Les Invalides in a Nutshell
---
Handy information
| | |
| --- | --- |
| ⏰ Suggested Duration: | 2-3 hours |
| ☀️ Best Time to Visit: | Weekdays in the morning to avoid crowds |
| 💜 Must Do: | Visit the Army Museum and Napoleon's Tomb |
| 🎟️ Priority Entrance Ticket: | €14 |
| 😍 Guided Tour: | €109.90 |
| 🚇 Closest Metro: | Varenne or Invalides |
Must-see at Les Invalides
The Army Museum
Napoleon's Tomb
Saint-Louis-des-Invalides Cathedral
The Charles de Gaulle Monument
Opening Hours
10 AM to 6 PM
Closed on 1 January, 1 May, and 25 December
Why is Les Invalides Worth Visiting?
---
French Culture: Les Invalides is a treasure trove of French military history spanning centuries.
Iconic Architecture: The massive golden dome of the chapel is an iconic Parisian landmark and a perfect Instagram spot.
Rich Collection: The Musée de l'Armée houses an impressive collection of weapons and armor, including Napoleon's famous hat.
Napoleon's Resting Place: The tomb of Napoleon Bonaparte is located here, and his sarcophagus is made of six different types of marble.
Historic Significance: The courtyard of honor was used for military parades, and you can still see the cannonball marks on the walls from the French Revolution.
Recommended Les Invalides Tickets
---
Depending on the kind of experience you seek and time in hand, you can choose from a variety of Les Invalides tickets.
Les Invalides History
---
Built by Louis XIV in the late 17th century, Les Invalides was initially designed to house and care for those who were war-disabled and war veterans. Known for its stunning architecture, the complex with its gold dome is visible from afar. The dome, which is nearly 110 meters high, is considered one of the most recognizable features of the Paris skyline. The complex also houses several museums, including the Army Museum, which is home to an impressive collection of military artifacts from the country's history, including Napoleon's famous hat. Les Invalides has played a crucial role in France's military history, with many notable figures buried on its grounds. Visitors can pay their respects to Napoleon Bonaparte, whose tomb is situated in the Eglise du Dôme, and the French military leader, Marshal Foch. The site has also been used for military parades and events, making it an important symbol of French military strength. It has been featured in numerous films, including Christopher Nolan's Dunkirk, which highlights the historical significance of this iconic site.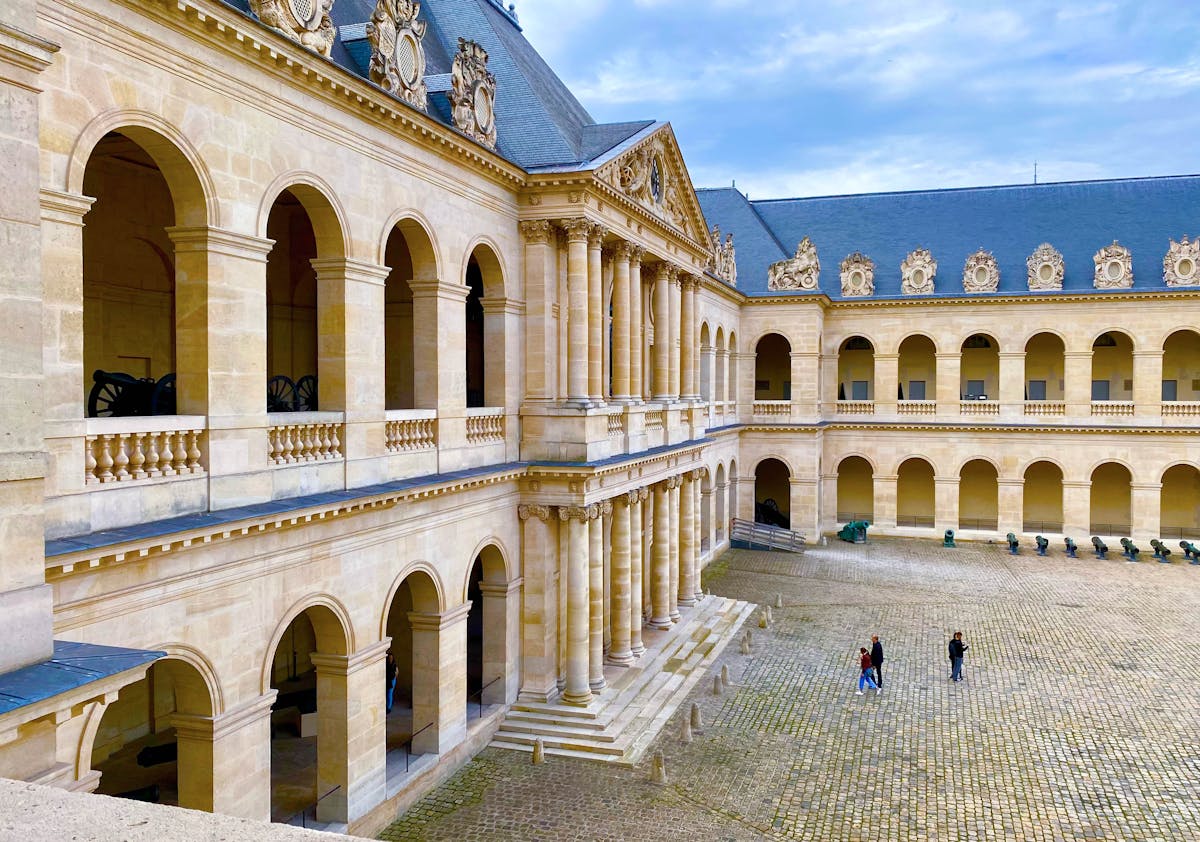 Les Invalides Architecture
---
The architecture of Les Invalides is a stunning example of classical French architecture. It was designed by Louis XIV's chief architect, Jules Hardouin-Mansart, and features a stunning gold dome that can be seen from all over Paris. The main building is made up of several wings and courtyards, with the most striking feature being the dome itself, which is a masterpiece of engineering and design. The best time to see the dome is at sunset when the light reflects off the gold, creating a beautiful glow. There are several interesting areas within the building, including the Musée de l'Armée, which houses a vast collection of weapons and armor, and the tombs of several important French figures such as Napoleon Bonaparte. The most Instagrammable spot is undoubtedly the courtyard with the golden dome in the background, but the view from the top of the dome is also breathtaking.
Highlights of Les Invalides
---
1

Tomb of Napoleon Bonaparte
The gilded dome covering the tomb of Napoleon is a must-see, as is the red porphyry sarcophagus which holds his remains. It's said that the dome is so big that the Statue of Liberty in New York City was designed with its dimensions in mind.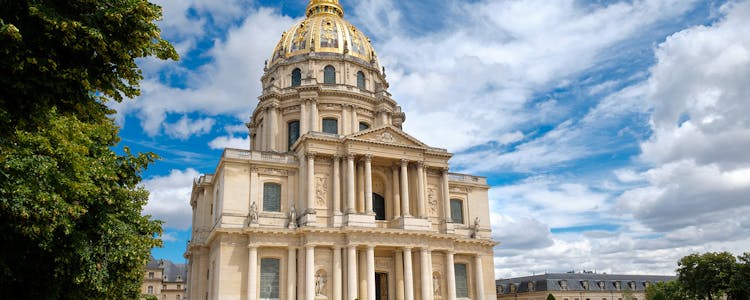 2

The Musée des Plans-Reliefs
The museum houses an impressive collection of 3D models of French fortresses and cities, used by military strategists in the 17th and 18th centuries. It's a great place to learn about military history while admiring the intricate models.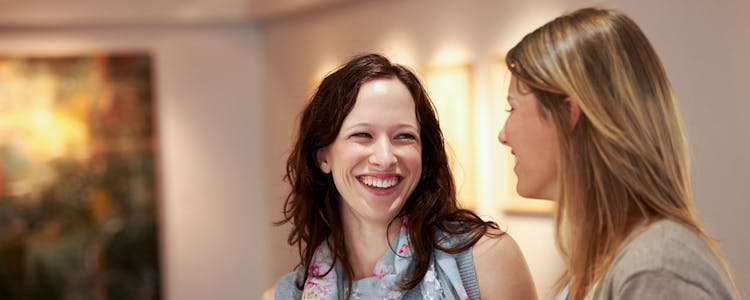 The magnificent Dôme Church dominates the skyline of Les Invalides. Inside, the ceiling features a stunning painting of the Apotheosis of Saint Louis, and visitors can climb up to the top for stunning panoramic views of Paris.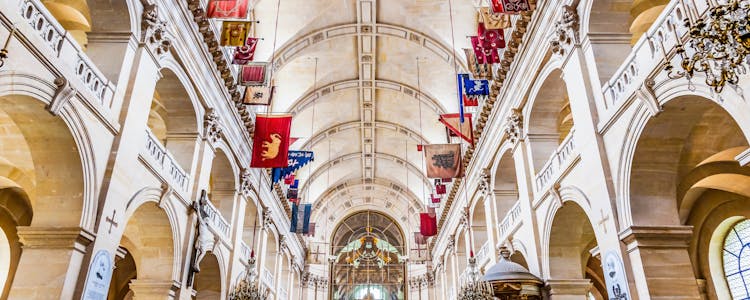 The museum is housed inside Les Invalides, and boasts over 500,000 artifacts spanning 2,000 years of military history. Among its treasures are the personal belongings of Napoleon Bonaparte.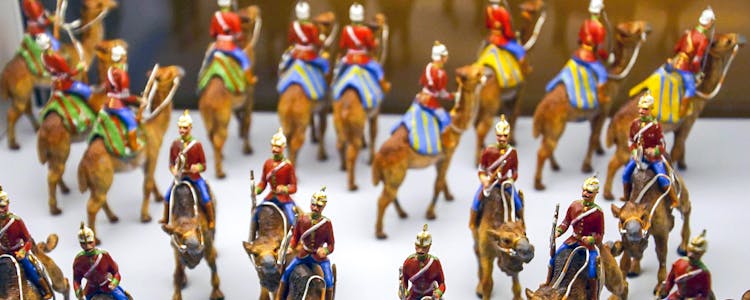 The Cour d'Honneur is a magnificent courtyard which serves as the main entrance to the Les Invalides complex. With a rich history and flanked by stunning architecture and elegant gardens, the grandeur of this courtyard reflects the splendor of French architectural heritage.
Best Time to Visit Les Invalides
---
The best time to visit Les Invalides is during the weekdays and early mornings to avoid crowds. The spring months from April to June and the fall months from September to November are the perfect seasons to explore the complex, as the weather is mild, and the tourist crowds are relatively lower. During peak summer months from July to August, there will be longer queues, and the building may be crowded. Additionally, it's best to avoid visiting during French national holidays such as Bastille Day which falls on July 14 as the attraction will be packed with visitors. Moreover, the daylight hours are longer during the summer, providing visitors with more time to explore the area.
Les Invalides Opening Hours
---
Daily - 10 AM to 6 PM
Last admission at 5:30 PM
Closed on 1st January, 1st May, and 25th December every year
Open till 9 PM on Tuesdays during temporary exhibition periods
Getting There
---
By Car: Route via Av. du Maréchal Gallieni via the A1 and Boulevard Peripherique
The closest parking lot is Parking Indigo Paris Invalides.
By Bus: Route no. 69
Nearest Stop: Esplanade des Invalides bus stop
By Train: Train Line C
Nearest Stop: Invalides Station
By Metro: Route no. 8
Nearest Stop: La Tour Maubourg metro station
Insider Tips to Visit Les Invalides
---
Make sure you visit the Army Museum for a comprehensive look at France's military history.
As there are multiple entrances at the complex, enter through the East entrance to avoid crowds.
Don't miss the Musée des Plans-Reliefs for a unique 3D map experience.
Dress in comfortable shoes as there is a lot of walking involved.
You can loan wheelchairs to explore the place.
Photography is allowed in most areas, but it's important to respect any signage or instructions regarding photography restrictions.
Les Invalides can get crowded during peak tourist seasons, so plan your visit accordingly to ensure a more enjoyable experience.
Consider combining your visit to Les Invalides with a visit to other nearby attractions, such as the Eiffel Tower or the Musée d'Orsay, which are at a walking distance.
Les Invalides Facts
---
Les Invalides was originally built as a hospital and retirement home for war veterans by Louis XIV in 1670.
Les Invalides is a popular filming location for movies and TV shows, including the ames Bond film "A View to a Kill" and the Netflix series "Emily in Paris".
The church inside Les Invalides is home to several beautiful frescoes by French artist Charles de La Fosse.
During World War II, Les Invalides was used as a weapons and munitions factory by the German army.
The dome of Les Invalides was designed by Jules Hardouin-Mansart, who also designed the Palace of Versailles.
The French national flag is raised and lowered from the top of the dome of Les Invalides every day at 8 am and sunset, respectively.
The building is home to several museums, including the Army Museum, which houses one of the world's largest collections of military artifacts.
The most famous resident of Les Invalides is Napoleon Bonaparte, whose tomb is located inside the building's iconic dome.
Restaurants Near Les Invalides
---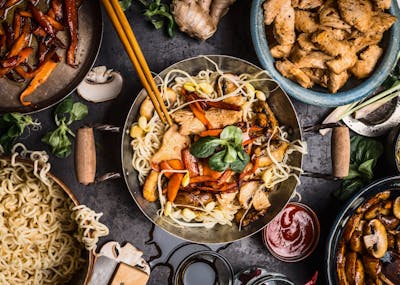 Le Florimond
Do you remember Gabriel's cafe in 'Emily in Paris'? Well, it's time to live the main-character moment as this place has those cozy and romantic vibes. Serving lip-smacking French cuisine, and you can plan a dinner for your special one straight out of a fantasy.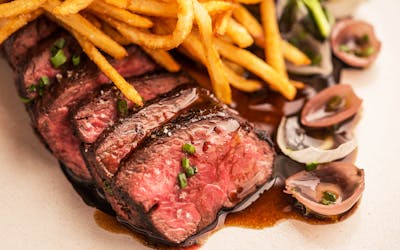 Café Constant
When in the romance capital, dine as the Parisians do! Delve your palette in the traditional French cuisine and don't forget to try their steak frites: it's one of the most delicious you'll ever have. Located just a 5-minute walk from Les Invalides, the resaturant will serve your appetite right!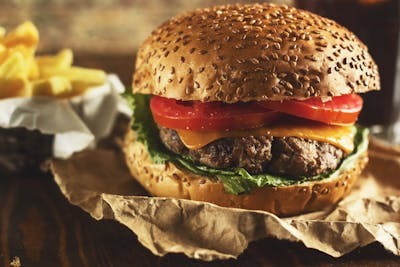 L'Atelier de Joel Robuchon
If you're fond of everything luxury, L'Atelier is the palce to be. Serving Michelin-starred French cuisine, the place has a refined experience that you just can't miss. Want to celebrate a special occasion with your loved ones? Head right here!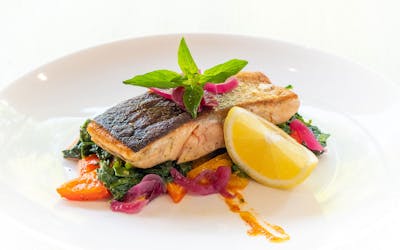 Le Procope
A version of "tell us you're an artist without telling us you're an artist", Le Procope is your bet if you want to randomly run into a famous creative person. With a history of being frequented by famous writers and philosophers, the place has a vinatge decor of the 1600s.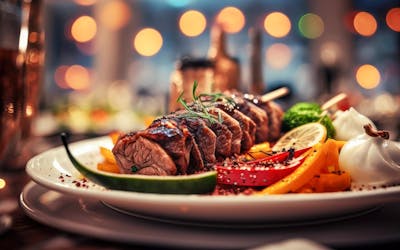 Chez l'Ami Jean
If you're in for sustainability, be rest assured, as Chez l'Ami Jean is there to your rescue. Serving unique seafood dishes, the place is known for its hearty portions. Dine at the restaurant for a fulfilling lunch after a rigorous tour of Les Invalides!
Places to Stay Near Les Invalides
---
Things to Do Near Les Invalides
---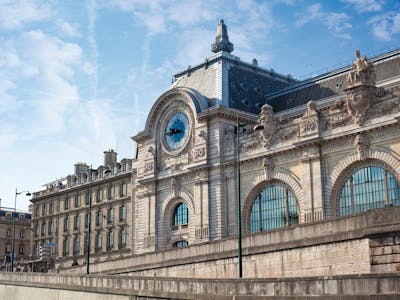 Orsay Museum
Immerse yourself in the world of Impressionist art at the stunning Orsay Museum housed in a former railway station. Admire masterpieces by Monet, Renoir, and Van Gogh, and take in the breathtaking views of the Seine River from the museum's clock tower.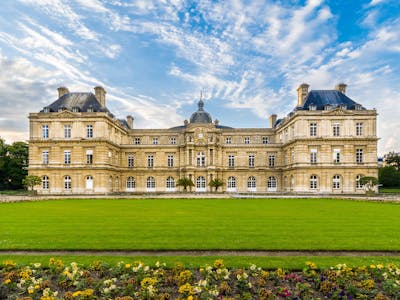 Luxembourg Gardens
Escape the bustling city and relax in the serene beauty of Luxembourg Gardens. Stroll through the manicured lawns, admire the vibrant flowerbeds, and find a cozy spot to sit and people-watch. Don't miss the charming Medici Fountain and the iconic Luxembourg Palace.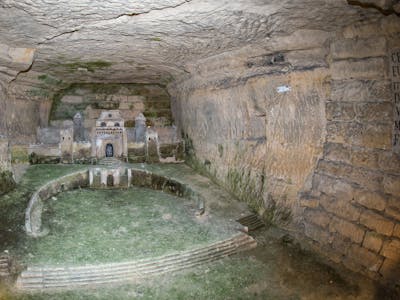 Catacombs of Paris
Descend into the eerie underworld of the Catacombs of Paris. Explore the ancient tunnels lined with human bones and skulls, and uncover the macabre history of this underground ossuary. A chilling and fascinating experience for history enthusiasts.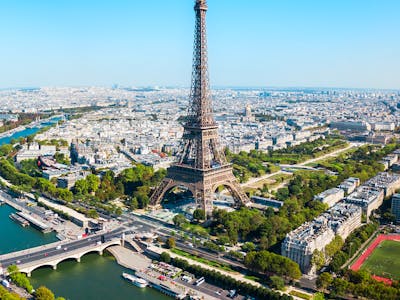 Eiffel Tower
No visit to Paris is complete without seeing the iconic Eiffel Tower. Take an elevator ride to the top for stunning panoramic views of the city or enjoy a picnic on the Champ de Mars beneath its towering presence. Don't forget to capture the perfect photo!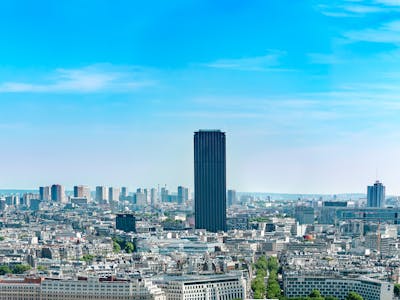 Montparnasse Tower
For breathtaking views without the crowds, head to Montparnasse Tower. Take the high-speed elevator to the observation deck on the 56th floor and marvel at the stunning vistas of Paris. Enjoy a drink at the rooftop bar and soak in the city's beauty from a different perspective.
FAQs
---
Les Invalides is approximately 355 years old, as it was completed in 1676.
The attraction Les Invalides was built by architect Libéral Bruant under the order of King Louis XIV of France.
Les Invalides covers an area of about 15 hectares.
The best mode of transport to reach Les Invalides in Paris is often the metro, with the nearest station being "Invalides" on lines 8 and 13.
Les Invalides remains closed on 1st January, 1st May, and 25th December.
No, Les Invalides remains closed on Christmas and New Year.
No, there's no dress code for visiting Les Invalides.