Located on Australia's east coast, Sydney boasts sunny beaches, beautiful parks, incredible architecture and plenty of outdoor adventure opportunities. Hitting the sweet spot between easygoing and exciting, this dynamic city is the most visited by tourists from across the world. Sydney is a true-blue metropolitan city of the 21st Century, with a heady blend of different cultures and places. You could be walking down the lively streets of Paddington one moment and enjoying a meal at the Vietnam-inspired Cabramatta just 10 minutes later.
Apart from the exhilarating spirit of the city, there's much you can enjoy in Sydney, like climbing to the top of Harbour Bridge, trekking up the Blue Mountains or going on a peaceful cruise. If you're planning to spend two days in Sydney, our itinerary will help you experience the city in the best way possible.
Two Days in Sydney - The Highlights
---
There's plenty to do in a city as lively as Sydney; unless you're in the city for a week or more, it's almost impossible to cover everything. However, two days should still give you enough time to cover all the important attractions and we have curated the perfect itinerary for just that. Our 2-day Sydney itinerary is designed to give you the ideal mix of adventure and serenity.
Two Days in Sydney - A Detailed Overview
---
Day 1

Circular Quay

Sydney Harbour Bridge

Sydney Opera House

Sydney Tower Eye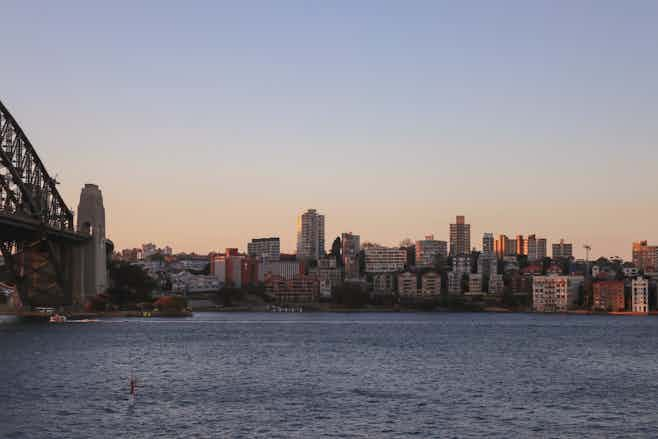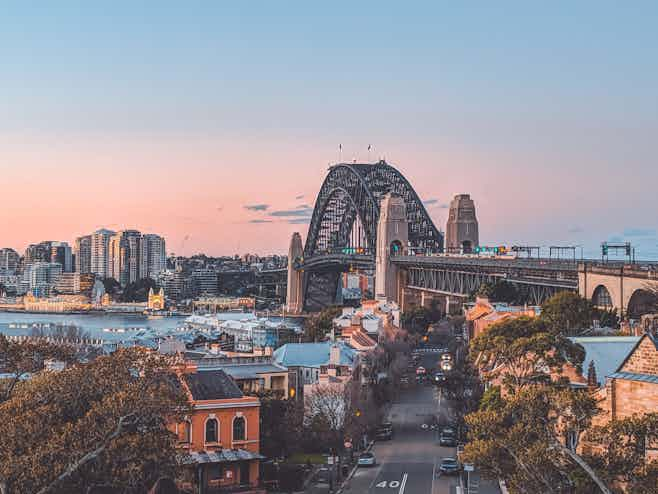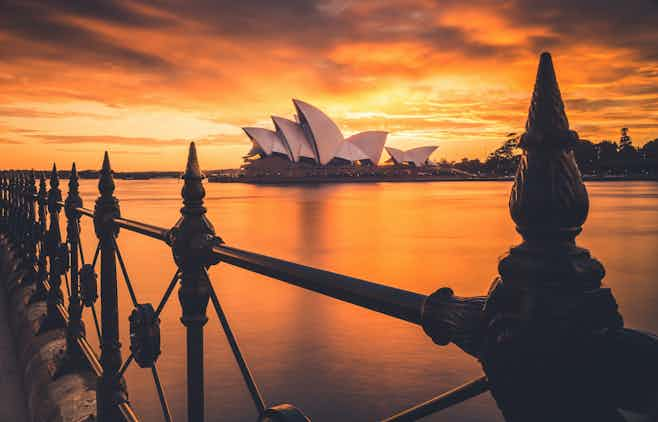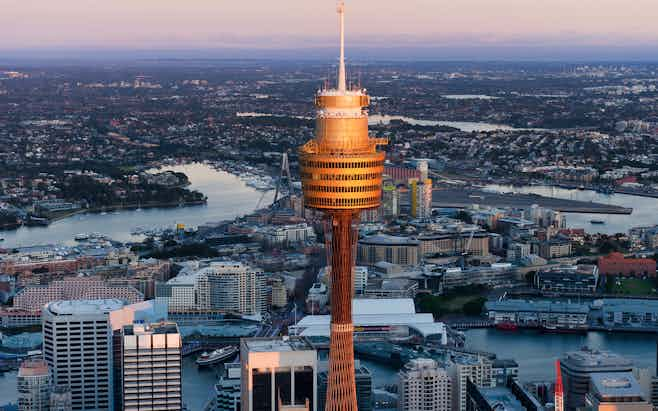 Circular Quay
---
The first stop in your Sydney adventure is Circular Quay, the perfect showcase of this city's spirit; vibrant, buzzing with activity and always beautiful. Circular Quay functions as the city's primary ferry terminus and is situated in the heart of Sydney Cove, known to be home to one of the first settlements in Australia. Presently, Circular Quay functions as the gateway connecting tourists and locals alike to major attractions in Sydney like The Rocks, Sydney Harbour Bridge, the Sydney Opera House and more. Apart from serving as a transport hub, Circular Quay also gets much of its appeal from all the outdoor eateries available nearby. It's the perfect place for a scrumptious breakfast overlooking the soothing waters of Sydney Harbour.
Sydney Harbour Bridge
---
After a hearty breakfast at Circular Quay, continue on to the Sydney Harbour Bridge. Located just 1.5 km from the Quay, the bridge looms over Sydney Harbour and is visible from every part of the Quay. Established in 1932, the Sydney Harbour Bridge was the brainchild of engineer JJC Bradfield and turned out to be a huge source of employment during the Depression period. Often described as a 'coat hanger' by locals, this bridge has a massive presence and also doubles as an adventure attraction. Looking for a breathtaking view? Climb to the top! Get pictures clicked at the top of the bridge with iconic Sydney landmarks in the background and also learn interesting insights about the bridge from the climb leader.
Sydney Opera House
---
Continue your Sydney expedition by walking to the Sydney Opera House. This legendary establishment is a landmark that defines Sydney. Established in 1973, the Sydney Opera House is a premiere performance venue and hosts some of the most famed artists from around the globe. Identified by UNESCO as a World Heritage Site, this monument is an archeological marvel with its notable white, sail-shaped structure. You have the option of either exploring the opera house on your own or opting for a guided tour. The latter is a great option especially if you are interested in learning more about its fascinating past. The Sydney Opera House's visiting hours are between 9:00 AM to 5:00 PM. Ticket prices depend on the performance you're watching, but generally start from AUD $47.
Day 2

Skydiving

WILD LIFE Sydney Zoo

Bondi Beach

Kings Cross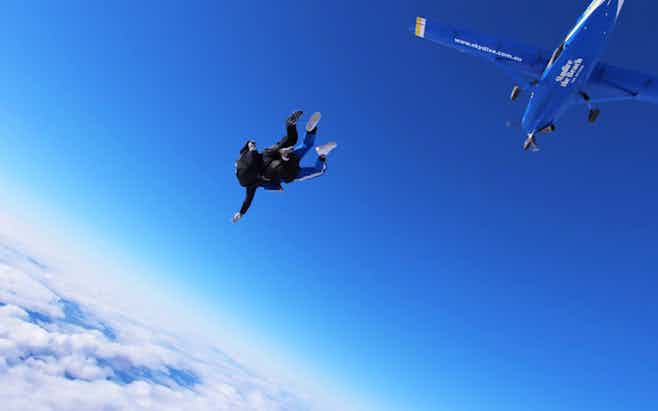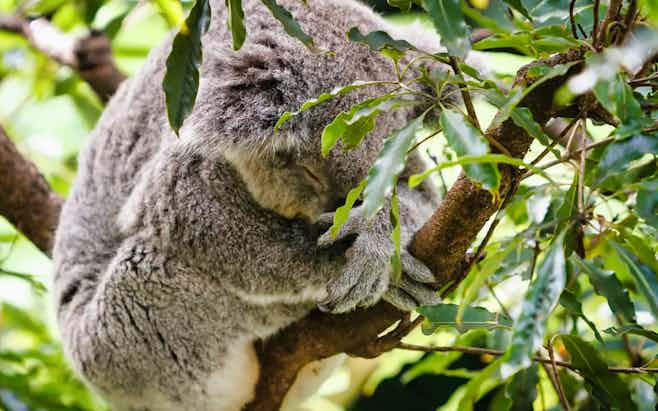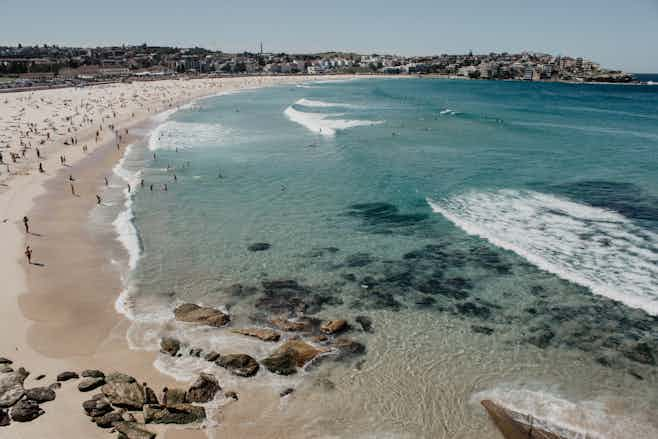 Skydiving
---
Begin your second day in Sydney with a life changing skydiving experience. Witness breathtaking views of the city from 15,000 feet and prepare yourself for the experience of a lifetime. What follows next is hard to describe: free fall from the sky at the speed of 200 km/hr for about 60 seconds and experience the joy of literally letting go! You'll pull the parachute one minute before landing and reach the ground safely with the help of the trained jumpmaster. The skydiving institute's support team will fill you in on safety procedures and basic guidelines to follow. This experience will be memorable lifelong!
WILD LIFE Sydney Zoo
---
Take a breather after the exhilarating skydive experience and make your way towards the WILD LIFE Sydney Zoo. Since its opening in 2006, this zoo has been home to different species of animals, birds and reptiles with 10 different zones dedicated to a few special families. These zones include Devil's Den, Butterfly Tropics, Gumtree Valley, Wallaby Cliffs, Kangaroo Walk-About amongst others. A special highlight of visiting this zoo is that you can get close to the koalas and even click selfies with them! While at the zoo, you'll also get to meet the endangered Tasmanian Devils and Rocky, the saltwater crocodile. The zoo is open from 10:00 AM to 5:00 PM and last entry is at 4:00 PM. Entry fee starts from AUD$35.
Bondi Beach
---
No trip to Sydney is complete without a stop at the renowned Bondi Beach. Located on the eastern side of the city, Bondi Beach is one of the most visited tourist attractions in Australia. Its clear blue water blends with the endless expanse of equally blue sky. Apart from the breathtaking scenery, this beach is also famous for hosting various sea-facing restaurants, shops and hotels. There's nothing quite like sipping a beer on a warm day overlooking the ocean. You can also go on a 2.5 mile walk along the cliff tops above Bondi, Tamarama and Bronte and spot some whales in the ocean. A great way to discover and explore Bondi Beach -- especially if it's your first time -- is through a guided tour. The beach remains open from 6:00 AM to 8:30 PM and entry is free.
Kings Cross
---
End your time in Sydney by visiting Kings Cross. Once known as the drug and red light capital of Australia, this locality has evolved to a rich and vibrant precinct. Geared more towards adults with its assortment of nightclubs, lively bars and cafes, Kings Cross is a great place to let loose. If time permits, you can visit certain popular landmarks like Piccolo Bar, Old Fitzroy Hotel, Elizabeth Bay House, The Les Girls Building and El Alamein Fountain. Featuring a riot of colours and culture, Kings Cross is the perfect destination to unwind at the end of your trip.
Getting around Sydney
---
You don't have to worry about travel within the city given Sydney's well-connected transport network. Here are your top options:
Light rail: Sydney's light train network connects Sydney's central business district to major suburbs. The light rail line operates across a 12.8 km route and has 23 stops. There's also a 24-hour service connecting Central to The Star, Australia's second largest casino. The Sydney light rail network runs from 6:00 AM to 11:00 PM on Sat-Thu and 6:00 AM to 12:00 AM on Friday. The line is operated by Trabsdev and uses the smartcard-based Opal ticketing system. You can get your Opal card over the counter at thousands of retailers or on the Opal website.
Bus: An integral part of Sydney's public transport network, buses are the easiest way to travel to most of the eastern and northern suburbs. Apart from tourists, a lot of locals make use of the bus network for daily commute. You can either buy tickets for individual journeys from one of the many ticket kiosks located throughout the city or opt for the convenient Opal card which can be used for all transport options. For those traveling after hours, NightRide is a special bus service that runs specifically from 12:00 AM to 4:00 AM.
Ferry: You can't visit Sydney and not embark on a ferry ride. They are great for everyday commute due to the absence of traffic. Ferry services in the city are operated by both public and private vendors. The public ferry services covers eight routes and are ideal for moving in and around the Harbour area. You can buy tickets from vending machines available at Circular Quay, Manly and Darling Harbour. Tourists can also opt for private ferry services in the city.
Sydney Metro: The latest addition to Sydney's vast public transport network, the metro currently operates only on one line, covering 36 km with 13 stops. You can use your Opal card to travel using the metro.
If you prefer traveling directly from Point A to B, opt for taxi services. Currently, over 6000 taxis serve the New South Wales area. Taxis are also available through private app-based taxi services in the city.
Where to Stay in Sydney
---
The city offers numerous accommodation options for travelers with different budgets. Here are our top picks:
Luxury
Address: 7 Hickson Road, The Rocks, NSW 2000, Australia

Why Choose: Located a stone's throw away from Sydney Harbour Bridge and Circular Quay, Park Hyatt is without a doubt the perfect place for a luxurious stay. With amenities like a spa, concierge, on-site restaurant, pool and more, your stay at Park Hyatt is all but guaranteed to be memorable.

Address: 117 Macquarie St, Sydney NSW 2000, Australia

Why Choose: Intercontinental Sydney is located in Circular Quay, overlooking the Sydney Opera House. Given its strategic location, you are assured of seamless travel to all nearby attractions including The Rocks, Harbour Bridge, Circular Quay and more! That the hotel is luxury redefined is the cherry on top!
Mid-range
Address: 196 Pacific Hwy, Greenwich NSW 2065, Australia

Why Choose: Perfect for tourists, this casual hotel is just a 13 minute walk from St. Leonards Station and 7 km from Taronga Zoo. The hotel is also just 8 km away from Sydney Opera House. Amenities include Wi-Fi, flat screen TV, covered parking, breakfast buffet and more.

Address: 136-138 Alison Road, Randwick NSW 2031, Australia

Why Choose: The Alison, located in Randwick, is a great option if you're looking to sightsee and be close to other attractions in the city. The boutique guesthouse offers a fine mix of comfort and charm with premium bedding, free Wi-Fi and more.
Budget
Address: 22 Allen St, Pyrmont NSW 2009, Australia

Why Choose: The biggest selling point of the Woolbrokers Hotel is its location. The reasonably priced hotel is located within walking distance of attractions like the Sydney Tower Eye, Circular Quay, Harbour Bridge, Sydney Fish Market and more!

Address: 12 Carabella St, Kirribilli NSW 2061, Australia

Why Choose: This 19th Century heritage guesthouse is located on a tree-lined street in Sydney's fashionable Kirribilli neighborhood and offers proximity to attractions like the Sydney Opera House, Harbour Bridge and more.
General Tips
---
While you can buy individual tickets for some modes of transport, your best bet would be to get an Opal card. This smartcard can be used on trains, ferries, buses and the Light Rail. You can top up your Opal card at train stations, convenience store, and online (if you're registered).
If you get a hotel in the Central Business District (CBD), you can actually walk to most of the popular attractions. The Sydney Harbour Bridge, Luna Park, Circular Quay and other landmarks are all within walking distance of the CBD. Walking through the streets of Sydney will also afford you a deeper understanding of the city.
Sydney is a city of early risers and most cafes open by 7:00 AM. You can go on a walk during the wee hours of your morning to avoid both tourist traffic and harsh sunlight.
Sydney is generally warm and humid and you should pack accordingly. Bring a pair of jeans, a couple of shorts, swimming trunks or bathing suit, some t-shirts, a pair of flip flops, comfortable walking shoes, sunglasses, sunscreen and a hat. If you're going during the monsoon season, also pack an umbrella or raincoat.
When it comes to food, Sydney will not leave you disappointed. It offers a glorious mix of cuisines including chicken schnitzel, pad thai, kebabs, meat pie, laska, Brazilian barbeque and much more. A local breakfast favorite is avocado on toast. Also give vegemite -- a food spread famous in Australia -- a try.
Wi-Fi is pretty weak in Sydney and you'll need to purchase to a hotspot device to access the internet at all times.
Smoking is a big No in most parts of Sydney and a single pack costs a whopping AUD$27. If you smoke, look out for areas with designated smoking zones.
There are a couple of free art galleries you can visit if time permits. These include the Museum of Contemporary Art, the Art Gallery of New South Wales amongst others.