Visited by millions of tourists every year, Sydney is home to iconic destinations with an incredible coastline marked by spectacular beaches and stunning skyscrapers encompassing the Harbour City. The cosmopolitan city is the largest in Australia carrying a unique blend of contemporary and historic areas offering numerous activities for travelers to enjoy in the multicultural land.
If you have already seen the beautiful Opera House and climbed the breath-taking Harbour Bridge. Plan a day trip to Canberra for a perfect cultural experience or to the serene Royal National Park which is a paradise for nature lovers and beach buffs.
5 Best Day Trips From Sydney
Royal National Park
41.9km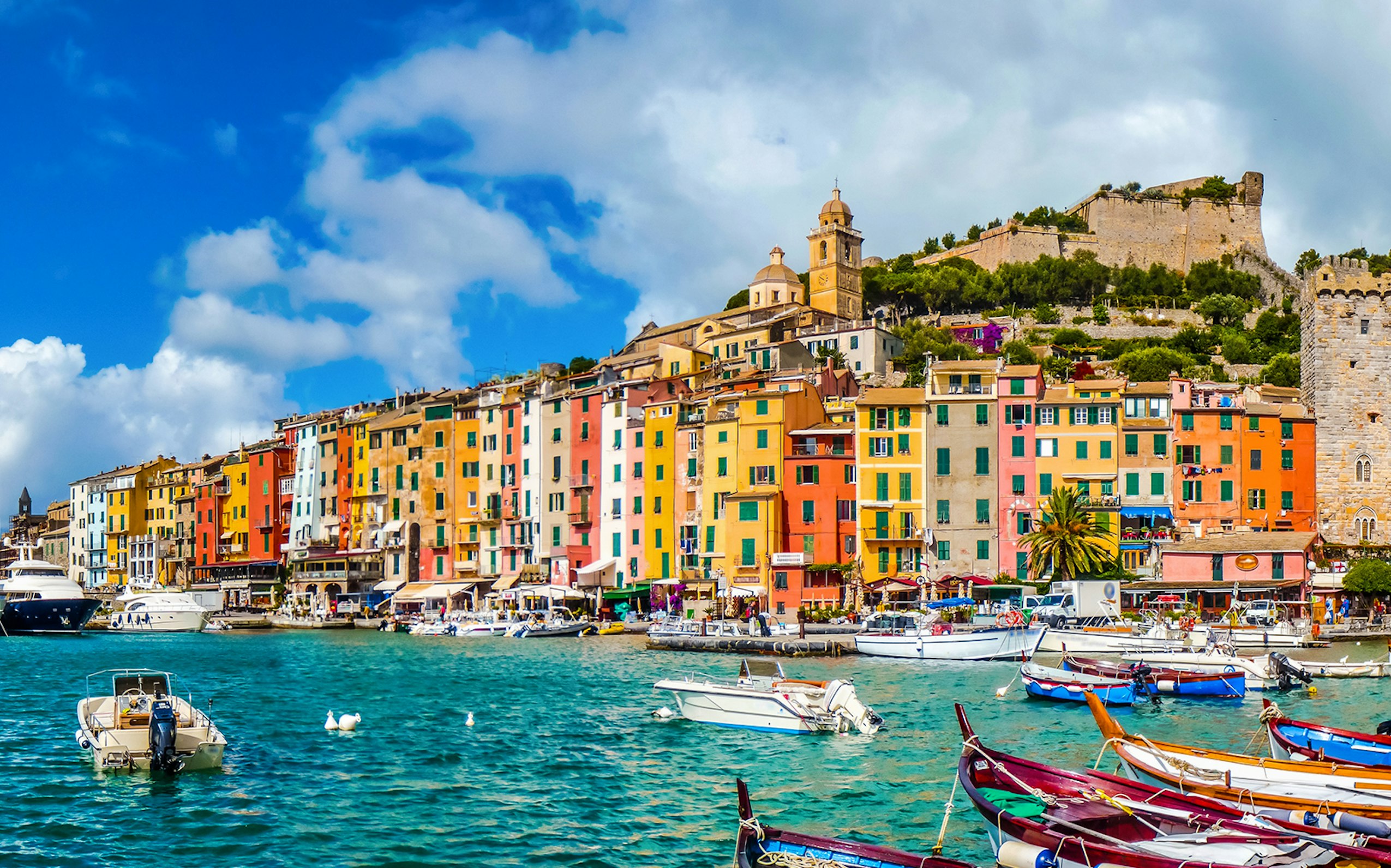 The Blue Mountains
62.3km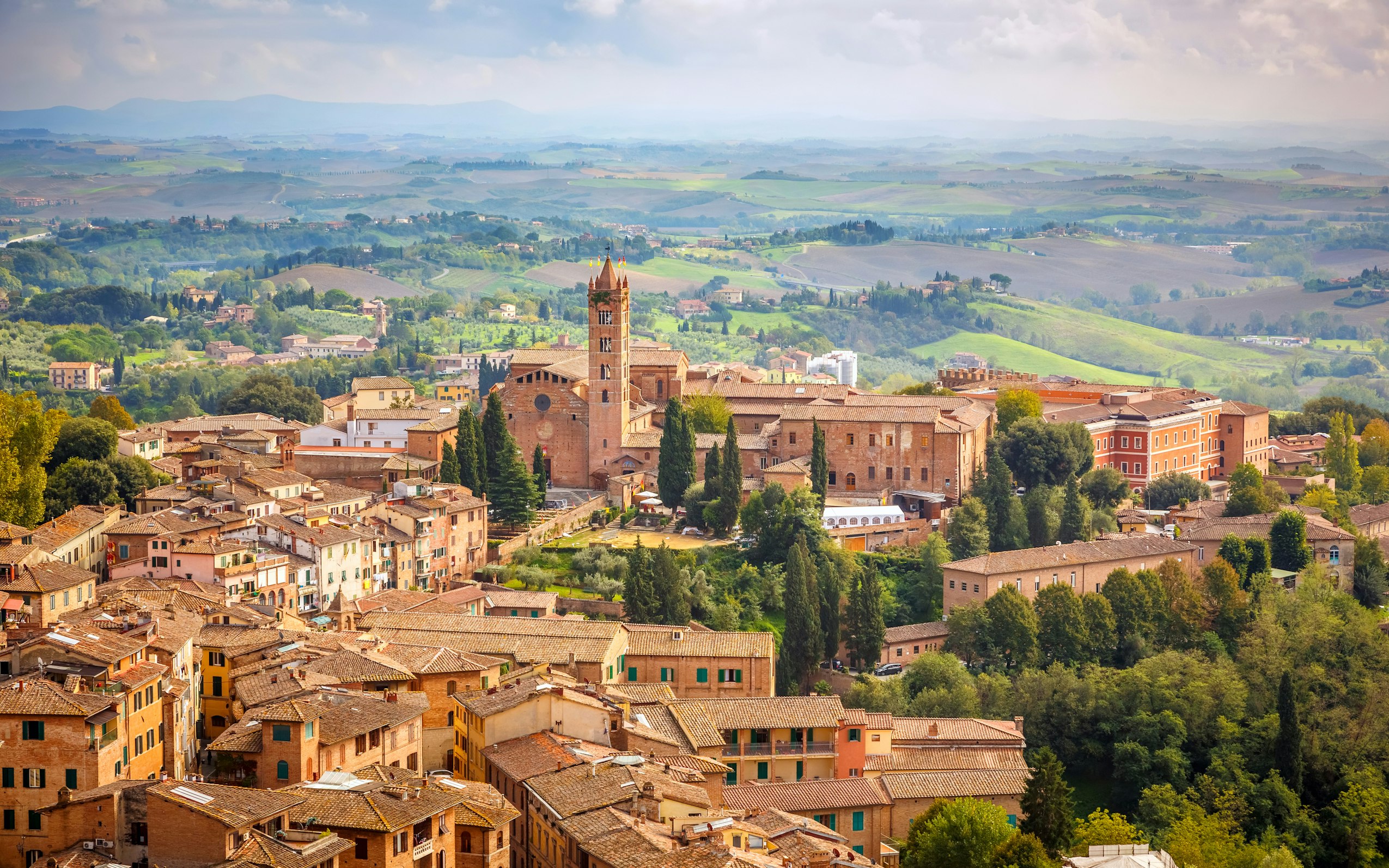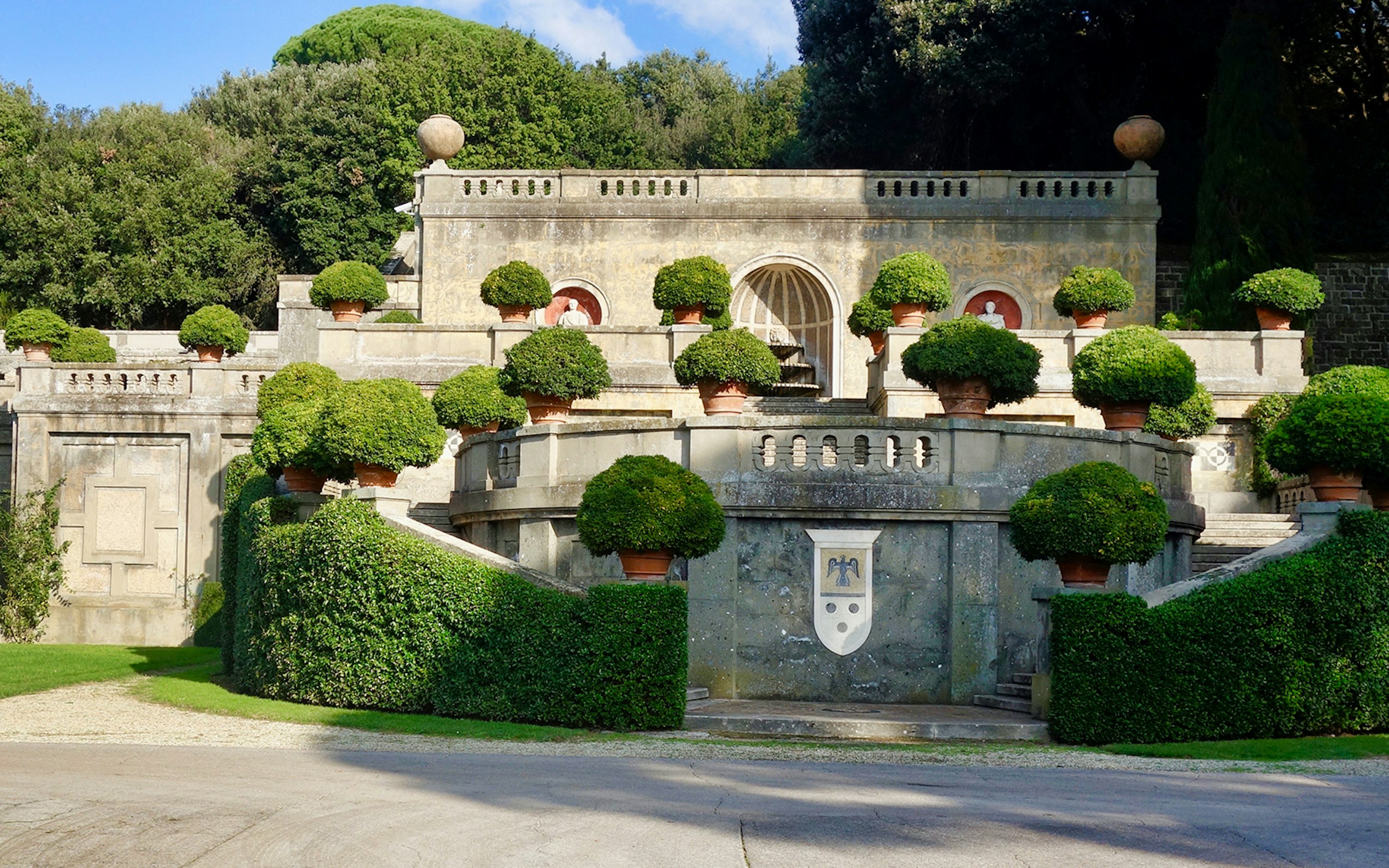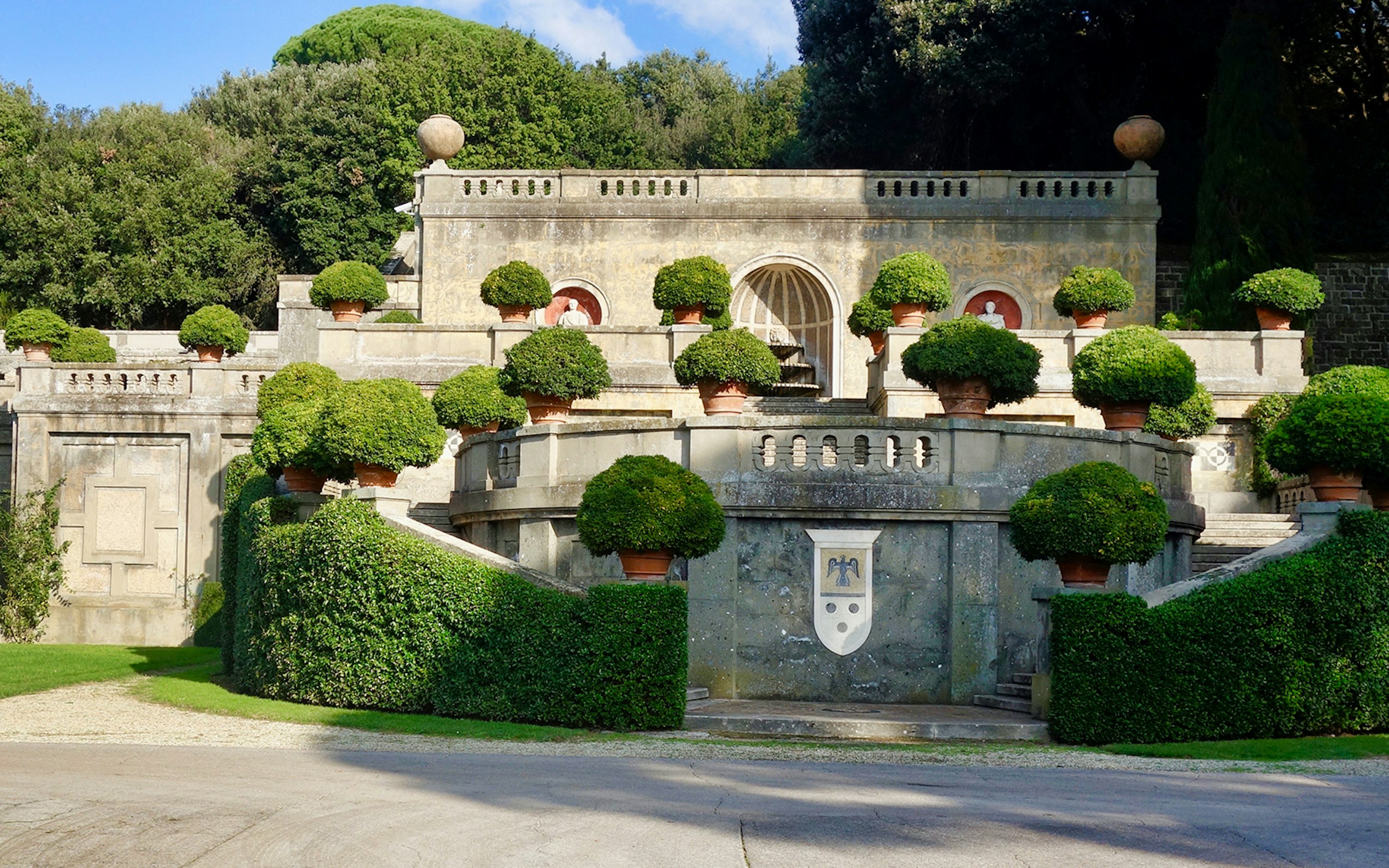 Southern Highlands
133.7km
1

Royal National Park
Day Trips From Sydney
41.9 km
Distance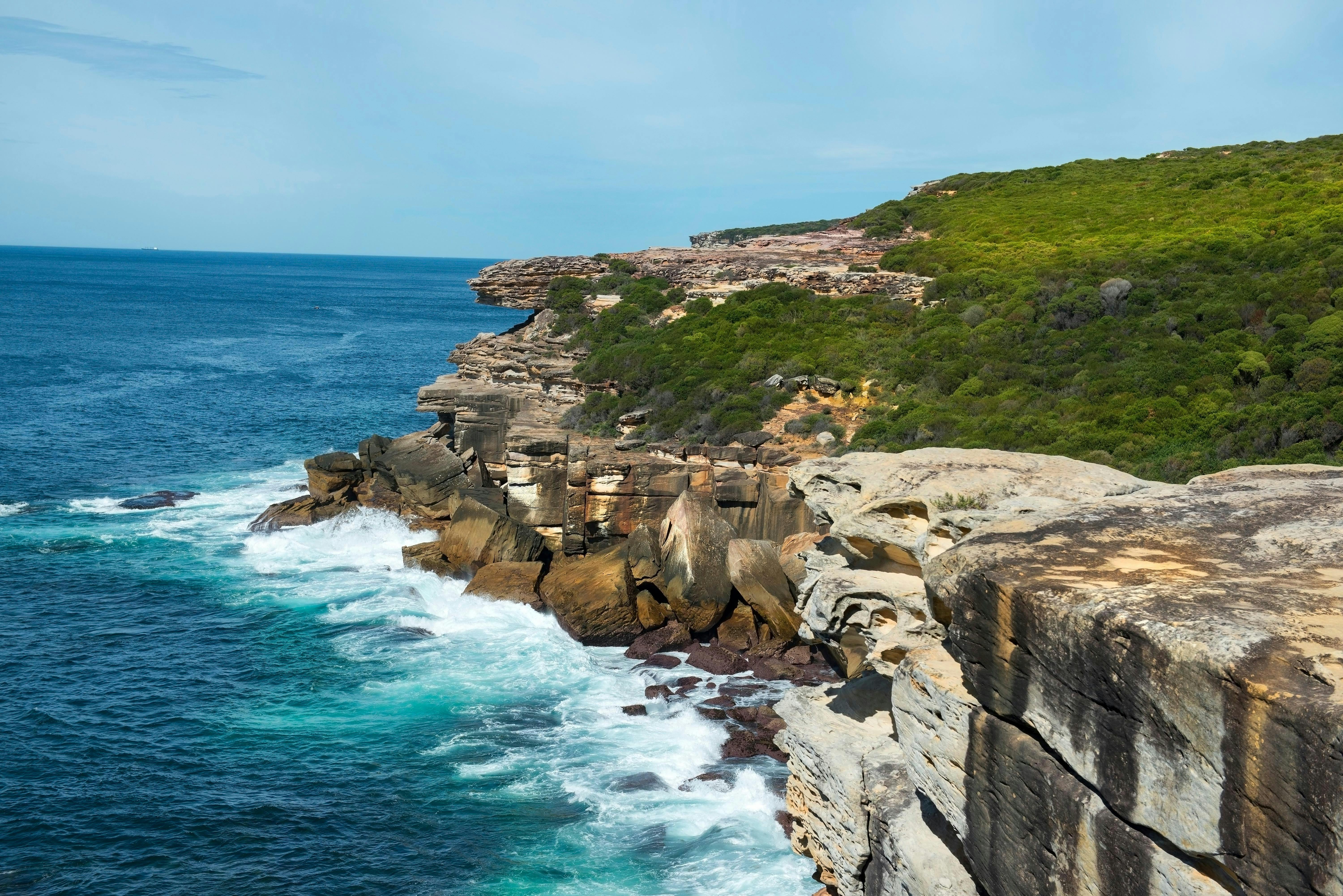 Perched in Sutherland Shire in New South Wales, Royal National Park was established in 1872, being the second oldest national park in the world and the first official national park in Australia. Home to littoral rainforests and vibrant wildlife highlighted with stunning beaches, the nature lover's heaven is also known for its Aboriginal history. Royal National Park covers more than 15,000 hectares fringed by the Hacking River that flows through the entire boundary. Located south of Sydney, the park is brimming with adventurous activities like boating, swimming and snorkelling to make your day trip all the more fascinating. Visitors pour in from across the globe as the park is famous for its rich geography and tranquil setting giving a break from the bustling city life.
Best Time to Visit
December to March
Hikes & Trails
Royal National Park is a haven for hikers and trailers as the area offers multiple trails for people depending on their stamina and capacity. If you are a newbie, going for The Forest Path is the best option as it covers 3 miles passing through Bola Creek and the Hacking River. Karloo Tracks and Figure Eight Pools are also suitable for day trips.
Whale Watching
It is not an everyday affair that a place offers whale watching. Royal National Park has countless spots where you can catch sight of these magnificent creatures. The Coast Track is a good spot to watch Humpbacks if you are lucky to visit during the migratory season.
Surfing and Swimming
If you want to try out your surfing skills, Garie Beach is a popular surf beach however you should watch out for seals that may roam around during surf breaks. Swimming is another fun activity you can enjoy but the currents may be dangerous so make sure to have a backup.
Royal National Park is located just 25 kilometers away from Sydney. The fastest way to reach the Royal National Park is by driving which takes less than an hour.
By Train
You can catch a train from Heathcote, Loftus, Waterfall, or Otford train station. Tickets start from $4.82 and trains run every 30 mins. The journey will take around 1 hour and 10 minutes depending on the train.
By Bus
Buses operated by Park Connections take travelers from Sutherland or Waterfall Station to the Royal National Park. The ticket costs $10 AUD and takes 1 hour 30 mins to reach.
By Car
Driving to the Royal National Park is the cheapest option but renting a car as a tourist might be expensive. The driving distance is 44.7 km and takes 53 minutes to reach the park.
By Ferry
Another famous way to reach the Royal National Park is by a ferry from the village of Cronulla to Bundeena. When you reach the wharf, it is just a 15 minutes walk to the Royal Coast Track.
Marley Beach
Encompassing a freshwater stream that leads to Marley Lagoon, Marley Beach is an excellent spot to relax owing to its secluded location. As the area is not guarded, you might want to avoid swimming.
Curracurrong Falls
From Wattamolla Beach, take a hike to Curracurrong where you can catch a glimpse of the stunning waterfall made by the creek bifurcating and flowing over a cliff. It is truly a beautiful sight.
Figure Eight Rock Pools
These rock pools are one of the major attractions and tourists pour in especially during summers. As the area leading up to it is challenging, avoid it if the tides are high.
Wedding Cake Rock
Located north of Marley Beach, this sandstone rock is one of the iconic highlights of Royal National Park. Enjoy a peaceful coastal walk from Bundeena to Wedding Cake Rock exploring the scenic views in the midst.
Royal National Park:
7:00 am to 8:30 pm
Visit the Best Sydney Attractions
2

The Blue Mountains
Day Trips From Sydney
62.3km
Distance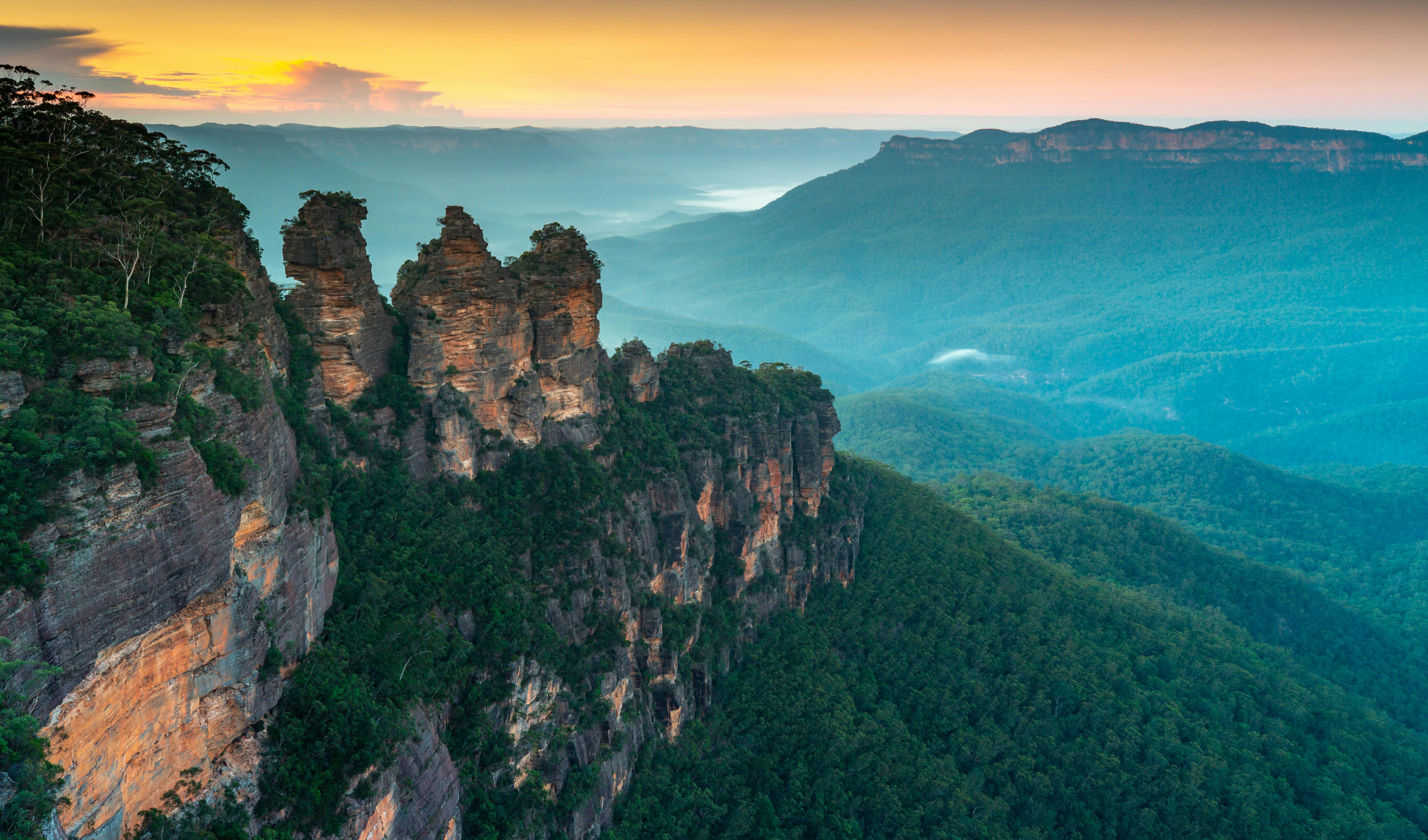 An ancient site that is known to be millions of years old, The Blue Mountains is a formation of eroded sandstone and shales that were once inhabited by the Aboriginal community. These stunning rock formations are packed with adventures amidst the scenic nature of Australia brimming with lush green valleys and mountain tops. To get closer to the daily life of locals, Leura and Katoomba also provide exploration of the country towns. Divided into six beautiful areas, The Blue Mountains is packed with waterfalls, heritage walks, biking trails and swimming spots. Home to the famous Three Sisters and Grand Canyon, it is a perfect destination for a day trip into the wilderness.
Best Time to Visit
March to May
Lookouts
The entire area is packed with lookouts. One of the most remarkable lookouts in New South Wales, the Govetts Leap Lookout extends a stunning image of the blue-hued valley of Govetts. Another famous lookout, Echo Point, encompasses the iconic Three Sisters.
Aboriginal Rock Art
The site of the Blue Mountains is historically rich where ancient tribes left a number of marvels behind. The beautiful carvings of stories reverberate the life of indigenous people.
Breathtaking Cableway
If heights are not one of your fears, have a thrilling adventure beginning from the mountain top and slowly cascading towards the Jamison Valley. The cableway has three sections offering vantage points of the region.
Waterfalls
Another surprise waiting amidst the Blue Mountains is the waterfalls. Whether it is the secluded charming Wentworth Falls or the Katoomba Falls perched near Echo Point, the entire area is a haven for nature buffs.
Located 60 kilometers west of Sydney, getting to the Blue Mountains is very easy making it a comfortable ride for a day trip.
By Train
If you choose to travel by train, all the major destinations of the Blue Mountains have train stations. Trains are operated by the Blue Mountains Line and run every hour. It takes about two hours to reach Katoomba from Sydney Central Station.
By Bus
Buses are operated by Australia Wide Coaches and take around three hours to reach. Blue Mountains Explorer Bus operates in the region taking tourists to major destinations.
By Car
Driving is the fastest and most economical option. It takes about 1 hour 30 mins to reach Katoomba from Sydney. You can either take the Bell Lines Road or the Great Western Highway.
The Three Sisters
The most iconic sights in the Blue Mountains, the Three Sisters are rock formations above a sandstone cliff that are attached to a historic Dreamtime story. The rocks are said to be three sisters who were transformed into a rock by a witch but due to her untimely death, the spell was never reversed.
Jamison Valley
Known for the spectacular landscape it holds, the lush green valleys are brimming with unique attractions inside it. With countless walking trails, diverse wildlife and pleasing waterfalls, Jamison Valley is one of the most popular destinations in the Blue Mountains.
Jenolan Caves
Veiled in the Blue Mountains is an impressive site formed by limestone and calculated to be around 350 million years old. The caves can be visited only by tour so travellers get to learn about the history of this notable sight.
Blue Mountains:
9:00 am to 4:30 pm
Check Out These Day Tour Experiences of Sydney
3

Canberra
Day Trips From Sydney
285.9km
Distance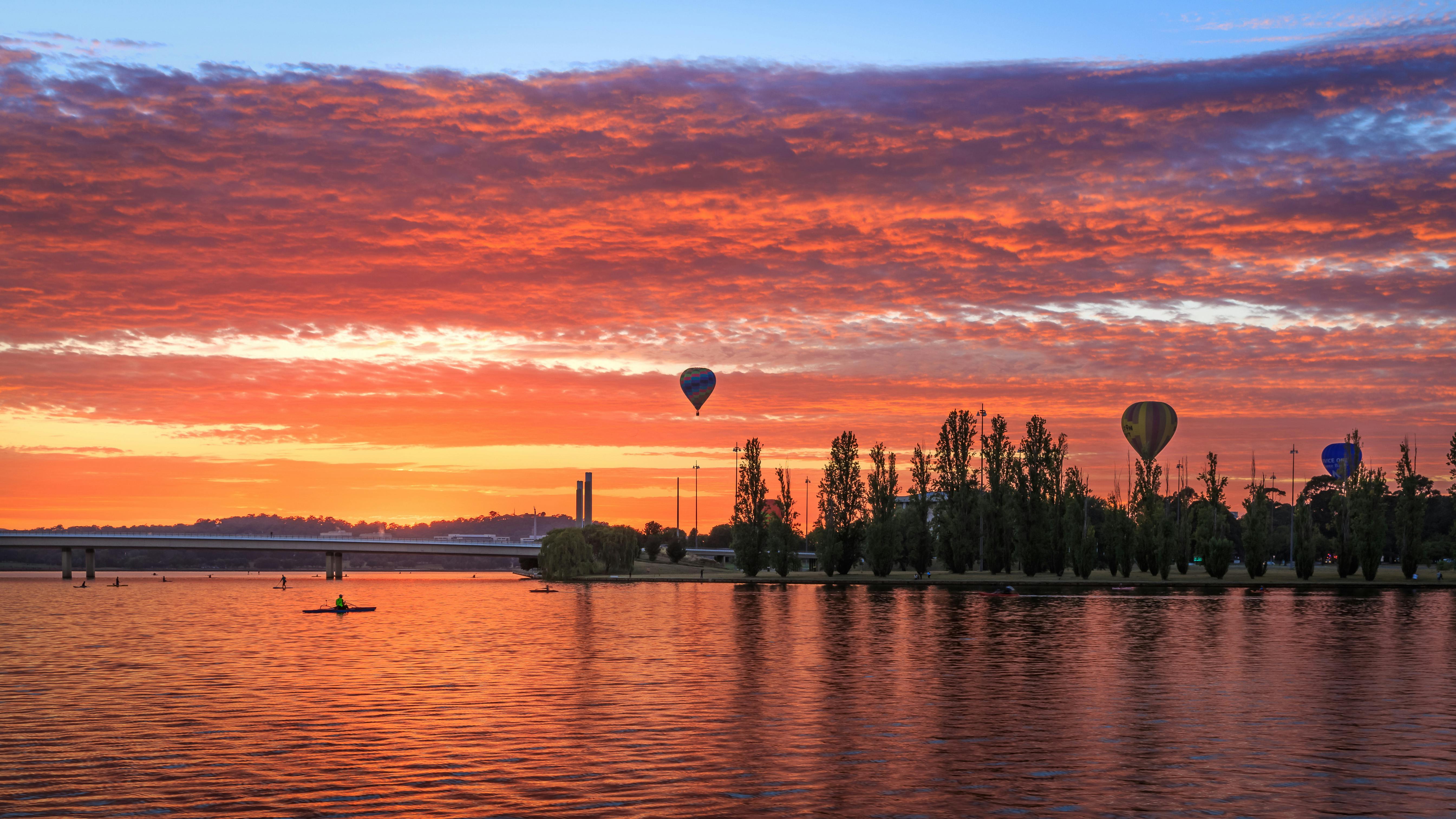 Nestled between the major cities of Sydney and Melbourne, Canberra is a beautifully crafted capital city of Australia that is packed with marvels that pull tourists from across the globe. When it comes to tourism, the city has left behind Sydney, Melbourne, and Brisbane to emerge as a popular destination with its stunning landscapes, exquisite wineries, and remarkable gastronomy. Canberra is a hub of vibrant Australian culture. A trip to the country is definitely incomplete without touring Canberra. Although a day trip may not cover all the important tourist sites as Canberra is located almost 300 km away from Sydney, you can still cover a lot of spots that are worth visiting.
Best Time to Visit
September to November
A Versatile Place
Canberra has something for everyone regardless of their age. There is a well-developed network of roads to the city's major attractions. The city is stored with shopping, food, wines, adventures, galleries, museums— the capital city will not disappoint any traveller.
World-Class Art
One of Australia's distinguished art galleries, the National Gallery of Australia is located in Canberra. The gallery houses both local as well as international talent. Visitors are often left awestruck seeing the innovative compositions and bold ideas.
Wildlife
There are certain species of wildlife that are unique to Australia and can be easily spotted in Canberra. Whether it is Kangaroos, Wallabies, Cockatoos, Koalas, or Magpies, Tidbinbilla Nature Reserves is home to all these rare animals.
Floriade, The Flower Show of Canberra
During the spring season, Canberra hosts the largest flower show in the Southern Hemisphere. The show displays not only flowers but also has music gigs, food and swings to make the event even more fun.
Canberra is located 285 kilometres away from Sydney. The fastest option to reach is by flight if you want to save some more time for your day trip. Buses and trains are also available operating routinely
By Train
Trains operated by NSW Trainlink depart every four hours and take approximately 4 hours to reach Canberra. The trains are direct and depart from Central Station.
By Bus
Sydney to Canberra buses is operated by Murray Coaches. These depart from Central Station and reach Canberra Station in around 3 hours and 30 minutes.
By Car
You can also drive to Canberra for a budget-friendly trip. It will take around 3 hours to reach Canberra.
By Flight
The fastest option to reach Canberra is by flying. You can go for Qantas or Virgin Australia. It takes 3 hours to reach by plane.
New Parliament House
A marvel of modern architecture styled in a boomerang shape, New Parliament House stands proudly in Capital Hill constructed to replace the Old Parliament House. Enjoy a panoramic view of the city from the rooftop and observe the core position of the Parliament.
Australian War Memorial
A perfect place for history lovers that was completed during the Second World War, this memorial commemorates the fatalities of the Australian War while also housing a museum, gallery, and archives.
Questacon
One of the top-rated attractions for science buffs, Questacon is a must-visit place with kids. The National Science and Technology Centre extends an interactive experience with countless displays and DIY experiments making it a fascinating trip for young minds.
National Library of Australia
Housing the legendary Captain Cook's journey, The National Library is a home to Australian books, histories, records, manuscripts and ancient documents. Constructed in an ancient Greek temple style, the building is an architectural wonder as well.
New Parliament House:
9:00 am to 5:00 pm
Australian War Memorial:
10:00 am to 5:00 pm
Questacon:
9:00 am to 5:00 pm
National Library of Australia:
9:00 am to 8:00 pm
Recommended Experiences for Sydney
Find more tickets here!
4

Hunter Valley
Day Trips From Sydney
244.1km
Distance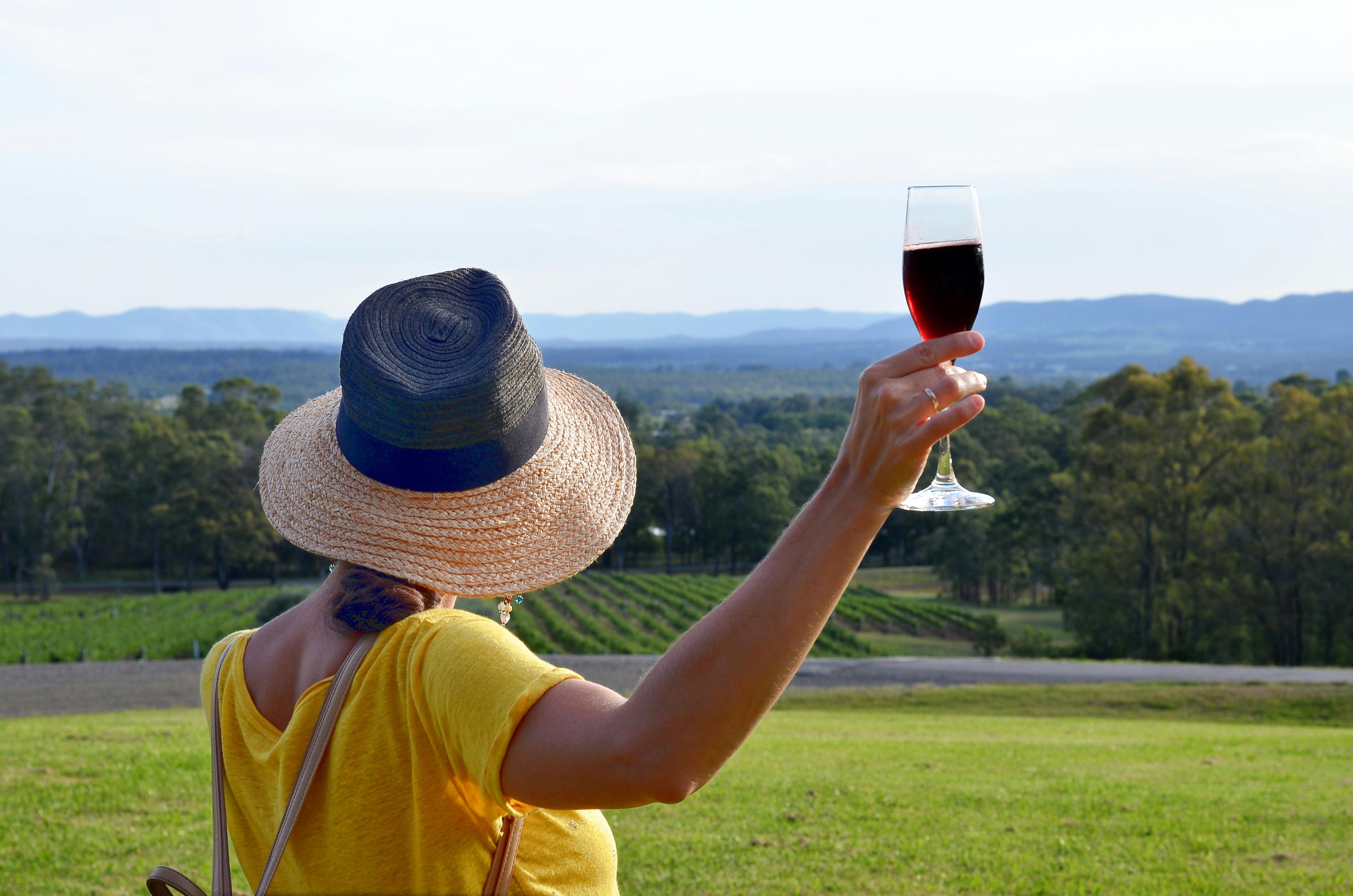 Known as the birthplace of Australian wine and affectionately called the Wine Country, Hunter Valley is renowned across the globe for its high-quality Shiraz and Semillon. The serene atmosphere further enhances the beauty of this place that is also heralded for its gastronomy. As you tour the valley, you will soon find out that it is an equally rich food destination brimming with exquisite options of restaurants serving as a haven for connoisseurs. Take a tour of one of the vineyards to discover the rich process, from grape growing to wine production, that delivers exquisite wines famous worldwide. If you call yourself a history lover, the ancient colonial architecture of this place is waiting to be discovered, aging just like the place's wine.
Best Time to Visit
March to May
Top-class Restaurants
A haven for food lovers, Hunter Valley is famous worldwide for its rich delicacies and global cuisines. Not just that, it also offers some delicious sweets and dessert bars.
Oldest Wine in Australia
Hunter Valley is known for its wine cellar doors and vast vineyards where high-quality wine is produced. Experience the wine-tasting sessions with exquisite quality Shiraz, Chardonnay, and Verdelho.
Hot Air Balloon Rides
Hunter Valley is one of the few places offering Hot Air Balloon Rides. The best time to experience this is during the early morning when the sun rays begin to appear and the entire valley is a patchwork of green and orange hues.
Located 165 km north of Sydney, the globally-renowned valley of wineries and restaurants can be easily reached by car, train, or bus.
By Train
There are no direct trains right to the center of Hunter Valley, you can catch one that will drop you at Morisset Station. The journey will take 2 hours and cost around $8. From Morisset, you can go by bus or taxi to reach Hunter Valley which will take another 45 minutes.
By Bus
Direct buses are not available to Hunter Valley. The journey along with transfers will take around 4 hours 50 minutes. Buses are operated by Hunter Valley Buses departing from Central Station.
By Car
The driving distance between Hunter Valley and Sydney is 161 km. Driving is the fastest option with the entire journey taking less than 2 hours. If you do not have your own car, it is best to rent your own car.
Barrington Tops National Park
Home to one of the largest temperate rainforests in Australia, Barrington is a part of the Gondwana Rainforests. A beautiful hiking and sightseeing location, the National Park gives a relaxing break from the chaotic city life.
Newcastle Bathers Way
Nestled between beaches and ports, Newcastle is the largest town in the Hunters Valley. Stroll through Bathers Way to have a picturesque view of oceans leading to the Newcastle Memorial Walk.
Wollemi National Park
A World Heritage-listed park, Wollemi is a scenic place surrounded by rock formations. Explore this serene region with kayak tours and learn about the indigenous history of this place.
Barrington Tops National Park:
8:30 am to 4:30 pm
Newcastle's Bathers Way:
Open 24 Hours
Wollemi National Park:
Open 24 Hours
Experience the Most Stunning Skydive Experience
5

Southern Highlands
Day Trips From Sydney
133.7km
Distance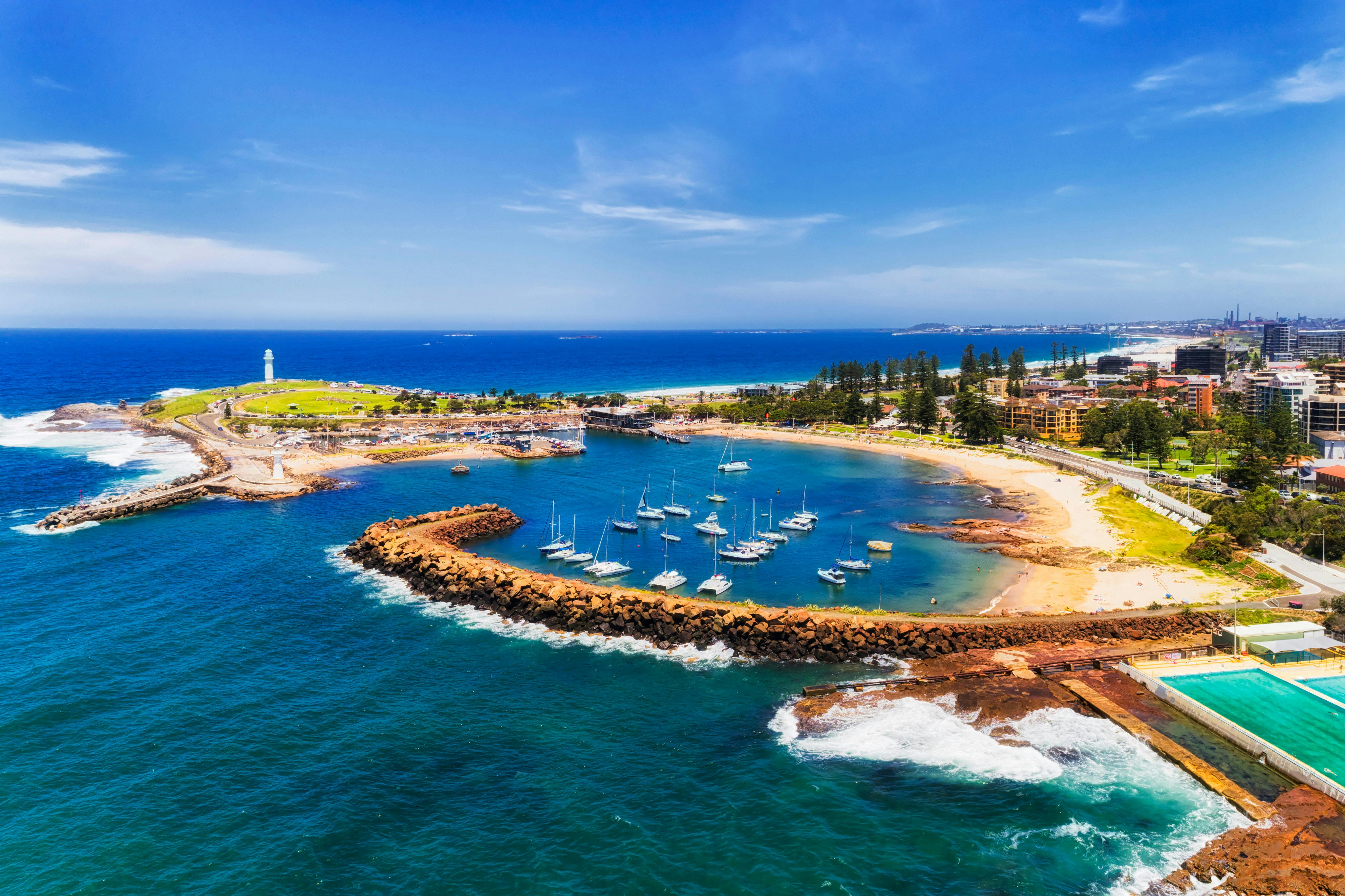 Located 90 minutes away from Sydney, Southern Highlands is packed with heritage monuments, natural locations, and ancient landmarks. Surrounded by vineyards and lush green areas, Southern Highlands has the charm to fascinate both locals and visitors to relish in the serene environment. A beautiful place for a day trip to enjoy in the restaurants, gardens and monuments with a feeling of the community being at the core of this place and one of its important highlights. A few kilometres away from Southern Highlands is the beautiful town of Berrima which is home to ancient architectures like Courthouse and Harpers Mansion.
Best Time to Visit
November to April
Travel Time
1 hour and 30 minutes
Hiking
Another wonderful spot with bushwalking trails, Southern Highlands has a variety of trails to challenge your hiking skills and enjoy some adventurous time on your day trip.
Wine Tasting
Tour the award-winning and globally renowned wineries with wines ranging from organic to vegan, Southern Highlands is your spot to enjoy wine tasting.
Antique Shops
There are a few places that offer antique shopping and Southern Highlands is one of them. From homeware to boutique clothes, save some money to spend on shopping!
Southern Highlands is located 115 kilometres south west of Sydney. The average time taken to reach the destination is 1 hour and 43 minutes depending on the travel options you opt for.
By Train
Direct trains are available operating every three hours that depart from Central Station and drop tourists at Bowral Station. The journey takes 1 hour 43 minutes.
By Car
You can also drive to Southern Highlands. The driving distance between Southern Highlands to Sydney is 113 km. It takes 1 hour 19 minutes to reach.
Mittagong
Brimming with trails and lookouts, Mittagong is the first town you will tour if you drive from Sydney. Hike to the highest peak of Southern Highland, Mount Gibraltar and admire the various lookouts the place has to offer.
The Bradman Museum and International Cricket Hall of Fame
Located in the town of Bowral, Bradman Museum is a haven for cricket buffs. Dedicated to the past and present of cricket, this museum is a wonderful place for kids and people interested to learn about this sport.
The Bradman Museum:
9:00 am to 4:00 pm
Day Trips From Sydney - Compare Your Options
| Sydney Day Trips | Distance | Duration | Category | Good For |
| --- | --- | --- | --- | --- |
| Royal National Park | 41.9 KM | 1 Hour | Nature Lovers & Adventurous Activities | Family, Couples |
| The Blue Mountains | 62.3 KM | 2 Hours | History and Culture | Family, Couples |
| Canberra | 285.9 KM | 3 Hours | Culture and Landscapes | Family, Couples |
| Hunter Valley | 244.1 KM | 2 Hours | Nature Lovers & Winery | Family, Couples |
| Southern Highlands | 133.7 KM | 1.5 Hours | Historic & Scenic Beauty | Family, Couples |
Insider Tips
Plan your day trips in advance to figure out the mode of transport and go for a way that is in line with your budget.
Leave early in the morning as the popular sites are crowded during the peak times.
Check out the tides and weather before heading to trekking, surfing or swimming.
Make sure to carry Australian Dollars as banks may not be available at secluded areas.
As most of the places require walking, make sure to wear comfortable walking shoes.
Make sure to carry your own water bottle and prescribed medicines.
You may want to carry some essential first aid items, especially for your trip that includes biking, trailing, or hiking.
FAQs
Port Stephens, Pokolbin, Kiama, Katoomba in Blue Mountains are some of the palces that can be reached in 2 hours from Sydney.
Canberra to Sydney is a day trip in itself where you will get to experience Australian War Memorial, Parliament House, the National Museum and the Lodge, home to the Prime Minister. If you are looking for day trips from Sydney by train, Canberra is one place where you can go.
The quickest way to reach Sydney is to catch a flight to Sydney Kingsford Smith International Airport. This is the busiest airport in Australia and is well connected to all major cities across the globe.
Tipping is not a general practice in Sydney and is not expected. It is, however, appreciated. Do ask before you offer a tip. When you are taking a taxi, you are expected to round up the fare to the next dollar.
Somersby Falls in Brisbane Water National Park.
Ettalong Beach on the Central Coast.
Box Head Lookout.
Dangar Island on the Hawkesbury River.
West Head Lookout.
Berry.
Berrima and Bowral.
Bilpin.
Kangaroo Valley.
Kiama and Minimurra Rainforest.
68 km to Wollongong, Australia.
117 km to Newcastle, Australia.
250 km to Canberra, Australia.