Located at Mosman, the Taronga Zoo Sydney is a top attraction in Sydney and one of the most famous wildlife parks in the Australian continent. The diversity of species it homes, the wild experiences it offers along with spectacular views of Sydney Harbour Bridge, the Sydney Opera House and the City's skyline makes it a unique adventure.
With around 1.5 million visits every year, the Taronga Zoo is one of the best places to sight in Australia. It has been a home to over 4000 animals of different species for over a century and is spread across 28 hectare (69 acres). Taronga Zoo tickets offers a wide variety of experiences like Tiger Trek, Elephant Trail, Serpentarium ,Explore iconic and unknown Australian fauna and much more. Their vision is to secure an intact future for wildlife and people.
Why Visit Taronga Zoo in Sydney
---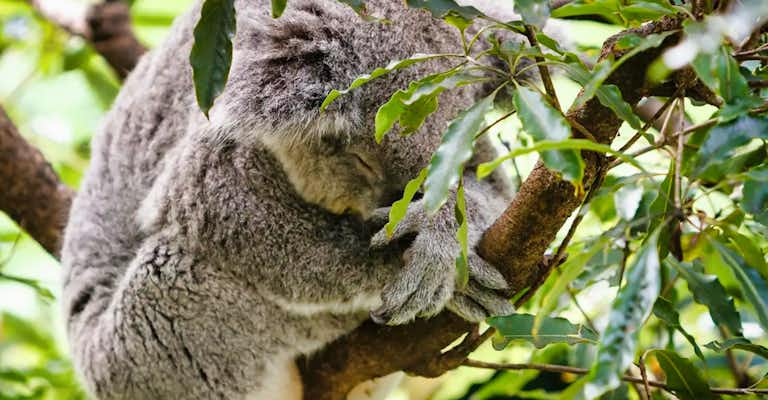 Taronga Zoo aims to consistently enhance the animal habitats while striving to raise their visitor experiences. They enclose a cafe, a zoo shop and information centre. The zoo is divided into 8 zoo-geographic regions. You can also find the nearly threatened species of Platypusesin here. You can meet animals like kangaroos and wallabies which are a part of native Australian wildlife, which are allowed to freely roam around as you pass by. Taronga zoo also witnessed Australia's first elephant birth when an Asian elephant named Thong Dee gave birth to a male calf. It is also home to Sumatran tigers which are critically endangered with fewer than 350 individuals alive all over the globe. One of the Zoo's most loved landscape features is the "Rustic Bridge", a romantic pathway concealed by plants.
Taronga Zoo in a Nutshell
---
Taronga Zoo Opening Hours
The zoo is open from 9 AM to 4:30 PM on all days of the week.
The Zoo is open everyday, even on Christmas eve.
The recommended time to spend at the zoo is 4 hours to as long as you want to experience it and its landscapes completely. Make sure you check the official Taronga Zoo Sydney website before you visit.
Plan Your Visit
Ferry
Take a 15 minute ferry ride from Circular Quay to Taronga Zoo which departs every 30 minutes.
Captain Cook Cruises depart everyday from Darling Harbour and Circular Quay.
Fantasea Cruising Sydney takes a ride twice everyday from either Darling Harbour or Circular Quay.
Bus
Take the M30 metro bus to Taronga zoo from central, Town Hall and Wynyard train stations.
Join the M30 to the Zoo by Northern Suburb Bus routes from either Spit Junction or Mosman Junction.
Passengers arriving or leaving by the ferry can take 238 bus route that travels between Balmoral Beach, Taronga Zoo entrance and Taronga ferry wharf.
Train
Take a train to the Circular Quay to catch a ferry ride to Taronga Zoo.
Parking
Parking is available all day at the entrance all day long at the rate of $18.
The height of car park is a maximum of 2.1m.
Taronga Zoo Sydney Location and Directions
---
Taronga Zoo Sydney: Insider Tips for Avoiding the Crowd
---
Book your tickets in advance to avoid standing in the queue at the gate.
The best time to visit, according to the weather would be in August to early November since the weather is neither too hot nor cold.
If you are visiting the zoo at the peak of summer or winter, make sure to wear weather appropriate clothes (rain jacket, hat, sunglasses,etc.)
To avoid large crowds choose to visit the zoo on weekdays and on non public holidays.
Make sure to check the official Taronga Zoo website for updates a day prior to your visit.
Taronga Zoo Sydney Tickets
---
Taronga Zoo Sydney: Top Experiences
---
If you're planning a visit to immerse yourself in nature and wildlife, here are the top highlights of visiting Taronga Zoo in Sydney.
Seal Show Watch and be amused as the poise seals play around in their dynamic exhibit. Species such as Australian sea lion, Californian sea lion, and New Zealand fur seal perform their natural abilities while you learn about their natural habitat.
Free with the zoo ticket.
When: 11 AM and 12 PM everyday and 1 PM on weekends
Duration: 20 minutes.
Catch your seats early as the show fills up soon.
Chimpanzee Keeper Talk
Observe the features of the Chimpanzees as they have their noon feed as a family. The keeper will tell you the changes a baby chimp goes through as they become an adult, what destroys their habitat and how you can help them in small ways.
Free with the zoo ticket.
When: 12 PM everyday
Duration: 10 minutes.
Take a seat early as they fill soon.
Penguin Talk
You know a penguin's natural habitat, but do you know how they live in a climate as dynamic as Australia's? Learn all about these cute creature's life, how they get treated when they fall sick and what they like to gobble up from the keeper.
Free with the zoo ticket.
When : 2:40 PM everyday
Duration :10 minutes
Book your seats before it gets taken.
Pat A Pet
Pat a petite and friendly animal of the Taronga Zoo for 30 minutes non stop. The keepers will tell you all you need to know about chosing the best pet for you to how to care for them when you bring them home.
Free with the zoo ticket.
When: 10:30 AM everyday
Duration: 30 minutes.
Catch your seats before they fill up.
Sky Safari
Soar over the Taronga Zoo across the Sydney Harbour and the Opera House as you try spotting the animals down below correctly. In case of any event of maintenance, extreme weather or Taronga deems it unsafe to operate, the experience will be closed.
Free with the zoo ticket.
When: operates from 9:30 AM to 4:30 PM everyday.
Accessibility considerations : Cable Car's wheelchairs can accommodate upto 610 meters. For guests with disabilities, a lift is available from ground level upto lower Sky Safari Terminal.
Wild Ropes
Image Courtesy:Taronga Zoo Sydney Official Website
For the thrill of high altitudes, climb Wild Ropes, a course where you climb over the zoo itself and overlook the Sydney skyline. Find Kangaroos, Emus and Koalas below you as they wonder what you are up to.
When: starts at 9: 30 AM everyday.
Open every day except Christmas day.
Sign up for our monthly newsletter
Your dose of travel fix - from hacks and deals to travel tips and everything in between, delivered monthly to your inbox
Please enter a valid email
Unsubscribe anytime
Restaurants near Taronga Zoo Sydney
---
Forage And Graze

Located at the Zoo's entrance, Forage and Graze is a cafe that offers you amazing food and a great view of the wildlife.
Location: Taronga Zoo entrance, Bradleys Head Road, Mosman, Sydney

The View

The View is a restaurant that offers you a backdrop of the Harbour as you enjoy Australian cuisines.
Location : 2a Bradleys Head Road, Taronga Zoo, Mosman, Sydney

Taronga Food Market

The newly opened Taronga Food Market is a big space that serves selected contemporary hot and cold food options.
Location: Taronga Zoo, Athol Wharf Road, Mosman, Sydney
Taronga Zoo Sydney: Accommodation
---
Taronga Zoo offers multiple facilities for staying right there. From tranquil eco-lodges, glamping to plain camping - they have it all!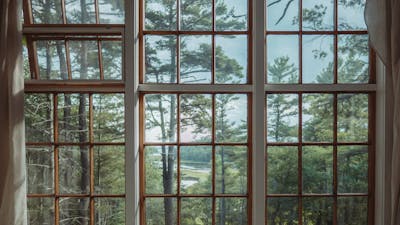 Wildlife Retreat at Taronga
An all-new eco-retreat right in the middle of nature (duh!) is this lush sanctuary where koalas and echindas are aplenty. And oh, platypus too!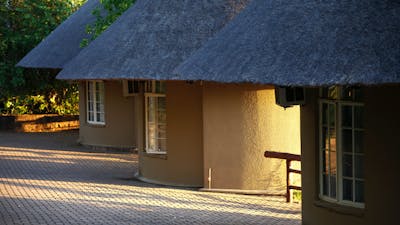 The roar and snore...nope, we're not kidding
Inspired by the safari, this overnight experience features initimate animal encounters and keeper talks. With views of the Sydney Harbour, you're sure to leave this place in awe.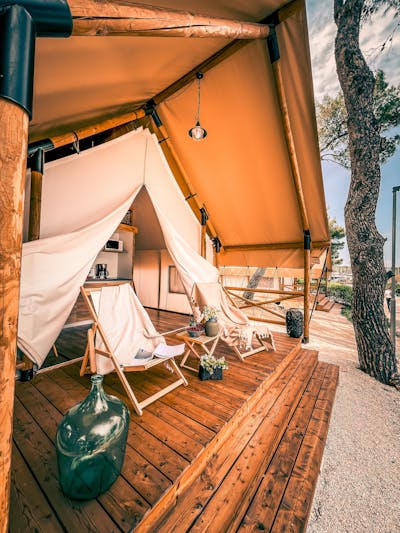 A stay at Dubbo!
An overnight stay at the Taronga Western Plains Zoo Dubbo is nothing short of a once-in-a-lifetime experience. From staying in a lodge, cabin or going glamping - the world is your oyster. Or well, at least the zoo!
Taronga Zoo Sydney Map
---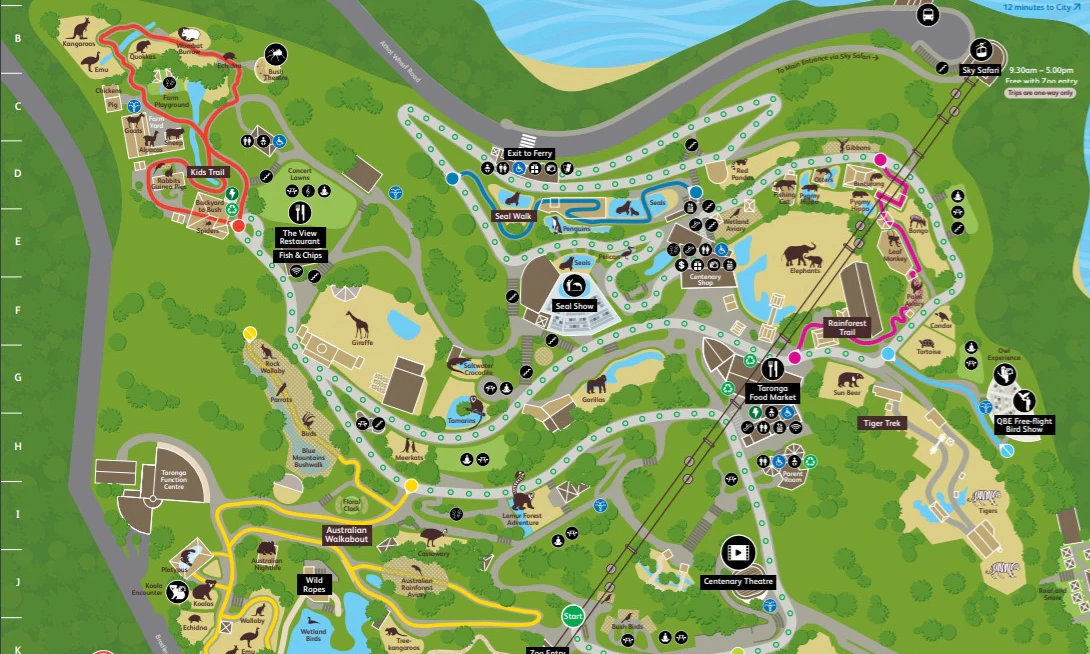 Facilities Available at Taronga Zoo Sydney
---
Taronga Zoo has released a mobile application from which you can receive all kinds of information. You can plan your day before you visit, find your way around the zoo and learn about the animals on it.
Taronga Zoo also includes cafes and eateries, picnic areas, free WIFI, ATMs, parents room, bathrooms, first aid, lockers, stroller hire and free water bubblers all around the zoo.
Taronga Zoo understands their visitors need varying needs. On selected days throughout the year welcomes guests with autism and their family or friends to an early entry at 8 AM.
Insider Tips for visiting Taronga Zoo Sydney
---
Knowing the timings of the experiences you would want to enjoy helps you plan your day better. Take time out and check on what you would like to do before hand.
If you are bringing food yourself, you can find a lot of picnic spots around the zoo where you can ease and have a bite.
The Taronga Zoo app is really helpful in finding your way around the zoo.
Wearing comfortable clothes that's appropriate for the weather like rain jackets, hats, sunglasses,etc.
Exploring the zoo can get tiring. Keep yourself hydrated by carrying water bottles.
Other zoos around Taronga Zoo
---
Wild Life Sydney Zoo
One of the best wildlife homes in Australia, Wild Life Sydney Zoo is located at the heart of Darling Harbour. They are famous for getting close looks of koalas, kangaroos, wombats, platypus and the largest reptile in the world, the saltwater crocodile. The walkway of Wild Life Sydney is around 1 kilometer with 75000 square feet of enclosure. With its 10 zones, Tasmanian devils, different species of snakes, butterflies, spiders and birds, WildLife Sydney Zoo is one of the most diverse zoos in Australia. It is also the only zoo that allows you to get as close as possible to a koala which is not possible in other zoos in Sydney or New South Wales.
Taronga Western Plains Zoo Dubbo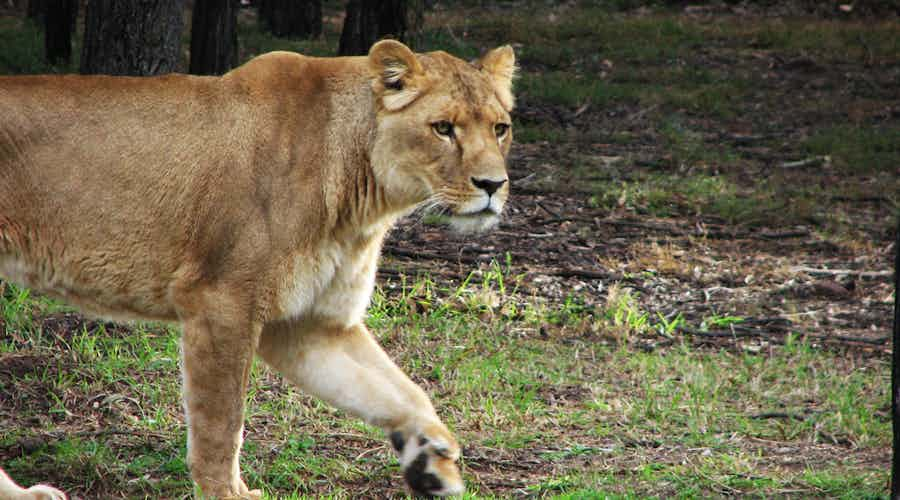 Located at Dubbo, New South Wales, Taronga Western Plains Zoo is a much larger zoo than its sister zoo at Sydney. Formerly an army camp at the World War Two, it was transformed into 300 hectare of zoo of woodlands and irrigated grasslands.Get close up to the lion pride or take a safari across their Savannah to meet the giraffe and eland. With activities such as Wild Herd, a zoofari with kids and bike hires, it sure is an adventurer and animal lover's dream come true. With over 700 animals of 35 different species from six different countries, it is one of the best places to visit in New South Wales.
FAQs
---
Tickets for the Taronga Zoo start at AU$49, and change depending on if you choose to go for a combo ticket.
The sixty nine acre Taronga Zoo Sydney is home to more than 2,600 animals of approximately 250 different species.
Mind = Blown!
The Taronga Zoo is HUGE, and is likely to take close to 4 to 5 hours if you want to see the whole thing. Although, it'd be much easier if you had the Taronga Zoo Map with you. It's the best way to get around!
Taronga Zoo offers multiple facilities for staying right there. From tranquil eco-lodges, glamping to plain camping - they have it all!