A vibrant city composed of iconic attractions and brilliant beaches, Sydney is a destination like no other! Home to unique theatre shows, boutiques, and designer shops, this urban environment stimulates your senses with boundless opportunities in each corner you turn. As civilization may seem to surround every street, there are plenty of secluded areas where you can take a break from the beating heart of the big city and spend an afternoon under the sea. Sydney has grown into Australia's most diverse city with exciting food and a nighttime entertainment scene in all of its beauty. If Sydney is on your bucket list, this Sydney trip planner is all you need to know about what to do, places to visit, and Sydney Itineraries.
Best Time To Visit Sydney
---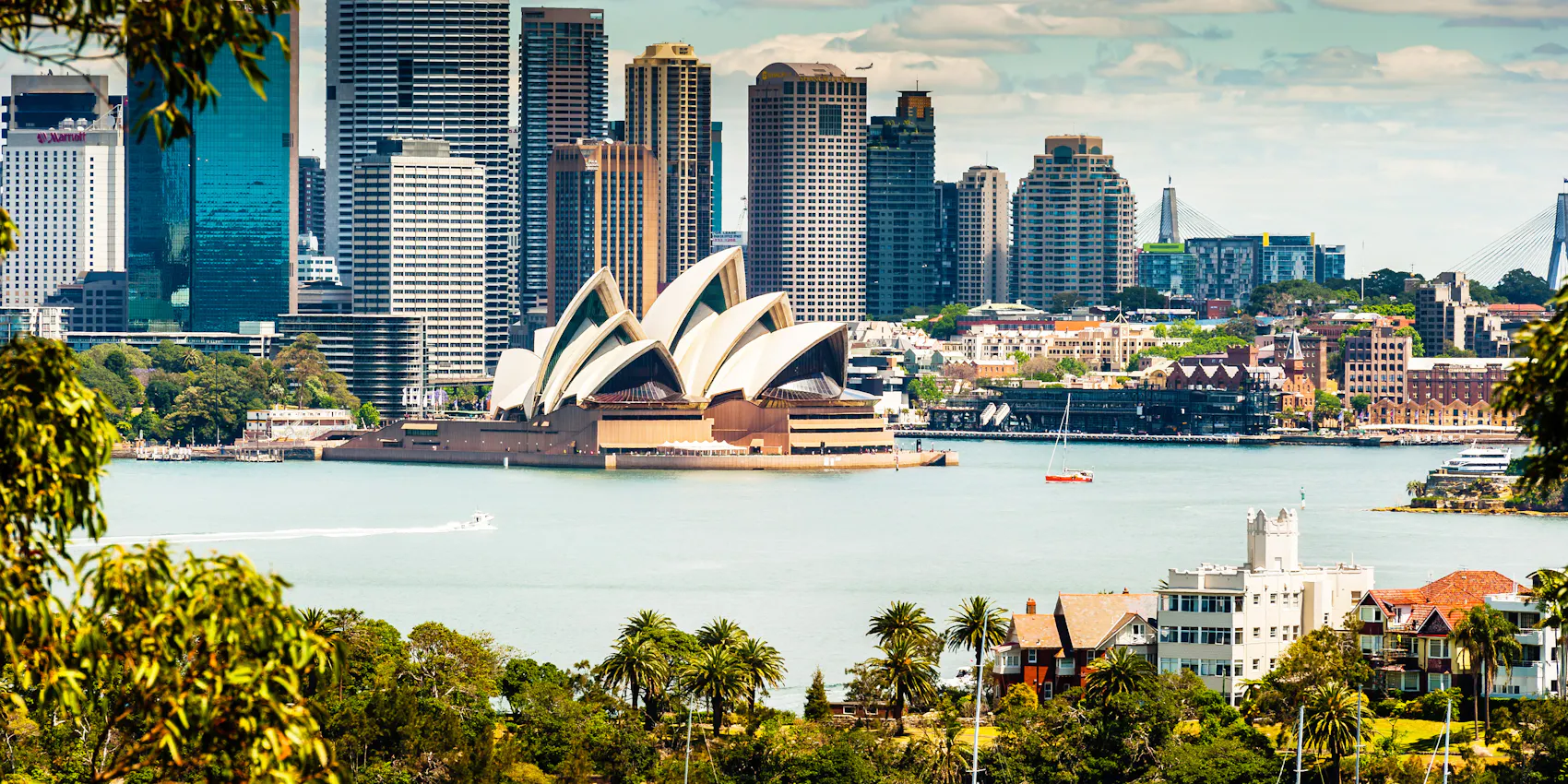 Sydney is like a slice of enchanting European elegance set against an unexpected tapestry of the Australian landscape. One month can be very different from the next when it comes to this "cool" city. So, take into account all of the factors that go into planning a holiday before booking your flights to Sydney like their famous landmarks and aforementioned festivals. The best months to go if it's sunny weather you're after but not a lot of crowds would be between October, November or late February, or March as these months tend to offer crisp autumn weather with lots of sunshine but remain very comfortable for sightseeing along the way to many popular attractions!
Sydney Itineraries
---
Depending on how long you're in Sydney for - whether it's just a day or 2 days, we have the perfect itineraries crafted for you. Go through these Sydney itineraries and plan your stay well in advance!
If this is your first time traveling to Sydney, you could use some help planning your daily itineraries. Apart from the basic planning (flight tickets, visa, accommodation in Sydney, etc.), you'll need to consider your day-to-day activities in Sydney - where to go, what to see, how to get there, and more. But fret not, for we are here to help.
1-Day Sydney Itinerary
Weekend in Sydney
3-Day Sydney Itinerary
Sydney Travel Restrictions
---
Given the current situation across the globe, it is important to read up on the travel restrictions. As of now, Sydney has partial restrictions in place, and it is important to keep that in mind before traveling to this country. Find out about the new rules and reopening of attractions on the blog post below.
Hacks To Buying Cheap Sydney Flight Tickets
Now that you've figured out the perfect time to visit Sydney and braved through the restrictions, it is time to look for flight tickets. Go through our 17 golden hacks for cheap flight tickets before scouring through the flight ticket websites. You'll be surprised how easy it is to save a pretty penny while booking flight tickets!
Do I Need Travel Insurance?
Traveling involves a certain amount of uncertainty always. With the pandemic, this amount has only increased. Opting for travel insurance is not something many people have done (pre-pandemic), but post-pandemic, it is highly recommended that you opt for it. Choosing the right travel insurance plan gives you a safety net to prevent losses if things go downhill.
Travel insurance can be complex- how do you know what to choose? For this very reason, we can crafted a ultimate guide to choose travel insurance post-covid.
Packing For Sydney
---
Sydney is warm, humid, and hot year-round. In the summer months, temperatures can reach up to 30°C with cool mornings or afternoons between 12-17°C. Depending on whether you're planning a trip to Sydney in the summer or winter, pack clothing like jeans and t-shirts for the summer, a jacket, or warm clothing for fall or winter. During the summer months, there will be plenty of fantastic days to get out and experience Sydney sightseeing attractions so don't worry about packing more than a few pairs of jeans and a few t-shirts as well in case you feel like hitting up one of Sydney's beaches - saving your dressy attire for a night on the town!
Where To Stay In Sydney
---
If you are all about the best of everything and value convenience, staying in Central Business District would be the one for you! The neighborhood is a melting pot of upmarket shopping malls, classier hotels, international banks, local shops, boutiques, restaurants, and tourist attractions where everything is within leisurely walking distance. From everywhere here it's easy to catch public transport including trains or buses as well as taxis. If you prefer to explore further afield with maximum comfort and flexibility without rushing around too much - there's no reason not to stay in Central Business District!
Accommodation on a budget
Many people wouldn't think of Sydney as a cheap city, but one can easily find some budget-friendly hotels in this alluring city! Some of the hotels where one can find accommodations are Song Hotel Sydney, Sydney Park Hotel, The Urban Newtown, Vibe Hotel Rushcutters, and Hotel Harry among others.
Nightlife
Sydney's restaurants are eclectic and diverse, with a touch of elegance. Sydney nightlife is truly a staggering display of international cuisine, a warm and cozy atmosphere, and unforgettable music that brings about some real dance floor energy! Grasshopper, The Basement, Cellar Door, Jam Gallery, and The Newtown Hotel are some of the names that will show you a groovy time.
Shopping hub
One of the world's most promising and delightful shopping destinations, Sydney never stops to surprise visitors with its dynamic and lively atmosphere! The city bustles with a blend of luxury and budget, modern and vintage, and fresh and antique craftsmanship. Some centers are mall-perfect for a family outing, while there are some street markets perfect for the wanderlust in you! Westfield, The Rocks Markets, the Strand Arcade, Paddy's Market, Pitt Street Mall, and Glebe Markets are some of the must-visit shopping destinations in Sydney.
A kiss of luxury
For tourists traveling to Australia, a vacation to Sydney comes with many perks ranging from the diverse culinary delights that the city hosts, to the stunning views of its grand outlying regions. In Sydney, one can find award-winning eateries, ranging from affordable cafés to pubs to eat and drink merrily. Saint Peter, Hubert, Paper Bird, Sixpenny, Ho Jiak Haymarket, and Lankan Filling Station are some of the places where you can taste the famous dishes of Sydney!
Getting Around In Sydney
---
One can easily get around Sydney by using public transportation. The public transportation system in Disney includes buses, trains, ferries, and light rail. Moreover, tourists can either opt for an Opal card or use their credit card with tap-and-go functionality. The Opal card can be topped up in case one exhausts all the money covering fares.
Best Day Trips From Sydney
---
While planning your Sydney itinerary, it might be confusing for many as to what places to include and what could be left. While tourists in Sydney are certainly spoiled with so many quaint villages, picturesque scenes, and mountain escapes that are breathtakingly beautiful. Some of the best places to include in your Sydney itinerary are Ku-ring-gai Chase National Park, Royal National Park, Kiama, Blue Mountains, Kangaroo Valley, and Port Stephens among others.
Check out our list of 5 best day trips from Sydney:
Sydney Travel Tips & Hacks
---
Another great thing about public transportation is you can pay the fares with an Opal card. One can even top-up the card at train stations, convenience stores, or online too.
Sydney has so many beautiful areas that are best enjoyed when the sun comes up and isn't too hot yet. Therefore, you can access everything easily if you are an early riser.
Before planning an excursion, it's best to check the weather forecast. Even when the sky is clear in the morning, there may be rain later.
In CBD shops are open till 7 pm at the latest, and everywhere else they close at around 5 pm. They lock their doors around this time so you should hit all the CBD stores on your list before taking a stroll down Elizabeth St or visiting one of the few specialty boutiques in Bondi or Barangaroo.
Unless you're going on a strict schedule, you can choose to visit some scenic views on foot!
Sydney has a lot of 'free entry' museums that make learning about Australia as engaging and enjoyable as possible. With free entry, you also get to make sure your money is only spent on necessities.
Paying for accommodation is one of the biggest expenses when traveling and there are many options available. Amongst them, hostels in Sydney are probably the most affordable and comfortable option.
If you're visiting Sydney, you don't always have to get a guide to know about the heritage and culture of the city.
Taking group tours is a great way to save money and have maximum fun in Sydney.
Don't forget to travel in warm and fuzzy clothes including waterproof coats and sunscreen as the weather in Sydney is prone to change.
Ready To Head Out To Sydney ?
---
Check out the top things to do in Sydney & our comprehensive Sydney Travel Guide packed with itineraries, tours, culture trips, best hotels, restaurants and a lot more.
Here are a few more guides that should help you plan your visit.
FAQs: Sydney Trip Planner
---
Sydney is one of the most attractive cities in Australia.
December to February is a great time to visit Sydney. This is a good time to enjoy the possibility of climbing The Harbour Bridge without the hustle and bustle of crowds or traffic. Autumn makes for pleasant traveling to Sydney, especially because it's cheaper to fly around this time of year.
While chalking out your Sydney itinerary, don't forget to visit Opera House and Royal Botanic Garden, spend a day in Taronga Zoo, catch a Ferry to Manly, take a walk on the Rocks, and Sydney Harbour Bridge and unravel the secrets of the Cockatoo Island.
Some must-visit places to include in your Sydney itineraries are Sydney Opera House, Harbour Bridge, Circular Quay, Tower Eye, Barangaroo Reserve, and George Street.
There are few things more invigorating than beautiful weather and being in an exciting city like Sydney. One should pack a few pairs of jeans or slacks (trousers), and some loose-fitting t-shirts, skirts, or shorts during the warmer months. Shoes, dressy sandals, high heels or flats as well as comfy walking shoes should be packed too.
One can avail of public transportation to get around Sydney without much hassle.
The trams are the cheapest and most popular mode of transportation in Sydney.
While planning your Sydney itineraries, one should include Palm Beach, Royal National Park, Blue Mountains, Southern Highlands, Grand Pacific Drive, Hunter Valley, Jervis Bay, and Wollongong for the best day trips from Sydney.
The Sydney CBD and Darling Harbour are two of the best and most convenient neighborhoods to stay in in Sydney.
Sydney Trip Planner Guide