Sydney clocks in the new year a little sooner than the rest of the world, so it is only understandable that it's as grand as ever. Pulling over a million year on year, Sydney's New Year Eve celebrations are a sight behold. All the worlds cameras are focussed on the harbour as the city's sky bursts into a dramatic outburst of pyrotechnic displays. While the firework displays are undoubtedly the highlight, there's a lot more to do in Sydney on new year's eve. Here are our top picks on how you should welcome the new year!
New Year Eve in Sydney - What's the Hype?
---
The much talked about Sydney New Year Eve is definitely worth all the hype it gets. From camping under the stars to circus-themed bonanzas, the annual Taronga Zoo party and Harbour of Light Parade; this city gives you aplenty to welcome the new year in any style you'd like.
Most festivities start in the morning and end well after midnight, a chance for you to spend the whole day anticipating the new year doing a whole bunch of fun things.
Top Five Ways To Spend New Years Eve in Sydney
---
1. Sydney New Year Harbour Cruise
The absolute best way to welcome the New Year, a Sydney Harbour Cruise is a favourite among locals and tourists alike. All cruises dock at an obstruction-free viewpoint for the first show of NYE fireworks after which they complete the 15 KM circuit of the harbour, making sure you're back at a panoramic angle for the midnight extravaganza. Sydney New Year Harbour Cruise cost anything between AU$300 and AU$1100 per person, most cruises inclusive of a lavish dinner spread, entertainment on-board and free flowing alcohol!
Here are some more Sydney Harbour NYE Cruises to pick from.
Popular New Year Harbour Cruises in Sydney
2. Opera Gala at the Sydney Opera House
To celebrate at the Sydney Opera House, one has to have dinner reservations at either Bennelong or Opera Bar. At Sydney Opera House, watch a special performance of Amadeus, starring Michael Sheen. Get ready for the show by enjoying a delicious two-course dinner with petit fours and drinks. You'll also have time to watch the 9pm fireworks display during interval!
3. The Royal Botanical Garden
Sydney's New Year's Eve celebrations are not to be missed! Experience the best view of the 2022 NYE fireworks by gathering your family and friends together and choosing from seven unique events, each set on the beautiful shores of Sydney Harbour at the Royal Botanic Gardens. Don't miss out on this fabulous night, tickets will sell fast!
Read all about spending New Year's Eve at the Royal Botanical Garden.
4. A Wild NYE at the Taronga Zoo
Sign up for a wild welcome to this New Year, adding to the fun the warbles and squawks of night-time animals at the Taronga Zoo! Known for its strategic foreshore venue with spectacular views of Sydney Harbour, the Taronga Zoo promises pictursque views of the NYE fireworks. Whether you're interested in an overnight experience at the Wildlife Retreat at Taronga or an epicurean delight at a luminescent rooftop ballroom - celebrations at the Taronga Zoo is the best way to bring in the New Tear with your loved ones. Sip on fine wines, sample stunning cuisines and enjoy a front row view to all of Sydney's NYE celebrations.
Read all about spending Sydney New Year's Eve at Taronga Zoo
5. Check into a hotel with a view
Translate the words "room with a view" into reality by checking into one of the many Harbour side hotels for incredible views of the famous fireworks from the comfort of your very own room.
Budget Hotels With a View Of The Sydney NYE Celebrations
North Sydney Harbourview Hotel
Holiday Inn Old Sydney
Rendezvous Hotel Sydney The Rocks
Luxury Hotels With a View Of The Sydney NYE Celebrations
Pullman Quay Grand Harbour
Four Seasons Sydney
Shangri-La Sydney
Top Sydney Harbour Fireworks Free Vantage Points
---
If you're looking for free vantage points of the Sydney New Year fireworks, check out the top 5 listed below. You can also view the full list of free vantage spots.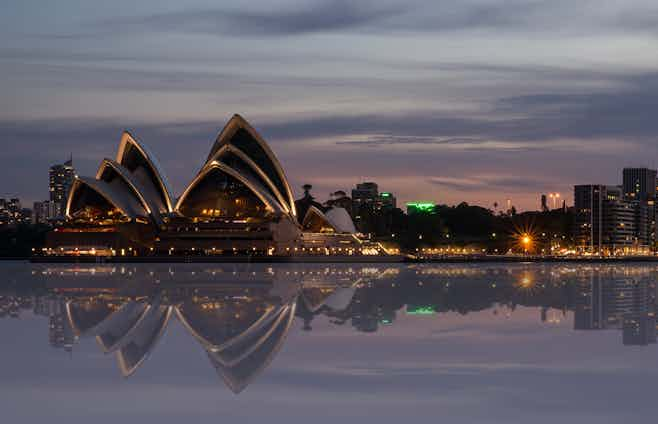 Mrs Macquaries Road
Capacity : 13,500
Opening times - 10:00 AM – 12:30 AM

Enjoy views of the front of the Harbour bridge with the Sydney Opera House in the backdrop.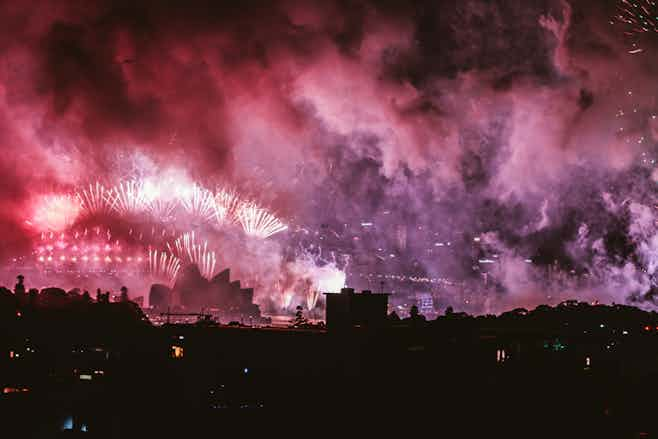 Birchgrove Park
Capacity : 5000
Opening times - 8:00 AM – 12:30 AM

This one's a popular location with good views of the western side of the Sydney Harbour Bridge.
Dawes Point Park
Capacity : 38,000
Opening times - 12:30 PM – 8:30 PM ( expected to reach capacity)

Located under the Sydney Harbour Bridge and Bradfield Highway on the southern side of the harbour, the Dawes Point Park offers a mix of good, yet limited fireworks views.
NYE 2022 Status: Limited seating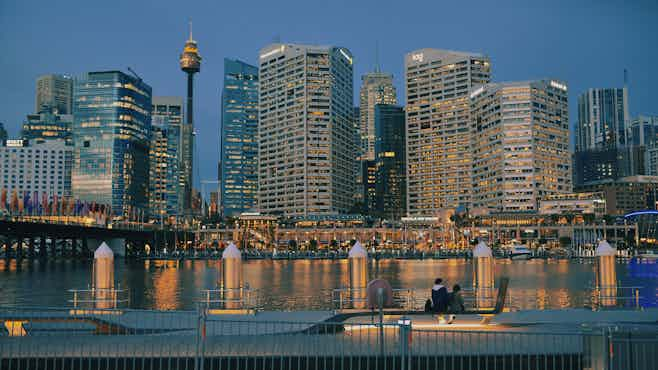 Yarranabbe Park
Capacity : 10,000
Opening times - 12:00 PM – 12:30 AM ( expected to reach capacity)

The Yarranabbe Park is a large open foreshore location with clear views of the city and Sydney Harbour Bridge.
NYE 2022 Status: Open for celebration
Getting Around Sydney On New Year's Eve
---
To avoid the hassle of car services and road closures, use public transport on New Year's Eve. With large crowds expected, plan your trip in advance and be aware of all available travel options.
Trains
In order to accommodate the increased demand on New Year's Eve, additional trains will be running throughout the day and into the wee hours of morning. Trains will bypass Domestic Airport and International Airport stations from 1:30am to 4:30am. Sydney Airport will be shut down during these hours.
Metro
Sydney's Metro services offer convenient and speedy transport options for visitors to the city. With over 40 stations across the network, Sydney's Metro provides quick and easy access to all of Sydney's major attractions. The Metro services will run every 10 minutes on New Year's Eve from 4 am to around 4 pm, then every 5 minutes until 3 am. On New Year's Day, services will resume running every 10 minutes.
Buses
Sydney's buses are your go-to transport option when you're visiting the city! Thousands of additional bus services will operate throughout the day and night. Services to and from the city center will use different routes and stops between 5pm and 7pm while road closures are in place. Buses in local council areas will also be affected by road closures, so please plan ahead.
Ferries
If you're looking to catch a ferry on New Year's Eve, arrive early in the day as queues will be long. You may not be able to board a ferry if they are at capacity, so consider an alternative plan such as taking the bus. Some ferry wharves including Circular Quay, Milsons Point and McMahons Point will have restricted access on New Year's Eve due to surrounding areas reaching capacity during the day.
Light rail
Sydney Light Rail will have extended hours on New Year's Eve, so you can enjoy yourself until the early morning. Trains will run from 8pm until 4am. If you're going to be in the CBD, South East, or Inner West suburbs, make sure to take advantage of this! L1 services between Convention and Central won't be running from 8pm-1:30am due to crowd size and road closures, but if you continue walking towards Central you'll find trains that can take you home.
Tips for Celebrating New Years Eve In Sydney
---
If you're planning to fly into Sydney for New Years, tickets on Tuesdays and Wednesdays are known to be the least expensive
Avoid renting a car around New Years as the city is bustling with traffic. An uber is a more hassle-free option. Note, surchages after the fireworks can be quite high due to increased demand.
On 31st December, the Harbour Bridge will be closed in both directions from 11:00 PM until 1.30 AM. If your travel plans involve using the Bridge, plan your schedule around these timings.
Ferries will stop running on New Year's Eve from 8:00 PM to 12:45 AM.
Its best advised to download the TransportNSW app for the lastest public transport updates on 31st December.
Check the weather forecast before heading out on New Years Eve as most of the viewing areas are open spaces with no shade.
The city rolls out thousands of extra buses and trains from 30th December, so long as you've got your Opal Card handy, you can get just about anywhere you want easily. Expect delays on all modes of transport however.
There are a few spots that permit BYOB (Bring Your Own Booze). If you're looking to spend New Year's on a budget, hit up these spots by bringing your own alcohol and food to the party. Note, there has been a significant increase in alcohol-free areas over the last few years so make sure you check the maps on the city of Sydney website for the rules before you head to your favourite spot.
For more ticketed Sydney New Year eve celebrations, check out the official website.
Frequently Asked Questions About New Years Eve In Sydney
---
Are the Sydney New Year Fireworks free?
Can I walk across the Sydney Harbour Bridge on New Years Eve?
Are there two firework displays on NYE in Sydney?
How long does the Sydney New Year's Eve Fireworks last for?
Do the free fireworks viewing points get congested?
Is the North Sydney Olympic Pool's annual New Year's Eve fireworks event cancelled?
Ready To Explore Sydney?
Check out our comprehensive Sydney Travel Guide packed with itineraries, tours, culture trips, best hotels, restaurants and a lot more.