Sydney is a beautiful city in every sense of the word. Tranquil blue waters, a breathtaking skyline, and most importantly welcoming locals. A trip to Sydney can be something truly special given you know where you're headed and what you're doing. While there are many experiences in the city that you should try, one we wouldn't recommend skipping out on is the Sydney Harbour cruise. A majestic boat will take you on a leisurely trip over the magical waters of Sydney Harbour as you marvel at the beautiful sights the city has to offer. A cruise works double duty by not only giving you a tour of the harbour but also acquaints you with the city's famous landmarks in general. Read on to know everything there is to going on a Sydney Harbour cruise and how to pick the best one.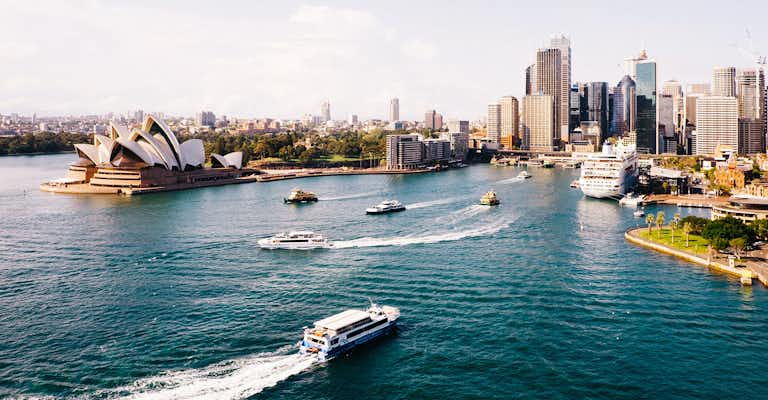 Choosing The Right Sydney Harbour Cruise
---
Given the popularity of Sydney Harbour cruises, you can bet that there will be tons of options to choose from. Now, the cruise you end up picking depends on your personal expectations from the experience among other factors. Here's a list of checkpoints you should be mindful of while picking your Sydney Harbour cruise.
Experiences on Offer - One of the primary differences in the many cruises available are the add-on services you can choose from. There are cruises that offer a meal, either lunch or dinner, while others just offer a glass of wine. There are proper cocktail tours available as well and the price for each varies on the nature of add-on services. There are also guided cruises available to make the whole experience more enlightening for guests. Make your pick according to what you wish to experience during the cruise. If a simple tour of the Sydney Harbour is what you seek, there are plain old cruises available as well.
Budget - The second, and honestly most important, factor while deciding between different Sydney Harbour cruises is your budget. If you're a tourist in the city, there are other expenses you need to be mindful of which makes splurging on a single cruise a little difficult. Still, if you do want to opt for a more opulent cruise, the best way to go about it would be by combining your city tour with the cruise. There are cruises available that take you to all the important Sydney landmarks and that effectively works as a city tour too!
Time of Day - Next up in the list of things to consider when opting for your Sydney Harbour cruise is the time of day you wish to have your cruise on. There are cruises planned for the entire day and depending on who you're travelling with, you can pick a suitable time. For families, a cruise during the day makes more sense while for a couple on vacation, a romantic night cruise would be more enjoyable. While there's no hard and fast rule about which time of the day is more suitable for which group of visitors, a general idea of what you want to experience during the trip will help you make the correct decision.
Sightseeing & Route - The final factor you need to consider while selecting your Sydney Harbour cruise is the route the cruise is taking. If you have been around the city already, there's really no point in opting for a full two-hour cruise since you'll end up visiting the sites again. If you haven't had the time to explore the city though, a complete city cruise is definitely a great way to do just that.
Sightseeing Cruises
Love exploring a city from the waters? Discover the refreshing vivacity of Sydney Harbour. Learn all about the harbour and the many people, places, and events that come together to make the harbour the exciting and lively place it is, from your guided commentary onboard.
Lunch & High Tea Cruises
Have a luxurious dining experience on one of the finest cruise ships and relish the three-course contemporary Australian lunch. Enjoy your meal while admiring unparalleled views of Sydney and the Harbour. If you'd prefer high tea and sunset views, you can choose that too!
Dinner Cruises
Enjoy a premium dining experience on the high seas on some of the finest water vessels and enjoy the best a la carte dining, a comprehensive wine list, live music and dancing, all set to the gorgeous backdrop of nighttime in Sydney. These dinner cruises are simply magical!
Jet Boat Tour
Twist, turn, slide, and bounce around on these adrenaline pumping jet boat tours in Sydney. As you zoom across the harbour at 75 km/h, soak in the city's top attractions around, including the Opera House, Harbour Bridge, and more.
What To Expect on a Sydney Harbour Cruise
---
A cruise along the mesmerizing waters of Sydney is something straight out of a fairy tale. The gentle wind blowing past as one iconic sight after the other hits your line of sight. A typical Sydney Harbour cruise experience begins from the harbour and takes you to iconic Sydney landmarks such as the Sydney Opera House, Royal Botanic Gardens, Garden Island Naval Base, Government House, Sydney Harbour Bridge, Taronga Zoo, Fort Denison and others. You'll also sail past palatial waterfront homes, lighthouses, naval vessels, islands and forts, submarines and even the generally shy dolphins, seals, fairy penguins and, if you're lucky, whales! While each cruise operates on a specific route, the driver is free to change things up depending on what's happening in the harbour. Also based on the cruise you select, you can enjoy anything from a glass of wine or a cocktail to proper three and six-course meals. There are cruises that offer unlimited tea, filter coffee and biscuits to make the entire experience even more memorable.
Sydney Harbour Cruise Reviews
---
" Very comfortable boat trip with beautiful beach and ocean views and a knowledgeable tour guide telling a lot of interesting stories. "
- Catherine, April 2019 Tripadvisor
" I live in Sydney but took a day off to enjoy touristing with a friend from home- the boat tour sounded like a great idea and I'm so glad I did! We both had a fabulous time- the crew had great stories and information for us and we got to discover some stunning beaches that If never have known about otherwise. 5 stars 🙂 "
- Laura B, March 2019 Tripadvisor
Tips to Enjoy a Sydney Harbour Cruise
---
Even if your cruise doesn't include a complimentary drink or beverage, most vessels come equipped with a licensed bar where you can purchase any drink of your choice.
Most of the cruise options feature a pretty flexible cancellation policy where you are eligible for a full refund if you cancel your booking upto 24 hours before setting sail.
Since most of the cruises run on a tight schedule and have to take the harbour water traffic into consideration, please reach the venue at least 10 minutes before the scheduled departure time.
For children in the age group of 4 to 15, the cruise tickets are available at discounted rates. Please select the appropriate option when booking your tickets.
On that note, book your tickets online for a multitude of benefits. The first, you get great discounts and cashback offers on your tickets and second, booking your tickets online helps you plan your entire trip better.
Most of the Sydney Harbour cruises can be accessed via a wheelchair. Reach out to the cruise staff for further assistance while getting on board.
If you don't know much about Sydney in general, opt for a guided cruise which comes with insightful commentary on the harbour area and Sydney in general. This is a great way to learn more about the city while exploring it.
Book your Sydney Harbour cruise tickets from Headout for a host of benefits. From the lowest price possible to 24/7 chat support, there are tons of advantages of booking your tickets from Headout.