Olivier Award Winners
Enjoy a curated selection of Olivier Award Winning shows that guarantee the best experiences. Choose between a wide range of shows with something in it for everyone!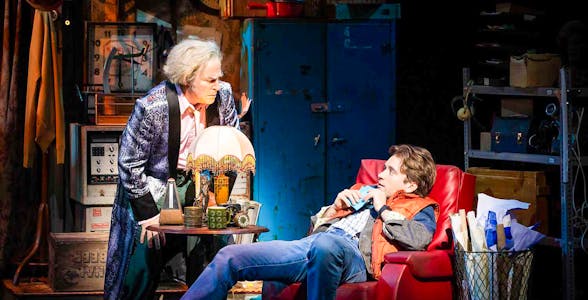 Book Tickets to Olivier Award Winning Shows

Named after British performer Laurence Olivier, the Olivier Awards are presented by the Society of London Theatre every year to celebrate the excellence of theatre in London. They were initially called the Society of West End Awards but were renamed after Laurence Olivier in 1984. The Olivier Award winners are synonymous with talent and are globally recognized as the highest honour a performer can receive in British theatre. Don't miss your chance to catch West End shows that are Olivier Award winners. Book your tickets now.
What is an Olivier Award show?

The Olivier Awards, which are often compared to the Moliere Awards in France and the Tony Awards on Broadway, include different categories of shows like plays, dance, opera, musicals, and affiliate theatre. The Olivier Award winners are professional performers who work at some of the most well-known and leading commercial theatres in London and the West End. The show also grants a non-competitive and discretionary Special Olivier Award to a performer each year.
Which Olivier Award shows are playing this year?

There are several outstanding and impressive Olivier Award-winning shows playing this year They are a diverse blend of the best that London has to offer with regard to theatre. Ballets, dance performances, musicals, children's shows, and more are depicted in a beautiful way for the audience. So, book your tickets in advance to make sure you don't miss out on all the fun and action.
How to choose the right seats for Olivier Award shows?

Watching an Olivier Award-winning show is an opportunity and experience of a lifetime. In order to make the most of it, you need to make sure that you book the right seats in the house. Try getting a seat in the middle rows because they offer the best views and sound quality since they are neither too far from the stage nor too close.
Which Olivier Award winner shows are currently playing at West End?

The shows that have been Olivier Award winners are a treat to watch. When a show is awarded this honour, the audience knows that they must watch it because it'll be a spectacular one. There are several Olivier Award winners that are currently being staged at the West End. So, go ahead and book your Olivier Award-winning show tickets now!
How to book Olivier Award winning show tickets in London?
Can we take photographs of Olivier Award winning shows in London?

Photography and filming are not allowed during any of the Olivier Award winning show in London.
Explore More London Theatre Shows