Romantic West End Shows
Enjoy the latest plays and musicals from the romantic vault of London theatres. Avail of last-minute bookings, tempting discounts, and preferred seating.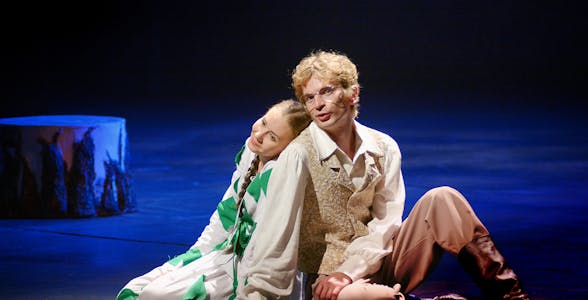 Book Romantic West End Shows Tickets

Ditch the old romantic date ideas of going to a movie or dinner and try something new instead. Book Romantic West End show tickets to impress your partner and spend a great evening in London at the same time. From musicals to comedies, the London Theatre District stages award-winning shows and performances on a regular basis. Watching your favorite love story come to life on stage is an experience that will remain in your memory forever.
What is a romantic West End show?

A romantic West End show usually includes musicals and comedies. Watch your most loved fairy tales come to life on stage in the form of musicals and comedies. Whether it's staging timeless romantic tales, renditions of classics, or movie adaptations, the theatre shows in London will definitely make you feel as if love is in the air and guarantee a lovely time with your special one. So, why wait? Book your romantic West End show tickets now!
Which romantic West End shows are playing this year?

There are several spectacular romantic West End shows playing this year. They are a blend of the best musicals and comedies that London theatre has to offer. Timeless love stories, adaptations of the most beautiful romantic movies or rom-coms, renditions of romantic classics, and more are staged in the most breathtaking manner for all you lovers out there. So, book your romantic West End show tickets in advance to make sure you don't miss out on all the love!
How to choose the right seats for romantic West End shows?

The romantic West End Shows are an integral part of the theatre and art scene in London making them a must-watch on your trip to the city. When you book your romantic West End show tickets, ensure that you book the right seats in the house. Booking seats in the middle rows are recommended because they offer the best views. The sound quality is also perfect since they are pretty close to the stage.
What romantic West End shows are currently playing at West End?

Romantic theatre shows in London are one of the best date ideas if you're looking for any. In case you're not fond of theatre, there are several musicals and comedies and other West End shows that will make sure you and your loved one have a good time on your date. The West End musicals and comedies bring to life the ultimate romantic classics and movie adaptations as well as different interpretations of popular rom-coms. So, go ahead and book your romantic West End show tickets now!
How to book romantic West End tickets in London?
Can we take photographs of romantic West End shows in London?

Photography and filming are not allowed during any of the romantic West End show in London. 
Explore More London Theatre Shows