True Story Shows
Fact is stranger than fiction! Enjoy the latest plays and musicals by booking true story show tickets at London theatres. Avail of last-minute bookings, tempting discounts, and preferred seating.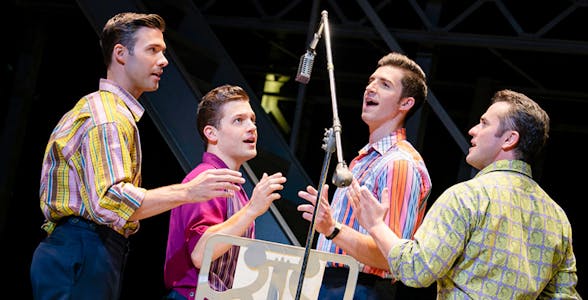 Book True Story Show Tickets in London

Truth is stranger than fiction because fiction is obliged to stick to probabilities; the truth isn't! Purchase true story show tickets for performances currently playing at London theatres, and indulge in the newest plays and musicals with incredible but true tales of people and events. Get your hands on some of the true story show tickets playing in the West End and gift yourself an evening of informative entertainment.
What is a true story show in London?

Shows based on memoirs or real events become quite popular and frequently become huge hits. In London productions based on true stories, you can find every flavour of such stories under the sun. The true-story-based shows in London bring with them a wealth of extraordinary stories about individuals and historical occasions. Get true story shows tickets to watch these performances to enjoy an evening of fun and learning.
Which true story shows in London are playing this year?

Many shows that feature the lives of incredible people and extraordinary events have appeared in London's West End in the past. The best London plays based on true stories portray a wide range of topics, including treason, politics, music, and the mob. Make sure to explore the selection of shows playing this year and choose your preferred show. These performances are a must-see, so go get your true story show tickets now!
How to choose the right seats for true story shows in London?

Get one of the true story show tickets while you are in London to have an amazing, one-of-a-kind experience. You can save both money and time by purchasing your real story show tickets online in advance, and you can be sure you will get into even the most well-received performances. Choosing centre Stalls seats and front and centre seats of one of the elevated sections of the theatre will give you the best views, but these tend to be quite expensive. However, more affordable options are also available.
What true story shows in London are currently playing at West End?

Browse the assortment of West End productions that explore real-world occurrences and people, and bring them to life through dialogue and music. Buy true story shows tickets for any of these shows if you are looking for some quality entertainment. Watch these wonderful shows based on real life by booking your true story shows tickets.
How to book true story show tickets in London?
Can we take photographs of true story shows in London?

Photography and filming are not allowed during any of the true story shows in London. 
Are theatres for true story shows in London wheelchair accessible?

Yes, most London Theatres are wheelchair accessible with some having special lifts and seating spaces allotted for guests with wheelchairs.
Explore More London Theatre Shows