Cabaret Tickets in London
Top Experiences
Sort By: Our Recommendations
Selling out fast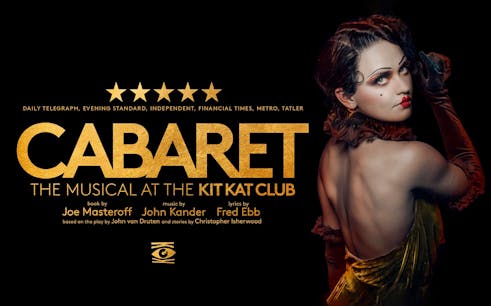 Book London Cabaret Tickets

Looking for some exciting evening entertainment? Buying London cabaret tickets allows you to take in a theatrical performance that combines music, song, dance, recitation, and drama that will both astound and mesmerise you. Get some London cabaret tickets to watch famous performers entertain audiences and give audience members once-in-a-lifetime experiences.
What are cabaret shows in London?

Featuring everything from burlesque to drag, along with comedy, music, and performances that challenge the boundaries, London is one of the ideal cities to experience the world of cabaret. You might see London cabaret performances in theatres or places like pubs, casinos, hotels, restaurants, and nightclubs that have a stage for performances. These shows frequently target adult audiences and have an alluring ambience. Grab your London cabaret tickets now!
Which cabaret shows in London are playing this year?

Discover the sensational cabaret performances that are popping up everywhere in London, from upscale restaurant bars to the city's premier clubs and theatres. In London cabaret shows, excellent dancing, superb acting, magnificent vocals, beautiful costumes, intricate sets, pzazz, and grace come together to create a celebration that enraptures the audience. London cabaret tickets may be just what you are looking for if you want to experience something unique and unusual. Book London cabaret tickets whilst they are still available.
How to choose the right seats when buying London cabaret tickets?

London cabaret tickets open up a whole new world of entertainment. Therefore, it makes sense why the West End cabaret has become an essential part of London's nightlife. Getting the ideal seats gives you the opportunity to appreciate the show and helps enrich the experience. Booking your London cabaret tickets in advance ensures that you get your preferred seats. Cabarets are very visually intricate hence the center Stalls seats and the front centre seats of the elevated sections are ideal. But if you want to spend less, you can also opt for rear seats, which, too, provide good holistic viewing angles.
What cabaret shows are currently playing at West End?

You are in for a very real treat this year. A variety of spectacular and engaging performance art shows, with just about everything thrown in as a bonus, can be found playing at the West End currently. Get your hands on London cabaret tickets and catch the numerous spectacular cabaret performances being staged this year.
How to book cabaret show tickets in London?
Can we take photographs of cabaret shows in London?

Photography and filming are not allowed during any of the cabaret shows in London.
Explore More London Theatre Shows