The gleaming sand dunes and high-rises that now mark the grandeur of Dubai make its origin as a small fishing village a little hard to believe. For centuries, the warm and shallow waters of the Dubai Creek supported the local pearl and fishing industries. An integral part of this ancient Arab world was the dhow. Dhows are traditional wooden boats that were masterfully designed and built by the local fishing communities and used for navigating the Red Sea and the Indian Ocean. Today, these dhows have evolved from being small sailing boats to fine examples of luxury cruises. To visit the city and not go for a dhow cruise in Dubai is almost blasphemy. In this guide, we will look at how to go about selecting a dhow cruise, compare the various options we have and finally help you find a Dubai dhow cruise that suits you best.
Where can I go for a Dhow Cruise in Dubai?
---
Dhow cruises in Dubai are held primarily in the Dubai Creek or Dubai Marina. Sailing along the Dubai Creek will take you back in time as you pass the ancient Souks and witness pearl diving while a trip down Dubai Marina will leave you wide-eyed as you pass through sites like the famous Palm Jumeirah and Burj Al Arab in the Venetian style canal district. The wooden dhow cruises sailing through the two routes offer distinct experiences.
What do the Dubai Creek and Marina cruises look like?
--- If you are onboard a cruise in Dubai Creek, be ready to get engulfed in the history of the desert city. On either side of the creek, its oldest districts Deira and Bur Dubai stretch out in all their glory. During the hours you spend cruising here, you will witness the timeless hubbub of the gold and spice souks, pass by the heritage village, Rolex Twin Towers, Sheikh Saeed's house, and National Bank of Dubai among other attractions.
Top Dubai Dhow Cruise Recommendations
---
Dubai Creek Dhow Cruises
Dubai Creek Sightseeing Dhow Cruise

Book Now

Dhow Dinner Cruise with Live Entertainment in Dubai Creek and the Open Seas

Book Now

5-Star Rustar Premium Dinner Cruise with Alcohol

Book Now

About
Go on a sightseeing cruise down Dubai Creek that flows through Bur Dubai & Deira. Enjoy sights of iconic traditional and modern buildings in the historic center.

Learn More

Enjoy a delicious continental dinner on a dhow cruise along Dubai Creek while you sail past the beautiful historic districts of Dubai.

Learn More

Enjoy a delicious 5-star dinner on a dhow cruise that takes you through the historic Dubai Creek. Pair your dinner with a drink as you enjoy the various sights of Dubai.

Learn More

Schedule

Scheduled every hour from 10:30 AM to 5:30 PM.

8:30 PM every day.

9:00 PM every day.

Highlights

Transfers to and from your hotel
Dubai Creek cruise
National Bank of Dubai
Al Bastakiya District
Sheikh Saeed's House
Heritage Village
Chamber of Commerce
Spice & Gold Souqs

Welcome refreshments - dates and coffee
International buffet dinner
Mineral water and soft drinks
Dubai Creek Cruise
4 Live entertainment shows
Dubai Creek Sightseeing

Welcome refreshments - coffee and fresh dates.
Lavish International buffet dinner
Alcohol (Optional)
Al Bastakiya District
Sheikh Saeed's House
Other prominent Dubai Creek sightseeing
Dubai Marina Dhow Cruise
Dubai Marina Sightseeing Dhow Cruise

Book Now

Dubai Marina Dhow Dinner Cruise

Book Now

Marina Sunset Cruise with Live Music

Book Now

About
Enjoy a sightseeing cruise along the stunning Dubai Marina. Take in sights of oppulent Dubai as you sail past the iconic Dubai Marina skyscrapers.

Learn More

Enjoy a delicious dinner cruise on the Dubai Marina. The 2-hour dinner includes sightseeing as well as a 3-course international buffet dinner.

Learn More

This award-winning cruise includes a stunning sightseeing experience in Dubai Marina along with a lavish buffet with dishes prepared by the Address Hotel Marina.

Learn More

Schedule

Scheduled every hour from 10:00 AM to 4:00 PM.

7:00 PM & 8:30 PM everyday.

5:00 PM every day.

Highlights

Dubai Marina sightseeing cruise
Mineral water and soft drinks
Traditional singing
Hotel Transfers (Optional)

Welcome refreshments, dates and coffee
Lavish international buffet dinner
Mineral water and soft drinks
Dubai Marina Cruise
Traditional singing
Hotel Transfers (Optional)

90-minute cruise on a 5-star boat
Red carpet entrance
Welcome drink on arrival
5-star buffet catered by The Address Hotel Marina
Access to the fully air-conditioned lower deck and open-air upper deck.
Unlimited soft drinks, water, and tea and coffee.
Looking for discounts on Dhow Cruises in Dubai? Here is how you can save some extra money.
How do I choose between a Dubai Creek and Dubai Marina Cruise?
---
Though a dhow cruise in either the Creek or Dubai Marina would be a wonderfully unique Emirati experience, they have their own differences and visitors to Dubai often find themselves in a dilemma when it comes to choosing a cruise between the 2 locations. Let us take a look at what differentiates these cruises.
Sights Covered
Although cruising the Dubai Creek and visiting the older part of town has its own charm, the sights can be limited. While the Deira side of the creek has a few landmark buildings such as the Sheraton or the Dubai Municipality building, the Bur Dubai side of the creek is dominated by a promenade before opening up to the old Bastakiya Quarter, traditional souks and the Heritage Village further up the creek.
On the other hand, Dubai Marina is a fairly modern construction and the skyscrapers surrounding it have a large variety of architectural elements within them. The Marina is also flanked by a promenade on both banks with people going on walks or sitting down in outdoor cafes & restaurants. Passing under bridges as they carry cars and trams across the Marina is also a unique experience.
Ambience
A cruise down Dubai Marina matches the image you've come to expect of Dubai more than the Dubai Creek does. Though there are prominent buildings on the banks of the creek, these are neither new or old and some visitors may find them underwhelming. Whereas in the Dubai Marina, you will be surrounded by buildings defined by the most modern skyscraper architecture principles. The environment in Dubai Marina is also relaxed and one of leisure while the Dubai Creek has a routine feel, with a heavy commercial traffic.
With regards to the boats, the wooden structure of the dhows can now be found equipped with facilities like 360-degree glass walls, dining spaces, entertainment and recreation units. These ships that were once used as the primary mode of transportation and trade, have now become an anchor between the past and present.
Quality
Being fairly modern; the quality of the overall cruise - vessel standard, sightseeing, dinner and entertainment - in Dubai Marina is observably better than a cruise in Dubai Creek. Though the creek has many high quality dhow operators, the sheer large number of operators in the region ensures that a fair number of cruises are "okay" in standard. On the other hand, the competition for operators in Dubai Marina is strict, ensuring a higher quality in the process.
What is the Best Time to go for a Dhow Cruise in Dubai?
---
Dhow cruises sail throughout the day, and offer either sightseeing or luxury dining opportunities. Depending upon what you would like to experience, you can opt for day-time cruises which are geared for sightseeing or go for cruises later in the evening that are popular for dinner and onboard entertainment.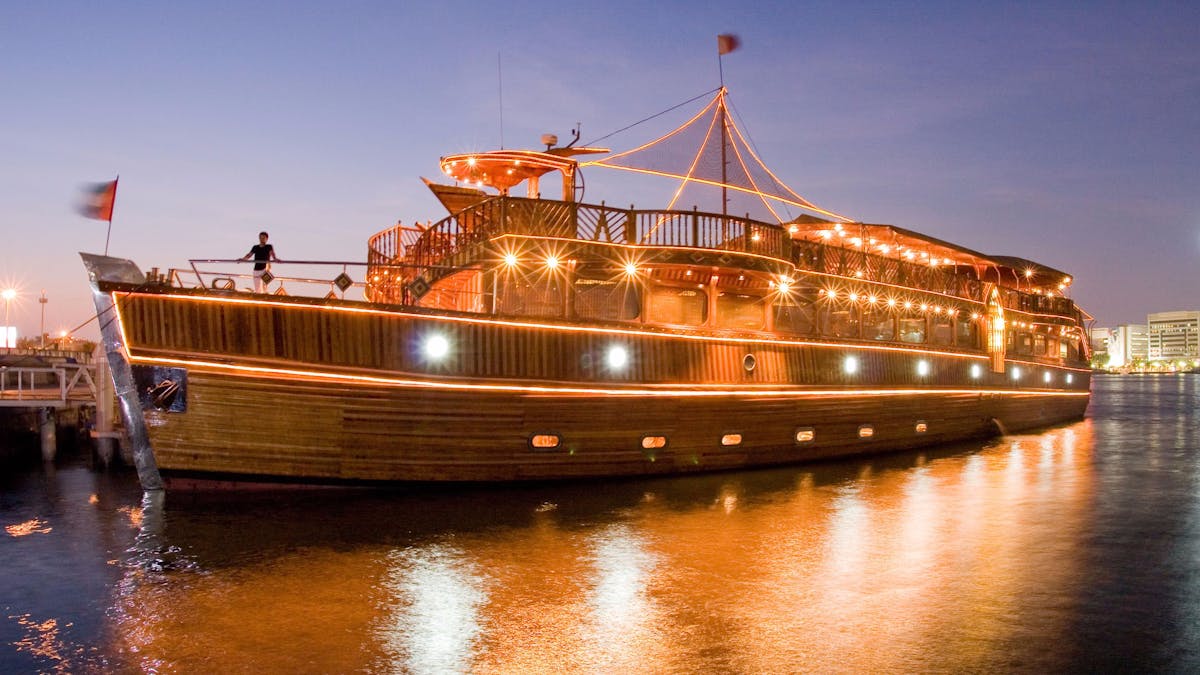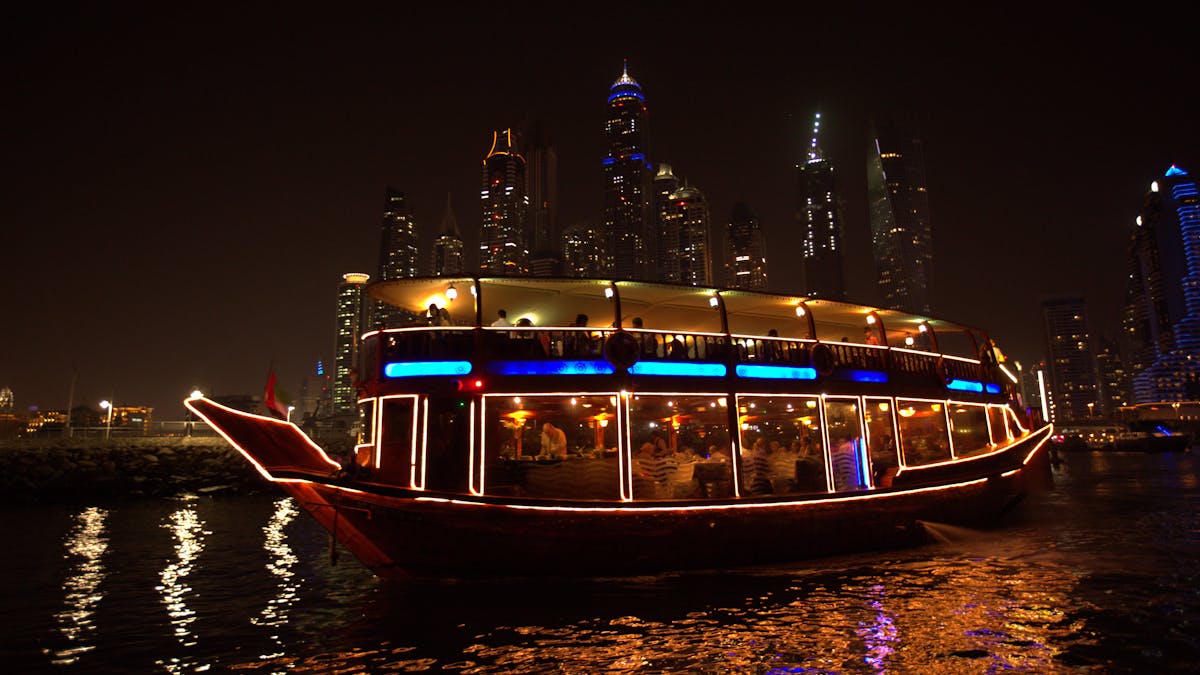 To be on a cruise during sunset or after the city is blanketed under a moonlit night sky can be a magical experience. Dubai Dhow Cruises gliding along the beautiful setting of Dubai Creek or the Marina offer a different experience at different times of the day. If you are looking to see the intricacy of the architectural marvels, an early morning or an afternoon cruise may be a good idea for you. But avoid being on an open deck during the sunny hours of the day.
What are the Dinner and Entertainment Options on these Dhow Cruises?
---
Dinner cruises on the Dubai Creek and Dubai Marina are famous for providing one of the most unique culinary experiences in Dubai. Mixing a dining experience with a unique sailing and sightseeing cruise makes dinner cruises in Dubai extremely popular.
DINNER: Most dinners on dhow cruises provide a lavish 3-course buffet meal prepared with 5-star standards. Even before the buffet starts, when you arrive at the dock, you are usually welcomed with dates and coffee. The dinner cruise cuisine is as varied as it comes - Indian, Italian, Continental, Mediterranean, fruits, seafood and the likes. There are enough options for vegetarians and non-vegetarians alike.
ENTERTAINMENT: When it comes to entertainment, many dhow cruises feature dance and singing events. As you're seated on your table and enjoy the sights of modern Dubai going past you, local artists will perform a range of local artforms for your entertainment. These dances include belly dancing, tanoura dancing, puppet shows and even magic shows; making the entire cruise experience pretty wholesome.
Dinner Cruises in Dubai
Yacht Cruises in Dubai
How Much will a Dubai Dhow Cruise Experience Cost you?
---
Dhow cruises in Dubai are available in a wide price range and you can find a dhow cruise anywhere between 40 AED to 450 AED. While the cruises on the lower end offer all the basics that make up the quintessential dhow cruise experience, the more expensive cruises offer much more luxury and even services such as hotel pick-up and drop-off.
That brings our guide to selecting the best dhow cruise in Dubai to a close. Without a doubt, a dhow cruise experience when in Dubai is a must - bridging history with Dubai's modern luxury is what these traditional ships now do. If you're looking to purchase tickets for a dhow cruise in Dubai, then check out these dhow cruises on Headout and tick an item off your Dubai bucket list.