Immerse yourself in the magnificence of New York City as Edge unveils a revolutionary approach to admire its unparalleled beauty. Situated at the westernmost point of Manhattan, it offers an awe-inspiring panorama that will captivate your senses with stunning sights stretching for miles and miles.
At Edge Observation Deck, you can gain access to the stunning Manhattan skyline and its landmarks like never before. Experience this remarkable view from 1,100 feet above sea level - a truly unique vantage point offering 360-degree panoramic views of iconic skyscrapers such as the Empire State Building and One World Trade Center. Edge Observation Deck is an ideal destination for capturing breathtaking photos and witnessing New York City from a unique angle. Come explore the interactive displays, art installations, and other amazing attractions while you're here! Perfect for romantic getaways or just sightseeing in one of the most renowned cities around, Edge Observation Deck offers a once-in-a-lifetime experience that will be remembered forever. Don't miss out on this extraordinary opportunity to take in all the beauty NYC has to offer!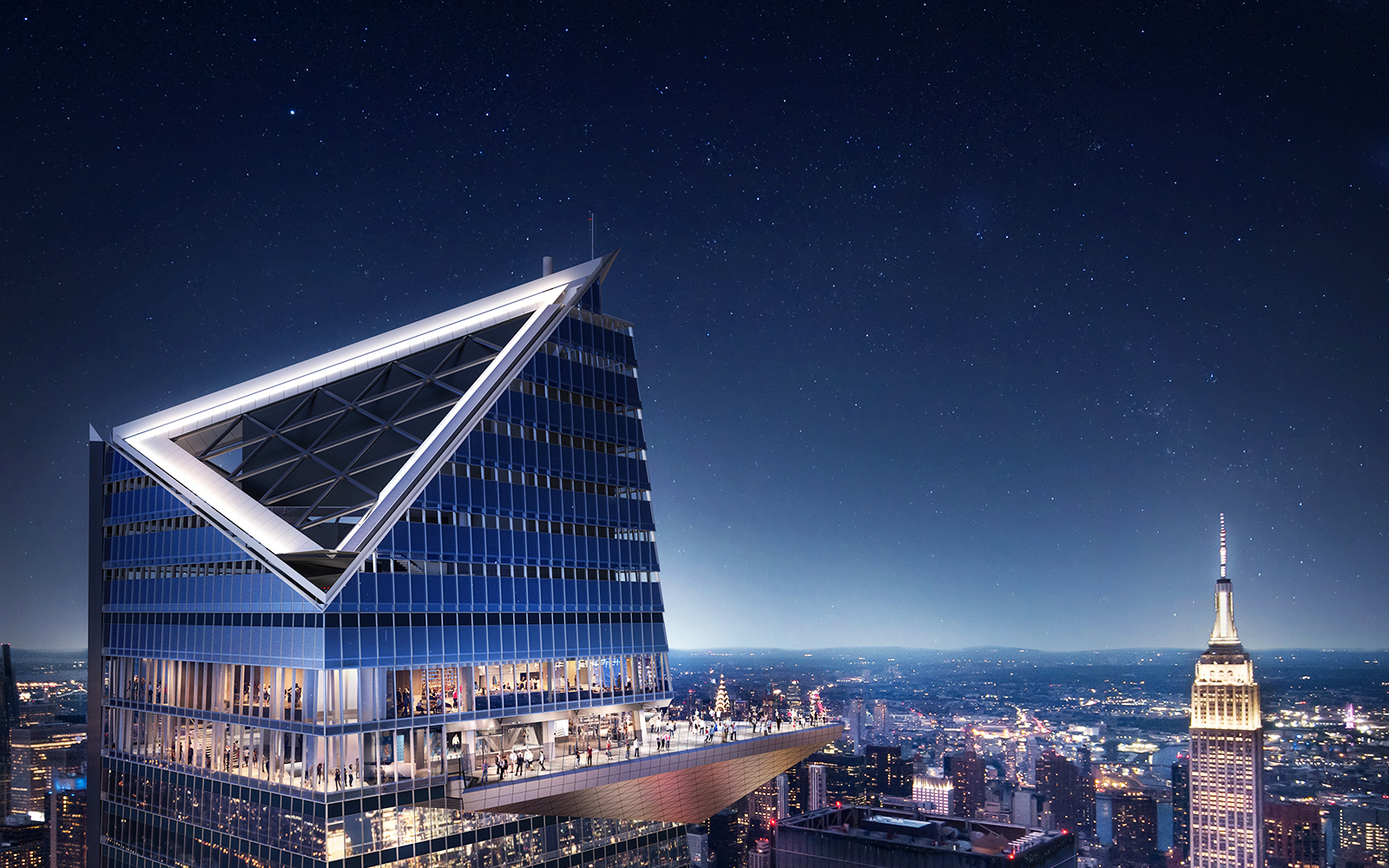 Edge NYC - In A Nutshell
---
Handy information
| | |
| --- | --- |
| ⏰ Suggested Duration: | 1-2 hours |
| ☀️ Best Time to Visit: | Sunset |
| 💜 Must Do: | City Climb |
| 🎟️ Edge NYC Entry Ticket: | $40.82 |
| 🚇 Closest Metro: | 34 Street-Hudson Yards Subway Station |
Views to catch
The Empire State Building
Chrysler Building
One World Observatory
One Vanderbilt
Downtown New York
Things to know
Floor Count: 103
Height: 395 m
Opened: 2019
Architect: Kohn Pedersen Fox
Architectural style: Neo-futurism
Opening Hours And Address
Daily 10 am to 10 pm

Address: 30 Hudson Yards, New York, NY 10001, United States
Get Directions
Why You Must Visit The Edge NYC
---
If you're looking for a remarkable experience while in New York City, look no further than The EDGE observation deck. Perched 1,131 feet above the city streets below, it is not only the highest outdoor sky deck in America - but offers 360° panoramic views of Central Park and the Hudson River! As if that weren't enough to entice you out on an adventure, its curved glass walls give off a breathtaking sensation of floating high above all else. Make sure to take advantage of this must-see spot when visiting NYC!
For an unforgettable experience, visit The EDGE observation deck at twilight. As the sun sets and casts its golden hues over the city skyline, you can marvel at how each building glows in burnt-orange tones against a stunning backdrop of soft pink skies. It's truly a sight to behold!
Recommended Edge Observation Deck Tickets
---
Edge NYC - Your Experience Deconstructed
---
Brave the thrilling sensation of standing at the observation deck that juts out 80 feet out from the building, and admire Midtown Manhattan's vast expanse with your own eyes. The tilted glass walls create a unique, breathtaking view that will leave you feeling exhilarated yet humbled at its beauty.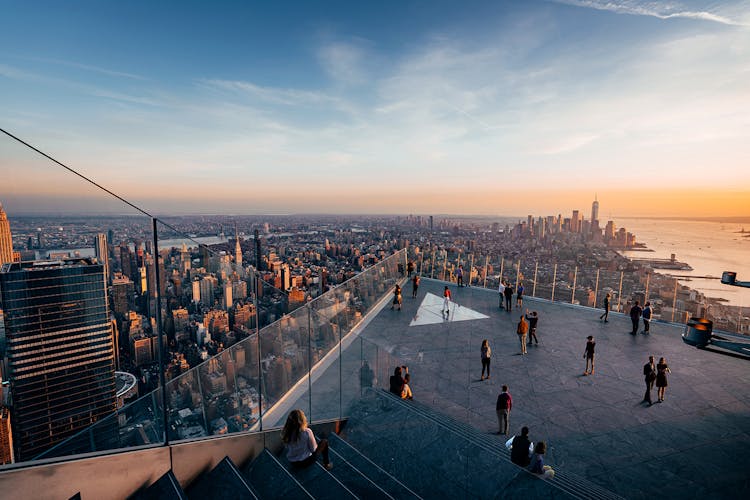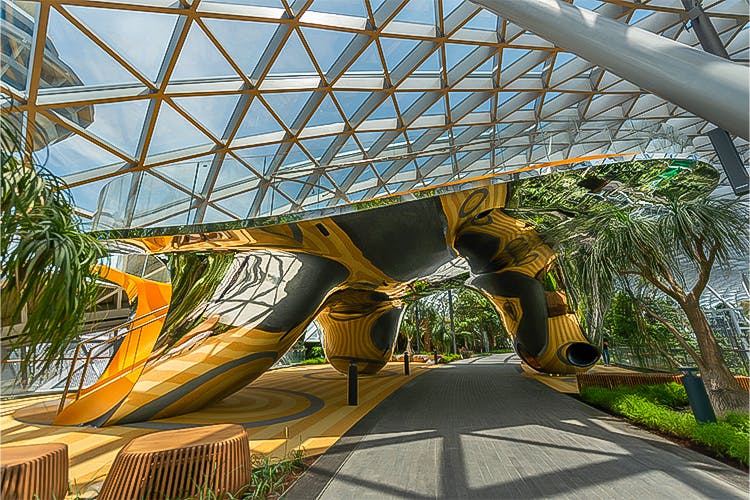 For those seeking an exciting perspective of New York City, the glass floor at the Edge is not to be missed. At the heart of this sky-high space lies an immense triangular pane that can accommodate several people. From your perch 100 stories above ground level, you will have an unparalleled view as you look through these panels – streets, and rooftops laid out before you in all their splendor!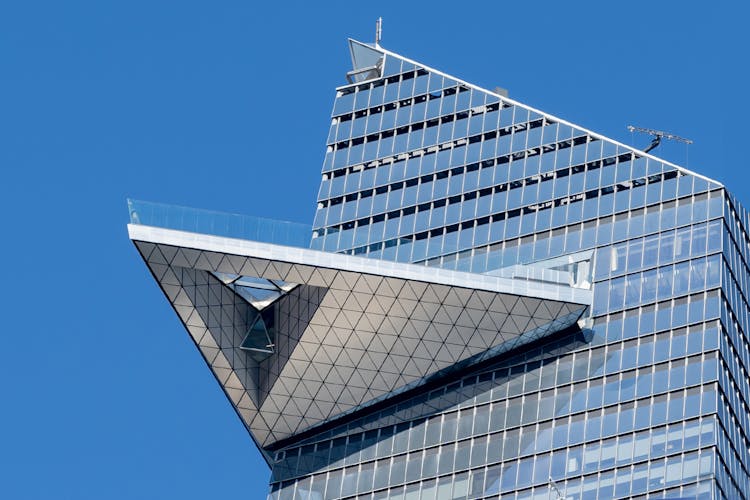 Ascend to the Edge and be amazed by New York from an aerial perspective. Marvel in its most iconic sights such as Central Park, Liberty Island, Ellis Island, Madison Square Garden, and more. Delight your eyes with a picturesque panorama of Lower Manhattan's skyline along with breathtaking views of New Jersey across the Hudson River - all this can be yours at The Edge.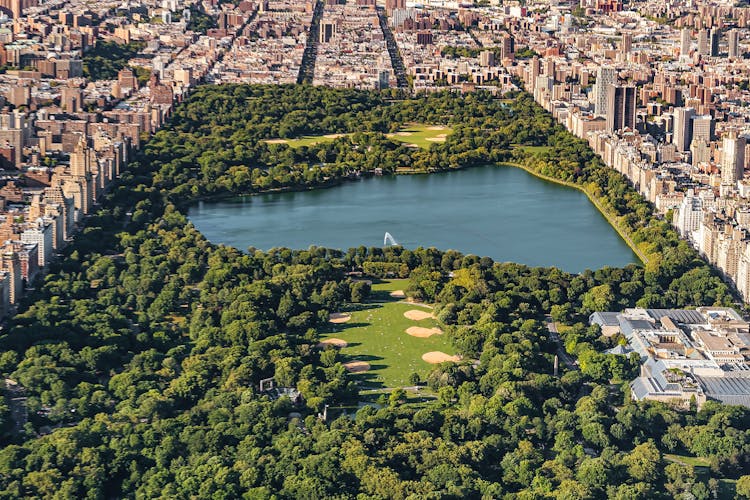 Take a break from the magnificent views at The EDGE, New York and treat yourself to an exquisite signature cocktail! The champagne bar has all kinds of drinks plus light refreshments, so it's the perfect spot to get together with your pals.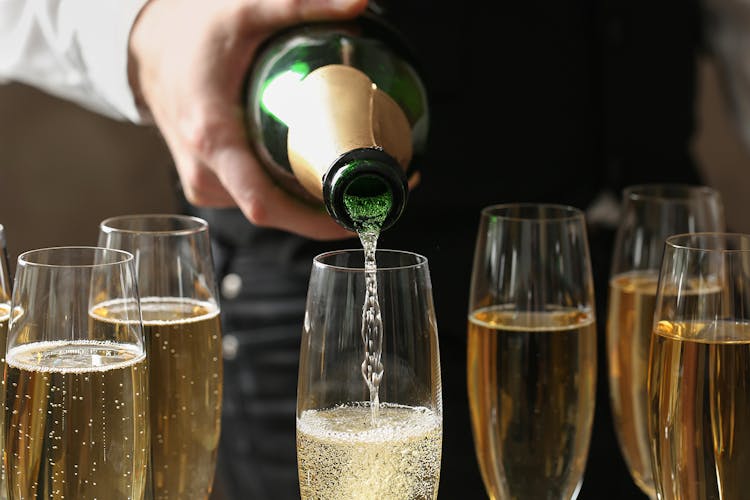 Conquer your fear of heights and embark on an exhilarating adventure that you will remember for a lifetime: City Climb! As the highest open-air building ascent in the world, climbers have the chance to scale more than 1,200 feet up outside of a skyscraper before leaning out from New York City's tallest outdoor platform. Take this one-of-a-kind journey today and prove that no height is too extreme for you.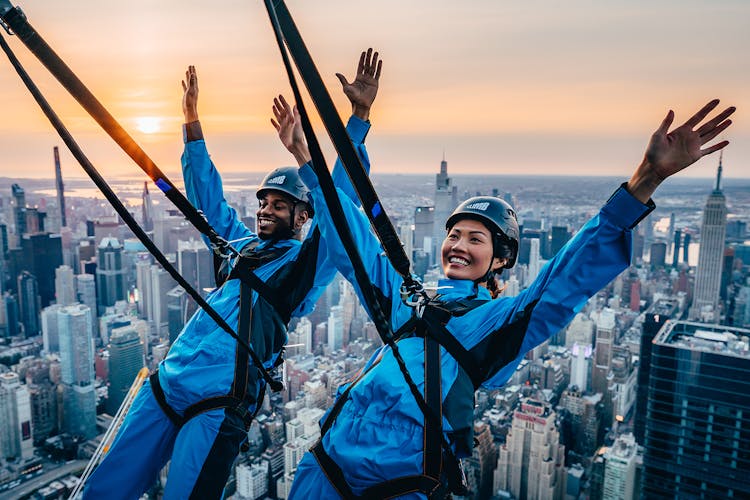 If you're looking for a rush in the Big Apple, The Eastern Point at The Edge is it! This stunning observation deck features thick glass walls that are angled forward so visitors can lean out and feel as if they're truly flying over the city. With room only enough to fit one person, this extraordinary corner of NYC leaves onlookers breathless with excitement.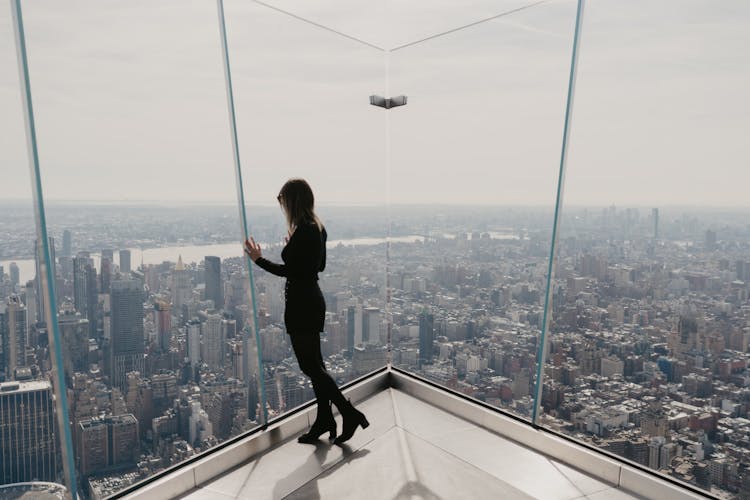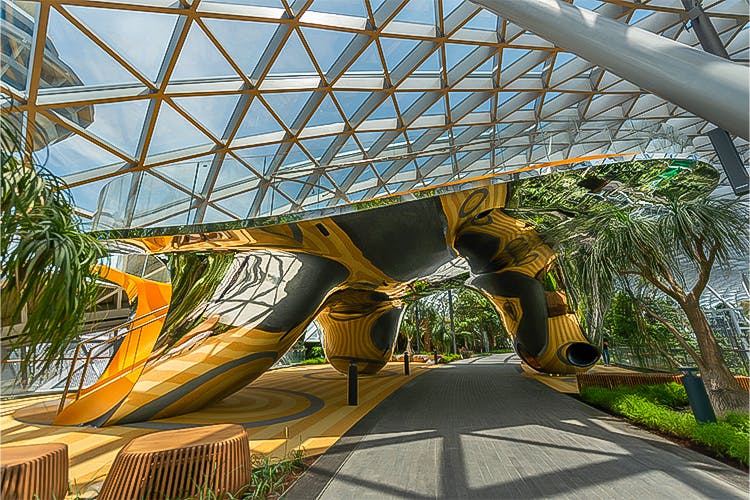 Views from The Edge NYC
---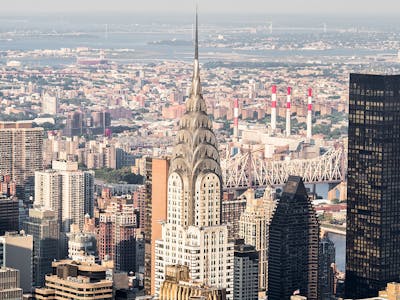 Chrysler Building
The Chrysler Building is an iconic Art Deco skyscraper located in New York City. It was constructed in 1930 and stands 319 meters tall, making it one of the tallest buildings in the city. Made up of seven radiating terraced arches, the building's exterior features luminous stainless steel and brick elements that are still impressive.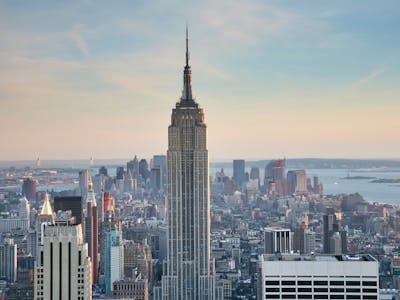 Empire State Building
The Empire State Building is an epic skyscraper located in midtown Manhattan, New York City. It stands 1,454 feet tall and has 102 floors. It was completed in 1931 and was the tallest building in the world until 1972 when it was surpassed by the World Trade Center's North Tower.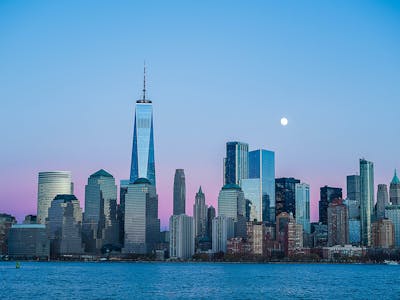 One World Trade Center
The One World Trade Center is the primary building of the rebuilt World Trade Center complex in Lower Manhattan, New York City. It is the tallest building in the United States and one of the most iconic skyscrapers in the world. The tower stands a symbolic 1,776 feet (541 meters) tall, honoring America's independence in 1776.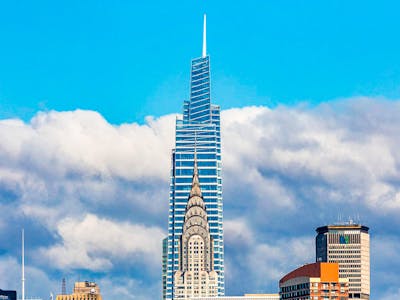 One Vanderbilt
One Vanderbilt is a major new development, located in Midtown Manhattan, New York City. The skyscraper stands at 1,401 feet tall, making it the second tallest building in the city after One World Trade Center. The façade features many references to railroads, with its tapered shape and metal trim resembling a train station.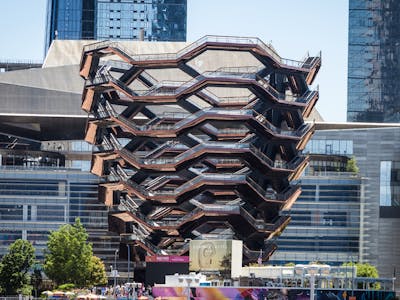 The Vessel
The Vessel is a stunning, sculptural staircase and public landmark located in Hudson Yards. The design of this incredible structure was inspired by Indian stepwells and consists of 154 interconnected flights of stairs, with a total of 2,500 individual steps and 80 landings.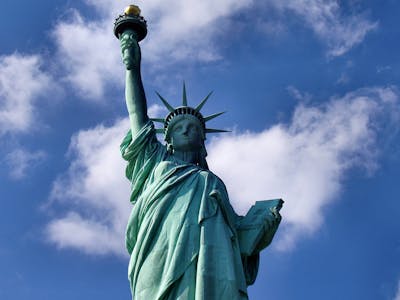 Statue of Liberty
The Statue of Liberty is an iconic structure that stands tall in New York's harbor. The statue itself is made of copper and stands 305 feet high, making it one of the most recognizable symbols in the world. On a clear day, you'll get a great view of the Statue of Liberty and Ellis Island from the Edge Observatory Deck.
The Edge NYC - Opening Hours
---
Daily from 10 am to 10 pm

The last elevator ride up is 50 minutes before closing.
Getting There
---
By Bus
The closest bus stop is 10 Av & w 30 St. It is a quick 4-minute walk to the attraction.
Board bus M11 to get you there.
By Metro
The closest metro station is 34 Street-Hudson Yards Subway Station. It is a quick 5-minute walk to the attraction.
Board metro line 7 to get you there.
By Car
Motorists can find parking at 10 Hudson Yards, Abington House and One Hudson Yards, conveniently located along West 30th Street's stretch between 10th and 11th Avenues.
Insider Tips
---
If you're searching for the perfect present, Level 4 has a gift shop that is sure to suit your needs. For unique souvenirs to remember your visit, make your way up to Level 100 and browse through our extensive selection of memorabilia!
If you are in need of an assistive listening device, these will be available to patrons on a first-come, first-served basis. Remember to bring your own headphones.
Secure lockers are exclusively provided to visitors indulging in the City Climb experience.
This location is seamlessly designed to offer full access for wheelchair users, with ramps and elevators ready to provide convenience.
If you're in the mood for something a little special, why not treat yourself to one of our carefully selected wines? A glass of Rosé comes at an affordable price tag of $26, as does Champagne and Sauvignon Blanc. Or if white wine isn't your thing, try out Chardonnay or Pinot Noir; both are priced similarly at only $17. For those looking for alternative options- coffee and tea cost just five dollars each with light snacks like pretzels or pocky sticks setting you back by four bucks! All said and done, spending here will be within the range of thirty to fifty dollars on average.
You aren't allowed to bring outside food and drinks inside the deck.
To make the most of your visit to The Edge, we recommend spending around 45 minutes up to an hour. If you're looking for a more immersive experience by joining City Climb, plan on being here for at least 3 hours!
Be sure to bring a jacket when visiting the deck, especially during nightfall and late afternoon hours - it can get significantly windy and chilly!
If the slots for watching a breathtaking sunset are already booked, don't worry - secure an afternoon ticket and stay until you get to experience the beauty of dusk. With tickets with no time restrictions, you can linger as long as you want.
Nothing can compare to the extraordinary splendor of the New York City skyline - it's something that needs to be seen and captured in all its glory. So, for those unforgettable images, make sure you have a digital SLR or similar camera at your disposal! You'll be left with photos worth bragging about for years to come!
FAQs
---
Absolutely! All visitors to Edge must have a ticket, with the exception of children aged five and under who can visit for free.
When you purchase a ticket to Edge, the experience includes 360° views of New York! You will also get access to the highest outdoor sky deck in all of the Western Hemisphere. Plus, admission to view the Glass Floor, Angled Glass Walls and Skyline Steps along with Eastern Point - not forgetting that each guest receives a free digital souvenir photo too!
At Edge, the sky's your limit - literally! Whether you need a few minutes to work up the courage to stand on the glass floor or prefer sipping champagne whilst taking in panoramic views of NYC, there is no cap on how long you can stay. The typical visit lasts 45 minutes to an hour long; however, if you're looking for an extended experience of relaxation and awe at one of New York's most breathtaking attractions then relax and linger as much as desired.
Edge is situated atop Level 100, with lightning-fast elevators whisking you up in merely 52 seconds.
Edge does not permit any outside food or drink, although they do allow water in clear plastic bottles. Glass containers are strictly prohibited. If you would like to indulge in a snack and beverage, their Champagne bar offers an array of delicious options!
You are allowed to bring normal-size backpacks and bags at Edge. Large bags and luggage are not restricted at the Edge and there isn't any locker service available either.