Vibrant and animated, London is not just a city, it's an experience. Not only is it full of art, music and culture, it is home to iconic landmarks like Buckingham Palace, Big Ben, The London Eye, The Shard and the Tower Bridge among others. Along with classical structures, the city is also home to modern architectural gems like the ArcelorMittal Orbit, a towering observation tower which also doubles as a thrilling freefall abseil.
Whether you seek adventure or are looking to just admire London's skyline, head right to the top of the ArcelorMittal Orbit and make your visit to the city more memorable.
ArcelorMittal Orbit - What's The Hype?
---
Go right to the top! The ArcelorMittal Orbit is designed with a viewing platform, situated at a height of 80 m that offers an unrivaled 360-degree view of London. Your panoramic view will include prominent landmarks like London's Zaha Hadid's Aquatics Centre, Lee Valley Velo Park, Wembley Stadium, the Gherkin, Canary Wharf and Cheesegrater among others. You can reach the viewing platform in just 34 seconds via the superfast lift. This observation deck also has interactive touchscreens and concave mirrors that offer an upside-down view of the world.
However, what sets this magnificent edifice apart is visitors also have the hair-raising opportunity of riding the world's longest tunnel slide -- the Arcelormittal Orbit Slide. Adventure seekers are in for a thrill! This observation tower also gives you the opportunity to freefall from the top, sure to be an exhilarating experience.
ArcelorMittal Orbit Tickets
---
Since the ArcelorMittal Orbit is a popular attraction in London. It's recommended that you purchase ArcelorMittal Orbit tickets online so as to skip the long queues at the attraction and also get some great offers on the deals.
Entry fare for adults over 17 years is £11.50 if booked online and £12.50 if bought at the ticket office.
Kids between 3-16 years pay £5.50 for an online ticket and £7.50 at the ticket office.
If you're traveling with family, you can opt for a group ticket at £32; it allows entry for two adults and two children.
You can also purchase a combo ticket for the Skyline and the Slide: adults pay £16.50 and kids pay £10.50 for an online purchase, while offline tickets cost £17.50 and £12.50 respectively. Remember that for tickets booked in advance, you'll have to select appropriate time slots and these are not transferable.
Your ArcelorMittal Orbit Experience Deconstructed
---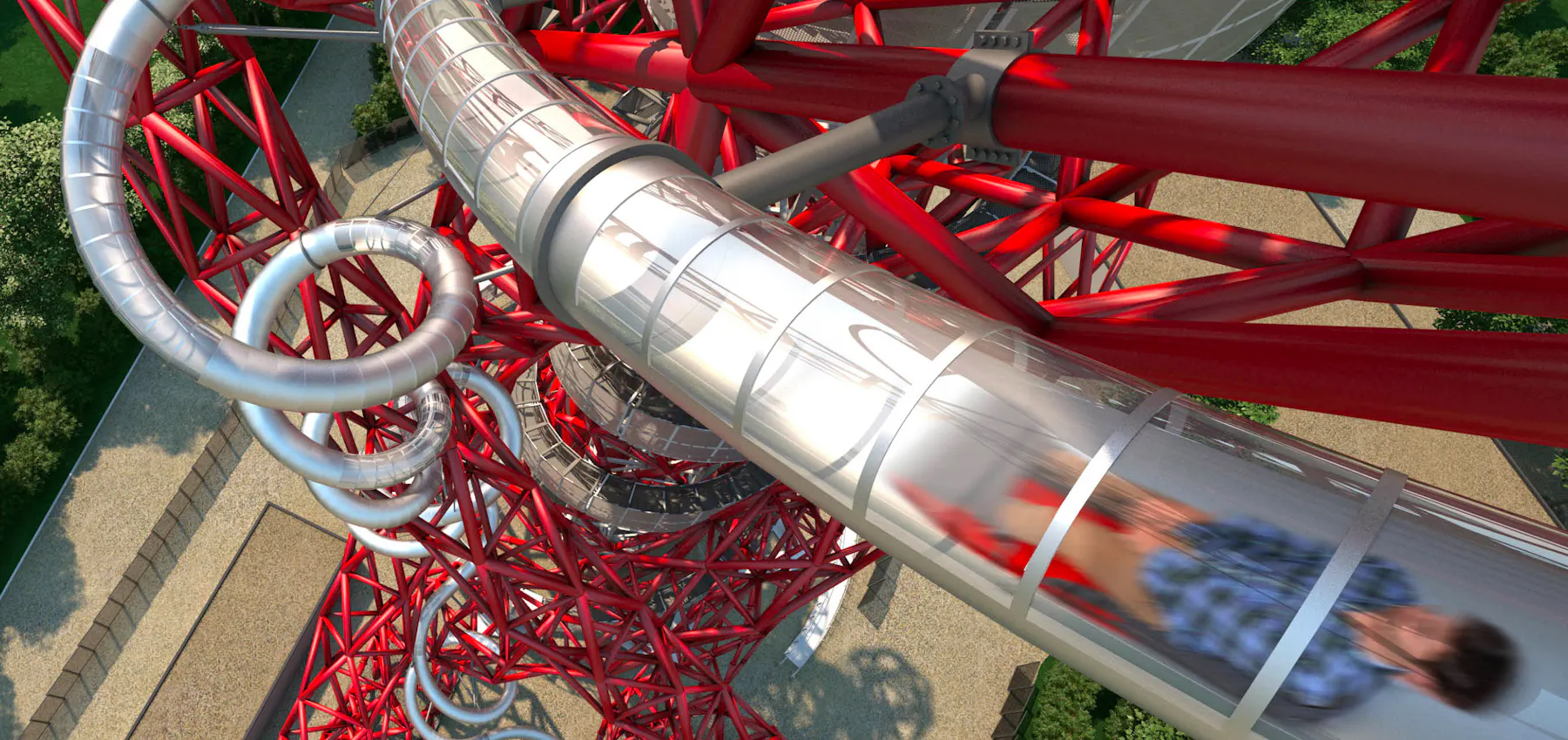 Standing tall at 114.5 m, the ArcelorMittal Orbit is the UK's tallest structure. Located at the Queen Elizabeth Olympic Park, it was built as a testament to London hosting the Summer Olympic and Paralympic Games in 2012. Designed by Sir Anish Kapoor and Cecil Balmond, the imposing structure was named after steel tycoon Lakshmi Mittal and his company, Mittal Steel Industries, the project's chief sponsor.
For safety and reinforcement, the looping structure and red lattice design of the ArcelorMittal Orbit in London uses steel in the lattice, spiral staircase, canopy and the mirrors of the observation deck, along with 35,000 bolts.
Visitors touring the ArcelorMittal Orbit in London can indulge in some thrills by riding the world's longest tunnel slide or by embarking on the free-fall abseil! At 178 m, the slide is predominantly dark with intermittent transparent sections and comes with 12 twists and turns that are bound to leave you screaming in glee. It also has a tight corkscrew section with a 50 m straight run to the ground.
For those who'd prefer to freefall, there are trained instructors who'll safely tie a harness around you and guide you through the entire process. For a few extra bucks, you can also rent a GoPro to capture your exciting descent. If you'd prefer to skip the adventure activities, you can take the 455 stairs, which has a specially designed soundscape of quirky London sounds!
Know Before You Visit
---
ArcelorMittal Orbit Opening Hours
The ArcelorMittal Orbit is open throughout the year. From Monday to Friday, it is open from 11:00 AM to 05:00 PM, with last entry at 04:30 PM. On Saturday and Sunday, the tower is open from 10:00 AM to 07:00 PM, with last entry at 06:30 PM.
Getting to the ArcelorMittal Orbit
You can easily reach the ArcelorMittal Orbit with these transport options:
By bus: Take Bus number D8 or 339 from Stratford City
By train: The closest train station to the tower is Stratford underground railway station. It can be reached via the Central Line or Jubilee Line.
By Docklands Light Railway: Alight at Pudding Mill Lane train station
By car: The ArcelorMittal Orbit does not have a visitor car parking area. However if you're traveling in a car, you can head to Westfield Stratford car park or Stratford multi-storey car park, which are independently operated.
Address:
The ArcelorMittal Orbit is located at Queen Elizabeth Olympic Park, 5 Thornton St, London E20 2AD, United Kingdom
Tips for Your Visit
---
Book your ArcelorMittal Orbit tickets online for better discounts and savings! It also helps that you won't have to brave the long queues at the entrance with advance bookings.
The ArcelorMittal Orbit is situated in Queen Elizabeth Olympic Park, which is a vast expanse of greenery with plenty of fun activities for adults and kids
It's recommended that you avoid wearing loose clothing, chunky jewelry or uncomfortable footwear while riding the ArcelorMittal Slide
If you're looking to purchase some souvenirs, check out the shop on the lower platform -- they sell a range of branded merchandise such as t-shirts, tea towels, drawstring bags and magnets.
Tickets to The ArcelorMittal Slide are exclusive of the entrance fares to the observation deck, so ensure you have the right passes before heading up!
Note that kids below the age of 8 are not allowed on the slide. They have a minimum height requirement of 1.3 m.
The management insists on safety gear for the visitors. You'll be given helmets and elbow pads before you race down the slide.
If you've got some extra luggage, you can deposit it at the base of the tower for a refundable amount of £1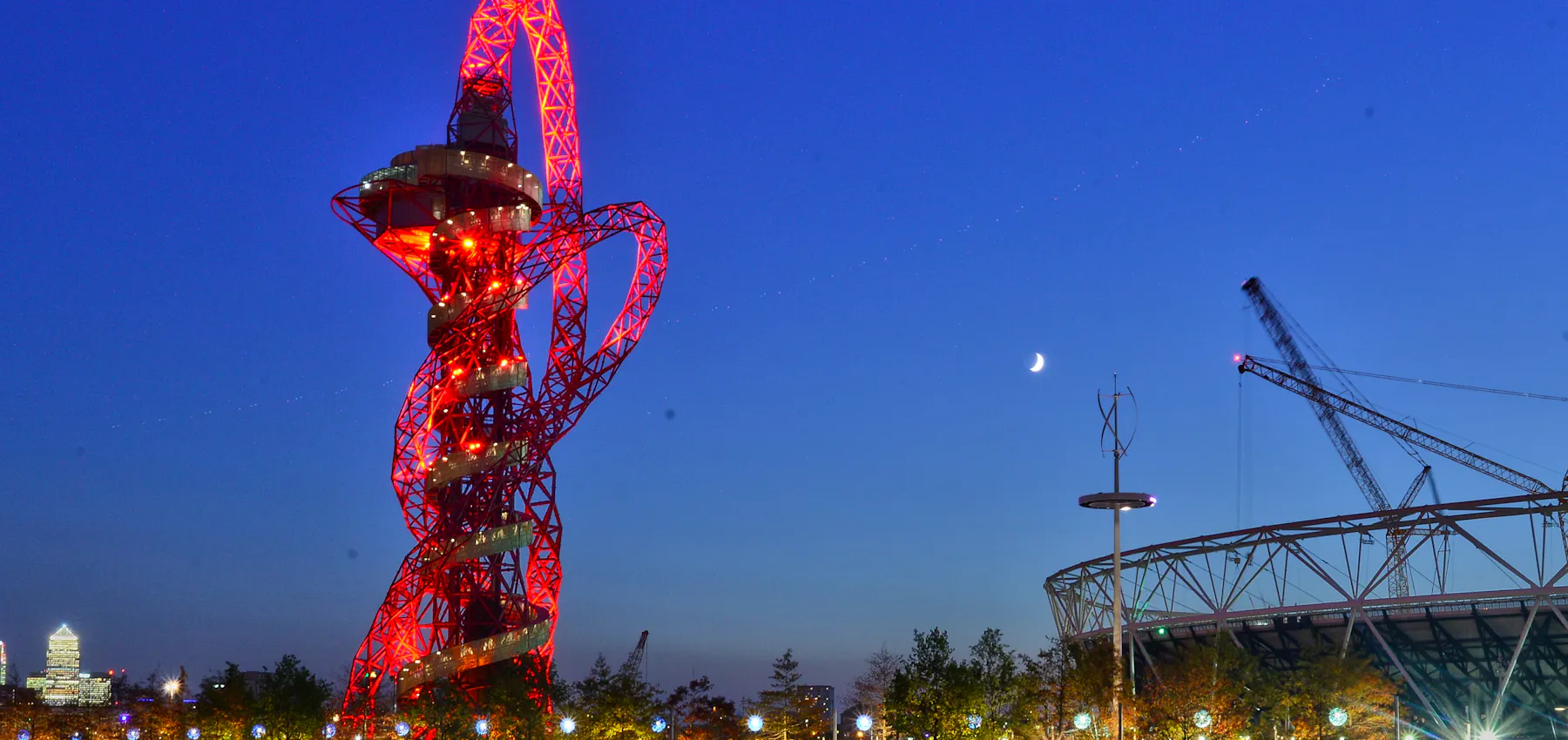 FAQs
---
Where can I buy ArcelorMittal Orbit tickets?
What is the price of ArcelorMittal Orbit tickets?
What are ArcelorMittal Orbit timings?
How to get to ArcelorMittal Orbit?
Is the slide and freefall included in the ArcelorMittal Orbit ticket?
Does ArcelorMittal Orbit accommodate people with accessibility requirements?
Who can ride the ArcelorMittal Orbit Slide?
Is ArcelorMittal Orbit open throughout the year?
Can I deposit my luggage at the ArcelorMittal Orbit?
How long is the ArcelorMittal Orbit slide?
Is the ArcelorMittal Orbit slide and freefall safe?
How high is the ArcelorMittal Orbit freefall?
ArcelorMittal Orbit Guide