The magic that Disney holds is what makes people across all age groups visit Disneyland in Paris. We are sure you would love to invoke the child in you and wear mouse ears and eat lots of Dole Whip treats, but there is one dreadful thing – the lines!
Disney vacations are extremely popular for a reason, but there is always a way to enjoy the rides and skip the lines without having to wait in long queues. This article will give you all the information on how to beat the longest lines and shorten your wait time at Disneyland Paris.
Paris Disneyland: Skip The Line Tickets
---
Buy your Disneyland Paris tickets in advance!
Needless to say, you'd benefit greatly from booking your tickets in advance. Choose skip-the-line tickets and you'll be at the front of the line, guaranteeing a quicker entry into the eerie attraction. The choice is yours:
Wait Time At The Disneyland Paris
---
A fun way to spend a day out of the French capital is taking a day trip to Disneyland Paris. But this fun destination is also known for its long lines, especially at the most famous attractions. Some of the popular Disneyland rides can be atrocious during the summers or peak season.
Your wait time at the attraction can vary depending on the ride that you choose to go for on your visit. Some can have a very long wait time, close to 45 mins to an hour, whereas some may vary from 30 – 45 mins. It is good to learn in advance about the must-do rides and which have the longest lines.
5 Tried & Tested Ways To Skip The Lines at Disneyland Paris
---
#1: Pre-Book Your Tickets Online
Disneyland Paris is an extremely popular destination visited by people from all over to experience the magic the place holds. Flocks of people can be spotted and it is difficult to get a ticket for you and your loved ones if you have not planned your trip well in advance.
While you can purchase the Disneyland Paris tickets on your arrival at Walt Disney World Resort, we recommend you to pre-book your tickets to make your vacation planning an easy ride. You get to skip the long rush at the counters and get an easy entry, allowing you to make the most of the fun rides at the destination.
#2: Book Dedicated Skip The Line Tickets
Now, where is the fun in spending your time waiting in long dreadful lines? Be smart and opt for skip-the-line tickets at Disneyland Paris and enjoy the fact access entry to your favourite rides. Besides letting you skip the lines; you get VIP access which is 100 percent customizable. By choosing this option, you can enjoy special seats at stage shows and parades, and also get picked and dropped off at your choice of park destination.
Disneyland Skip The Line with Shuttle Transfers
Book Now
#3: Beat The Crowds
Since Disneyland in Paris is a well-known go-to destination amongst people in all age groups, it can be quite a hefty challenge to beat the crowds and have a gala time. But if you wish to do the same by standing in a shorter line on any day, you just need to ensure you make a visit during the least crowded times of the day. Early morning is the ideal time to head to Disneyland Paris to get past all the chaos. If you wish to visit at a time when the crowds are fairly low, visit mid-week as the crowds are generally lesser than those you witness during a weekend.
#4: Opt For An Express Train Ride
Want to experience Disneyland Paris in a unique way? Hop on an express train that takes you through the best of Disneyland - that's right, you don't have to tire yourself out by walking endlessly...
The best part about booking an express train ride is that you get direct entry into either one or both parks in Disneyland Paris (depends on the ticket option you choose). This is a quick hack to avoid the long ticketing queues outside the attraction.
Disneyland® Paris Express by Train
Headout Price: €139
Book Now
#5: Opt For The Shuttle Option
Similar to the train ride - opting for the shuttle ticket option ensures you get into Disneyland with zero hassles of waiting around in line or stiffling about in crowds. It also ensures you have transportation to Disneyland sorted - one less thing to worry about!
Perfect Time To Visit Disneyland Paris
---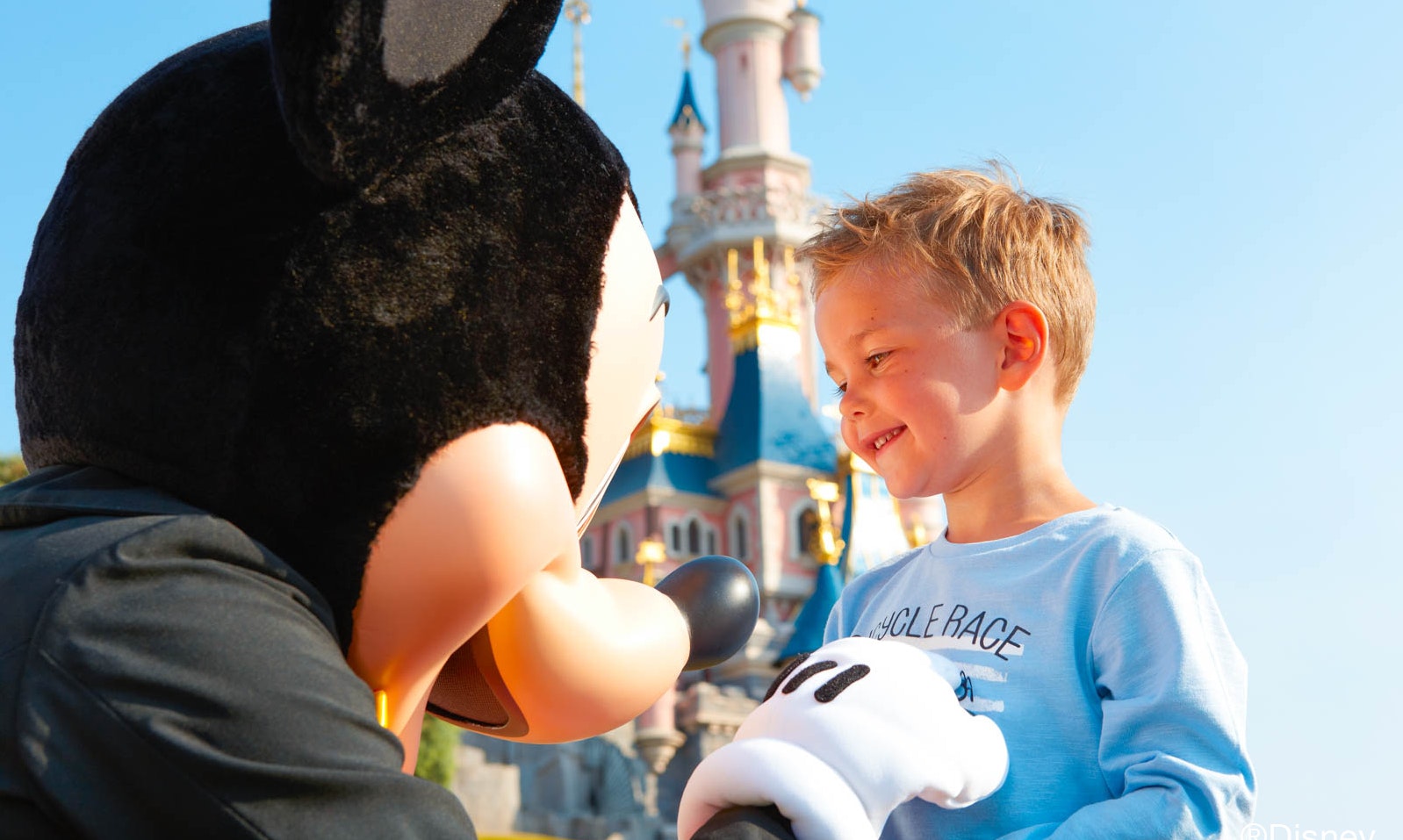 With magical attractions and parades open throughout the year, it is always a great time to visit Disneyland Paris. But you need to make sure that while you are here, you make the most of your stay rather than spend all your time waiting.
In general, the crowd is the least during the middle of the week; Tuesdays to Thursdays during mid-January through mid-March or between April to May. The only setback is that there may be only fewer events and shows scheduled during this timeline. Also, during any day of the week, mornings are the best time to head to the location, avoiding all the hassle.
If you want to visit otherwise, plan your visit for the weekends, including extended holiday weekends during summers for being a part of special seasonal events and shows. However, you will have to make do with the crowd during this time frame.
Disneyland Paris: Practical Information
---
How To Get To Disneyland Paris
By Air: There are more than 500 flights arriving to/departing from Paris Charles de Gaulle and Orly airports.
By train: The Marne-la-Vallée/Chessy train station is one of the most important hubs in France. It is just a 2-minute walk from the station to the Disney Parks.
By Car: Located just 32 kms away from Paris, it is conveniently approachable by car.
Timings
Both the the Disneyland Park and Walt Disney Studio Park open at 9.30 AM. Closing times vary, and can be found here
Tips To Skip The Line At Disneyland Paris
---
We recommend you to check the crowd calendar before visiting Disneyland Paris to experience shorter lines because there are days when the crowds are massive and there are fairly empty days too.
The best time to visit the attractions is simply by getting there during the lowest crowd times of the day. Mornings are highly recommended, but make sure you are dedicated enough to get off your nest early.
By entering during the 'Extra Magic Hour', Disney allows you to get an early privileged entry. These can be done on Tuesdays, Thursdays, and Saturdays when the parks open an hour earlier for the guests staying at the Disney-owned hotels. The days differ as per the Disney hotel you choose to stay at.
Use the FastPass that offers you to simply undergo a virtual queueing process, and it's for Free!
Avoid planning your trip during a weekend or holidays as you can experience a large crowd.
Reach the park as early as possible and head for the most popular ride before the rush hour starts.
Take advantage of the last hour at the park as the lines tend to thin out, allowing you access to many of the popular rides.
Make use of the single-ride lines as they are much shorter than the standard ones, but your group might tend to get scattered seats.
FAQs: Skip The Lines at Disneyland Paris
---
Yes, it is possible to skip the lines at Disneyland Paris but comes at a cost. You can purchase the skip-the-line ticket and access rides through the lighting lane entrances.
Since Disneyland Paris is a very popular attraction for people across the world, the crowd could get overwhelming at times. We recommend you to pre-book your skip-the-line tickets well in advance rather than heading to the venue and picking it up. This way you will walk past all the rush and can drain all that energy through a fun event.
We are sure you want to be spending most of your time having a gala time over the rides and events than waiting in a long never-ending line for hours at Disneyland Paris. You have a lot to explore while you are at the attraction and it is not worth spending that precious time waiting in queues.
- Make use of the single rider queues
- Opt for a premier access entry
- Go for the big rides during parades
- Use the Fastpass to enter virtual queues
On average, if you have not pre-booked your Disneyland Paris tickets, you can end up spending more than an hour waiting to hop on to your favourite ride.
It is ideal to visit between January to April, during mid-week in order to avoid crowds.
Disneyland Skip The Line Guide