Rome is a big city. Unlike other great tourist cities in Europe where attractions are usually concentrated in the city center, or in surrounding neighborhoods, the landmarks of Rome are spread out throughout the city. If you wish to see everything that Rome has to offer, or visiting landmarks which you know are spread about, then the Roman public transportation system is definitely the friend you need. Here's a quick guide on all you need to know about public transportation in Rome.
The Rome Public Transportation System: The Basics
---
The public transportation system in Rome - metro, buses, trams & trains in the urban areas - are managed by ATAC. What makes this even better is the fact that all these services use the same type of ticket. You don't need to worry about purchasing a different ticket for each service. These tickets are easily available throughout Rome at tobacco shops, automated ticket kiosks at metro & bus stops and news stands. The ticket options you have are:
• Single-ride ticket - € 1.50 (valid for 100 minutes on activation on the entire network)
• Roma 24H - €7 (valid on the whole network for 24 hours from first validation)
• Roma 48H - €12.50 (valid on the whole network for 48 hours)
• Roma 72H - €18 (valid on the whole network for 72 hours)
• Monthly Pass - €35 (valid on the whole network for 30 calendar days)
• Annual Pass - €250
Scroll Through Rome's Public Transportation Options
---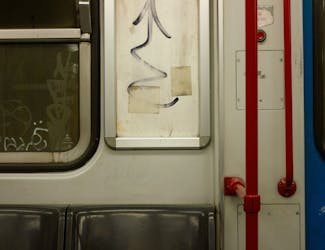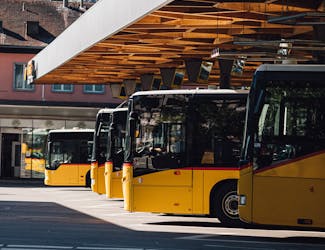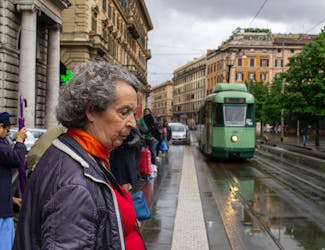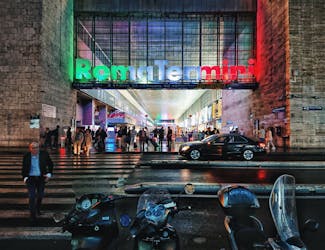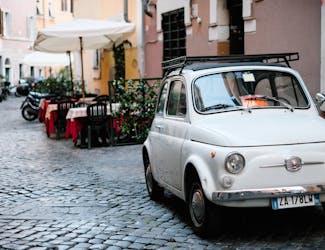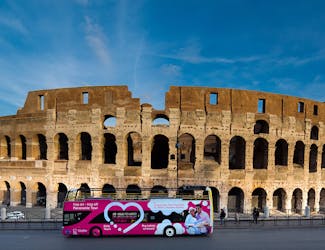 Hop On Hop Off Bus
From €25
Getting To Rome From The Airport
---
Rome has two airports. The main airport is called the Fiumicino Airport and is located by the coast, 32km south-west of Rome. The other airport, Ciampino is mainly for low cost budget carriers and is much closer to the city that Fiumicino.
From Fiumicino Airport to Rome
Fiumicino is Rome's main airport for domestic and international flights and is well connected to the city. It has four terminals, numbered 1,2,3, and 5, not 4. Your options of getting to Rome's City Center from the Fiumicino Airport are:
By Train:

Trains offer the fastest and cheapest way to get to Rome from the Fiumicino Airport. The train station is located outside terminal 3 and there are two types of train services that will take you to the city, Leonardo Express and the Sabina-Fiumicino FL1 line.
The Leonardo Express runs every 30 minutes from the airport and takes 30-35 minutes to get to Termini Station, Rome's central train station. Approximate cost: €14. The FL1 line leaves every 15 minutes (30 minutes during holidays) from the airport and is cheaper at €8.
By Cab:

Since 2012, all cabs from the Fiumicino Airport to the City Centre charge a flat rate of €48 (this fee includes four passengers and all bags). This ride will take around 45 minutes. This flat rate applies only to destinations within the Rome city ring, meaning withing the Aurelian walls. For destinations outside of it, you will be charged as per the meter. You can also book single seats in shared cabs and enjoy a comfortable ride to the city.
By Bus:

There are 5 bus options to choose from. These are:
1. SIT BUS Shuttle connects Rome Fiumicino Airport (Terminal 3) with Piazza Cavour and Termini Station in Rome.
2. Terravision Buses go from Terminal 3 of the airport to Termini Station in Rome.
3. TAM BUS connects Fiumicino (Terminal 3) with Termini and Ostiense Station in Rome.
4. Schiaffini Buses go from Fiumicino (Terminal 3) to Termini Station in Rome
5. COTRAL buses gor from Fiumicino (Terminal 2) to Cornelia Station (Metro line A) and EUR Magliana (Metro line B). They also go to Tiburtina Station and Termini Station
From Ciampino Airport to Rome
Ciampino is Rome's second airport and is located closer to the city than Fiumicino. Being the smaller of the two airports and lesser serviced, transportation options are limited to vehicles only and there are no train services from Ciampino to Rome.
By Cab:

All cabs from the Ciampino Airport to the City Centre charge a flat rate of €30. This fee includes four passengers and all bags. You could also book single seats and get driven straight to your hotel.
By Bus:

Similar to Fiumicino, you have the options to take an SIT BUS Shuttle or a Terravision Bus from the airport to the city.
1. Terravision buses go from Ciampino airport directly to Termini station.
2. SIT Buses are similar to Terravision, with the same destination (Termini).
Rome's Public Transportation Deconstructed
---
There are three major Metro lines: A , B , its B1 branch and the new C line. Lines A and B cross each other at Termini Station while line C hasn't reached the city centre yet. There are currently plans for the creation of a fourth line. Tickets can be bought at metro stations, at news stands, and corner shops. A travel card might be a good option to buy if you'll be using public transport regularly.
Timings: 5:30 AM - 11:30 PM
Frequency: Every 3 min
Payment Mode: Tap&Go
Cost: €1.50 (single ride)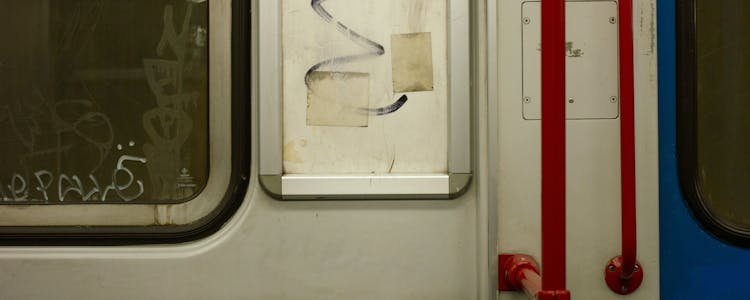 Rome has 338 bus lines, 22 night buses, and 8260 stops that line the streets of Rome day and night. Traffic is a known issue in Rome, so prepare yourself to get impatient in case of bus delays. Getting stuck in traffic jams is also likely. Buses in Rome are reliable, but often crowded. They offer an extremely efficient way of getting around the city. There are 4 types of buses: Urban Lines (U), Night Buses (N), Express Buses (X) & Exact Buses (E).
Timings: Day Buses: 5:30 AM - Midnight; night buses: 12:30 AM - 5:30 AM
Payment Mode: Tap&Go
Cost: €1.50 (single ride)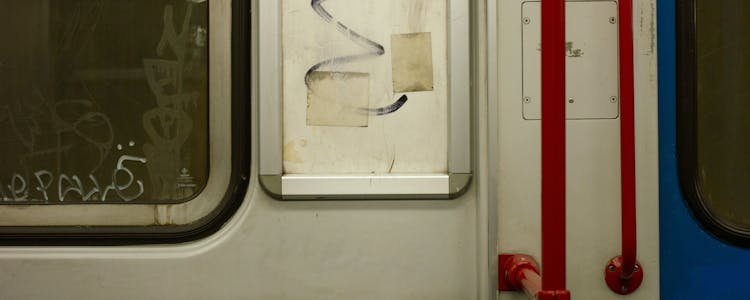 There are six tram lines in Rome: #2, #3, #5, #8, #14 and #19. The trams on lines #5, #14 and #19 are from the 1940s and are smaller, crowded and do not have ticket vending machines or air conditioning. It's also not possible to buy ATAC tickets aboard these trams. Lines #3 and #8 have newer trams and are spacious, air-conditioned, have a ticket-vending machine and come with free Wi-Fi!
Timings: Day Buses: 5:30 AM - Midnight; night buses: 12:30 AM - 5:30 AM
Payment Mode: Tap&Go
Cost: €1.50 (single ride)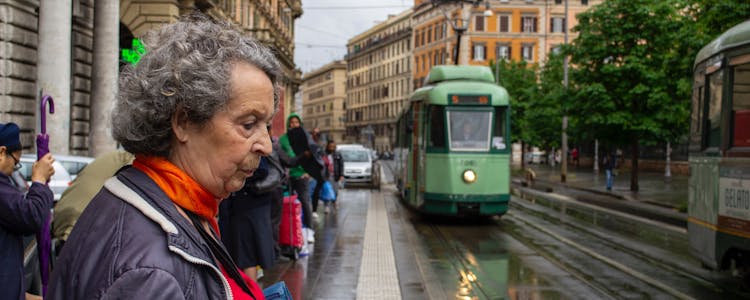 An old network of suburban trains operates within Rome and uses the same ATAC ticket as the other forms of public transport in Rome. Almost resembling the old trams, these are pretty antiquated. The lines are:
• The Roma-Centocelle line connects the city centre with Porta Maggiore.
• The Roma-Lido line connects Testaccio with Ostia Antica.
• The Roma-Nord line connects the city centre with the Parioli district and Viterbo.
Note that ATAC tickets only cover the urban stretch of the route within Rome and this ends at the "Sacrofano" train station. To continue further, you need a dedicated ticket.
Timings: Daily from 5:30 AM - 11:30 PM
Frequency: Every 10-20 min
Cost: From €7.90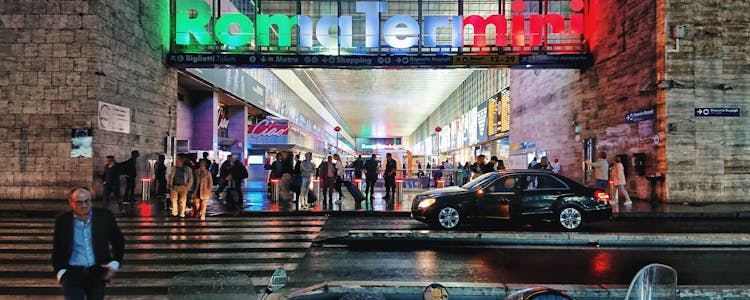 Like any other major city in the world, taxis and cabs are abound in Rome. You can catch a taxi anywhere in Rome - taxi stands are spread throughout the city. Remember that you can only board one at a stand and can't hail a cab standing on the side of the streets. Taxis are expensive but also quite convenient. Their rates can be calculated using a standard taxi fare calculator. You can check out one here.
Timings: Daily 24x7
Cost: Base: €3.00. €1.10-€1.60/kilometer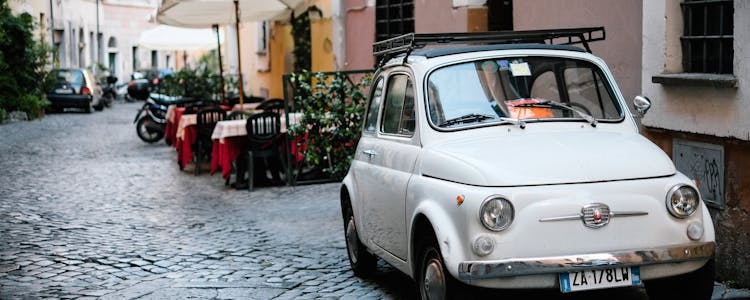 Rome Hop On Hop Off Bus Tours are perfect for tourists visiting the Eternal City. Not only does it take care of getting around from one major attraction to other, you also have free wifi, audioguides on you go and the option to get up and get down anywhere you like. The Panoramic route of these pink double decker buses consists of 9 stops, covering city's most popular attractions like Colosseum, Piazza del Campidoglio, Spanish Steps, Piazza Navona, Trevi Fountain, Circus Maximus, Tiber Island, Vatican Museums, and St. Peter's Basilica. There is only one route these buses operate on.
Timings: First departure: 9.25 AM. Last departure: 7 PM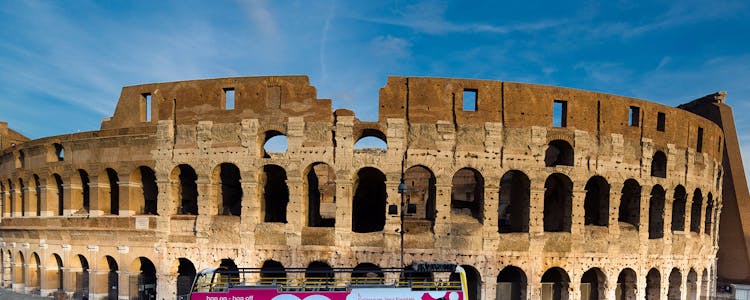 Rome Hop On Hop Off Tickets:
Should I Buy The Roma Pass?
---
If you're visiting Rome for more than a day, consider the Roma Pass. It costs €28 and gives you priority access to over 40 museums and monuments along with free public transportation in Rome. This includes all trains, buses, metros and trams. You can choose between 2 & 3 day options and the pass is valid for 8 months from purchase. If I were visiting Rome as a tourist, this is the pass I'd go for to solve my travel and sightseeing needs.
Roma Pass
• Priority access to over 40 museums and monuments
• Free public transportation
• 2 or 3 days pass options
• Valid for 8 months from the date of purchase.
Rome Public Transportation Tips
---
The same ticket works on buses, trams, trains and the metro. However, it will only be validated once you activate it. If you are caught without validating it, you can be fined up to 50 Euros.
Walking is nice in Rome but the attractions are quite spread out. Taxis are expensive but sometimes the quickest way to get to these destinations.
For tourists visiting Rome for the first time, hop on hop off tours are perfect for you. Not only is the getting around sorted, you also get to enjoy free commentary and WiFi access.
For anyone visiting Rome, the Roma Pass is perfect as it gives you free transportation for the selected number of days, along with free access to major attractions in Rome.
Ready to Explore Rome?
---
Fancy heading out to some other must-visit Rome attractions? Take inspiration from our list of the best things to do in Rome here. Use our comprehensive Rome Travel Guide to explore the rest of Rome in a hassle-free fashion with all the need-to-know information in hand.
Here are a few more attraction guides that could come handy.
FAQs: Rome Public Transportation
---
Rome's Metro is the fastest public mode of transportation.
If you buy a transport card, you can ride buses, subway trains, trams, and the light rail. All are of the same price.
Taxis in Rome are more expensive than most cities in Europe. With a base fare of €3.00 during the day and €6.50 at night, taxi cabs are definitely on the pricier side.
The Roma Pass is a good idea to buy when you want to save money and time. It is definitely worth it.
Rome Public Transportation