Christmas is a special time of the year, and spending it in Rome will make it a cherished memory for you and your loved ones. We've put together a listicle for you of the top 7 ways to celebrate Christmas in Rome and make it a holiday to remember!
Christmas in Rome
---
Christmas in Rome is a very different experience than what one would typically expect in the United States.
Most people celebrate Christmas in Rome by attending mass at one of the many churches around the city. After mass, they often go to a friend or family member's house for dinner. The meal usually consists of pasta, meat, and dessert along with treats such as panettone, pandoro, and torrone. One of the most popular desserts during Christmastime is struffoli, which is made from deep-fried dough balls coated in honey and sprinkles.
6 Things to do during Christmas in Rome 2022
---
To make things easier for you to celebrate the festive day, whether you are a localite or a tourist, here are 6 things to do during Christmas in Rome.
Shopping at the Christmas Markets in Rome Get some Christmas shopping done at one of the many Christmas markets with friends or family and get your festive fix. The first Christmas market that comes to mind when thinking about Christmas shopping is Piazza Navona. At this popular tourist attraction, there are around 200 stalls selling everything from food and drink to decorations, jewelry, and clothes — perfect if Santa has left you hanging! Be sure not to miss the artisan ice rink which will be located just outside Fontana Dei Quattro Fiumi (Fountain of Four Rivers).
Dates: 1st of December 2022 to until the 6th of January 2023
Time: 10 am to 1 am
Attend A Christmas Mass In Vatican City The Vatican City has a lot going on during the Christmas season. The most important event is, of course, Mass in St Peter's Basilica with Pope Francis and all those who wish to attend. You can get a ticket from any local Catholic church - they are free but limited in number. People begin lining up at around midnight for tickets that will only allow them into the first section of pews. It is recommended for people attending this mass to arrive early if they want to grab the best seats.
Dates: December 24th
Time: 9:15pm
Top Vatican tickets for Christmas
Attend a Christmas Concert In Rome Several Christmas concerts take place in Rome in December. If you're looking for a truly festive experience, then one of these concerts is the perfect way to get into the Christmas spirit! One of the most popular concerts is the Three Tenors by Opera Arias that happens at the Piazza Navona. This concert is a rollercoaster ride full of emotional twists and turns with some funny moments. Whether you're a lover of opera or Neapolitan songs, this concert is going to leave you wanting more!
Dates: 21st, 26th and 28th December
Time: Evenings
A Gastronomic Tour Of Traditional Christmas Food In Rome Traditional Christmas food in Rome varies greatly from region to region within the metropolis. One of the most famous and beloved courses during the traditional Christmas meal is a dish called caponata (prepared like a salad). It consists of eggplant, peppers, celery, carrots, olives, and tomatoes seasoned with garlic and parsley. Another popular Christmas dish is the porchetta. Christmas pudding, also known as panettone, is a type of sweet cake that is typically eaten during the holiday season. It is made with flour, eggs, sugar, butter, raisins, and candied orange peel. You can opt for a food tour in Rome to check them out.
Dates: Throughout December
Time: Afternoons and evenings
A Christmas Getaway From Rome A Christmas getaway is the perfect way to spend the holidays! Rome, being one of the most popular tourist destinations in the world, offers a wealth of Christmas getaways to get you into the holiday spirit. You can go to Rome to Amalfi Coast or Rome to Venice and enjoy the seaside views and fine weather to make this a Christmas to remember.

Check out the top day trips from Rome to make your Christmas getaway special!
Dates: Throughout December
Time: All-day
Visit the Open Air Museum Auditorium Parco Della Musica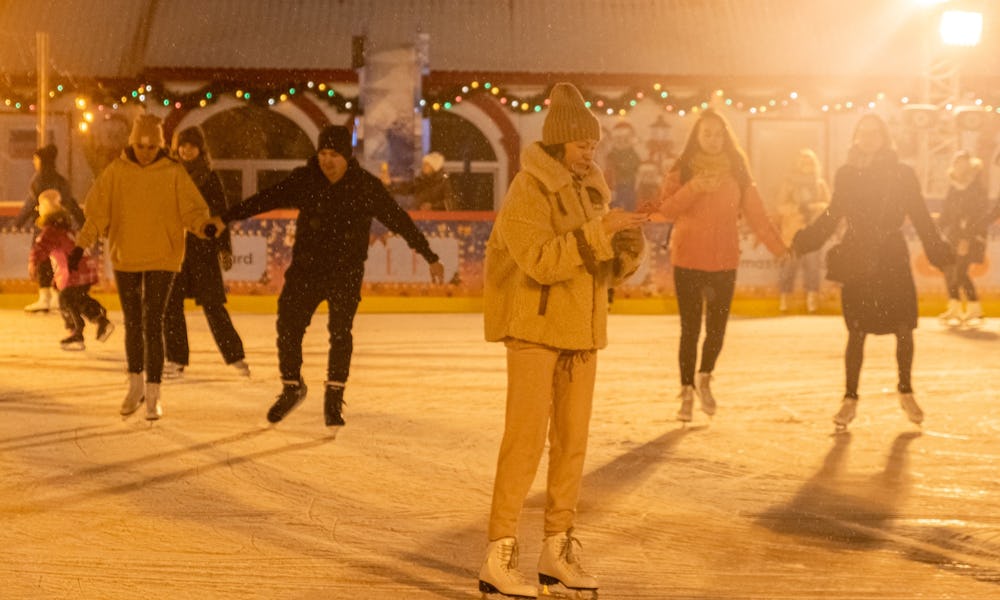 The Parco Della Musica, or "Music Park," is a complex of three concert halls in Rome, Italy. It was designed by the internationally acclaimed Renzo Piano. On Christmas Eve, an open-air museum will be held in the park with huge installations, markets, cinemas, a skating rink, shows & a setting of the Santa Claus village - the perfect concoct to bring in the Christmas vibe!
Dates: Throughout December
Time:Daily 10 am to 10 pm
Tips to Celebrate Christmas in Rome 2022
---
Make sure you book your flight and hotel well in advance. Hotels in Rome tend to fill up quickly during the Christmas season.
Once you're in Rome, be sure to check out the city's many Christmas markets. These markets are usually located in popular tourist areas such as the Vatican City and Piazza Navona. You'll find a variety of items for sale, from traditional Christmas decorations and ornaments to wine and food.
Another popular activity during Christmastime in Rome is attending church services. There are many beautiful churches throughout the city.
Rome is usually colder during December. Make sure to pack your best jackets and bombers.
Frequently Asked Questions
---
Is Christmas a good time to go to Rome?
How do you spend Christmas in Rome?
Does Rome decorate for Christmas?
Does Rome shut down for Christmas?
What is Christmas called in Rome?
Is it cold in Rome at Christmas?