If you have a list of places that every one MUST visit whilst in Rome (like every normal human being does), we're sure that a visit to Castel Sant'Angelo, is right up there. It's the most famous castle in Rome, and with good reason. With sculptures made by masters such as Bernini and Morelli, this castle is sure to leave you in awe, and knock your socks off!
P.S. We hear there's a secret connection to the Vatican, shhh.
Read on to know everything there is to this landmark:
Castel Sant'Angelo in a Nutshell
---
Handy information
| | |
| --- | --- |
| ⏰ Suggested Duration: | 1-2 hours |
| ☀️ Best Time to Visit: | Early Morning |
| 💜 Must See: | Renissance Art |
| 🎟️ Castel Sant'Angelo Entry Ticket: | €17.50 |
| 🎫 Colosseum + Castel Sant'Angelo: | €36.57 |
| 👼 Angels and Demons Tour: | €64 |
Must-see
Archangel Michael Sculpture
Handurian tomb
Ponte Sant'Angelo
Passetto di Borgo

Things to know
Number of visitors per year: 1.2 million
UNESCO World Heritage Site designation: 1980
Established: 139 AD
Architect: Decriannus
Architectural style: Ancient Roman architecture
Opening Hours and Address
9 am to 7:30 pm, every day

Address : Lungotevere Castello, 50, 00193 Roma RM, Italy
Get there
Why Visit Castel Sant'Angelo
---
Explore the rich history of Castel Sant'Angelo, which has served as a mausoleum, fortress, papal residence, and museum throughout different periods in history.
Marvel at the impressive architecture of the castle, showcasing a blend of ancient Roman and Renaissance styles.
Admire the beautifully preserved frescoes, sculptures, and artwork within the castle, offering insights into the artistic achievements of the past.
Enjoy breathtaking panoramic views of Rome, the Tiber River, and iconic landmarks from the castle's terrace, providing a unique perspective of the city.
Discover hidden chambers and secret passages within the castle, adding an air of mystery and intrigue to your visit.
Recommended Castel Sant'Angelo Tickets
---
Since Castel Sant'Angelo is a popular choice among tourists and locals alike, as it should be - it IS the perfect way to dive into history (irrespective of the fact if history is your jam or not), and explore a world that we know very little about.
Hence, long waiting lines are natural. Here are some Castel Sant'Angelo Tickets you can buy, so you can save time and dime:
History of Castel Sant'Angelo
---
Castel Sant'Angelo has a captivating history spanning centuries. Initially constructed as a mausoleum for Emperor Hadrian and his family in AD 139, it housed his ashes on the banks of the Tiber River. In the Middle Ages, it transformed into a fortress under Emperor Aurelian, becoming a strategic stronghold. Passing through the hands of various Popes, it served as a residence, prison, court, and even a warehouse for warfare material. Pope Nicholas III built the Passetto di Borgo, a secret passage connecting the castle to the Vatican. Renaissance renovations by Cardinal Della Rovere included the Papal residences and the Loggia overlooking the Tiber. Decommissioned in 1901, it was restored and opened as a museum in 1901, preserving its rich historical legacy to this day.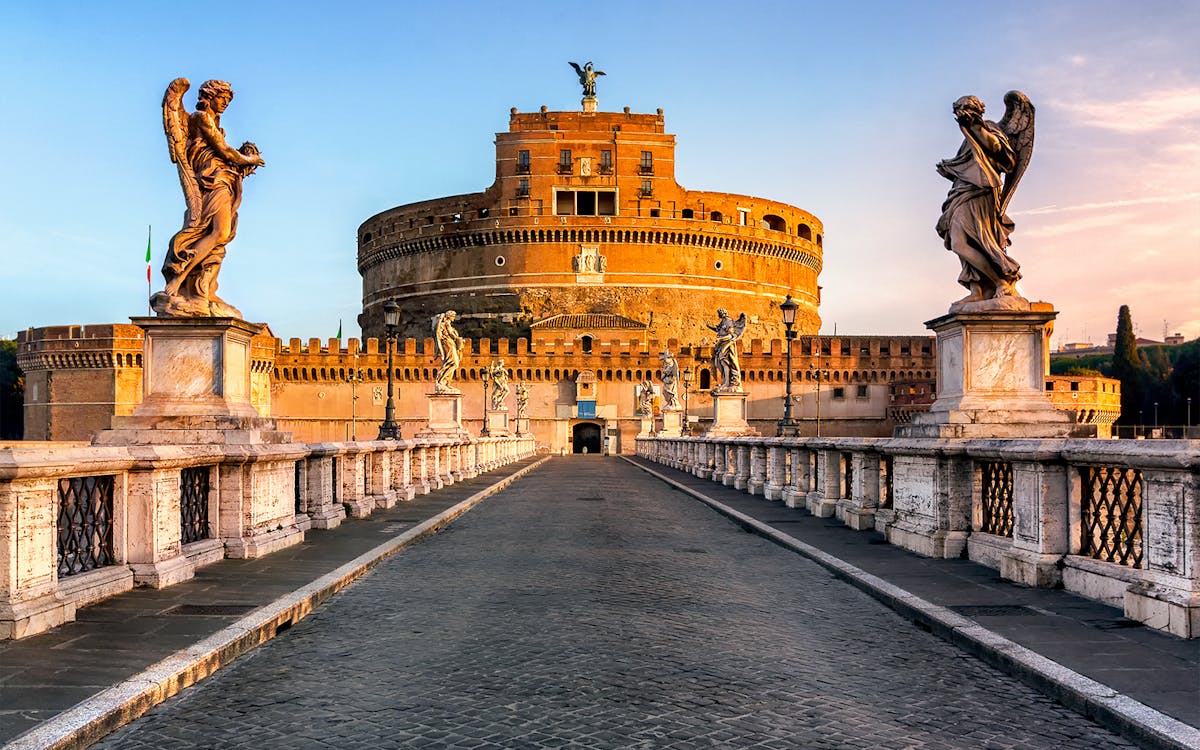 Architecture of Castel Sant'Angelo
---
The architecture of Castel Sant'Angelo is a captivating blend of ancient Roman and Renaissance styles. The structure's original core, built as a mausoleum for Emperor Hadrian, exhibits the grandeur of Roman architecture with its cylindrical shape and massive stone blocks. As the building evolved over time, additions and modifications reflected the architectural trends of different eras. The fortress elements, including the battlements and defensive walls, showcase its military function during the Middle Ages. The Renaissance renovations, led by Cardinal Della Rovere, added elegance to the Papal residences, with decorative details and the Loggia overlooking the Tiber River. The castle's exterior features statues, including angels, that adorn the famous Ponte Sant'Angelo. Castel Sant'Angelo stands as a testament to the architectural evolution and cultural heritage of Rome throughout the centuries.
Top Highlights of Castel Sant'Angelo
---
1

The Passage of Boniface IX
The Passage of Boniface IX at Castel Sant'Angelo was a fortified walkway constructed in the 15th century. It connected the castle to St. Peter's Basilica, allowing the Pope to move safely between the two locations during times of potential danger or unrest.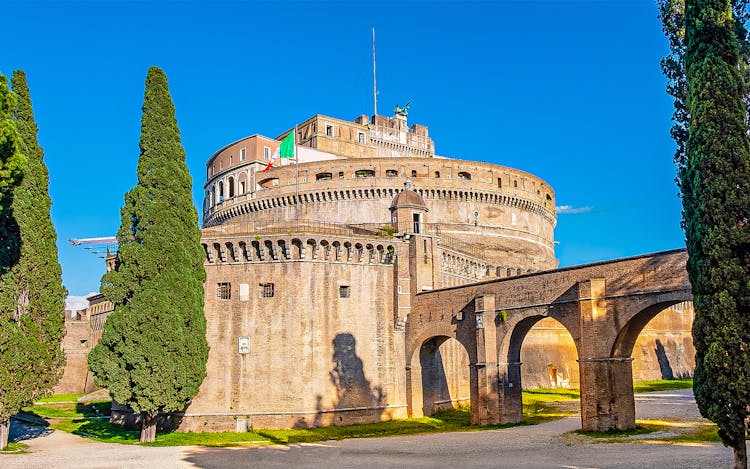 Castel Sant'Angelo houses an array of military exhibits that showcase its rich history as a fortress. Visitors can explore weaponry, armor, and artifacts, gaining insight into the castle's strategic importance and the military practices of the past.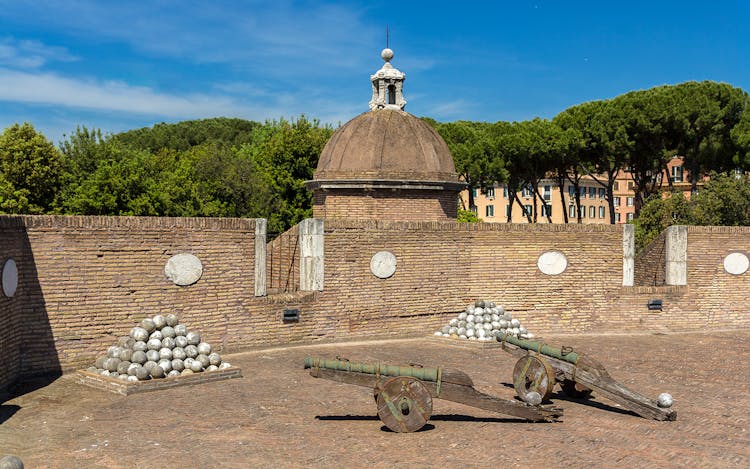 Located on the 3rd floor, the Courtyard of the Angel at Castel Sant'Angelo is a charming and picturesque outdoor space within the castle's walls. Adorned with statues and surrounded by elegant architecture, it offers a tranquil atmosphere for visitors to relax, admire the surroundings, and soak in the historic ambiance of the castle.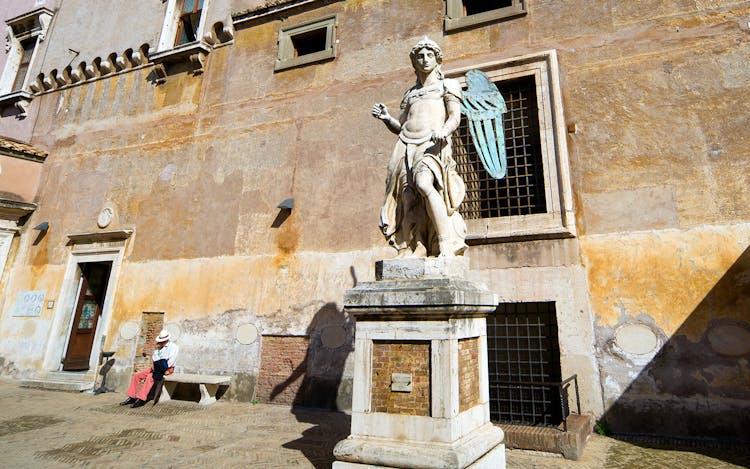 The terrace of Castel Sant'Angelo features Peter Anton von Verschaffelt's bronze angel sculpture from 1752, a notable focal point. The upper left corner holds the "convict" and "mercy" bell historically used for signaling executions. The terrace gained fame as the setting for the final act of Puccini's opera "Tosca," where the title character meets her tragic end. It also offers stunning views of the Pantheon's dome, Renaissance and baroque buildings, and a panoramic cityscape of Rome.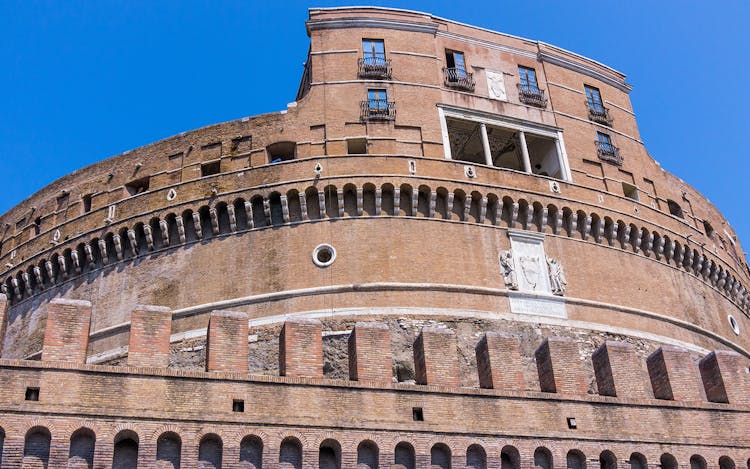 The Papal Apartments at Castel Sant'Angelo were lavish residences used by the Popes throughout history. These opulent rooms within the castle showcase the grandeur and wealth of the papal lifestyle. Visitors can explore the elegant chambers and gain insights into the lives of the pontiffs who once inhabited them.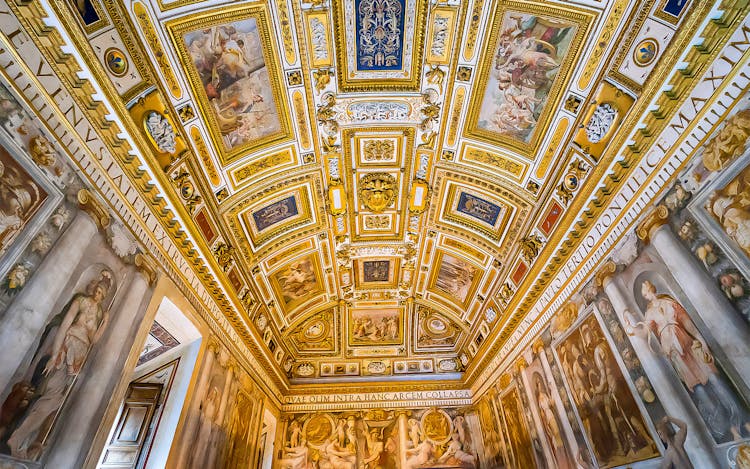 Best time to visit Castel Sant'Angelo
---
The best time to visit Castel Sant'Angelo is during the early morning or late afternoon to avoid large crowds. Weekdays generally have fewer visitors compared to weekends. Spring (April to June) and autumn (September to October) offer pleasant weather with milder temperatures. However, be mindful of seasonal events and holidays, as they may attract more tourists. Additionally, visiting shortly after opening or before closing allows for a more peaceful and immersive experience, providing ample time to explore the castle and enjoy the panoramic views without feeling rushed.
Additionally you can learn more about the Best Time to Visit Rome.
Castel Sant'Angelo - Timings
---
Daily - 9 AM to 7:30 PM
Last Entry - 6:30 PM
Closed on January 1st, May 1st, and December 25th
Getting There
---
By Bus: Buses 23, 280, 62, 64, or 982 will take you where you need to go...which is to the closest bus stop near Castel Sant'Angelo.
The bus stop closest to the landmark, Piazza Pia. Castel San't Angelo is a 5 minute walk away from this stop.
By Metro: Metro Line A is one that stops at Lepanto, which is the closest metro station to Castel Sant' Angelo. As close as a 17 minute walk away.
By Train: Train lines Fl3 and FL5 stop nearest to Castel Sant'Angelo. This stop, is Roma San Pietro, which is 22 minutes away.
By Light Rail: Train #19 is your ride to the all-famous landmark. The closest station via this train, is Risorgimento/S. Pietro, which is a 12 minute walk away.
Tips to Visit Castel Sant'Angelo
---
Plan your visit ahead of time to make sure you have enough time to explore the castle and its attractions.
Wear comfortable shoes as there is a lot of walking involved in exploring the castle's courtyards, gardens and towers.
Bring a camera along with you to capture some amazing photos of the castle's medieval architecture.
Try to visit the castle during off-peak hours in order to avoid large crowds.
Make sure to purchase tickets ahead of time from the official website as this will save you time upon arrival.
Take a guided tour of Castel Sant'Angelo to learn more about its history and secrets.
Be sure to spend some time in the gardens and courtyards as they offer stunning views of Rome and the river.
Make sure to explore all of the different rooms inside Castel Sant'Angelo, as each one offers its own unique story.
Make sure to take advantage of any special events being held at the castle, as these can be a great way to learn more about its history and culture. Be sure to check out their website for upcoming events.
Castel Sant' Angelo Facts
---
Castel Sant'Angelo was built in 123 AD by the Roman Emperor Hadrian as a mausoleum for himself and his family.
The castle's name changed from Hadrian's Mausoleum to Castle of St. Angel during papal rule of Rome in 590 AD
In 1471 Pope Sixtus IV connected Castel Sant'Angelo to Vatican City via the Passetto di Borgo, a secret passageway now open for tours.
The Castle is an iconic symbol of Rome and is featured in many works of art.
The castle houses the Museo Nazionale di Castel Sant'Angelo, which displays artifacts and artwork from its long history including Roman sculptures and Egyptian mummies.
The castle was featured in the 1963 film Cleopatra, starring Elizabeth Taylor and Richard Burton.
Restaurants near Castel Sant' Angelo
---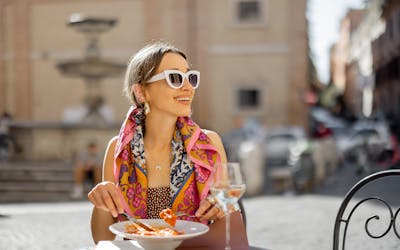 Caffetteria Ristorante Le Terrazze Castel Sant'Angelo
A family-run rooftop that's bound to give you all the feels of being in Italy, Le Terrazze Restaurant , is a must go-to. With views that are perfect to admire with a glass of wine - often a need after long days of exploring the city - this restaurant is sure to give you all! Head out to the restaurant to try your hand at their sandwiches, coffees, cheesecakes, tiramisu, and more!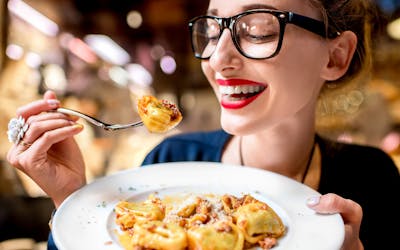 La Fraschetta di Castel Sant'Angelo
La Fraschetta di Castel Sant'Angelo is your gateway to a perfect lunch in Rome. Widely known for its pasta, interiors, and service - this restaurant is sure to leave your taste buds in awe for a long, long time.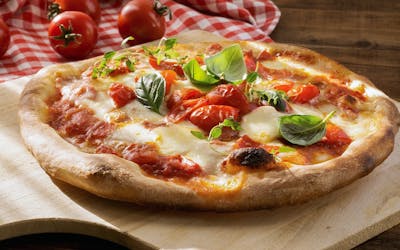 Cantina e Cucina
Cantina e Cucina is your one-stop-shop for the best pizzas, charcuterie boards, and mouth-watering appetizers. Perfect for a family sit-down meal, this place is sure to leave your heart longing for more.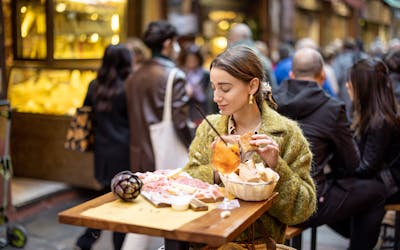 Grazia & Graziella
Everyone who has been here, has termed this place as their favourite. With great food, views and an amazing outdoor area...who wouldn't call this their go-to spot? Grazia & Graziella is where you should be going, for the time of your lives.
Other attractions near Castel Sant' Angelo
---
Hotels near Castel Sant' Angelo
---
Frequently Asked Questions
---
What is the address of Castel Sant'Angelo?
What are the different ways to reach Castel Sant'Angelo?
Which is the closest bus stop to Castel Sant'Angelo?
How soon do I need to book my tickets before visiting Castel Sant'Angelo?
How far is Castel Sant'Angelo from the Colosseum?
Is Castel Sant'Angelo close to the Vatican City?