The Broadway stage is perhaps the pinnacle for all performing arts. Every show that has been created in the modern era aspires to be showcased on the Broadway stage. The shows currently running on Broadway are some of the most popular theatrical performances in the world, and undoubtedly so. However, if you're looking for something new and refreshing, a performance lesser known to the masses, Off-Broadway might be the place to head.
On the Off Broadway stage you will find a variety of shows ranging from original creations to new adaptations. It is truly a place for innovation and new ideas. In fact, you might be able to catch a show before it gains global acclaim and see it in its raw authentic form.
Shows such as Hamilton, which is widely believed to be the best musical running on Broadway currently, began its journey from the humble stages on Off-Broadway theatres.
Top 10 Off-Broadway Theatres
---
Now that you have decided to watch an Off-Broadway show, here are the best places in New York you can catch them!
Box Office Hours :
Mon - Fri : 10:00 AM - 6:00 PM
A theatre that has been around for nearly 200 years, the Astor Place Theatre has been an institution for Off-Broadway shows since time immemorial. It's first show called 'The Indian wants the Bronx' had a very young Al Pacino starring in its lead cast. Today it is home to the popular Blue Man Group who have purchased this theatre and play their shows on the regular.
Box Office Hours :
12:00 PM - 6:00 PM
Part of a two theatre setup, both theatres are state-of-the-art facilities used by non-profit organizations whose sole job is to revive classicals. In these theatres you will often see musicals and plays from a bygone era making their comeback. You might also stumble upon works that are new and in vogue. Some of the best playwrights in Broadway, often showcase a new production in this theatre.
A unique complex with five different theatres, New World Stages also showcases a variety of shows throughout the year. The shows here range from new productions to full scale theatrical events. The theatre is currently running a former Broadway show, Avenue Q, which was a tony award winning show. It is also home to an Off-Broadway hit The Play that Goes Wrong, which is slated to run on Broadway in the coming future!
Box Office Hours :
3:00 PM to showtime
Established in 1904 and originally known as the Player's theatre, the Orpheum has been home to some of Off-Broadway's greatest hits. Plays such as Little Shop of Horrors and Anything Goes once made their debuts on this stage. Today it showcases one Off-Broadway's longest running shows, the dance hit Stomp.
Box Office Hours : 3:00 PM to showtime
Established in 1904 and originally known as the Player's theatre, the Orpheum has been home to some of Off-Broadway's greatest hits. Plays such as Little Shop of Horrors and Anything Goes once made their debuts on this stage. Today it showcases one Off-Broadway's longest running shows, the dance hit Stomp.
Box Office Hours :
3:00 PM to showtime
St. Luke's Theatre was established in 1923 and since then has gained repertoire as a theatre that showcases the best that Off-Broadway has to offer. With a seating capacity of just 178 people, the shows at St. Luke's have a very cosy vibe. Today it showcases two hits, Frankenstein: The New Musical and Sistas: The Musical.
Box Office Hours :
Tue - Fri : 4:00 PM to 8:00 PM
Sat : 2:00 PM to 8:00 PM
Sunday : 2:00 PM to 7:00 PM.
The oldest running theatre in Off-Broadway, Cherry Lane Theatre has been a focal point of all the great Off-Broadway shows. It is a place that often shows some of the best off-beat shows. Currently it is showing the very new and refreshing, Esai's Table.
Box Office Hours :
Tue - Sat : 1:00 Pm to 8:00 PM
Sun : 1:00 PM to 3:00 PM
Mon : 1:00 PM to 6:00 PM.
A not-for-profit theatre located near Union Square, the Vineyard Theatre has always been seen as a champion of Off-Broadway productions. The theatre has often received numerous awards over the years for maintaining its excellent conduct and for supporting new shows. Vineyard Theatre has seen the premiere of shows such as Avenue Q and Indecent, which have gone on to be smash hits on the Broadway stage. Currently it is running two shows, namely, Dana H and Tuvalu.
This theatre was originally built as a movie theatre and was repurposed into an Off-Broadway theatre in the 1950s. The theatre is named after the wife of Louis Schweitzer, who purchased it in 1955, shortly after starting his life as a performance theatre. Lucille Lortel Theatre is also home to the MCC or Manhattan Class Company, a group of actors, playwrights and directors, who have produced some stunning shows since the late 1990s. Today the theatre runs two plays, namely The Alchemist and Sanctuary City.
Box Office Hours :
Tue - Sat : 12:00 PM to 6:00 PM
Housed within the confines of the St. Peter's Church, this theatre company has two separate stages, a 199 seater called the Linda Gross theatre and a 98 seater black-box called Atlantic Stage 2. The latter is used for experimental projects and is a place of prominence among aspiring playwrights. Today both the place still continue their tradition of running some of the newest plays on Off-Broadway on their stage.
Off-Broadway Theater Seating Sections
---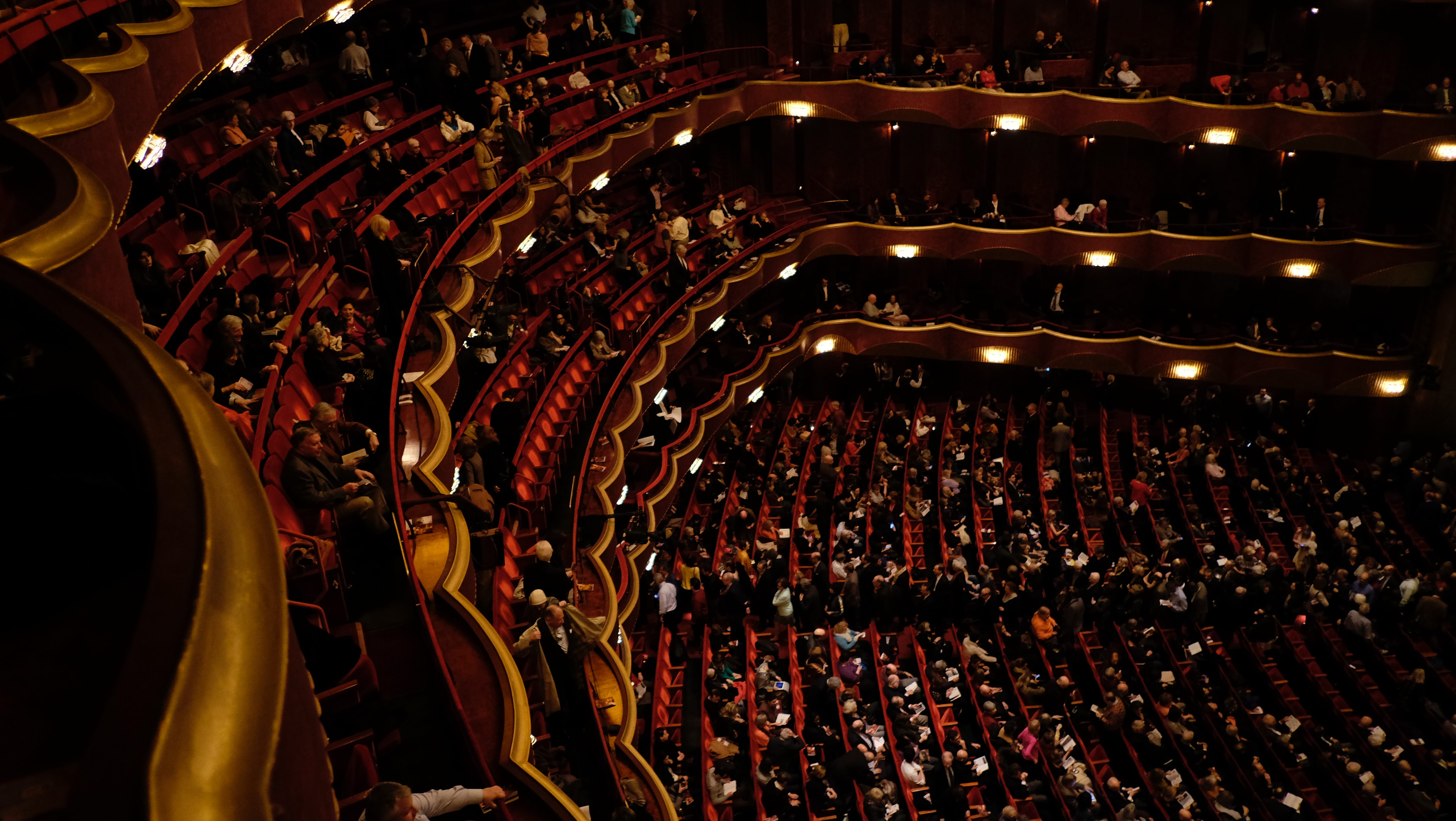 Unlike some of the theatres that showcase Broadway productions, Off-Broadway theatres are smaller and have very limited seating. By definition, Off-Broadway theatres are ones that can hold 100 to 400 people. There are certain theatres that can hold up to 800 people and have intricate seating charts.
A majority of Off-Broadway theatres have just an orchestra section as they can hold that many people. Other prosperous theatres such as the Orpheum Theatre and the Astor Place Theatre have a balcony section. Some theatres like the Lucille Lortel Theatre and New World Stage have a mezzanine level as well. Here's what you can expect from each of these seating sections in off-broadway theatres.
Orchestra
The section that is located right in front of the stage, the orchestra is the most intimate place you can view an Off-Broadway show from. It is usually on the same level as the stage itself as Off-Broadway shows do not have elevated stages. These seats are often the costliest and the central seats are the most coveted seats in the house. However, if you are on the shorter side, it might suit you to opt for a seat on the side that would give you an angled view. You can also ask for booster seats.
Mezzanine
This section is one that is at a slightly elevated position and offers a higher view of the stage. You get a panoramic view of the stage from this view. The central part of the mezzanine offers the most spectacular view of the show. These seats often cost the same as orchestra seats. The first two rows of the mezzanine are arguably better than the front seats of the orchestra.
Balcony
These seats are unlike that of the traditional sense in Broadway theatres. Often in Off-Broadway theatres, you will notice that balcony seats are in fact on a mezzanine level. If the theatre does not have both a mezzanine and balcony, chances are you will get a great viewing experience from the balcony.
Some theatres only have a single option and it is advisable to get seats as close to the stage as possible.
Know Before Picking Your Seats
---
Choose a seat that is close to the stage, especially if it is a drama or comedy. It will help you listen to the dialogues better.
For musicals the farther the better. It allows you to immerse yourself into the entirety of the stage and its set.
Mezzanine seats are always a good option, especially the first few rows.
Balcony seats are usually cheaper than orchestra and mezzanine seats, this might be good when you are watching a musical.
Theatre seats for Off-Broadway are not cheap and neither are they easy to come by, so book online to get the best deals.
Best Restaurants near Off-Broadway Theatres
---
There are many options to dine in and around the theatre district. These are some of our picks and are located in close proximity to a majority of Off-Broadway theatres.
Check out our top picks for the best theatre district restaurants in NYC.
More Broadway Guides
---
For more Broadway information, here are some helpful quick links!