Dubai is one of the best cities for tourists to visit simply because of the wide range of experiences that it has to offer. There's no one way to enjoy Dubai, the list of attractions here rivals any other city in the world. One of the things Dubai is known for is the stunning architecture that hugs the Persian Gulf and the best way to enjoy these beautiful buildings is to take a Yellow Boat ride and enjoy Dubai from the sea. With Yellow Boats, you can get a guided tour with mesmerizing views of Dubai's top attractions and the beautiful sea.
Yellow Boat, Dubai
---
Yellow Boats Dubai, as the name suggests, are inflatable ribbed boats which are yellow in colour and easily identifiable in a sea full of cruises and boats. Yellow Boats have been known to provide consistently safe tours, carrying over 70,000 passengers every year. To ensure the boats are safe, Yellow Boats equips each boat with GPS navigation, powerful engines and life jackets. The guides on the boat are knowledgeable and fully qualified with water safety and life rescue mechanisms.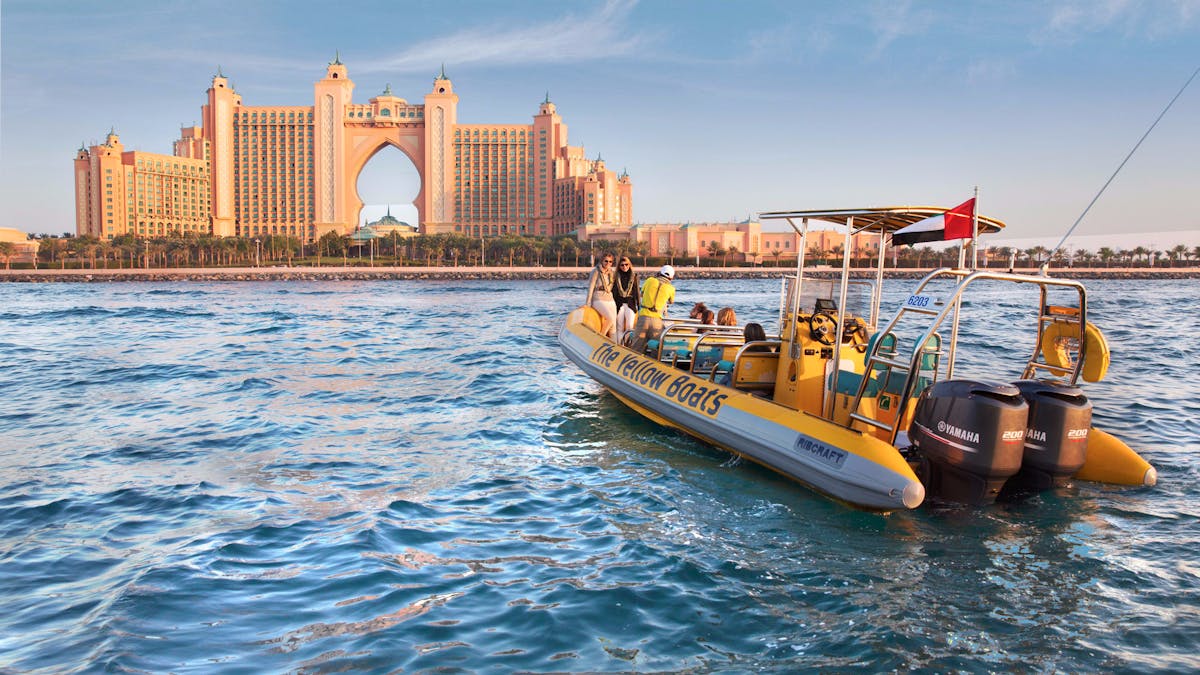 Depending on the time you want to spend in the water, Yellow Boats has a range of tour options to check out Dubai's stunning waterfront attractions. Be it the Marina or the Palm Jumeirah, you are guaranteed to see some stunning sights, lots of Vitamin Sea and an informative tour that will leave you learning a lot more than you did before.
Why You Must Go For A Yellow Boat Tour in Dubai
---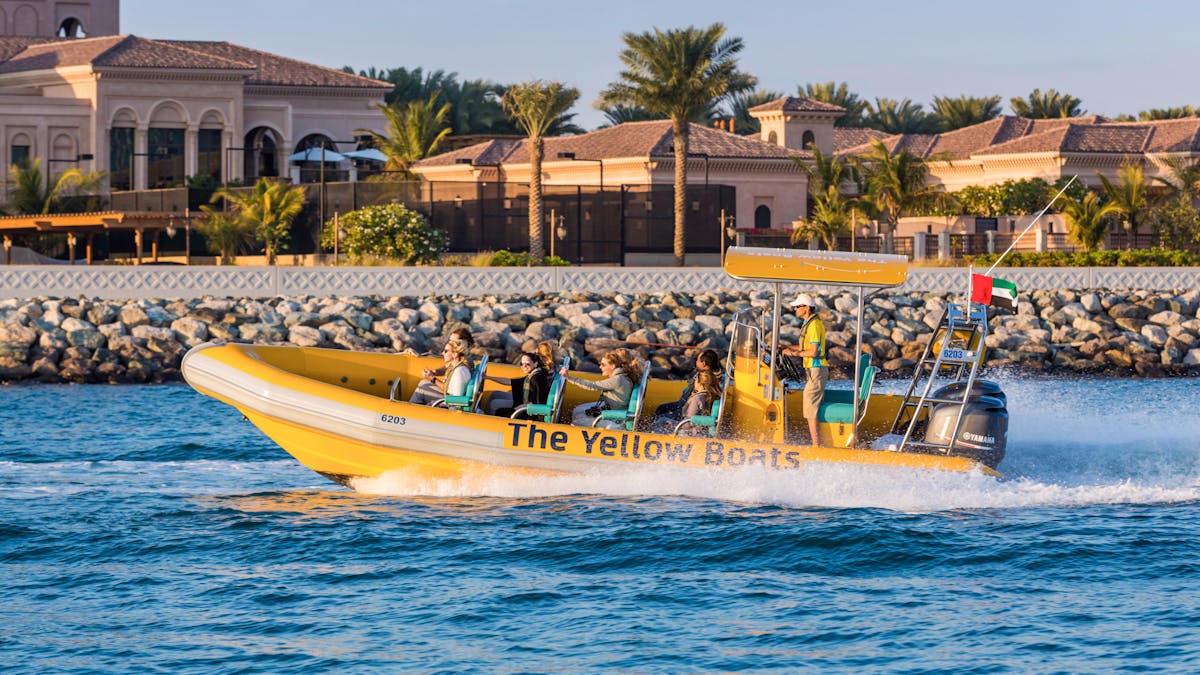 Expert Guided commentary
It's not quite likely for speed boats to have guided commentary, but yellow boat tours are accomodating enough to have that too! They have a knowledgeable set of skippers who are more than happy to answer your doubts and voluntarily indulge in a narrative about all that you see on the tour, information that you perhaps won't find on any guidebook!
Kids love it!
While adults enjoy this tour because of the unparalleled views, kids tend to love everything about this tour - right from the joy of being on a boat to the views, the lifejackets and the super enthusiastic skippers. Not to forget the 360 degree donuts stunt the skippers undertake which gets them thrilled and wanting for more.
Click the best pictures of your vacation!
When you're trying to click pictures of the Atlantis, The Palm Jumeirah etc on land its likely that you'll have plenty of others in the backdrop. But clicking pictures from the photo-stops on the Yellow Boat Tour gives you human-free pictures that are oh-so-insta worthy! Trust us on this.
A 5/5 rating on Tripadvisor
There are very few attractions and tours that have 5/5 rating on Tripadvisor and the Yellow Boat Dubai happens to be one of them. Everyone who has ever been on it has only good things to say with the most common comment being 'Don't miss it!'
Safety guaranteed
If you're one to be worried about safety, there's no need for you to be on a Yellow Boat Tour. They value safety more than anything and have certified skippers and equip you with top quality safety equipment. They take special care when children are onboard to make the parents and the kids themselves feel more comfortable. There has been no single accident reported till date on the Yellow Boat Tour Dubai, so hop onboard carefree!
Looking for Yellow Boats Dubai Discount Code? Here's how you can score an exclusive discount
Best Yellow Boat Tours Dubai - Tickets & Deals
---
Yellow Boat Tours are available in 60-minute, 75-minute and 90-minute versions, and the boats come in two sizes: 11-passenger and 14-passenger boats. You can choose the time for which you'd like to be onboard and according to the number of people who have booked the tour, you'll be allotted a 11 or 14 passenger boat.
The Yellow Boats: 60 Minutes Marina Tour
This is a slow paced guided evening cruise showing off Dubai's beautiful skyline in during the sunset.
Attractions covered : Twisted Tower, Princess Tower, Address Hotel, Al Fattan Towers, JBR Walk.
The boat ride operates once at 6pm, 7pm and 8pm and includes a guide, bottled water, lifejackets and countless photo opportunities.
The Yellow Boats: 75 Minutes Atlantis Tour
Cruise through Dubai Marina, and get up close & personal with the Atlantis
The ticket cost includes a 75 minute boat ride, a guide, life jackets, bottled water and some amazing photo opportunities.
This boat ride operates once every 75 minutes from 9 AM to 5:45 PM.
The Yellow Boats: 90 Minutes Boat Tour
This boat tour the best attractions of Dubai - the Marina, the Palm Jumeirah, the Atlantis and Burj Al Arab.
The ticket cost includes a 90 minute boat ride, a guide, life jackets, bottled water and some amazing photo opportunities.
This boat ride operates once every hour from 11 AM to 6 PM.
Looking for Yellow Boats Dubai Discount Code? Here's how you can score an exclusive discount
Your Yellow Boat Dubai Experience
---
Focused in the waters around Palm Jumeirah and Dubai Marina, Yellow Boat Dubai tours are sightseeing cruises that show you the city skyline from the waters. The experience typically begins in Dubai Marina where you don your safety jacket and board the boat. In the company of experts, you will cruise the waters from 60, 75 or 90 minutes. During this time, you will experience two things:

• The thrill of riding a speed boat that tears through the waters at speed but is comfortable as well.
• A sightseeing experience on the waters that even dhow cruises can't compare to.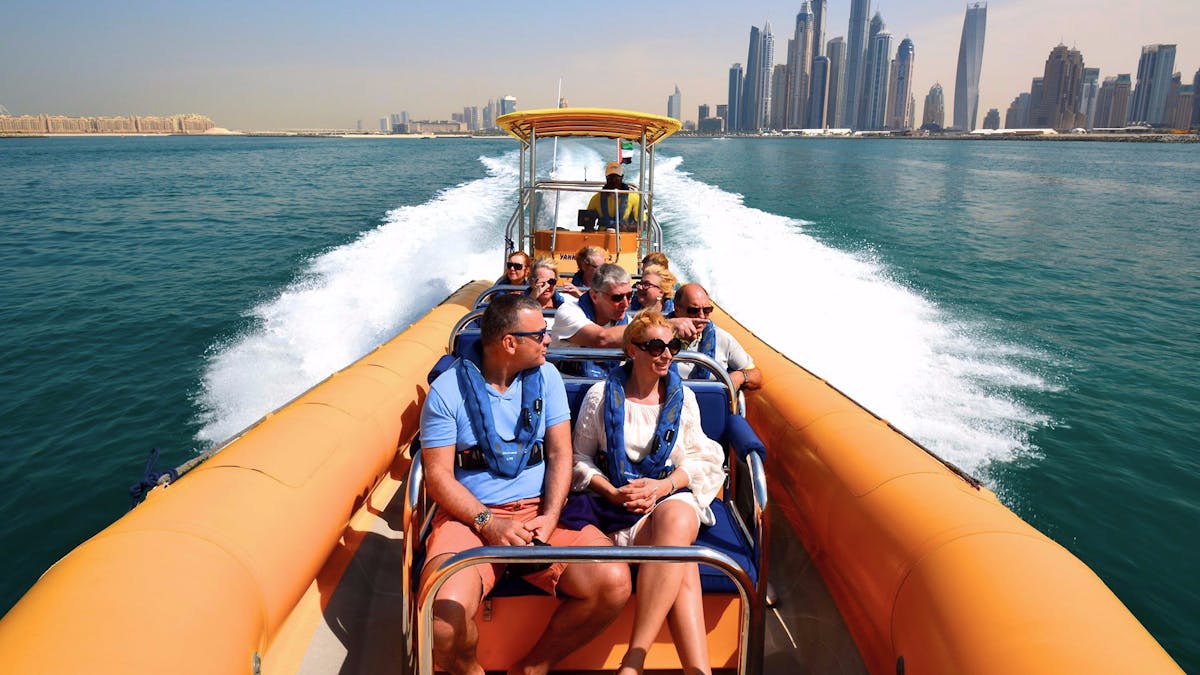 Know Before You Go On A Yellow Boat Dubai
---
Tour Start Timings
60 minute yellow boat tour I 3 slots a day - 6:00 PM, 7:00 PM and 8:00 PM
75 minute yellow boat tour I 6 slots a day - 9:00 PM, 10:45 PM, 12:30 PM, 2:15 PM, 4:00 PM, 5:45 PM
90 minute yellow boat tour I 10 slots a day - 9:00 PM, 10:00 PM, 11:00 PM, 12:00 PM, 1:00 PM, 2:00 PM, 3:00 PM, 4:00 PM, 5:00 PM
Tour Departure Point
Tours start from Dubai Marina Walk, opposite Spinneys Supermarket and beside Reem Al Bawadi Restaurant. You will see the Yellow Boat Dubai signage here.
Handy tips
Those who are quick to get nauseated should sit at the middle down to the back
Make sure you hold onto your valuables dear and tight as the bumpy movement can throw things off the deck
If you have children, make sure you warn them to clutch onto the railings nice and tight
Pay heed to the safety instructions for a safe trip.
They provide unlimited bottles of water onboard, so don't worry about getting thirsty under the Dubai's scorching sun.
Yellow Boat Dubai Reviews
---
We booked for 90 minute ride,and we enjoyed every second,We took so many picture of an amazing architect of dubai marina.our guide bon and Varun so very helpful,they explain us each and every places around and gave us some safety instructions as well.a very worth full visit.
sushantn, Tripadvisor October 2018
After searching the various boat trips from Dubai marina we settled on the Yellow boats tour that takes in Atlantis and Burj al Arab. The trip lasted approx 1.5 hrs and the RIB provided some thrill to the trip. Crystelle was our guide and she was fantastic mixing information with humour. They also supplied unlimited bottles of water throughout the trip which I wasn't expecting. Superb trip
lancasterlad, Tripadvisor October 2018
Ready For Your Yellow Boat Dubai Tour?
---
Check out other ways of experiencing Dubai's waterways. The Dhow Cruises in Dubai are a much sought after experience and here are our detailed guides on the best Dhow Cruises across Dubai.