This guide on the Vivian Beaumont Theatre Seating Chart will help you find the best seats in the house. Get real-time seat availability and pricing, insider tips on the best seats and more.
30-Second Takeaway: Vivian Beaumont Theatre
---
The Vivian Beaumont Theatre is a part of the Lincoln Center Theatre.
The Vivian Beaumont Theatre is different from other Broadway houses because it uses stadium seating and a thrust stage. This provides for a great view from anywhere in the house.
The Vivian Beaumont Theatre is currently playing My Fair Lady, one of the most beloved musicals of all times.
The ticket availability of My Fair Lady is decent, with an average theater occupancy rate between 75% to 85%. Generally, the best seats, i.e. Orchestra Center and they sell out fast.
Navigating The Vivian Beaumont Theatre Seating Chart
---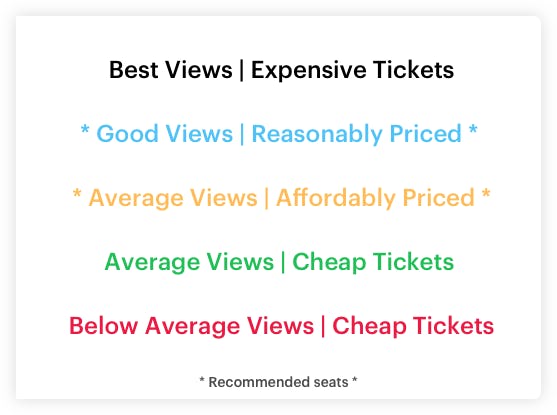 Vivian Beaumont Theatre
Orchestra - from $187
Loge - from $157
Check Real-Time Seat Availibility and Prices
Vivian Beaumont Theatre - Recommended Seats
• Value for money seats
Middle Orchestra - Rows L, P, O, K
These seats have a great view of the stage wihtout paying a hefty price. These seats are also the most popular and tend to sell out soon.
• If money were no matter
Orchestra Right Center Row H gives the best view and a steep rate.
• Best views of the stage
Orchestra Center - Any seats in Row D to K.
• Best Legroom
Orchestra Center Row H has the best legroom in the house


The Vivian Beaumont Theatre is different from other Broadway houses because it employs a stadium-style seating and a thrust stage. With 1200 seats in total, this theatre is considered moderately large for dramatic plays and medium-sized for musicals. There are the two primary seating sections in the Vivian Beaumont Theatre, namely orchestra and loge. Let's look at each seating sections in detail.
Vivian Beaumont Theatre Orchestra
Since the Vivian Beaumont Theater seating is structured like a stadium, the orchestra section is divided into five subsections each spread around the stage in a semi circle. The Orchestra section has a total of 712 seats divided into 5 sections namely - the Left Orchestra, Left Center Orchestra, Center Orchestra, Right Center Orchestra, Right Orchestra. Each of these have rows spanning from A-P with varying seats in each row.
Vivian Beaumont Theatre Loge
The only elevated seating section in the Vivian Beaumont Theatre, the loge is much smaller in comparison to the massive orchestra, with a total seat count of 361. This again is divided into 5 halves - Loge Left, Loge Left Center, Loge Center, Loge Right Center and Loge Right. Each of these have 5 rows from A-E.
Which Seats Offer The Best View?
---
My Fair Lady is a very theatrical show, to put it mildly. And to experience the magic on stage exactly as intended, you need to get good seats. This is especially true for a theatre like Vivian Beaumont which is not structured like your typical Broadway theatre. There's no denying that the front Orchestra has the best seats in the Vivian Beaumont Theater. These seats not only offer an uninterrupted view of the stage, but also bring you closer to all the action. Specifically, the center seats of rows A to E are the amongst the best in theatre.
However, since the Vivian Beaumont Theatre follows a stadium style seating, each row is at a higher elevation hence giving a decent view from any seat in the house. Unless an extremely tall person lands in front of you, you're good to go from anywhere!
Which seats/section offer the best value for money?
---
The Orchestra Center, Orchestra Right Center and Orchestra Left Center offers the best value for money seats. They are moderately priced and are closest to the stage as well. Go for rows E-J in particular as they have the best view coupled with the best rates.
As for the Luge seats, Left Center and Right Center last 2 rows are a steal deal. They are the cheapest seats in the house however they are at a good height which allows a good view of everything happening on stage. You may not be able to see the minute details, but reviews go that these seats have good legroom, offer decent views and have the best price. Center seats in rows B and C in the loge section are also value for money considering the clean view on offer and how much they cost.
How Far In Advance Should You Book My Fair Lady Broadway tickets?
---
My Fair Lady is an age old classic that has been running on Broadway for decades now. Its latest production is lavish and flamboyant, already earning nominations for 10 Tony Awards, including Best Musical Revival! The original 1956 production won six Tony Awards including Best Musical, and was coined "one of the best musicals of the century" by New York Times.
Keeping the above facts in mind, we would recommend booking your tickets at least two to three months in advance if you're planning on booking the best seats in the theatre. If you book your tickets at least a couple of months in advance, you can score the best seats in the theatre. You can book your online tickets throught the My Fair Lady official website.
Buy Discounted Broadway Tickets
---
Wondering how to score cheap and discounted broadway tickets? Get great last minute deals for Broadway and Off Broadway shows in New York on Headout, your one stop, on-demand mobile concierge.
Choose your show, select your seats, and show up at the theatre on the day of the experience. In the meantime, a Headout representative will take care of the legwork and meet you at the theatre before your show to hand-deliver your tickets in person.
More Broadway Guides
---
For more Broadway information, here are some helpful quick links!