One of the oldest cities in the world, Athens is famous around the world for its ancient culture and historical ruins. From the Acropolis to the Temple of Poseidon, there are a lot of historical buildings to explore in the city. However, that's not all, Athens also features vibrant nightlife and several gorgeous beaches, making it the perfect vacation spot for different types of travelers. In this Athens trip planner, we bring to you some of the best Athens itineraries along with essential information such as the best time to visit Athens, how to get around the city, where to stay, and more.
Best Time To Visit Athens
---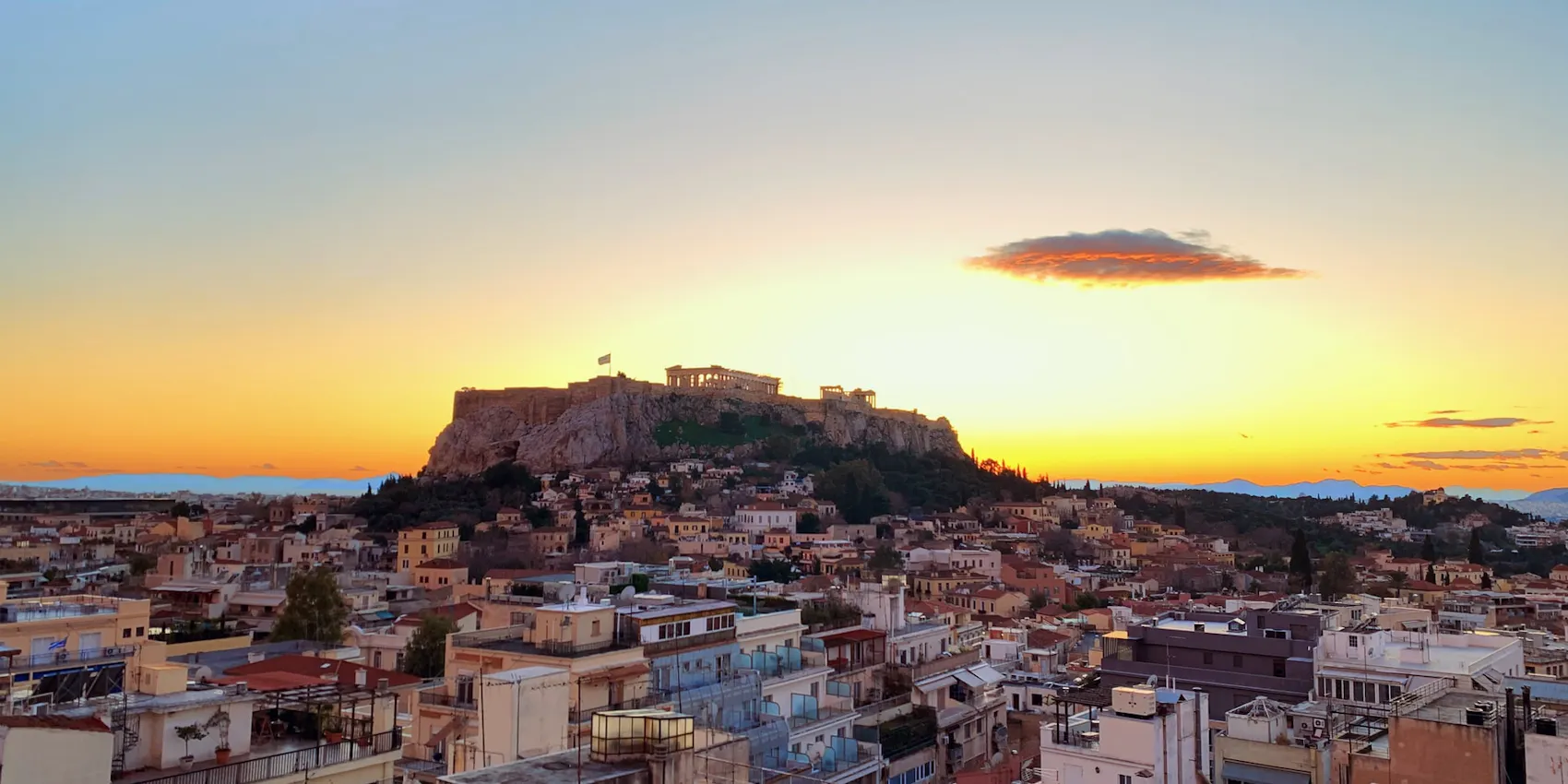 Athens receives a good amount of sunshine throughout the year but if you wish to enjoy a pleasant, warm climate then the months of March to May and September to November will be perfect for you. Moreover, during these months, there are few tourists around plus you can get amazing deals on the flight and hotel prices at this time.
Winter months can be frigid in Athens with temperatures ranging between 9 and 12 degrees Celsius. At the same time, this is a great time for budget travelers as the prices are at an all-time low and there won't be any crowd at this time.Read more about the the best time to visit Athens.
Athens Itineraries
---
Depending on how long you're in Athens for - whether it's just a day or 5 days, we have the perfect itineraries crafted for you. Go through these Athens itineraries and plan your stay well in advance!
If this is your first time traveling to Athens, you could use some help planning your daily itineraries. Apart from the basic planning (flight tickets, visa, accommodation in Athens, etc.), you'll need to consider your day-to-day activities in Athens - where to go, what to see, how to get there, and more. But fret not, for we are here to help.
1-Day Athens Itinerary
3-Day Athens Itinerary
Athens Travel Restrictions
---
Given the current situation across the globe, it is important to read up on the travel restrictions. As of now, Greece has has partial restrictions in place, and it is important to keep that in mind before traveling to this country. Find out about the new rules and reopening of attractions on the blog post below.
Hacks To Buying Cheap Athens Flight Tickets
Now that you've figured out the perfect time to visit Athens and braved through the restrictions, it is time to look for flight tickets. Go through our 17 golden hacks for cheap flight tickets before scouring through the flight ticket websites. You'll be surprised how easy it is to save a pretty penny while booking flight tickets!
Do I Need Travel Insurance?
Traveling involves a certain amount of uncertainty always. With the pandemic, this amount has only increased. Opting for travel insurance is not something many people have done (pre-pandemic), but post-pandemic, it is highly recommended that you opt for it. Choosing the right travel insurance plan gives you a safety net to prevent losses if things go downhill.
Travel insurance can be complex- how do you know what to choose? For this very reason, we can crafted a ultimate guide to choose travel insurance post-covid.
Packing For Athens
---
When you are packing for Athens, it is important to consider the places that you are visiting and the month when you would be visiting the city. Pack smart and light and don't forget the essentials such as a universal adaptor, a raincoat, a photo ID, a good pair of shoes, and so on. If you are going to be visiting churches and formal places, then do dress up soberly and pack casual shorts and t-shirts as well. In churches, keep your knees and shoulders covered. Also, do check the official website of the attractions for any additional dressing requirements when you are packing for the trip. Avoid wearing high heels when visiting a monument as they are banned since they can destroy the ancient sites.
Where To Stay In Athens
---
One of the most important things to figure out when you are planning a trip to Athens is where will you stay. Athens has several neighborhoods which can make the choosing process a little difficult for travelers.
If you are visiting Athens for the first time, then Plaka, Syntagma, Psirri, Koukaki, etc. are good places to stay. They are close to the sightseeing attractions and feature several cafes and restaurants.
For those who want to party and enjoy the nightlife of Athens, Psirri and Monastiraki are the perfect places for staying in the city. Psirri is the nightlife hub with plenty of cafes, clubs, and bars. Monastiraki, on the other hand, offers several sidewalk cafes where tourists can chill and enjoy good food.
If you are visiting Athens with your family, then choose neighborhoods like Syntagma, Plaka, or Monastiraki. These are walkable distance to the main sights and restaurants and offer easy transportation access.
Finally, if you are on a budget trip, then you can find accommodation in Gazi. It has an amazing selection of budget hotels and you are within 20 minutes of walking distance from most of the attractions.
Getting Around In Athens
---
When you are planning a trip to Athens, your first question might be how can you travel around the city. Thankfully, Athens has an affordable and safe public transportation network that covers most parts of the city and suburbs.
A great thing is that you can use the same ticket for different modes of transportation for 90 minutes at a time. There are several transportation options to choose from including taxis, metros, buses, trains, and trams.
Buses and trolleybuses have an extensive network in the city and run every day from 5 AM to midnight. Metros are the quickest way to travel around the city and the lines connect the metro to the tram, buses, and the suburban railway.
For those in a hurry, taxis are a good choice as they follow the meter system in Athens. So, you will only be charged for the kilometers you traveled.
There are other modes of transportation such as trains, trams, etc. that aren't as extensively connected but are good for reaching certain destinations.
5 Best Day Trips From Athens
---
Planning a trip to Greece is a monumental effort; the country has amazing destinations that appeal to travelers of all kinds. History buffs, wine connoisseurs, architecture aficionados, and culture vultures; everyone can pick and choose their favourite destinations in Spain. Athens is at the heart of all these experiences, and merely a day away from it are incredible destinations that offer a variety of experiences.
Check out our list of the best day trips from Athens:
Ready To Head Out To Athens?
---
Check out the top things to do in Athens & our comprehensive Athens Travel Guide packed with itineraries, tours, culture trips, best hotels, restaurants and a lot more.
Here are a few more guides that should help you plan your visit.
FAQs: Athens Trip Planner
---
Athens is one of the most popular vacation spots for history buffs and beach lovers. There are lots of things to do in the city such as exploring historical ruins, visiting museums, relaxing on the beaches, partying in the nightclubs, and so on.
The best time to visit Athens is from March to May and September to November when the weather is pleasant and there are fewer tourists in the city.

There are multiple options available for travelling around Athens including buses, metros, trams, taxis, and suburban railways.
Make sure to pack a universal adaptor, a raincoat, and your camera when visiting Athens.
Not really, but do dress modestly and keep your knees and shoulders covered when visiting the churches in Athens.
The best things to do in Athens are spending time on the beaches, learning the history of ancient Greece, exploring the historical ruins, visiting the museums, and so on.
There are many day trips possible from Athens such as Piraeus, Aegina, Corinth, Mycenae, etc.
For first-time visitors, Plaka and Syntagma are the best places to stay in Athens while Gazi is a great place to stay for those who are on a budget trip.
Yes, public transportation is both safe and affordable in Athens.
The best attractions to visit in Athens are The Acropolis, Temple of Poseidon, Ancient Agora of Athens, The Temple of Olympian Zeus, and so on.
Athens Trip Planner Guide