When in Venice, visiting Saint Mark's Basilica, one of Italy's top and most magnificent cathedrals, is a must! This ecclesiastical structure called Saint Mark's Basilica, also known as the Basilica di San Marco in Italian, dates back to the 9th century and houses the remains of St. Mark that was brought all the way from Alexandria.
With biblical significance hidden in every nook and corner of this magnificent church, this holy place of worship is also an architectural marvel which is defined by the distinct Byzantine, Romanesque and Gothic detailing throughout its structure. This fine blend of architectural styles comes from the fact that it underwent multiple modifications over history. This church holds immense religious significance and has always been the center of religious life in Venice.
On a visit to Saint Mark's Basilica, you can admire the art and relics throughout the establishment or opt for a moment of pure serenity and tranquility at the arranged Mass in church.
Advantages of a St. Mark's Basilica Guided Tour
---
Skip to serenity with priority access
Move through the crowded lines and skip to the serenity inside the church directly with your skip-the-line tickets. The priority access assures for a hassle free experience amidst the building full of gorgeous Byzantine-style architecture, where the only serenity will occupy your mind and not the worrisome thoughts of standing in long queues or the long wait to get inside.
An expert guide for a wholesome experience
There is so much of history that comes with this marvelous creation of Saint Mark's Basilica, deeper insights, hidden secrets, local legends and lores that you can unravel with your expert guide. As you explore each corner of this work-of-art church, your expert guide will supply you with all of these intriguing stories, facts and legends while you take your time to admire the beauty of the creation all around you.
Flexible timing
Worried about fitting this visit to your schedule? We keep no room for hassles and worries at all! With flexible timings at your service, choose a slot that's comfortable for you according to your schedule and marvel at the rich blends of various styles, the masterpieces and dive into a moment of absolute tranquility and serenity.
Additional access to top attractions and experiences (Selected tours)
Awestruck with the beauty of Venice in the line of your vision? And you want to make a day out of it? Well, alone with the exploration of this architectural masterpiece from the 9th century, you can add other top attractions and experiences for a wonderful day in Venice filled with its history, culture and art. In your tour, you can add exciting and refreshing experiences such as gondola rides or a complimentary Glass Craftsman Demonstration. If you're in the mood for more of classic art-in-architecture, you can opt to add a tour of Doge's Palace along with your visit. And if you choose to enjoy more of just a serene day out in the city, you can opt for a tour where you can discover the city of venice out on foot along with your expert guide!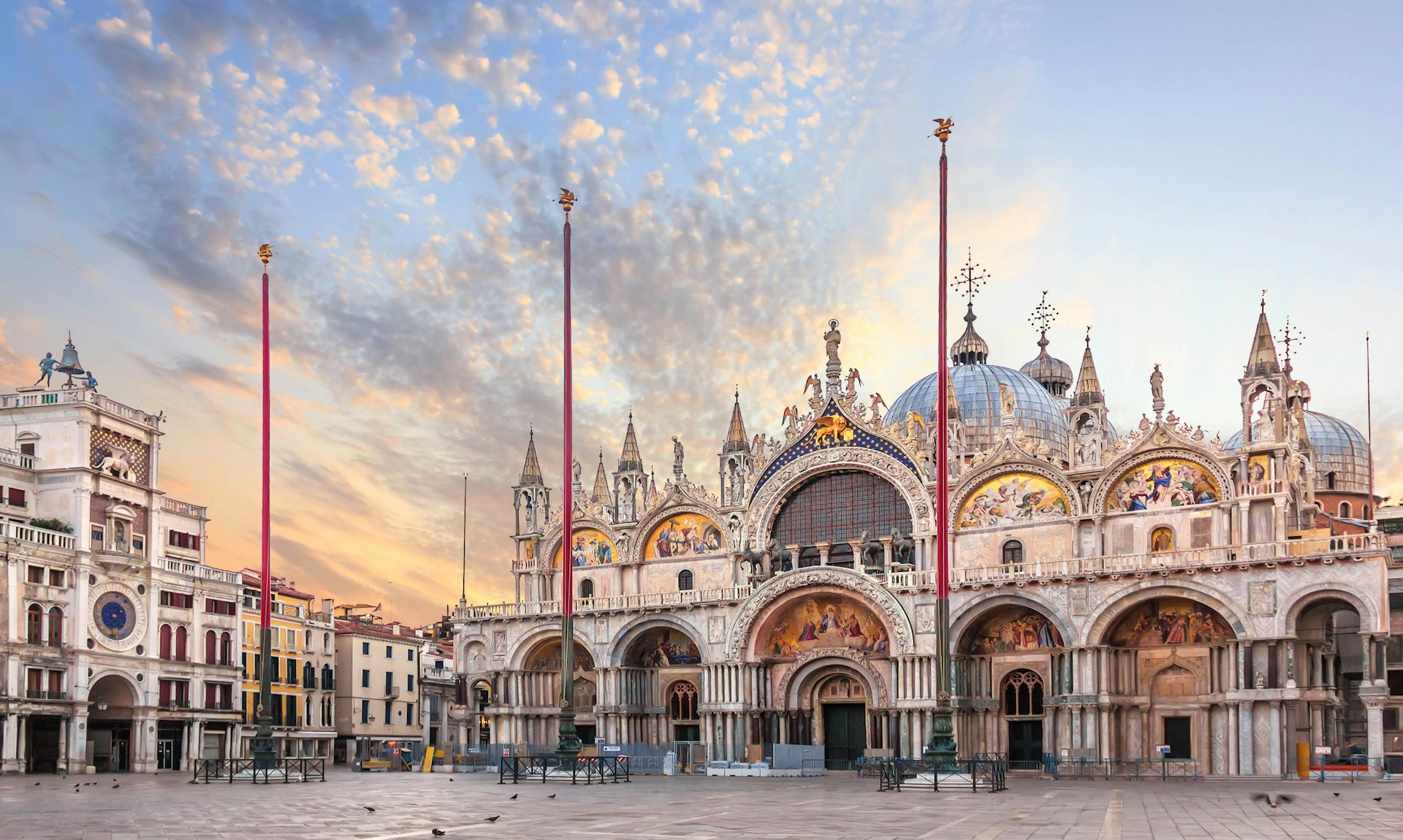 The Best St. Mark's Basilica Guided Tours
---
Guided Tours
Combo Guided Tours
Saint Mark's Basilica
Everything You Must Know Before Visiting Saint Mark's Basilica
Planning to buy Saint Mark's Basilica tickets? Our handy guide will take you through everything you need to know.
Choosing the Best St. Mark's Basilica Guided Tour
---
Before choosing your tour, take a look at the main features of each type of tour and then make an informed decision. Here's a list of all your St. Mark's Basilica tour options and their highlights.
1

Skip The Line Tour with a Walking Tour of Venice
Spend 3 beautiful hours strolling the charming streets of Venice with a guide proficient in the location details, history and stories hidden through these cobbled streets of the city. Recall the captivating past of this city while walking through lesser known areas like San Marco Square, Santa Maria Formosa, Campo SS Giovanni E Paolo, Great School of Charity, Marco Polo's House and Malibran Theater, Mercerie and Rialto. The main highlight of this guided tour stands out to be your priority access pass to the finely built church, Saint Mark's Basilica, where you get to walk through the building, where art seeps through every wall, with the company of expert guided commentary.
2

Priority Entry Guided Tour with Audio Guide
Experience the magic of Saint Mark's Basilica with the additional advantage of priority entry and the constant flow of intriguing information with audio guide. This informative guided tour will lead you into the heart of this biblical establishment where you can admire the electric synergy of Venetian art with unique Byzantine and Romanesque detailing.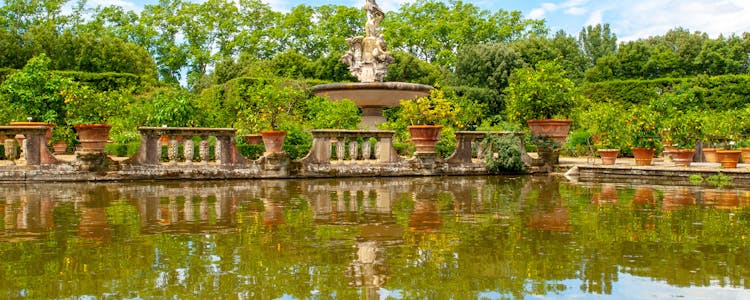 3

Skip The Line - Self-Guided Tour
This skip-the-line self-guided tour places you right in the heart of the church for you to leave the hassles of long queues behind and start your exploration into the rich history and glory of this church the minute you step in. The audio guide comes with 5 different language options for your ease and comfort, and is your perfect information companion as you indulge in the different artistic and religious aspects of Saint Mark's Basilica at your own pace.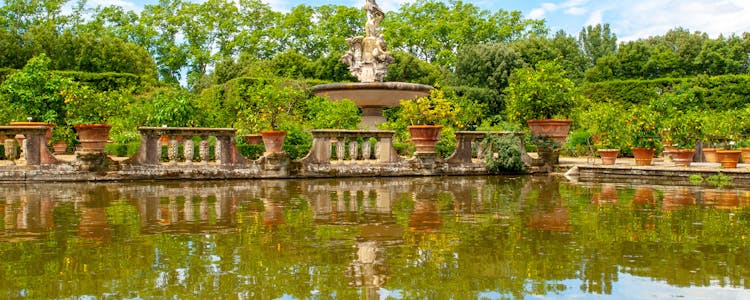 Explore the oozing charm of Venice by making an exciting day out of it with a guided walking tour around Venice, along with priority access to the most magnificent attractions in the city — St Mark's Basilica and Doge's Palace! Explore the floating city on foot with a guide who will let you in on all the stories and secrets through the charming streets of Venice while bringing to light the plethora of churches, museums, meandering canals, and ancient gothic buildings. And of course, experience the most magnificent architectural marvels that also house the finest venetian masterpieces with your expert guide to lead you through the tales, fables and legends.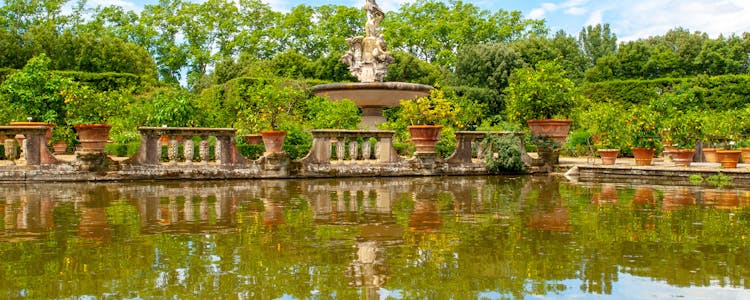 Experience the serenity, romanticism of the city, and the artistic aspects of Venice all in one comprehensive guided tour. Take in the tranquility and the romanticism hidden in the city with a beautiful and peaceful 30-min gondola ride. Head to St. Mark's Cathedral afterwards to relish the ample supply of art, culture and religious significance that this gorgeous Byzantine architectural marvel provides.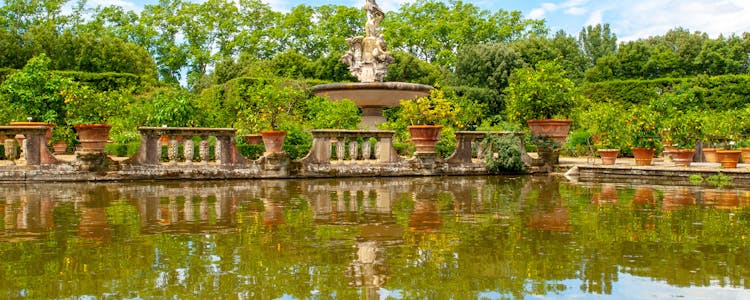 St. Mark's Tours Deconstructed - A Typical Guided Tour Experience:
---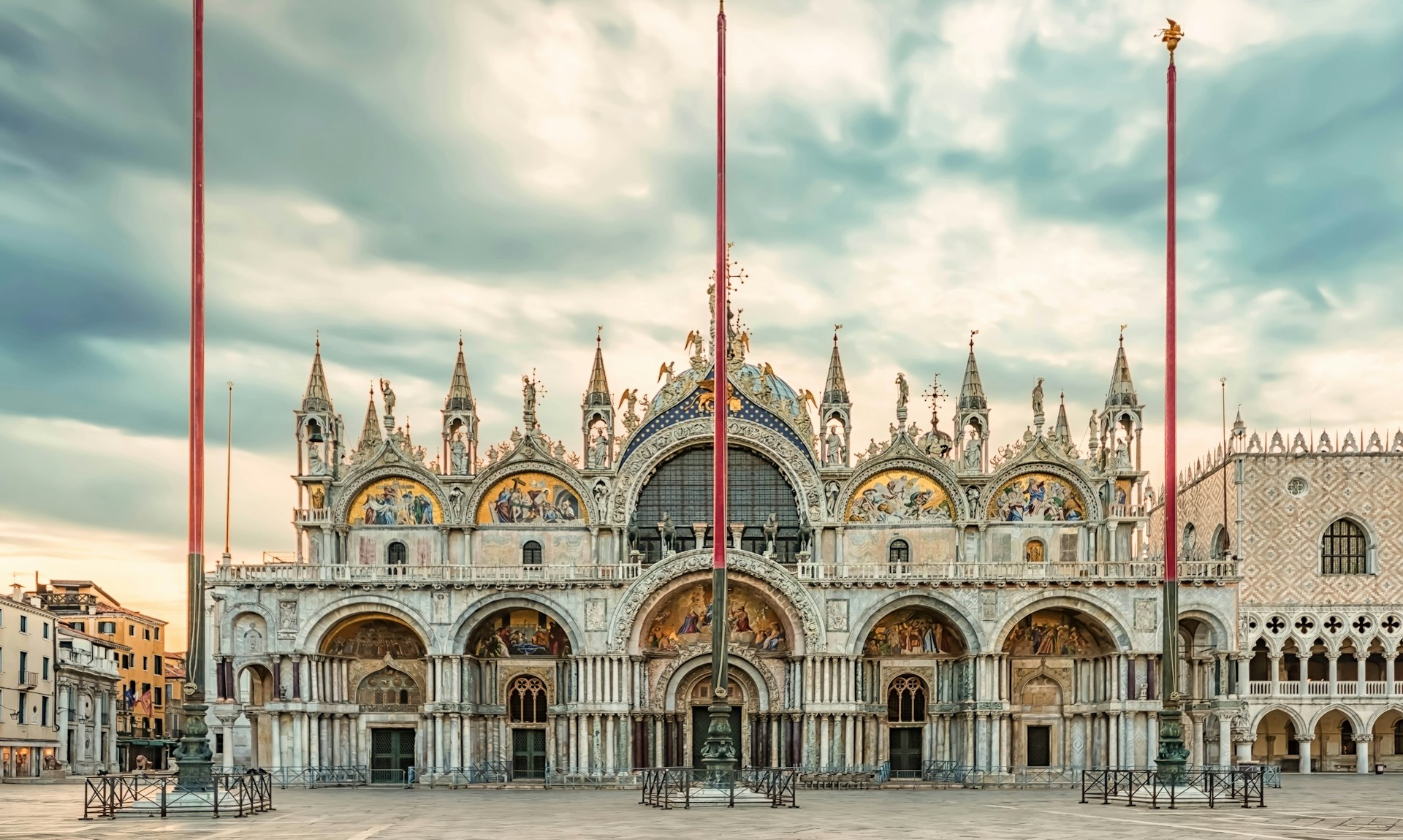 Saint Mark's Basilica is a historically iconic church as well as a major site of religious sentiments as it houses the remains of the Venetian saint, St. Mark. This gorgeous cathedral is also known for its admirable beauty — its Italo-Byzantine and Gothic style, a multitude of domes and large spaces of gleaming golden mosaics and ornamentation.
Pala d'Oro
Pala d'Oro, which translates to "Golden Cloth', is a gorgeous jewel encrusted altarpiece which narrates the story and life of Christ. It is said to have taken about 366 years to reach its current state of magnificence which includes an abundance of embedded precious gems — 526 pearls, 330 garnets, 320 emeralds, 255 sapphires, 183 amethysts, 175 agates, 75 rubies, 34 topazes, 16 carnelians, 13 jaspers defined by gold, silver and cloisonne enamel plaques.
Treasury
The Treasury consists of a series of rooms that houses the most precious items that were looted from Constantinople in 1204, including some masterpieces by Venetian craftsmen. The Treasury showcases a collection of about 283 such objects in gold and silver, making it one of the richest and finest parts of the Basilica. The treasury requires a separate ticket but you can avoid the long queues by opting for a priority access guided tour.
Museo di San Marco
Museo di San Marco is the museum in Saint Mark's Basilica which exhibits a wide range of intriguing ancient relics like liturgies, Persian carpets, broken fragments of mosaics, 78 bones of different Saints and much more. The Sala dei Banchetti room in this museum displays gorgeous fabrics and also houses the famous Doge's red velvet throne. From the Loggia, you can admire the magnificent view of St Mark's Square, one of the select locations from where you get the most marvelous view of the city.
Marble Inlays
The most dazzling delight of Saint Mark's Basilica has to be its illuminated floor with a sea of marbles shaped and designed in geometric patterns. These marble inlays cover a massive portion of the church and are beautifully highlighted in earthy hues. Spread across this floor of magic, you can also find animal and floral designs along with the other geometric patterns. Can you spot foxes, peacocks, doves, roosters and rhinoceros on the floor? Visit and find out!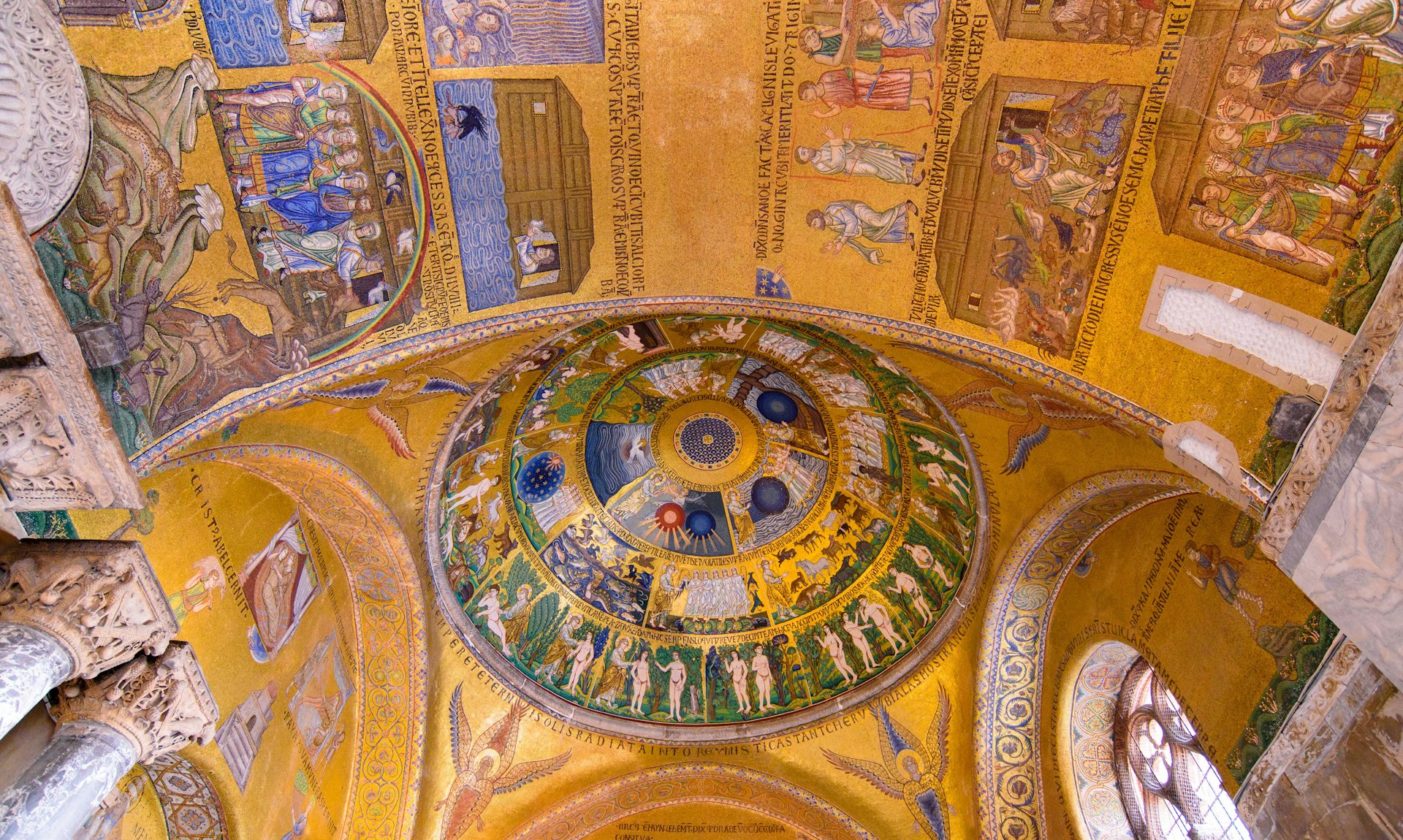 Tomb of St. Mark
This is the crypt in Saint Mark's Basilica which safeguards the corpse of St. Mark, who was brought in from Alexandria. The crypt is believed to have been a part of the original church structure, and the new Basilica was commissioned to be built above it, thus this coveted site became a crypt from a burial ground. Although the walls of the crypt are eroded due to years of flooding, the mosaic adornations still illuminate the dimly lit crypt. This part of the Basilica is open for visitors beyond the standard opening hours as well.
St. Mark's Clock Tower
The Clock Tower, also known as The Torre dell'Orologio, is truly a sight to behold with its Renaissance-style balcony on top. There are two bronze figures on the balcony that act as designated Moors who strike the bell with the passing of each hour. A mesmerizing statue of Virgin Mary also adorns this clock tower above the massive clock face.
Are St. Mark's Basilica Tours Really Worth it?
---
To visit Venice and not explore this architectural marvel would really mean skipping out on one of the top, and most gorgeous, attractions in Italy! This church holds a plethora of ancient relics, masterpieces, architectural finesse, admirable design and of course, a bountiful addition of religious significance. This serene establishment transports you to a world of tranquility with its attention to detail in every piece of art around you. Saint Mark's Basilica is definitely a must-see when in Venice!
St. Mark's Basilica Practical Information
---
Opening Hours
Saint Mark's Basilica is open every day of the week from 9:30 AM to 5:15 PM.
On Sundays and Holy Days of Obligation, the church opens from 2 PM.

The Clock Tower is open through Monday to Sunday from AM to 9:15 PM.

The prayers at the Basilica start at 8 AM and end at 7:30 PM daily.

The blackout dates for the Basilica are 15th August, 1st November, 8th & 25th December, 1st & 6th January, 24th February and 18th & 25th April.

The opening of the church is also subject to change during unplanned religious celebrations or extremely high tides.
Kindly check before planning your visit.


Getting to St. Mark's Basilica
By Ferry: Get to Ferrovia 'B' ferry terminal near Santa Lucia train station, board No. 2 ferry and get off at Rialto. The Basilica is about a 6-mins walking distance from the ferry terminal.
By Train: Get off at the Santa Lucia train station and take a water-bus to the Basilica with Route 1, 2 or 51. The journey takes about 25-30 mins.
By Foot:If you want to reach there on foot, the Basilica lies about 40-mins away from Piazzale Roma.
By Car: If you're traveling by your own vehicle, you can park your car at Piazzale Roma at the following paid facilities — Autorimessa Comunale, Garage San Marco and Sant'Andrea.
Insider Tips
---
The Basilica is accessible to people with reduced mobility from the Porta dei Fiori entry on the left side of the Basilica.
As the Basilica is a location of worship and holds a lot of religious sentiments, it is recommended to plan your outfits accordingly. Clothing items like tank tops or shorts are not allowed.
Photography and videography is prohibited inside the church.
To maintain the serenity and tranquility of the emotion and be heedful of the religious aspect of the Basilica, it is encouraged to be softer in communication and avoid being loud.
Backpacks and luggage aren't allowed inside the Basilica. You can deposit your belongings at Ateneo San Basso in the Piazzetta dei Leoncini. We recommend mindfully carrying your absolute essentials with you, like your inhaler, as this will be a lengthy tour.
Please note that feeding the pigeons is strictly prohibited as pigeon droppings cause major damage to the Basilica. If found doing so, you will be charged a hefty fine.
Royal Palace Madrid Guided Tours
FAQs
---
To enjoy a hassle-free experience with less of a crowd, it is recommended that you plan your visit to the Basilica early in the day.
Approximately, a tour of the Basilica takes a minimum of 1 hour. We recommend spending at least an hour at the Basilica for a more comprehensive experience of the church.
You cannot visit St. Mark's Basilica for free as tickets are compulsory but you can attend the masses arranged in the church for free.
St. Mark's Basilica is wheelchair friendly. You can access the Basilica from the Porta dei Fiori gate on the left side of the church.
Budget travelers can opt for the Skip The Line - Self-Guided Tour for a pocket-friendly option to explore the marvelous architecture, rich interiors, exceptional masterpieces and the extensive history enclosed in the Basilica.
Ready to head to St. Mark's Basilica ?
---
Purchase discounted St. Mark's Basilica tickets via Headout today! Explore St. Mark's Basilica in a hassle-free fashion with all the need-to-know information in hand.
Fancy heading out to some other stunning Venice attractions? Take inspiration from our list of the best things to do in Venice here.
In Venice for a few days?
In the city for a few days and want some help charting out an itinerary? Check out our 1 day in Venice and our 3 days in Venice itineraries for inspiration.