La Sagrada Familia Reopening Date - 4th July 2020
---
Starting 4th July 2020, La Sagrada Familia will officially reopen its doors to locals. New guidelines have been introduced by the authorities ensuring the safety of visitors at the same time, to create a comfortable environment for all.
Safety Measures in Place at the La Sagrada Familia
---
To ensure maximum safety, all visitors must bring and wear a mask before entering the venue. It is also mandatory to keep a safe distance of 2 meters from others.
Hand sanitizers will be kept at various points along the tour. All visitors are required to make use of it before and after going through the security.
In order to ensure visitors' safety, some spaces will be closed as it is not possible to guarantee proper distancing: the Schools building, the museum, the towers and the cloister of Our Lady of the Rosary.
Visits must follow the route in one direction only, entering on Carrer de la Marina (Nativity façade) and exiting on Carrer de Sardenya (Passion façade).
To avoid long queues and to speed up the process, visitors are advised to not bring in bags or rucksacks as this would require additional security check within the venue.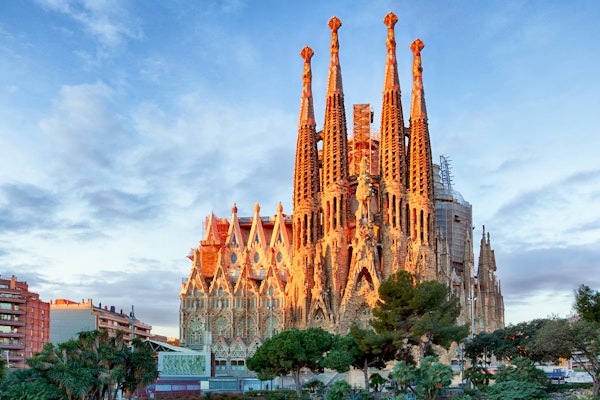 Sagrada To Reopen In Phases
---
Starting 4th July 2020, the doors of Sagrada Familia, Barcelona will reopen its doors to the public in several phases.The main is to recognise and pay tribute to Barcelona residents.
The first is called 'Tribute Phase', which gives priority for visitors from healthcare personnel at the main hospitals in the city, agents from the various forces that have helped keep the city safe, staff from social organisations and NGOs and business and retail organisations. This phase will be on 4, 5, 11 and 12 July.
Following this will be the 'Barcelona Time' phase which allows Barcelona residents the chance to enjoy the experience for free at their own pace, with much fewer people and no tourists.
The third phase will open the doors to local and international tourists. However, the date of this is yet to be confirmed as it depends on the easing of the lockdown and restrictions on travel within Spain and to Barcelona from other countries.
For more information and to see the calendar, click here.
Booking La Sagrada Familia Tickets Online
---
Barcelona time tickets for July and August have been sold out. Tickets for September will be available from 3rd August. From Tuesday 16 June, the various types of Sagrada Familia tickets will be available for purchase online.
For safety reasons all visitors under 16 must be accompanied by an adult. Tickets free of charge for children under 11, disabled + 1 companion.
The Basilica is a space under construction. Routes and tours may be modified. The temporary closure of any of the spaces at the Basilica does not entitle visitors to any discount or refund of the ticket price.
For more information about visiting La Sagrada Familia, refer to their information page here.