Dubai offers a host of experiences that cater to your every mood, however this time around there's a much more promising addition that ensures to be the highlight of your trip. Docked permanently at Dubai's Mina Rashid, Queen Elizabeth 2 (QE2) stands refurbished and ready to welcome in a sea of eager visitors. Whether you wish to dine with a backdrop of the pristine ocean and the expansive Dubai skyline, or you'd rather prefer lounging in one of her opulent suites — there's no reason why you should hold back from indulging in QE2 Dubai's top notch luxury. Skim through her valiant battles, historic milestones and embark on a unique cultural journey aboard the QE2 Dubai.
The QE2 History
---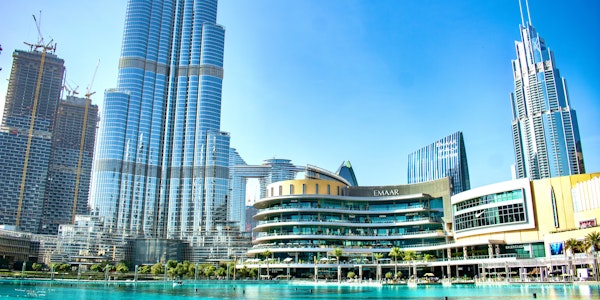 More than 1,400 voyages around 6 million nautical miles — Queen Elizabeth 2's poignant history contributes to her glory and grandeur. Built in Clydebank, Scotland, QE2 has been a part of 25 world cruises between 1969 to 2008. The ship's main attraction — the museum — looks back into her early days as an ocean liner, mapping her 39 years of service.
After her final voyage in 2008, QE2 was handed over to her new owners who transformed her into what she is today. By the end of 2016, the rigorous efforts on transforming QE2 paid off, and it was established that her historic past was a major contributing reason for her to stay afloat. This October, QE2 will have a grand reopening with 600 rooms, 13 restaurants and several night out venues.
Quick facts about QE2 Dubai you probably didn't know!
---
Queen Elizabeth 2 once carried around 2.5 million passengers in total -– or about the equivalent of a city the size of Budapest.
The ship has circumnavigated the globe at least 25 times.
QE2 was also the only ship to have a synagogue at sea.
The ship included a shopping arcade of over 11 boutiques, including a branch of Harrods.
Approximately around 600,000 litres of beverage were consumed annually on board the QE2.
QE2 Heritage Tour Dubai - Your Experience
---
The elaborate QE2 heritage trail begins with the passengers assembling on the deck of the vessel.This tour will take you through the important features of the ship — including the Queen's Room, The Bridge and Cabin — where you can experience an interactive playback of QE2's history. Further on, the tour will also allow you to get a glimpse of her luxurious suites, original dining venues along with a plethora of historical artefacts dating back to her time in service. Apart from this, avail a voucher with AED 100 and relish the specially curated menu onboard one of the ship's nine restaurant.
There is also a QE2 Exhibition near the hotel lobby – an interactive museum that showcases the QE2 during the 1960s when it was a pioneer in design, technology and lifestyle.
QE2 Heritage Tour Tickets & Timings
The QE2 Heritage Tours can be taken regularly at 1:00 PM, 3:00 PM, 5:00 PM and 7:00 PM
Queen Elizabeth 2 Heritage Tour
Step on board the iconic QE2 and discover the rich heritage spanning over five decades on the QE2 Heritage Trail.
QE2 Dubai Restaurants
---
There are 9 restaurants inside the QE2 Dubai, all of them a delight better than the other. After your QE2 Heritage Tour, grab a meal on the ship. It's a culinary experience that will stay with you a long way.
Lido
If an international buffet is what you're craving, Lido is open for breakfast, lunch and dinner on the Quarter deck. The carefully curated menu features everything beginning from fruit, cheese, yogurt to hot breakfast items as well as a full-fledged Arabic delicacies.
The Queen's Grill
Best known for being frequented by the royal family, The Queen's Grill's opulence and refined taste in food will stun you. Relish a unique twist on your favourite classics like never before at this fine-dine venue.
The Yacht Club
The QE2's former Yacht Club is restored to its original decor this year. Complete with an open terrace and an exclusive bar, visitors can lounge with a drink while looking over Dubai's impressive skyline.
The Golden Lion
Deemed as Dubai's oldest pub, The Golden Lion offers a truly authentic dining experience with its traditional range of draught beers, live sports screening, pool tables and game of darts.
Q Cafe
Located right next to the lobby, the Q Cafe is quite a popular spot amongst all age groups. Perfect for catching a cuppa or a quick bite, the cafe boasts of a selection of teas, salads, sandwiches and home-made cakes.
Casino Coffee Lounge
Located adjacent to the Casino museum, the Casino Coffee Lounge offers a selection of hot as well as cold beverages. Lounge around on comfortable chairs and enjoy panoramic views of the Dubai seascape.
The Grand Lounge
Reptiles are one of the most misconstrued animals on Earth, but in reality, they are shy, interesting and some of the most beautiful creatures with vivid patterns. The Reptile House is the best place to meet reptiles like lizards, geckos, pythons, tortoises and water dragons.
Chartroom Bar
Whether you wish to sit back and catch-up over a bottle of wine or a selection of craft beers, the Chartroom Bar will stay true to its former name and live up to its yesteryears.
The Pavilion
A family-friendly al fresco dining experience, The Pavilion boasts of splendid panoramic views of the Dubai skyline and serves an array of international dishes including pizza, live BBQ and a choice of great beverages.
Practical Information
---
QE2 Dubai Address
Queen Elizabeth 2, Mina Rashid, P.O. Box 6769, Dubai, UAE
Directions >
Getting There
The QE2 is located at a close proximity to some of Dubai's most famous attractions including the Burj Khalifa, Dubai World Trade Centre and the Dubai Mall. The closest metro station to Mina Rashid is Metro M2. You can also take the bus — C1 and X92 — till the closest bus stop. Some of the closest stations to Mina Rashid include Falcon Intersection, Raffa and Al Ghubaiba.
QE2 Dubai Heritage Tour Reviews
---
I did the heritage tour today, very interesting to learn more about QE2 and to visit some rooms and other areas. I am sure in the future we will see the engine room etc.. for now just the upper decks. For 150aed as part as the tour there is 100 aed voucher for food and beverage. I chose Q cafe. Simple salads and toasties/paninis and for now not expensive. I liked it. The cafe is set in the main entrance outside the ship; good design and good service. Will go again if I can. Overall good experience, super happy Dubai kept QE2, it will now become one of the favorite spots for tourism in the near future.
- Sylvie B, Tripadvisor September 2018
Drove up from Abu Dhabi to have a day in Dubai, and decided to investigate the Heritage Tour on the QE2, now docked at Port Rashid. Immediately directed to reception where we purchased our tickets, DHS 150 per person (DHS 100 redeemable on food) for the 13:00 tour. We were a little bit early but were able to wander around some of the exhibits. The tour started promptly at 13:00 with the tour guide, Peter, who was excellent. Having worked on the vessel for many years was able to provide a phenomenal amount of information on the ship, the history and life on board. The tour lasted an hour and a quarter and included a detailed review of the exhibits in the reception area onshore and then the tour of a few decks aboard. I would have liked to have been able to walk on the open deck, seen the bridge and viewed astern but these were not open. There was not quite enough time to redeem our vouchers at The Lido and we ended up at the Golden Lion for 'refreshments'.
- Sylvie B, Tripadvisor September 2018
Read what others have to say about the Queen Elizabeth 2 Dubai on Tripadvisor.
Around Queen Elizabeth 2 Dubai
---
While you're in the vicinity, why not plan your day to hit up these spots around Queen Elizabeth 2 Dubai?
FAQs: Queen Elizabeth 2 Dubai
---
The QE2 is now docked permanently in the new marina at Dubai's Port Rashid, within easy reach of Dubai International Airport and all local attractions.
DUBAI (Reuters) - The Queen Elizabeth 2 (QE2) ocean liner has been given a new lease of life as a floating hotel in Dubai, 10 years after the Gulf Arab emirate bought it for $100 million.
Fares for a westbound passage in May/June start at $1,199 per person, double occupancy; the more popular eastbound route starts at $1,299.
In March 1975, the QE2 made its first transit of Panama Canal, making it the biggest ship ever to travel through the canal. There was less than a foot to spare as the ship made its way through the canal locks.
Windsor Castle has been the home of British kings and queens for almost 1,000 years. It is an official residence of Queen Elizabeth II, whose standard flies from the Round Tower when Her Majesty is in residence.