Dover Castle is one of the oldest and most impressive fortresses in England. Located on a high point overlooking the English Channel, it has been standing since 1066, when William the Conqueror first built a castle there. The original structure was expanded over the centuries, and today Dover Castle is one of Britain's most important historic sites. With its imposing walls and towers, it is an awe-inspiring sight that draws visitors from across the globe.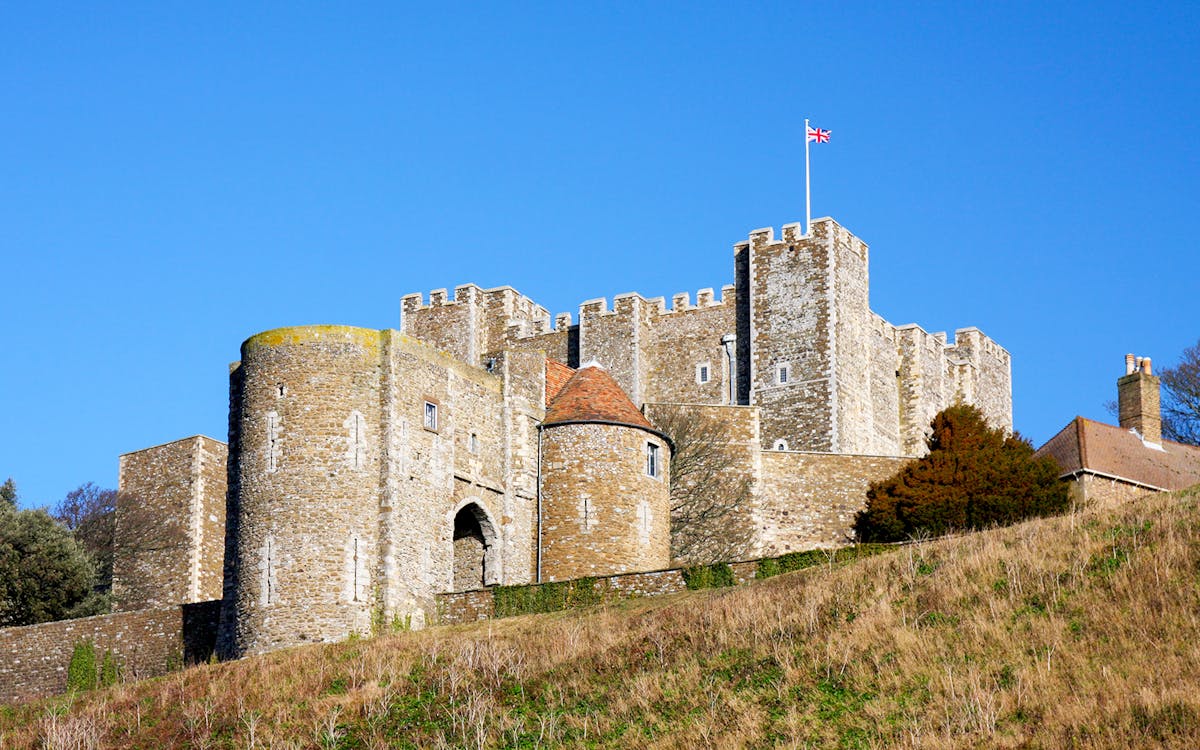 Dover Castle - In A Nutshell
---
Handy information
| | |
| --- | --- |
| ⏰ Suggested Duration: | Half Day |
| ☀️ Best Time to Visit: | Before 11 am or after 2 pm |
| 🎟️ Tickets Adults: | GBP 23 |
| 🎟️ Tickets Kids | GBP 14 |
| 🦽 Wheelchair Accessable | Yes |
Must-see
Secret Wartime Tunnels
Medieval Court of Henry II
WWI Fire Command Post
The Underground Hospital
Things to know
Built in: 12th century
Location: Dover
Built by: Henry II
Architectural style: Norman Castle
Opening Hours And Address
July 1st to August 31st: 10 AM to 6 PM
September 1st to October 29th: 10 AM to 5 PM
October 30th to November 5th: 10 AM to 4 PM
November 4th to December 31st: Weekends 10 AM to 4 PM
December 26th to January 1st: 10 AM to 4 PM
January 6th to February 11th: Weekends 10 AM to 4 PM
February 12th to February 13th: 10 AM to 4 PM
February 14th to March 31st: Wednesday to Sunday from 10 AM to 4 PM

Address: Castle Hill Rd., Dover CT16 1HU, United Kingdom
Get Directions
Why Is Dover Castle Worth Visiting?
---
Explore a centuries-old fortress with impressive walls and towers.
Experience the secret wartime tunnels used by the British during WWII.
Have fun at the recreated medieval village, complete with costumed staff.
Learn about the castle's history from displays in the museum.
Enjoy stunning views of the English Channel from its highest point.
Dover Castle Tickets
---
You can choose from a variety of tickets while visiting Dover Castle including a combo day-trip tour of Leeds Castle, Canterbury Cathedral & White Cliffs of Dover.
History Of Dover Castle
---
Dover Castle has a long and rich history, stretching back to the Romans. It was first established as a Roman lighthouse in the 2nd century AD, when it served as a beacon for ships coming into Dover Harbor.
The Normans took control of Dover Castle from the Romans in 1066 and built a motte-and-bailey castle on the site. This was later replaced with an impressive stone keep built by Henry II, which is still standing today. The castle's medieval defenses were further strengthened during the Hundred Years War, when it became a key stronghold for defending England against French invasions.
Dover Castle has served as a strategic military base ever since its construction. During the Napoleonic Wars, it was used to defend against French forces, while in World War II it housed important command posts and secret tunnels that were vital to Britain's defense strategy.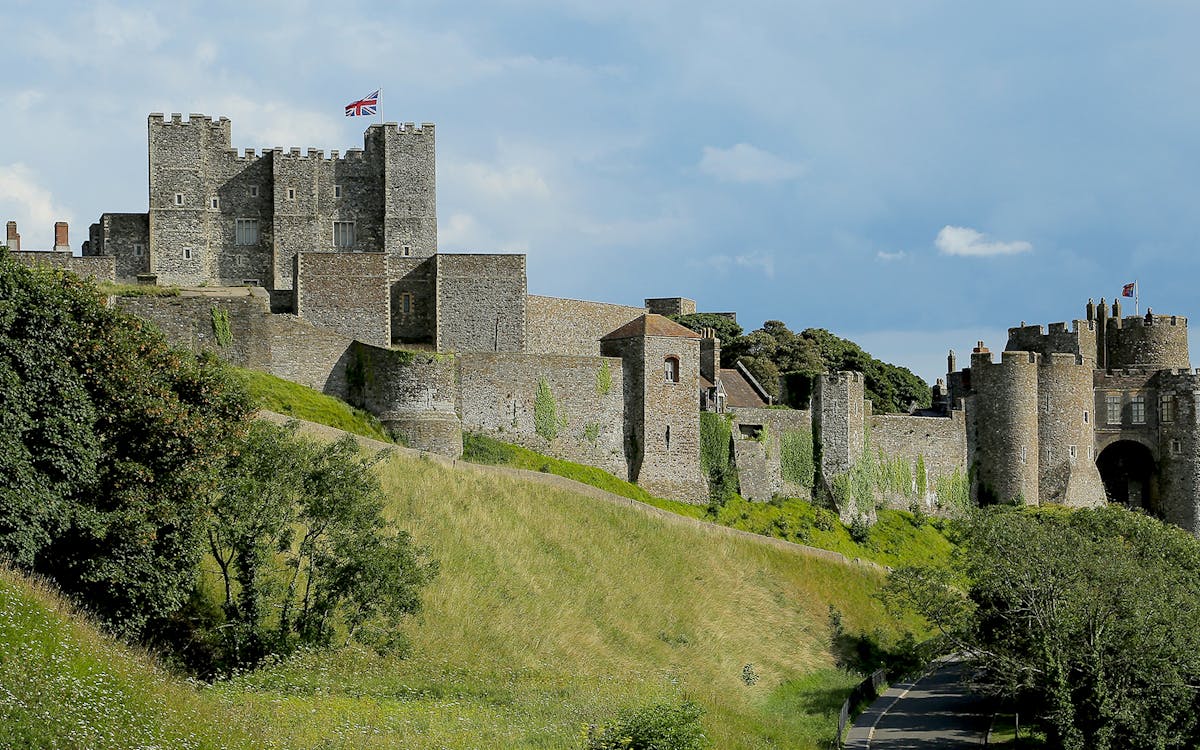 Dover Castle Architecture
---
Dover Castle is a magnificent example of medieval architecture. It was built by King Henry II in the 12th century and has since been expanded to become one of the largest castles in England. The castle is composed of an inner bailey, a great tower, and towers within its walls, making it exceptionally well-defended. The outer bailey includes defensive walls with arrow slits to allow archers to rain down arrows on attackers, as well as a gatehouse with a drawbridge that can be raised in times of danger. Inside, Dover Castle features several chambers and courtyards, including the Great Hall where important meetings were held during the Middle Ages. The castle also houses various exhibitions, including displays detailing its history from before the First World War.
Top Highlights Of Dover Castle
---
Standing tall, the Roman Lighthouse in Dover is an awe-inspiring reminder of Ancient Rome. Built over 1,000 years ago and still standing today among its ruins, it once guided ships across the English Channel from France to Dubris (present-day Dover). This ancient marvel is one of the most well-preserved lighthouses throughout the world!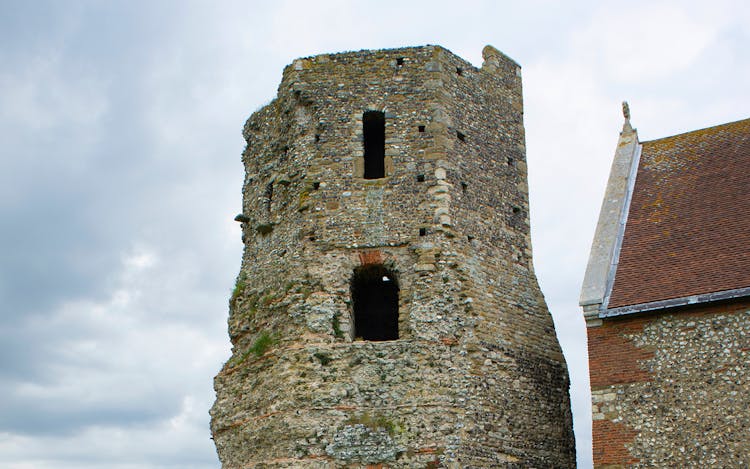 Constructed atop the Castle Hill in the 10th century, St Mary de Castro is a carefully restored Saxon edifice that has been preserved since 1000 AD. The area surrounding it hosts an expansive late-Saxon cemetery alluding to another preceding building on this very ground.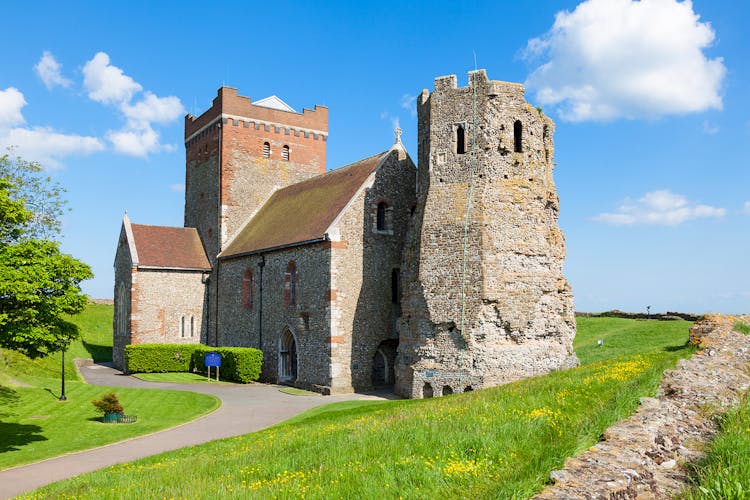 3

The Secret Wartime Tunnels
Dover Castle has a network of secret wartime tunnels that lie beneath it. During World War II, Dover Castle was used as a strategic military command post – hosting an array of services including underground hospital wards, operational rooms for plotting air raids and naval movements, as well as accommodation for hundreds of servicemen. These tunnels were kept top-secret during the war until they were opened to the public in the 1980s.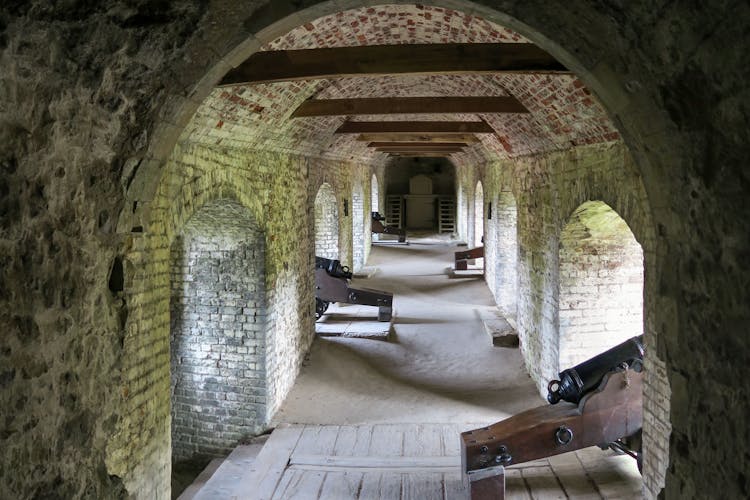 Constructed during the reign of Henry II in the late 12th century, The Great Tower stands tall and proud at an impressive height of 83 feet with walls measuring as wide as 21 feet. Inside, all six chambers including King Henry's bedroom have been restored to their former glory; where knowledgeable staff are always on hand should you need any assistance or advice.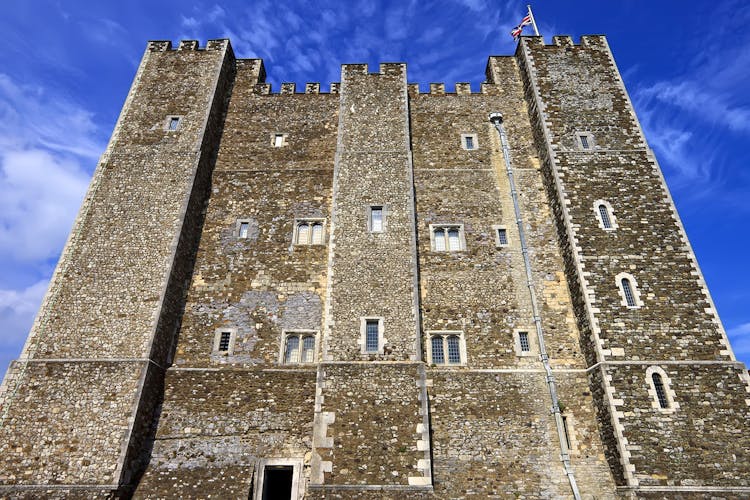 5

The Underground Hospital
The Underground Hospital, a hidden network of tunnels utilized to provide medical assistance for the wounded during World War II, can be accessed just steps away from the Secret Wartime Tunnels. As you explore and wander through these mysterious passageways at your own pace, you will come across various rooms transformed into dining halls, administrative areas, and sleeping quarters.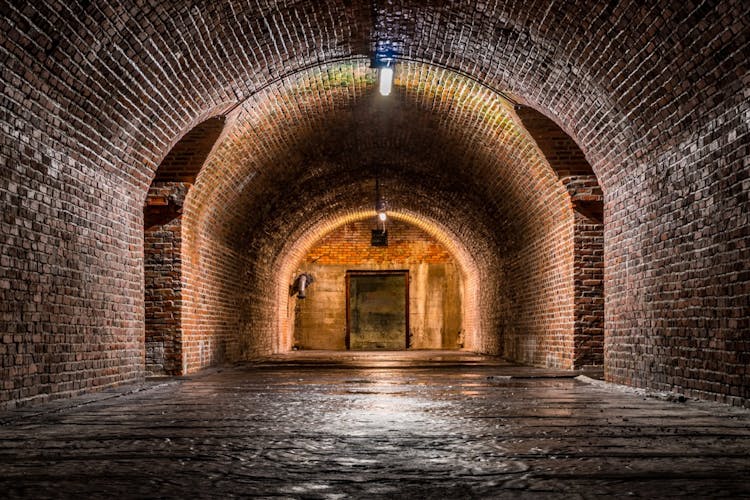 Located in the South-East corner of the castle, the WWI Fire Command Post was used by the Royal Garrison Artillery (RGA) during World War I to direct fire against German warships passing through the Strait of Dover. The post was constructed in 1915 and remained operational until 1918, when it was decommissioned following the end of the war.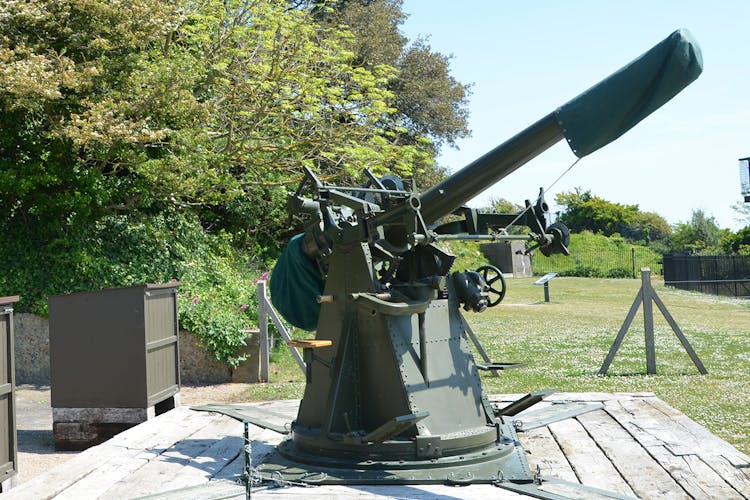 Best Time To Visit Dover Castle
---
The best time to visit Dover Castle is during the summer months of May through August. During these months, the weather is usually warm and sunny, allowing visitors to explore all of the castle's attractions without any hassle. Additionally, due to the longer days, there are typically more hours available for sightseeing. Springtime offers mild temperatures and bright days as well as beautiful blooms throughout the grounds. Autumn brings brilliant foliage that creates a stunning backdrop for exploring the castle ruins and ramparts.
Additionally you can learn more about the Best Time to Visit London.
Dover Castle Timings
---
July 1 - August 31: Daily 10 AM to 6 PM
September 1 - October 29: Daily 10 AM to 5 PM
October 30 - November 5: Daily 10 AM to 4 PM
November 4 - December 31: Saturday & Sunday 10 AM to 4 PM. Closed from Monday to Friday
December 26 - January 1: Daily 10 AM to 4 PM
January 6 - February 11: Saturday & Sunday 10 AM to 4 PM. Closed from Monday to Friday
February 12 - February 13: Daily 10 AM to 4 PM
February 14 - March 31: Wednesday to Sunday 10 AM to 4 PM. Closed on Monday and Tuesday.
Last Admission - One Hour before closing time
Closed on 24th and 25th December
Getting There
---
By Car: Dover Castle is a 2 hour 20 minute drive from London. The closest parking lot is Ferry Terminal.
By Bus: 80, 80A, 81
Nearest Stop: Dover Castle Bus Stop
By Train: Southeastern Railway
Nearest Stop: Dover Priory
Insider Tips to Visiting Dover Castle
---
Guided tours are the best way to learn about Dover Castle and its fascinating history. The knowledgeable guides will provide you with an in-depth look at the castle, providing both historical context and interesting stories along the way.
Don't just stay inside the castle walls! Make sure you take time to explore the grounds around Dover Castle, from ancient Fortifications to secret underground tunnels. You can also find secret gardens and incredible views of English Channel from certain areas of the castle grounds.
Dover Castle has several attractions within its walls which should definitely not be missed! These include The Great Tower, Medieval Tunnels, Roman Painted House and The Secret Wartime Tunnels. You won't want to miss out on all these unique experiences!
Ask your guide for the best views of the English Channel, you won't regret it!
Before visiting Dover Castle, be sure to check their website for any changes in hours or closures due to events such as bad weather.
Make a day-trip out of your visit to Dover Castle and explore the areas around as well, such as Leeds Castle, Canterbury Cathedral and the White Cliffs of Dover
Interesting Facts about Dover Castle
---
Dover Castle is the largest castle in England and it has been standing for over 900 years.
It was once used as a secret wartime command centre during World War II, where personnel could keep an eye on aerial activity across the English Channel.
An estimated 200-300 people have died in Dover Castle since its construction in 1180!
Winston Churchill himself stayed at Dover Castle during his tenure as Prime Minister.
It is said that the ghost of Queen Philippa - the wife of King Edward III - still haunts the castle.
Restaurants Nearby
---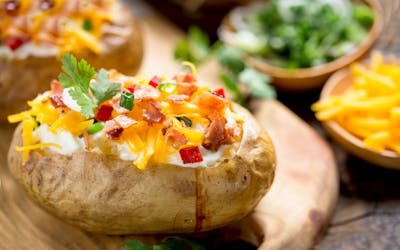 Whitecliffcafe
Located just a 3-minute drive from Dover Castle, the Whitecliffcafe is a cozy English joint that serves hearty breakfasts, lunch, and dinner. Their menu consists of British classics and a wide range of jacket potatoes, and they're known for their generous portions.
Distance from Dover Castle: 1.1 miles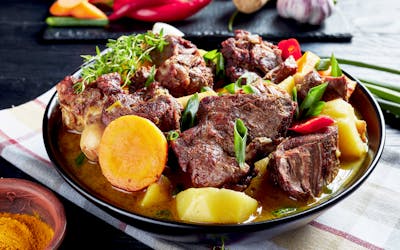 Jerk n' Tingz
Jerk n' Tingz offers dinner service from 5 pm-9.30 pm, and provides both eat-in and takeaway options for customers. This Caribbean Food and Rum Bar is known for its popular dishes such as Curried Goat, Jerk Pork Belly, and Jerk Chicken
Distance from Dover Castle: 0.4 mile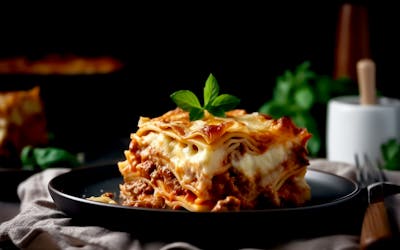 Dino's Italian Restaurant
Dino's Italian Restaurant is Dover's oldest family-run genuine Italian restaurant in the heart of the white cliffs country. They take pride in the philosophy of traditional Italian cooking using the freshest herbs and seasonal vegetables, some of which they grow themselves!
Distance from Dover Castle: 0.4 mile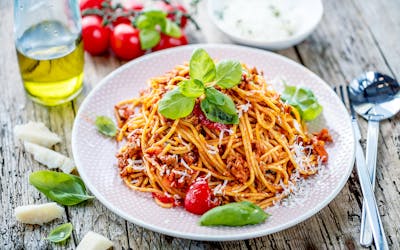 Il Rustico Restaurant
Il Rustico Restaurant is another family-run award-winning Italian restaurant, known to be a traveler's choice! Known for their pasta work and wines, this restaurant will never let you down!
Distance from Dover Castle: 0.7 mile
Other Attractions around Dover Castle
---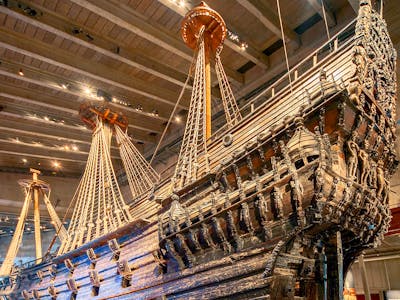 Dover Museum and Bronze Age Boat Gallery
This museum is dedicated to showcasing the rich history and culture of this area, with exhibits ranging from Roman remains to World War II artifacts. Visitors can explore the many exhibitions, including a full-size reconstruction of an ancient Bronze Age boat, as well as a variety of interactive displays.
Distance from Dover Castle: 0.5 mile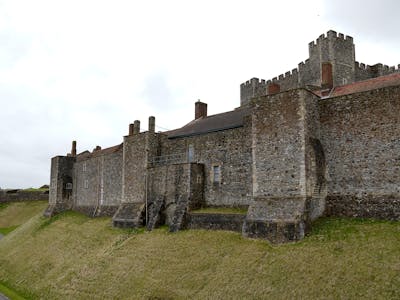 Western Heights of Dover
The Western Heights of Dover are a series of fortifications located on the White Cliffs of Dover in England. The Heights form a defensive line stretching 3 miles across the cliffs, and were originally built by the Romans in the late 1st century AD but later expanded by Henry VIII in 1539.
Distance from Dover Castle: 1.5 miles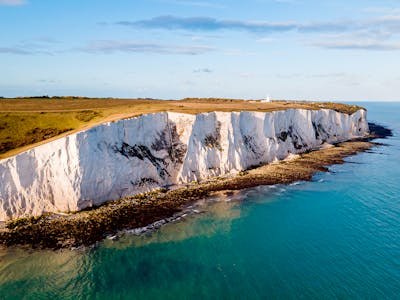 The White Cliffs of Dover
The White Cliffs of Dover, located in the English county of Kent, are one of the UK's most iconic and stunning natural wonders. Standing at an impressive height of up to 350 feet (110 meters), these spectacular cliffs offer breathtaking views across the English Channel
Distance from Dover Castle: 2.1 miles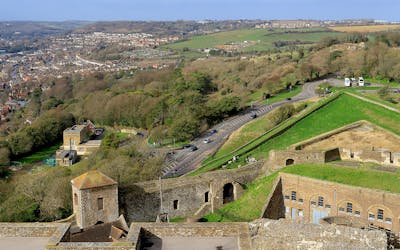 Connaught Park
Connaught Park is an iconic recreational space in the town of Dover, England. Located on the outskirts of town, this charming park offers a beautiful and diverse range of activities for visitors to enjoy all year round.
Distance from Dover Castle: 0.6 mile
Dover Transport Museum
Dover Transport Museum is one of the most interesting attractions in Dover. Located in the former Buckland Community Centre, it houses a wide collection of items related to transport and local history. From steam engines and vintage buses to old model cars and bicycles, you can explore a rich variety of artifacts from past generations.
Distance from Dover Castle: 3.8 miles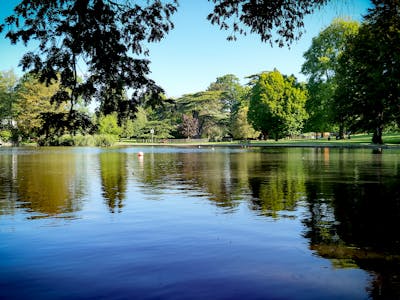 Kearsney Abbey Gardens
Kearsney Abbey Gardens is a historical and picturesque beauty spot located in Dover, Kent. Situated amidst the tranquil surroundings of an 18th-century estate, Kearsney Abbey Gardens is a lush paradise sure to delight nature lovers and history buffs alike. Home to numerous rare and exotic plants, the gardens provide a tranquil setting filled with beauty and charm.
Distance from Dover Castle: 4.6 miles
Hotels around Dover Castle
---
FAQs
---
The price of admission is £22.50 for adults, £13.30 for children aged 5-15 and free for those under the age of 4. There are also special discounts available for members of English Heritage and National Trust Visitors.
Yes, Dover Castle offers free audio tours with the purchase of a ticket. These are available in English and French and are included in all admission prices.
Generally, it takes around 2-3 hours to explore the site. However, visitors may wish to spend more or less time depending on their own interests.
Assistance dogs are welcome inside all parts of the castle but other pets are not permitted. Dogs should be kept on leads at all times and must not be left unattended.
Yes, there is ample parking available on-site which is free of charge. Additionally, there are disabled parking spaces near both entrances to the castle grounds.