The city of London is the multicultural capital of the United Kingdom. It has no single shade in any of its aspects. A vast majority of the city is made up of foreign-born individuals, making the city a true cosmopolitan. Despite this, the city is strangely mindful of its rich heritage. For a heady mix of culture, scenic beauty and real English fun, there's no better city than London. While London is a delight all year round, here's the best time to visit London. Plan your visit after reading our guide and you'll have no regrets!
Know Before You Plan Your Trip to London
---
Best Time of the Year to Visit London
London is packed with places that would take your breath away. There is no bad time to visit the English capital. But if you had to choose one, it would be from March to May. Spring is in full flow at this time and the parks of London are at their blossomy best. The cold weather has relented and is giving way to the summer. It is a bit crowded, but there is enough in London for everyone to enjoy.
Best Time To Visit London For Different Kinds Of Travellers
Best Time for Sightseeing & Outdoor Activities: This is largely determined by the weather. London is delightful in the early summer and towards the end of Spring. You could spend your time exploring the city with relatively less chance of rain.
Best Time for Museum Buffs: This would be definitely around April and May. The Museums at Night event is generally organized at this time of the year. Many of the museums take part in this event, thus enabling you to turn your museum visit into an exhilarating affair.
Best Time for Honeymooners: For honyemooners, London is best during its shoulder season from March to May and from September to October. The crowd is not at its highest at these times and the weather isn't too harsh either. This is also the best time for taking day trips.
Best Time for Budget Travellers: For the ones who don't want to burn a hole in their pockets, the low season works best. Accommodation is cheap and flight rates often have discounts. Even though some of the attractions may be closed and weather may be severe, November and February are best months for budget travellers.
Best Time for Shopaholics: This one's around June and July. Some of the most popular sales in the city take place in this two-month window. If you are prepared to travel during the holiday season, December is another time to go to London for shopping.
London Through The Year
---
Tourist Seasons in London
High season in London: High season in London is mainly during the summer months. This is the time when the locals try to make the best of the weather. Although the rain and humidity are unrelenting, there are a number of events going on in the city during this time, and the warmer weather encourages the visitors to keep pouring in.
Shoulder season in London: Placed on either side of the high season, is the time when you can enjoy the city slightly less crowded, albeit in colder weather. The time from March to April, and from Mid-September to October features less rain as well. The shoulder season is for you if you want to take your time (and space) to explore London.
Low season in London: British weather has a notorious reputation, and this is largely due to the winters. This is why November to February is the low season in London. If you are prepared to brave this weather to secure hotel and flight discounts, you may find a modest London waiting on your arrival. You will be able to enjoy most of London without any interference from the overload of visitors.
Best Season To Visit London
---
London in Spring
Spring lasts from March to May in London. The city is at its sensory best during spring. The parks and gardens of London are in full bloom, and you would absolutely love walking around the city. The tourist crowd is yet to take over the city as well, so if you make it to London in spring, you better make it count.
London in Summer
Summer lasts from June to August in London. The season isn't what it used to be anymore. It was once characterized by warm weather with intermittent showers, but now heat waves have started to show up. In spite of this, London maintains a mood for festivities during summer. If you visit London in summer, you will never run out of things to do.
London in Autumn
Autumn begins in September and goes on until mid-November in London. The season lends a lovely warm tone to London's foliage. The weather cools down a bit and the crowd begins to diminish. This is another festive time of the year for Londoners due to the school holidays and with halloween around the corner, it's quite the fun time to be around.
London in Winter
Winter lasts from mid-November to February in London. The weather in the city in winter is not merciful. However, it is not impossible to enjoy your trip in this weather. If you use your layers well, you can find the city in an almost pristine condition, untouched by tourists. The Christmas lights give the city a mystical vibe and to top it all off, there is an off-season sale that you can take advantage of.
Weather In London Year Round
---
The Weather in London year round has been charted on a graph below. The Highs are depicted in blue and the Lows in orange.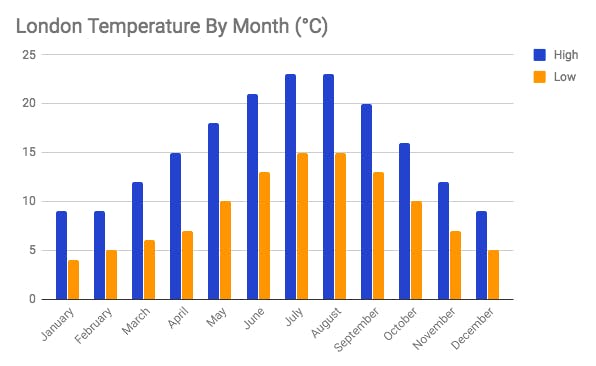 A Month-By-Month Guide To Visiting London
---
Follow our detailed guide to pick a month for your London exploits.
London In January
Average Temperature: 9°C to 4°C
January kicks off the second half of winter in London. It begins with frigid temperatures but tends to inch towards the realm of habitable as the month wears on. Consequently, the tourist crowd is not very fond of January. If you are the kind of person who would go to any length to avoid the crowd, this is the time for you. The city continues to celebrate after the new year's parade with numerous pop-ups and workshops. Events like the London Short Film Festival and Hogwarts in Snow at Warner Bros Studios should keep you busy in January. If you are visiting London in January, be sure to pack enough warm clothes and look for deals on accommodation and flights.
London In February
Average Temperature: 9°C to 5°C
London's weather keeps up its unpredictability in February. The temperature fluctuates but the rain is almost a constant presence in the entire month. With the holiday season well and truly over, tourist crowd dwindles further in February. You can enjoy pristine London in February. The city takes on a completely different avatar during Valentine's Day, and it would be a great idea to take a romantic trip down the Thames with your partner. If fashion is where your heart lies, you may bear witness to the London Fashion Week in February. You will also see London's cosmopolitan side during the Chinese New Year celebrations. If you are visiting London in February, you should ask around to find live music and cabaret shows to make the most of your time.
London In March
Average Temperature : 12°C to 6°C
London is finally able to sniff some semblance of warmth in March. There is a considerable increase in daylight hours. The rain is still prevalent, however. Some visitors start coming in and you should too because March provides you with the luxury of being far away from both the summer and the holiday season. You can enjoy the overwhelmingly popular attractions such as the Westminster Abbey and the Shard with relatively less crowd. March paints London in two very distinct colors on Mother's Day and on St. Patrick's Day. You have to witness both to understand the city's soul. If you are visiting London in March, do not forget to check out the Battersea Spring Affordable Art Fair to pick up some souvenirs.
London In April
Average Temperature : 15°C to 7°C
April is the time of the year when London can truly believe that good weather exists. It is the beginning of Spring, and the gardens of the city begin rendering London a mottled appearance. April is also one of the rainiest months, but the visitors keep coming in anyway. If you are lucky to find a clear day, you should walk around and enjoy the parks of the city. Easter celebrations are usually quite vibrant in London with interactive activities going on all week. The London Marathon is another event that attracts global attention. You should also check out the Underbelly Festival that begins in April. The event celebrates performance arts. If you are heading to London in April, get your bookings confirmed in advance.
London In May
Average Temperature : 18°C to 10°C
If you are looking to find a balance between good weather and a moderate crowd, you will not find it any better than in May. Spring is in full swing and the weather may enable you to keep your scarves in your hotel rooms once in a while. London is at its vibrant best May. If you are in the city at this time, be sure to take a cruise on the Thames and see London from a fresh perspective. The city indulges in the weather with the RHS Chelsea Flower Show. For the artistically inclined, the Photo London and the London Craft Week are a must visit. It is also the month that sees the end of the wildly popular English Premier League. Remember to make online reservations before heading out anywhere in May.
Recommended Experiences in London during Spring
London In June
Average Temperature : 21°C to 13°C
Summer officially begins in London in June. The temperature often reaches beyond the 20°C mark. This also means that hordes of tourists come storming through Heathrow. The rain doesn't ever subside in London, so be prepared to encounter more showers. Summer is a great time to get all of your walking done. Take to the streets of London, which slowly begin to resemble that of a proper tourist destination, and absorb the cosmopolitan culture. The city witnesses an upturn in the number of music festivals in June. You must not miss out on the Taste of London food festival. There are a few art and craft exhibitions going on as well. You might want to steer clear of the rush hour traffic if you are in London in June.
London In July
Average Temperature : 22°C to 15°C
If you prefer your holidays to take place in pleasant weather, July is the time for you to be in London. Summer in London generally features a high of mid-20°C, that is perfect for outdoor activities and parties. No wonder why the crowd keeps piling on in July year after year. You may opt to visit one of London's many famous landmarks, but be prepared to encounter a massive crowd. London in July forms the focal point of a number of events including Wimbledon. The cricket season begins during this time as well. The Underbelly Festival continues and many more music festivals make their appearance to add to the festive mood of the Londoners. If you are visiting London in July, keep your eyes out for the occasional heat wave.
London In August
Average Temperature : 22°C to 15°C
August is one of the two warmest months of the year in London. The summer is officially past its midpoint and is heading towards a close. The tourist crowd at this point is n the brink of spilling over despite the occasional rainy days. If you want a relatively peaceful tourism experience, you should consider heading out of London and take a day trip. Trips to the Cotswolds or Dover would be especially delightful. August is the best time to take children to London as there are many family-friendly events going on. You can witness the beginning of the Premier League season in August. London erupts during the Notting Hill Carnival, Europe's largest street party, and this itself is a reason enough for you to visit London in August.
Recommended Experiences in London during Summer
London In September
Average Temperature : 20°C to 13°C
There is a slight drop in the mercury spotted in September. Schools open in September which results in a downturn in tourist arrivals. September also marks the onset of Autumn in London. The slightly warmer tone in the foliage once again makes a walk in one of London's gardens a delight. You can take advantage of the reduced crowd and head to one of the popular day trips from London, like Oxford or the Stonehenge. London celebrates the history of the Thames in September with the Totally Thames festival. Concerts and art exhibitions are hosted throughout the month centered around the river. The London Design Festival and the Japan Matsuri are also worth attending in September.
London In October
Average Temperature : 16°C to 10°C
London is taken over by Autumn colors in October. Tourist arrivals dwindle further, encouraging Londoners to kick back and relax for a bit. The weather in October is ideal for outdoor activities. London in October gives you a chance to obtain a decompressed tourism experience. You may pick a clear day and head to Richmond Park or Kew Garden to observe the interplay of rich autumnal hues. London also shows its multicultural side, hosting festivals like Diwali and Africa on the Square. For the gastronomist, London hosts the London Cocktail Week and London Restaurant Festival. October will also give you an exclusive look at the city's celebration of Haloween.
Recommended Experiences in London during Autumn
London In November
Average Temperature : 12°C to 7°C
November sees the temperature take a plunge. Daylight hours begin going down dramatically and the overcast skies play their part to announce the arrival of winter. This is possibly the time of the year that encounters the least amount of tourists. If you want to enjoy your vacations without any distractions, London in November is for you. A pre-holiday lull overtakes London in November, but that doesn't stop the locals from indulging in the Bonfire Night. Head to the London pubs on the weekends to enjoy hearty roasts. You can also enjoy the Regent Street Motor Show and the EFG London Jazz Festival in November. If time permits, you must check out the Winter Wonderland at Hyde Park.
London In December
Average Temperature : 9°C to 5°C
London experiences full-blown Winter in December. The mercury dives below the freezing point at times and snowfall is not uncommon. The daylight hours are in short supply, so London tries its best to use the twilight. Some section of tourists returns for the holiday season in December as London dresses up in pretty lights. Despite the weather, December has to be the most visually rewarding month to be in London. A London Eye ride on a clear evening can be the most memorable holiday experience for you. The holiday spirit also brings a few Christmas markets in London. Take some time to explore Hyde Park, Trafalgar Square, Kew Gardens, and other popular spots of the city to truly appreciate the festive season.
London 3-day Itinerary
---
Whether you're visiting London in May or November, here's a handy 3 day London itinerary to experiencing the best of London.
FAQs
---
The best time to visit London is from April to June and September to October when the weather is mild and there are fewer crowds. However, keep in mind that prices for hotels and flights are generally higher during these months. If you're looking to save money, you can visit London from November to March when rates are typically lower. Just be prepared for colder weather and more rain.
The peak tourist seasons in London are from April to June and September to October. These months have milder weather and fewer crowds, making them ideal times to visit. However, keep in mind that prices for hotels and flights are generally higher during these months.
The shoulder seasons in London are from March to April and October to November. These months have milder weather than the peak tourist season, but there may be more crowds and higher prices than during the off-season.
The off-season in London is from November to March. This is when prices for hotels and flights are typically lower, but you'll need to deal with colder weather and more rain.
The cheapest time of year to visit London is from November to March. This is when prices for hotels and flights are typically lower, but you'll need to deal with colder weather and more rain.
The best time of year for weather in London is from April to June and September to October when the weather is mild and there are fewer crowds. However, keep in mind that prices for hotels and flights are generally higher during these months. If you're looking to save money, you can visit London from November to March when rates are typically lower.