Unlike Halloween, Thanksgiving has nothing to do with London, but just like many other adaptations of various cultures and customs across the globe, the festival has become a tradition on this side of the world as well.
This occasion is a celebration of gratitude, a reminder to make us appreciate every little thing in our lives - may it be the roof we reside under, the people we are blessed with in our life or the food that we consume - be thankful for it all!
Thanksgiving In London
---
A day of gratitude is important even in London life. In the US, the occasion provides a 4-day weekend, but in London, Thanksgiving is used as a normal working day to celebrate with family and loved ones in a great mood with exotic food. So, if you are in London and wish to get into the Thanksgiving spirit, we are here to provide you with the ultimate guide on where to explore and the top restaurants to dine in with your loved ones.
Best Ways To Spend Thanksgiving in London
---
Being away from home on this American holiday can be tough, and we understand. Thankfully, there is still a lot you can do on this holiday in the city of London. Everything you'd need to know - from where to eat to places to visit - we have you covered. Let's get a move on, shall we?
Book 'The London Experience'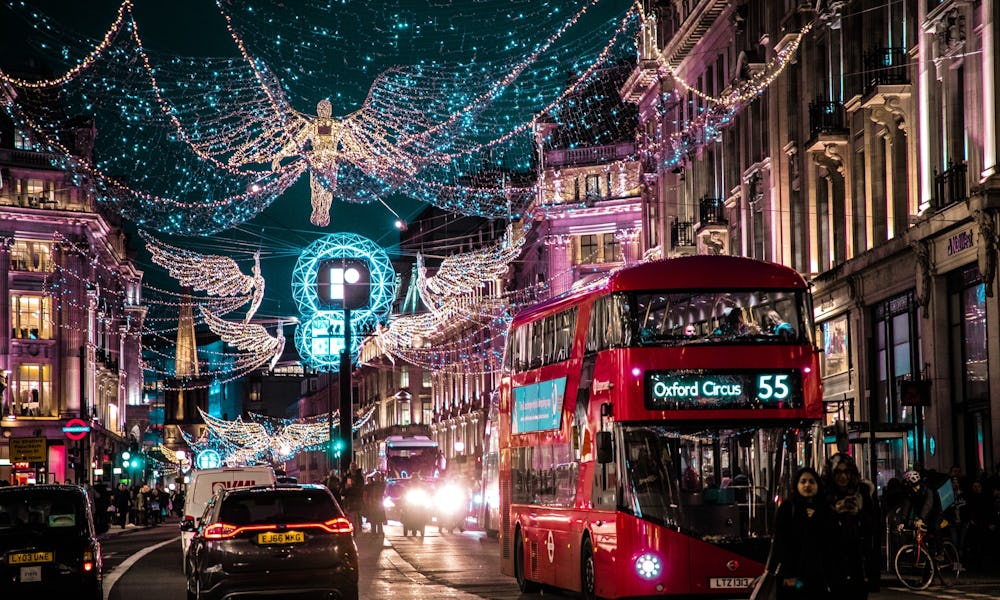 Remember, it's a regular Thursday for Londoners, which means you can finally get some sightseeing done on your beloved holiday, minus the annoying crowds. If you want to experience the culture, heritage, and cuisine of London, we recommend trying "The London Experience". This panoramic tour takes you to Saint Paul's Cathedral, Buckingham Palace, Tower of London, and then some. With a lunch packed for you, you don't have to worry about eating out on Thanksgiving. It'll be a nice switch from your typical Thanksgiving lunches as well.
Christmas Lights Tour In London
Drench yourself in the magical Christmas lights by taking a tour along the streets of London. A visual feast that will fill you with festive cheer! You are in for an absolute festive treat when you get to witness the iconic locations in London and soak in the UK's most beautiful display of enchanting Christmas lights. London's most popular landmarks come to life when all the glitter and sparkling lights light up the night sky, leaving an evening to cherish. Have a look around and you get to see the capital's favourite landmarks and a sky so in life against the winter sky. When you pass by the giant Christmas tree in Berkeley Square, you get to see the Regent Street Christmas lights.
Tip: Head to London's thriving area of Southbank, and you are sure to be mesmerized by the world-famous London eye with all the magical fairy lights around. The city looks dazzling best at this time.
Did someone say "day trip"?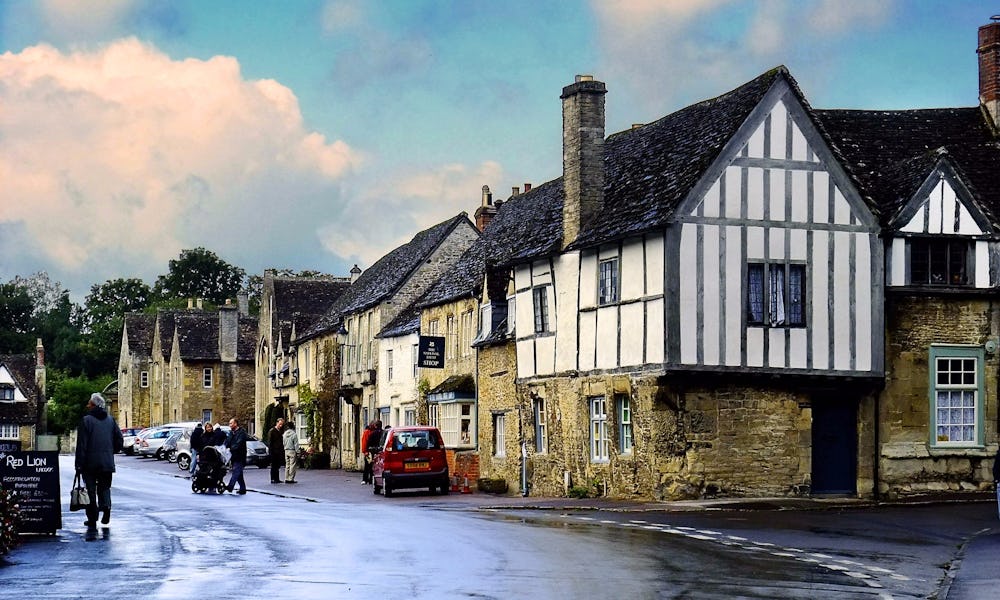 This holiday season, do something different by venturing to the outskirts of town and experiencing the local culture firsthand. Instead of the traditional Thanksgiving meal, try the local cuisine for a change. If you're not one to drive yourself away on a day trip, book a guided tour with AC coach transfers round-trip. Don't worry, you won't be on your feet all day- you'll have breaks in between where you can stumble into local eateries and try something new.
Retail Therapy Is A Must!
Missing out on the "Black Friday" excitement back home? London's got you covered. The chic culture and streets with countless luxury brands are eye candy for all the shopaholics in the city. Glam up your style-quotient and your home by shopping at the UK's premier shopping destination. Head to the Bicester Village and indulge yourself in shopping boutique brands! Although it may look expensive, you get exclusive discounts on various high-end brands like Armani, Fendi, Givenchy, Mulberry to name a few.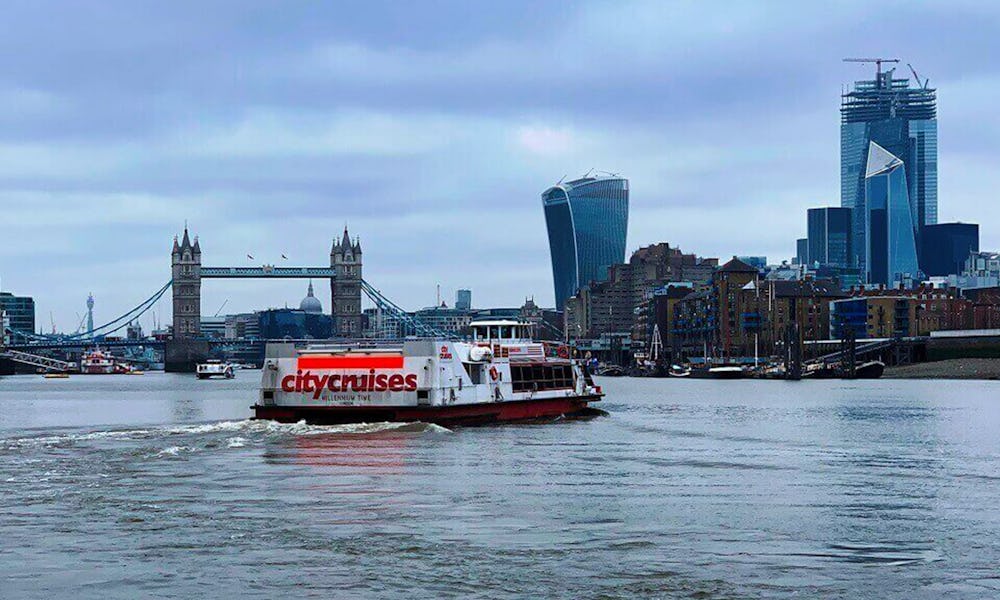 Wish to enjoy a meal while riding along the River Thames? Consider it done! Experience a relaxing mini voyage across London with a delicious lunch. A scrumptious two-course meal is served on the cruise along accompanied by a fully stocked bar to tempt your palate. While on a cruise, have some booze! The Big Ben and the London Eye will be in sight before you head down towards Canary Wharf. Don't miss out on this experience, as you continue to explore the central district, you are sure to look at London from a different lens. Good company, delicious lunch supported with an iconic view, sounds like a perfect Thanksgiving, doesn't?
Take a tour through the Borough Market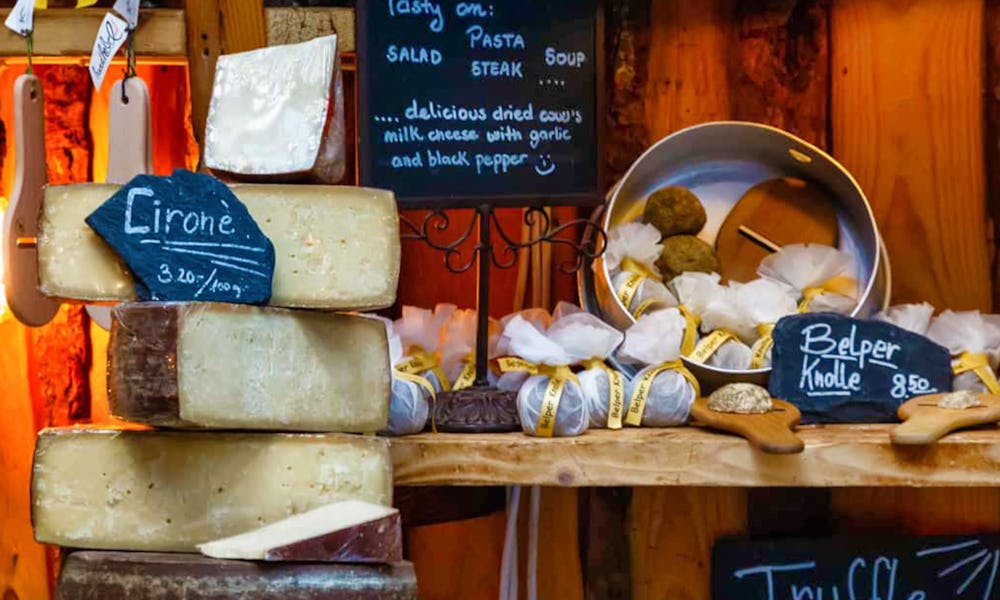 Ever heard of the popular "Borough Market"? It is London's oldest and largest market. Time to feast on delicious dishes from street food vendors and explore stalls that sell fresh produce at the food paradise by the London Bridge. Most of these stalls offer to take away dishes but worry not as there are also places where you could grab a table and have a tasty bite. PS: For an extra touch of fun, include a visit to one of the most popular gin distilleries in the city- learn about the ingredients included in gin-making and the lip-smacking gin that ensues!
Whip up a thanksgiving meal by yourself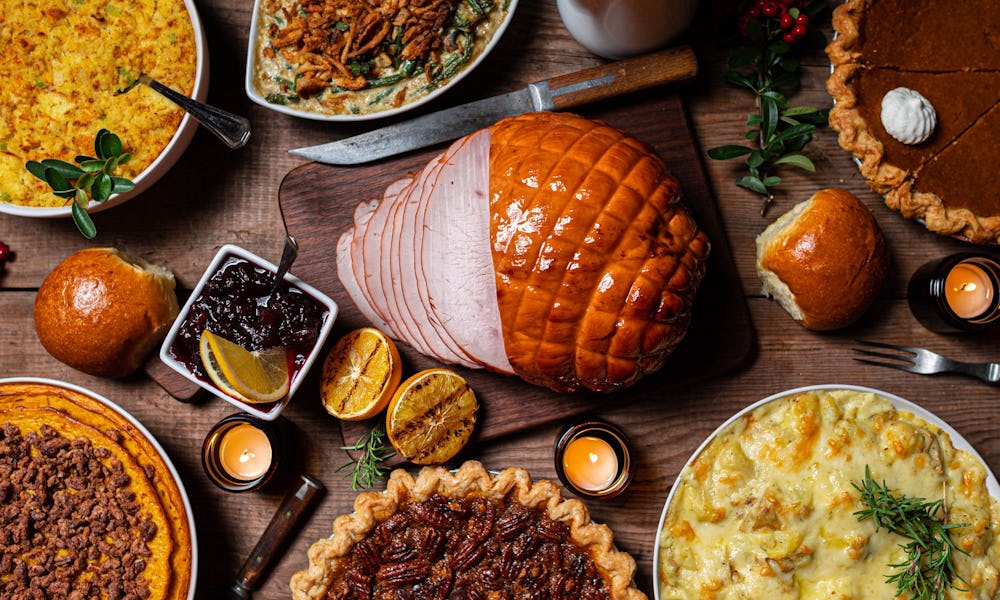 When in London, preparing the ideal Thanksgiving meal is not the hardest ordeal. There are popular restaurants in the area that can help you prepare your ideal meal with no hiccups. Right from your turkey and prep condiments like cranberry sauce, sautéed veggies, and tart chutneys, few restaurants can assist you that suits your requirement.
#1 Borough Market
Now you are aware that the Borough Market is the largest in the city that serves all exotic British fruits and vegetables. Situated in a central location close to the London Bridge tube station, the market has special opening hours during the festive season where various kinds of produce and meat can be purchased from. Ensure that you head early to grab the best products in the market before it runs out.
#2 The Ginger Pig
Looking for a vast range of meat and other essentials? Head to Ginger Pig right away and grab those baked goods and exotic chutneys, and various cooking essentials to serve your guests during Thanksgiving. The restaurant is open to taking orders online or in-person and needs to be placed 48 hours in advance, before the rush hours. Want to serve a toothsome meal for your guests, then get ready to ease your wallet and shell out about £50 for an organic bird at the Ginger Pig.
#3 Brixton Market
The Brixton market is situated in South London where you can explore plenty of shops, restaurants, meat and fish vendors, functional 7 days a week. No doubt, that the market is slightly further from the other two that are situated in central London, but is much livelier and more affordable in comparison. Cheese graters, pots, linens, designed coffee and more, are available in this market down south.
Head Out and Grab a Bite!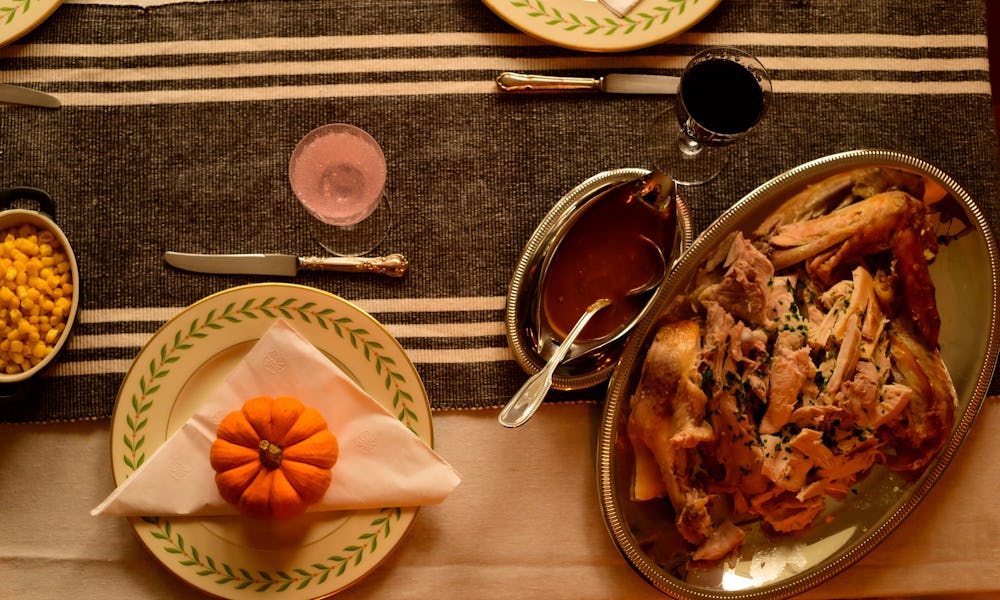 It is that time of the year when you hang around with friends and family and enjoy a good feast at home. But when in London, ensure that you explore restaurants that have a special menu curated for Thanksgiving. It is going to be lip-smacking, undoubtedly! Read on to find out where one must go to enjoy the best Thanksgiving meal.
Enjoy a Thanksgiving Meal in London from the Best restaurants We know that the lovely occasion is incomplete without a roasted turkey served at the table. Here are a few of the best restaurants that you could head to for a traditional Thanksgiving dinner in London:
#1 45 Park Lane
Head to a modern American restaurant in London – CUT at 45 Park Lane, to make the most of your Thanksgiving meal. Enjoy a delicious three-course meal with all the trimmings and desserts like pumpkin cheesecake and pecan pie. Give the occasion a twist with famous CUT cakes and a tea at £55. The three-course meal costs £110 and is sure to satisfy your craving.
Address: 45 Park Ln, London W1K 1PN, United Kingdom
#2 Jim beam and Porky's BBQ
It may not be a national holiday in London, but that isn't stopping Jim beam and Porky's BBQ from bringing Thanksgiving to London. The restaurant has a special Thanksgiving menu inclusive of popcorn chicken alongside a Porky's X Jim Beam BBQ Sauce, roasted turkey, pork stuffing, and a green onion mash with the famous cranberry highball sauce. One's with a sweet tooth can grab a bite of the bourbon chocolate brownie with ice cream and caramel sauce, a comfy choice for all! Jim Beam is the world's No.1 bourbon and is known to serve an array of drinks like the old-fashioned cocktails alongside the feast, cranberry, maple, and more. Do you think that's all? How about we tell you that one diner in each pair will eat for free!
Address: 18 New Globe Walk, London SE1 9 DR
Cost for 2: £22
#3 Beck at Brown's
Attached to the iconic Brown's hotel in London, Beck at Brown's is offering a special three-course Thanksgiving menu with the best of season's produce from Britain's best ingredients. To begin with, enjoy a pumpkin soup with cinnamon and woodland mushrooms, a traditional roasted turkey with stuffed cornbread, mashed potato, autumn greens, and cranberry sauce. Now, who would want to miss an extravagant menu like this one and at just £50 per person?
Address: 33 Albemarle Street, London W1S 4BP, United Kingdom
Cost for 2: £50
#4 The Hero of Maida
A menu that is curated of a real American Thanksgiving dinner, The Hero of Maida in London allows you to choose from an array of starters such as duck confit salad, devilled prawn with garlic butter croutons, and more. The main course consists of a locally-sourced turkey with all the trimmings, such as stuffing's, cranberry sauce, and mashed potatoes. This is a perfect space for the special occasion, with beautiful private rooms that can be hired as well as a first-floor dining room.
Address: 55 Shiraland Road, London W9 2JD
Cost for 2: £30
Tips on Spending Thanksgiving in London
---
If you are visiting London for the first time, here are a few things you should know before you head to the city and to ensure you have a hassle-free travel experience.
St. Paul's Mass
A Thanksgiving service occurs from 11.00 AM to 12.00 PM every year which is free for people to attend. The doors to the church open at 10.00 AM and we recommend you to head as early as possible if you wish to beat the rush.
Watch Football
A Thanksgiving feast is not without watching some American football. In London, head to any sports bar or pub and catch the NFL games to get the true Thanksgiving to feel.
Weather in November
The weather in London is quite unpredictable in November. It is recommended to pack a layer of warm clothes. Short and long-sleeved shirts, cardigans, pullovers, light jackets, and waterproof shoes would be ideal to make your trip a comfortable one.
Avoid Staying at Accommodations
During America's Thanksgiving, even though it isn't a holiday in England, businesses across the country anticipate a fair share of travellers who wish to spend the occasion in the country. The hotels will increase prices to accommodate the influx of tourists.
Visit London's West End:
Popular in the world for theatres and art centers, the London's West End show is similar to New York City's Broadway. Be sure to head to one of these venues to witness an evening of world-class entertainment.
Explore The Rest of London
Fancy heading out to some other must-visit London attractions post-holiday? Take inspiration from our list of the best things to do in London here. Use our comprehensive London Travel Guide to explore the rest of London in a hassle-free fashion with all the need-to-know information in hand.
In London for a few days?
In the city for a few days and want some help charting out an itinerary? Check out our 1 day in London & 3 days in London itineraries for inspiration.