Disneyland® Paris is an amazing place for people of all ages. With two beautiful parks, over 50 attractions and thrilling rides, iconic Disney® characters, and a perfect atmosphere, the French resort will definitely make your dreams come true!
It's like stepping into your own fairytale, blanketed with magic everywhere you look. Everything comes together to form a stunning spectacle from the lovely songs to the impeccably clothed characters, gorgeous exhibits, and not forgetting Mickey!
For many of you, this may either be your first time in Paris, your first experience of a theme park, or your first time in Disneyland Paris. Or maybe you're a serial theme park visitor and a huge Disney fan! Whatever the situation may be, we're here to give you a handy list of Disneyland Paris tips that you must follow for your perfect trip!
Essential Information for Visiting Disneyland® Paris
---
Handy information
| | |
| --- | --- |
| ⏰ Suggested Duration: | 2-3 days |
| ☀️ Best Time to Visit: | Morning |
| 💜 Must See: | Disney Illuminations |
| 🎟️ Disneyland Paris Entry Ticket: | €62 onward |
| 😍 Where to Stay | Disney Hotel New York - The Art of Marvel |
| 🍝 Where to Eat: | Bistrot Chez Rémy |
Opening hours
Every day from 09:30 AM - 09:00 PM
Timings may vary. Check the official calendar before you travel.
Top attractions
Star Wars™ Hyperspace Mountain
Big Thunder Mountain
Avengers Assemble: Flight Force
Spider-Man W.E.B Adventure
Phantom Manor

Disneyland Paris Ticket Options
---
Top 20 Disneyland Paris Tips
---
#1. Understand the various types of Disneyland Paris Tickets
Disneyland Paris offers a variety of ticket types so you can choose what best fits your needs.
1 Day ticket: The option to access both the Disney® themed parks in a single day. Visit any one or both Disney® themed parks (Disneyland® Park and Walt Disney Studios® Park), enjoy attractions, shows, selfie spots with Disney Characters, and much more!
Multiday Tickets: Choose between spending 2 to 4 days at Disneyland Paris, with entry into both parks. These tickets give you the time to explore Disneyland Paris at your own pace and tick off all the attractions you want to visit.
#2. Purchase Tickets with Transfers
Plan your travel to Disneyland Paris in advance by booking a seat in the Disneyland Paris Shuttle or getting a return train ticket along with your Disneyland Paris entrance ticket.
#3. Visit both Parks
If you're making the journey to Disneyland Paris, you absolutely have to visit both the Disney Themed Parks. Both of them have their own magical charm!
Disneyland® Park - 30 Years of magic in the making
With the majestic Sleeping Beauty Castle at its heart, Disneyland® Park is the fantastical home to five incredible Lands. For 30 magical years it's been the place where extraordinary stories come to life before your very eyes. Now that's something worth celebrating!
Walt Disney Studios® Park - BE PART OF THE STORY
Since opening in 2002, Walt Disney Studios® Park has become a destination that celebrates the world's most famous stories. Get ready for lights, camera and a whole lot of action! Slip behind the silver screen and bask in the spotlight, as blockbuster attractions, star-studded shows and memorable encounters add some movie magic to your family's story.

Visiting both Disney Parks will bring you the full magical Disneyland Paris experience!
#4. Check out the new Marvel Avengers Campus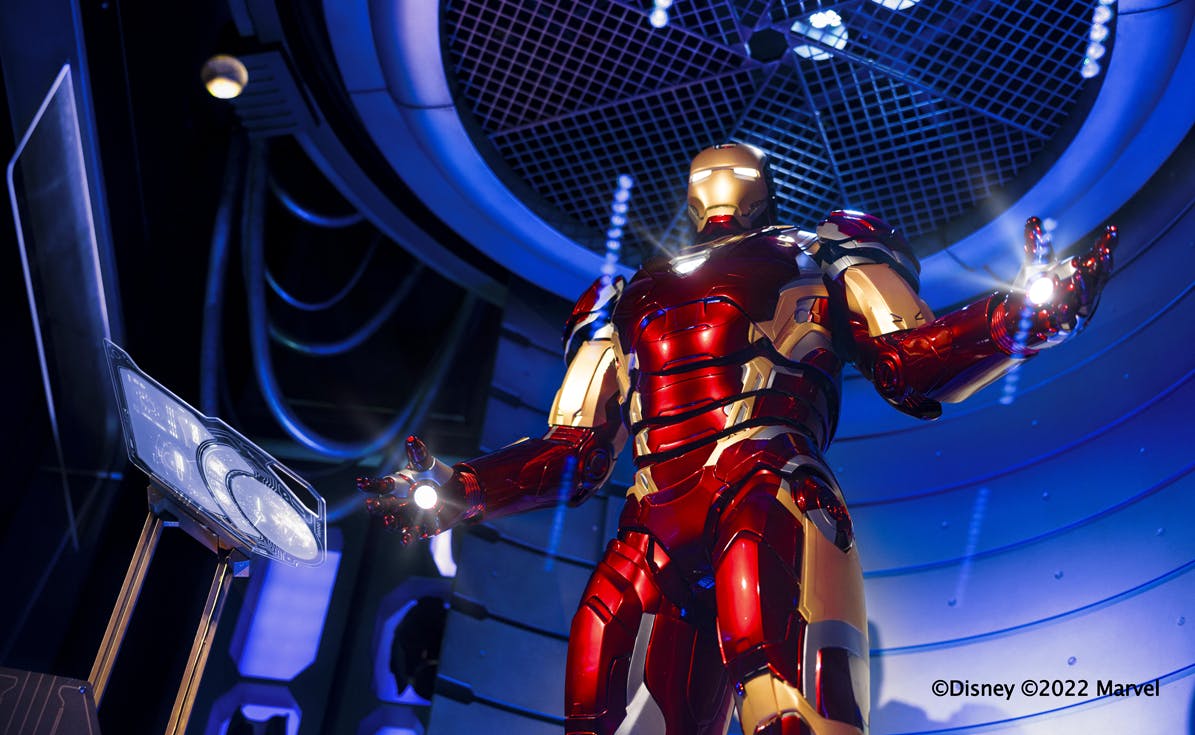 In order to make their 30th anniversary truly spectacular, Disneyland Paris created the Avengers Campus at their Walt Disney Studios Park as an immersive experience. Not only will you discover new juicy details about the Avengers universe, friends, and foes, but you'll be able to team up with the Avengers on their own turf! Disneyland Paris also integrated "F.R.I.D.A.Y," an Artificial Intelligence created by Tony Stark, into its programming in order to provide a more interactive experience for all guests.
The Avengers Campus has also introduced two new attractions, Avengers Assemble: Flight Force, which is exclusive to Disneyland Paris, and Spider-Man W.E.B Adventure. But that's not just it! This epic area also consists of two new restaurants, Stark Factory, which is exclusive to Disneyland Paris, and Pym Kitchen!
#5. Download the Disneyland Paris App
The Disneyland Paris App is super helpful when you're planning your visit to the parks. Find out when the next show is and check opening times, so you can plan your visit around that. You can also find information about accessibility to make sure everyone in your group can enjoy the park.
But that's not it. You can reserve tables at restaurants one year in advance, and browse the menu to see what's to come. It also helps you check into hotels, navigate the two Disney parks, check for wait timings at your favorite attractions, and purchase the Disney Premier Access.
#6. Make use of the Disney Premier Access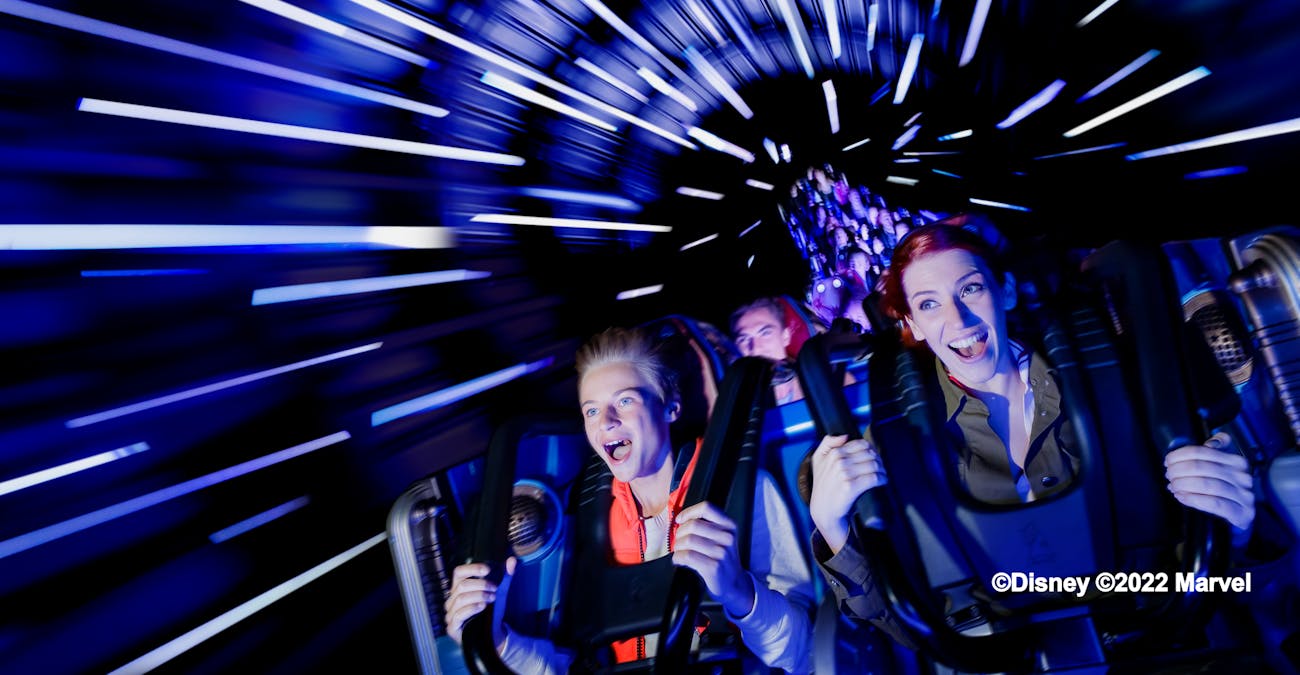 If you're someone who likes to be first in line for everything and dislikes waiting, then Disney Premier Access is definitely worth it. It gives you early access to some of the most popular attractions, Character Experiences and entertainment shows. Keep in mind that you will still have to wait for a short period at the attractions, but you will be able to bypass the majority of the regular queues.
You can purchase the Disney Premier Access on the Disneyland Paris App on the day of your visit as well. Disney Premier Access Ultimate can be used one time for each of the available attractions. While Disney Premier Access One can be used one time for only one attraction.
The two new popular attraction at the Avengers Campus; Avengers Assemble: Flight Force and Spider-Man W.E.B Adventure are included in the Disney Premier Access. Other attractions included are Crush's Coaster, Big Thunder Mountain, Peter Pan's Flight, Ratatouille: The Adventure, Star Wars Hyperspace Mountain and many more!
#7. Try out the lip-smacking food at the Avengers Campus
The Avengers Campus have opened some amazing restaurants and food trucks for guests, sticking beautifully to the whole Marvel theme! Pym Kitchen, a personal favourite, is where you'll find enormous sized pretzel sandwiches, hot dogs, burgers, cakes, to super-tiny versions of these dishes! Stark Factory has some delicious homemade pizzas cooked in the pizzaiolo oven and even a signature dessert that pays homage to Thor. The WEB – Worldwide Eating Brigade, is a food truck operated by the WEB workshop's creators that offer an eclectic selection of Asian noodles and coconut balls. The FAN-tastic Food Truck sells authentic New York-style hot dogs. And the Super Diner is home to the epic Ruben Sandwiches!
#8. Stay the night to enjoy Extra Magic Hours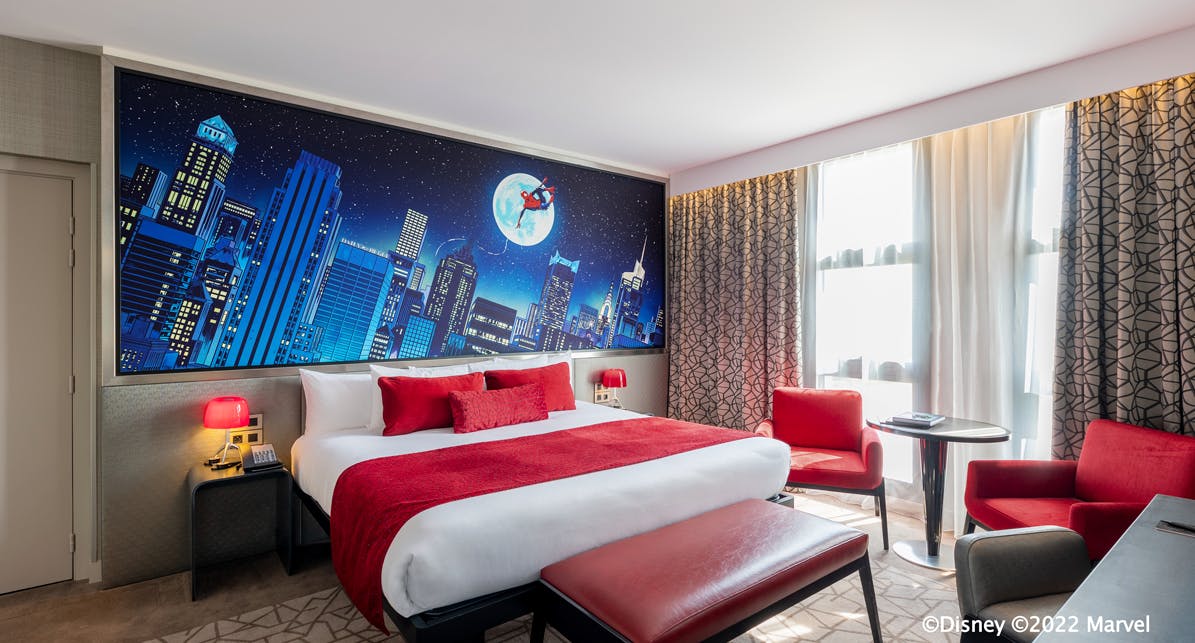 Why not enjoy a little extra magic on your next vacation by checking into one of the Disney® hotels? You'll be able to take advantage of exclusive early access to parts of the parks, and you might even get to meet some of your favorite characters! You can even enjoy the attractions before the official opening times of Disneyland Park. Once you check into any one the Disney® hotels, you'll be given a MagicPass, a card that allows you to explore the park much before the rest of the guests arrive.
#9. Make restaurant reservations in advance
One of the best parts about Disneyland Paris is the food! There are so many great restaurants to choose from, whether you're looking for a quick bite or a sit-down meal. If you're looking for a particular dining experience, you can make a reservation upto one year in advance. So skip those waiting lines, and reserve your seat via the Disneyland Paris App.
Auberge de Cendrillon is where you can get a Fairytale Dining experience at a Royal Table where you can eat with their favourite Disney Princesses. With soaring stone archways, house flags and spectacular stained-glass windows providing a royal backdrop, celebrate the taste of the finest in French cuisine.
Another wonderful dining experience can be found at Bistrot Chez Rémy. You actually feel like you've shrunk down to the size of Remy from Ratatouille! Pull up a giant champagne cork and take your seat at your jam jar lid! With oversized cocktail umbrellas, cookbooks and cutlery, you geta unique rat's eye view of the world while you indulge in some Ratatouille!
#10. Visit the park during season time (Halloween & Christmas)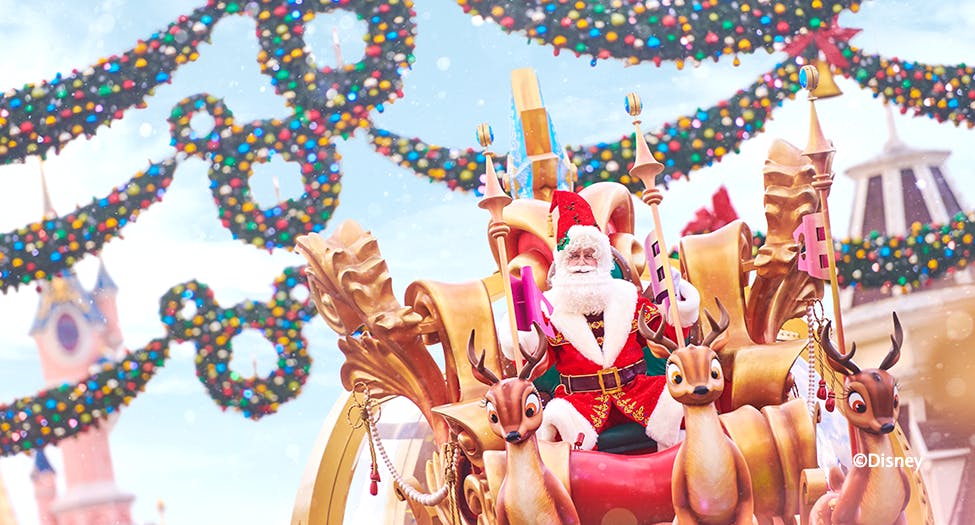 During holiday season, the festive spirit of Disneyland Paris makes it all the more magical!
Disney Halloween Festival: From 1st October to 6th November 2022, Disneyland Paris will host the Disney Halloween Festival. The park will be transformed into a wonderfully frightening place filled with gleaming pumpkins and sinister surprises by donning your Halloween costume and joining Captain Hook, Maleficent, The Evil Queen, Cruella de Vil, and the rest of the ghoulish crew.
Disney Enchanted Christmas: The Disneyland Paris Christmas extravaganza begins on November 12, 2022 to January 8, 2023. This Christmas, Disneyland Paris is even more magical with beautiful winter decorations, special holiday season entertainment, an unmissable Christmas parade, and a gastronomical delight of seasonal delicacies.
#11. Try out all the Roller Coasters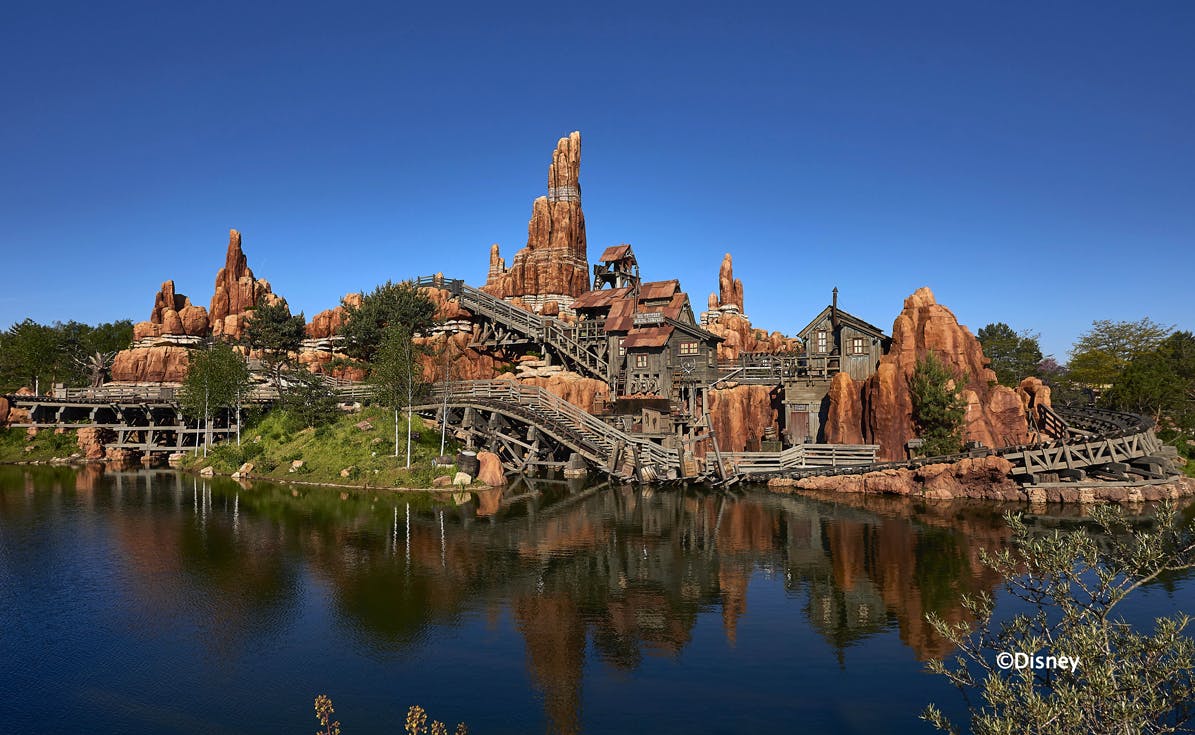 Big Thunder Mountain or Crush's Coaster are suitable for the ones who aren't big fans of loops and inversions. Avengers Assemble: Flight Force and Star Wars™ Hyperspace Mountain are for the ones who love going over the top and love speed. Indiana Jones™ and the Temple of Peril is for the ones who love a wild ride with loops. And if you have a little one with you, take them to Casey Jr. for an introduction to the world of roller coasters!
#12. Head to these 4 attractions if you're visiting with your Kids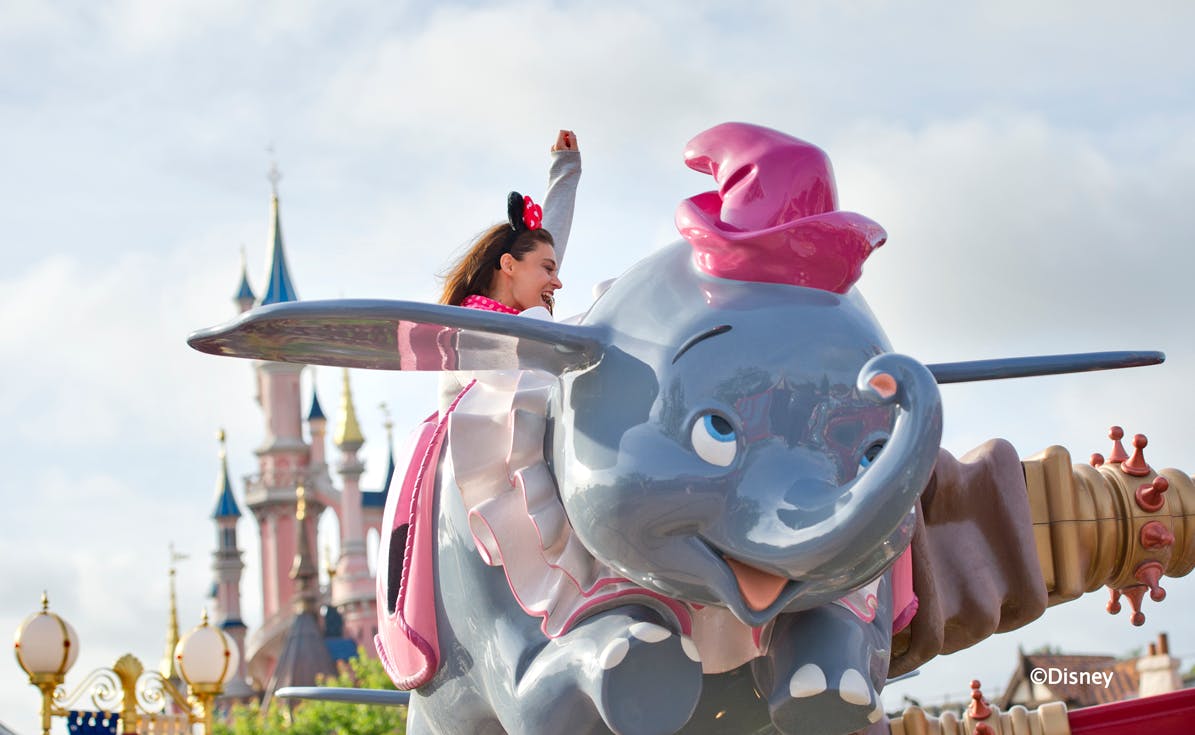 There are plenty of attractions for kids at Disneyland Paris. Some of our personal favourites are:
Peter Pan's Flight
Dumbo the Flying Elephant
Slinky® Dog Zigzag Spin
Les Tapis Volants - Flying Carpets Over Agrabah®
#13. These attractions are great for the full family to enjoy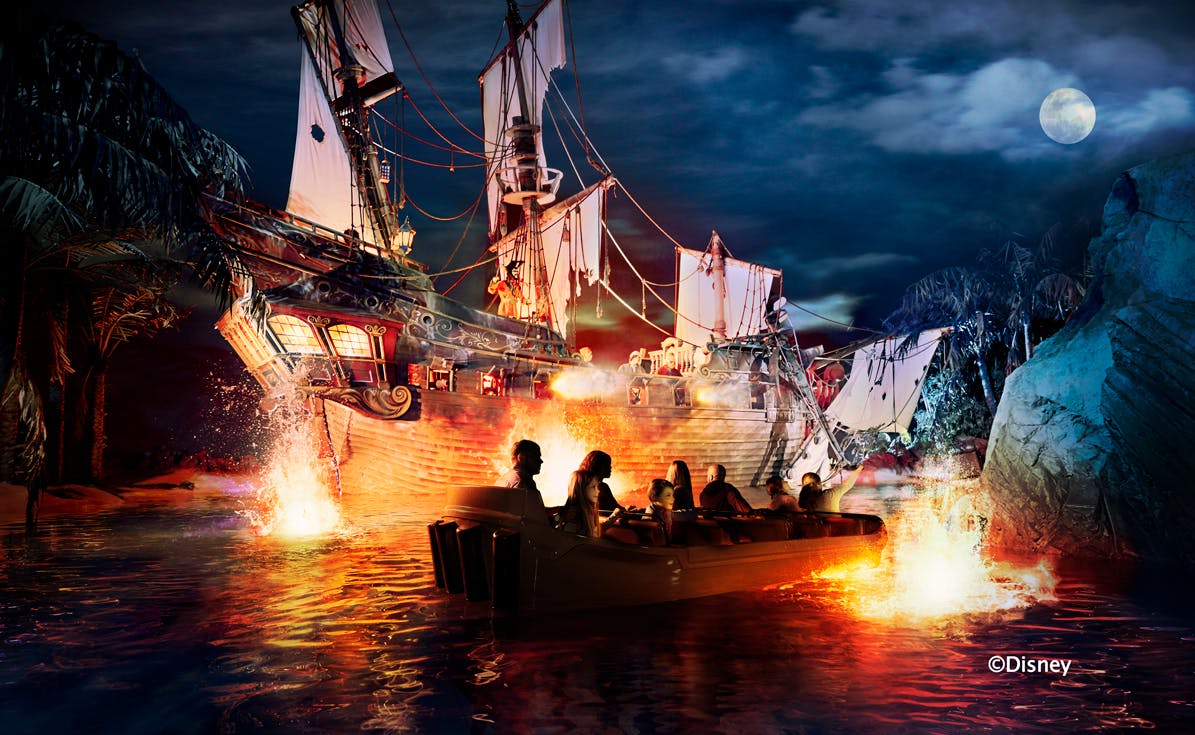 What's the fun in going to a theme park when you can't get onto rides with your little ones? Here are some of our favourite family friendly attractions:
Spider-Man W.E.B. Adventure
Cars ROAD TRIP
Buzz Lightyear Laser Blast
Pirates of the Caribbean
Phantom Manor
Ratatouille : L'Aventure Totalement Toquée de Rémy
#14. January to April sees the least crowd
If you want to visit Disneyland Paris when there are few visitors, keep in mind that mid-January through mid-March and mid-April through mid-May are best. When the number of Guests are low, waiting times are much shorter. However, there may be fewer scheduled shows and events during these periods.
If you're planning on visiting the park on any of the other months, choose some time between Tuesday and Thursday and make sure you reach the park early in the morning during opening hours to see a smaller crowd.
#15. Create an itinerary for yourself
Disneyland Paris boasts two full fledged parks and more than 50 attractions. Exploring this in one day is close to impossible! The best way to go around and visit your favourite attractions is to make an itinerary for yourself with two days worth plans.
This will give you enough time to explore the park with ease. Make sure you include a night at one of the Disney® hotels for a wholesome experience.
The Disneyland Paris App also helps you keep track of the attractions you want to visit and the fastest way to reach them.
#16. Wear comfortable casual clothes and shoes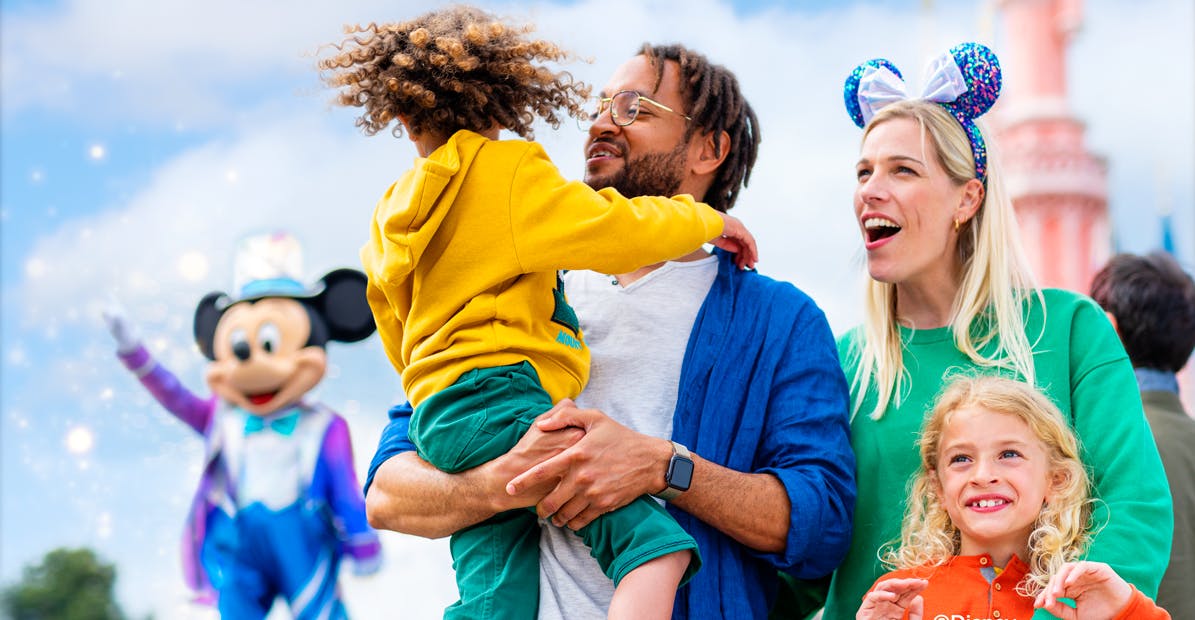 Walking along the promenade at Disneyland Paris is an adventure in itself, whether you're going from one attraction to the next, from one park to the next, or simply walking toward your favorite Disney characters for a glimpse at the parade. To make this experience much easier for you, we recommend that you wear your most comfortable pair of shoes and clothes, and roam the park with ease!
#17. Carry a reusable water bottle
Stop by one of the many water fountains whenever you're thirsty—and stay hydrated! Water fountains are found throughout Disneyland Paris. You can refill your own bottles at the water-filling stations. The Disneyland Paris App has a map that will show you where the nearest water fountain is; simply search for it there.
#18. Use the luggage storage facilities if you're traveling on the same day
If you arrive at Disneyland Paris early and need somewhere to store your luggage, or if you'd want to make the most of every last minute after checking out of your hotel on the final day, several Luggage Storage alternatives are available outside the park. These luggage storage facilities usually stay open for 45 minutes after the park shuts.
If you've stayed at one of the Disney® hotels, you can leave your luggage there after checking out as well (except Disney Davy Crockett Ranch). This service is absolutely free of cost.
#19. Visit the Souvenir stores towards the end of the day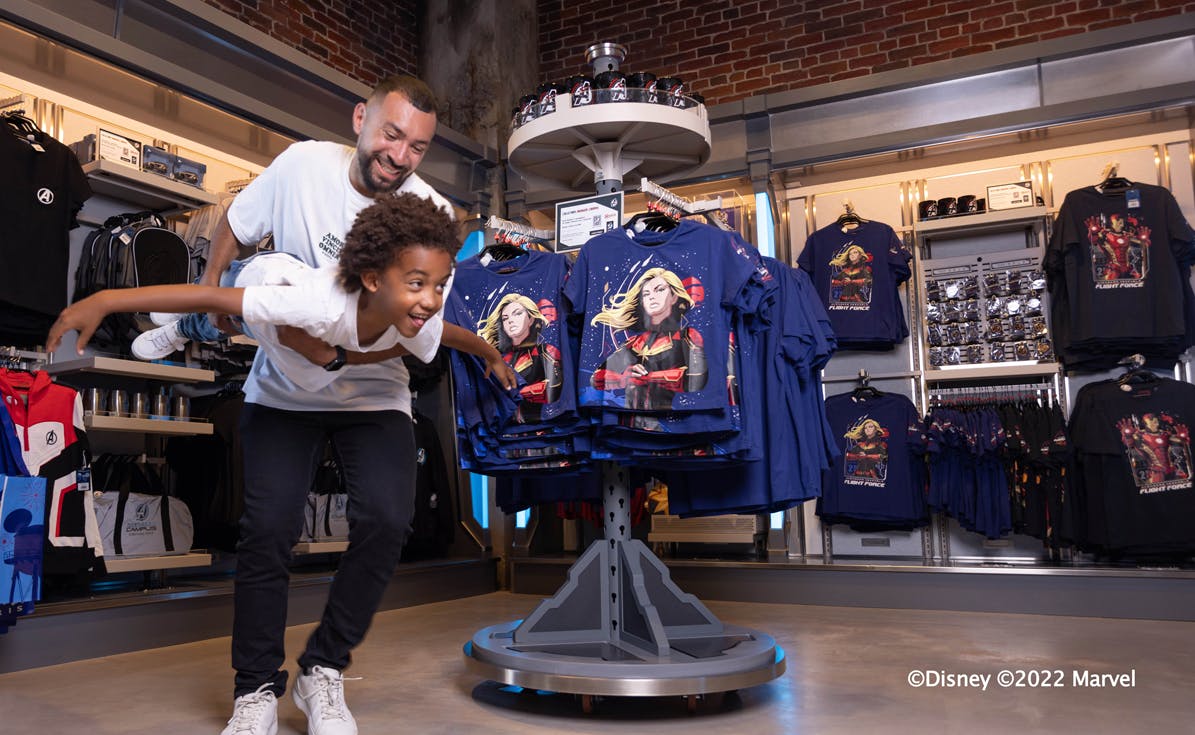 If you aren't a big fan of holding bags throughout the day, visit the souvenir stores and gift shops towards the end of your visit at Disneyland Paris. This way you can go to all your favourite attractions and walk around Disneyland Paris without that extra luggage! On the other hand, you can also leave your bags at the luggage storage facility outside the park.
#20. Pack these items in your backpack
If you're carrying a bag to Disneyland Paris, make sure it doesnt exceed 55cm x 40cm x 25cm. And if you are carrying a bag to Disneyland Paris, make sure it's a backpack. Here are a few things that you should pack:
Sunscreen
Portable Charger
Reusable water bottle
Autograph book and pen
Identity proof or travel document
Hats for the summer
Warm hats, gloves and scarfs for winters
Best time to visit Disneyland Paris
---
The best part about visiting Disneyland Paris is that no matter when you visit, you'll be sure of having the most magical time of your life here! When it comes to the best time to visit Disneyland Paris, people's can be very subjective. While some guests prefer going during the non crowded months, other perfer going while it's nice and sunny, or when it's season time. Let's break it down for you.
From January to March the climate is quite cold and wet. These months see a smaller crowd at Disneyland Paris. So if you're someone who doesn't like a lot of crowd, these months are perfect for you!
From May to October the climate is extremely favourable. The sun comes out, rain spells decrease, and the weather gets warmer. A lot of people absolutely love this weather and love heading out as well. Due to this, Disneyland Paris sees a lot of visitors during these months. The summer months also see a lot more entertainment and shows at Disneyland Paris.
October to January is Season time at Disneyland Paris. The celebrations, decorations and the theme of the parks changes from Halloween (Octover-November) to Christmas (December-January). Though the weather during these months are cooler, the park's festive spirits are at an all time high!
Tips to save money at Disneyland Paris
---
Get your Disneyland Paris tickets in advance. They're usualy much more affordable.
Weekday tickets are cheaper compared to weekend tickets.
Travel to Disneyland paris by Train or Shuttle. It's more affordable than hiring a cab.
Carry your own snacks if you're on a budget. Disneyland Paris allows its guests to carry their own food inside the parks.
Buy an Annual Pass for discounts on restaurants, hotels, parking and entry tickets.
Stay at Disney Hotel Santa Fe for a budget friendly hotel option.
FAQs
---
Extra Magic Time is an extra hour of magic that only Disney hotel guests can enjoy each morning in Disneyland Paris! Guests can enter the park an hour before it opens to the general public, giving them a chance to enjoy some of their favorite attractions with shorter wait times.
Yes, you can. There is a picnic area located between the Disney Parks Car Park and the entrance to the parks where you can eat your meals. Although, you're not allowed to get Ice boxes, tables, or big containers inside any of the parks.
Yes, there are several restaurants to choose from. There are food carts and eateries with counter or self-service that are cost-effective. Alternatively, you can eat at a buffet restaurant as well, to try out a variety of food for an affordable price
Yes, Wheelchairs are available at Disneyland Paris at Town Square Terrace near the park entrance. They're available for a fee. You can also find strollers here.
You can get a schedule for all the shows and parades on the Disneyland Paris App. The app also shows you an interactive map, wait times for rides and a lot more!